STORY HIGHLIGHTS
The Bucs have a plan in place for calling plays on Sunday with and without the presence of OC Jeff Tedford
Surface tablets and other technological advancements have helped Tedford remain involved while recuperating
DE Da'Quan Bowers returned to practice Thursday but remains a long shot to play on Sunday

The Tampa Bay Buccaneers' offensive coaching staff came off the practice field on Wednesday to find one of the greaseboards in their meeting room covered with diagrams of suggested red zone plays. There was no signature in the corner of the board, but everyone knew who the X-and-O artist was.
Jeff Tedford, the Buccaneers' first-year offensive coordinator, is currently recovering from a medical procedure that has kept him out of the office for most of the last week-and-a-half. Tedford has kept in the loop using the phone and his team-issued Surface tablet, from which he can watch every snap of practice, review game tape of the opponent and view the game-plan scripts. He can contribute to the planning in that method, too, but on a couple occasions during his recovery time he has felt the urge to swing by team headquarters when things were relatively quiet.
"Jeff's been around a few days, said Tight Ends Coach Jon Embree, who spoke on behalf of the offensive staff on Thursday in Tedford's absence. "He's been in on a few of our meetings when we've been game-planning. We came in yesterday and he had a few plays drawn up on the board for us to look at. So Jeff's still been significantly involved. Because of technology, it's been fairly seamless. If this would have been 10 years ago, there probably would have been a few issues."
The Buccaneers are obviously concerned about Tedford, though Head Coach Lovie Smith's daily updates always indicate that his offensive right-hand man is recovering nicely. What the team does not seem particularly concerned about is any issues Tedford's absence might cause to the formation of the game plan or the execution of play-calling on Sunday in the season-opener against Carolina. Tedford hasn't yet been ruled out for that game, but if he's unable to take his spot in the coaches' booth upstairs, the rest of his staff will have no problem running the offense.
That's because the offensive staff's approach to game-planning and play-calling has always involved all of the coaches.
"It's been a collaborative effort, really," said Embree. "[That's] how Jeff had it set up and how Lovie had it set up from Day One. So we will continue to work like we have been."
As has been the plan along, Quarterbacks Coach Marcus Arroyo will be stationed on the sideline with the radio that is used to call plays into the quarterback on the field. Embree and the other offensive coaches who are seated upstairs will collaborate to get the right play called, and a single voice will relay it to Arroyo on the field. The Buccaneers are still not getting too specific about the chain of command in the coaches' booth, but the crew is practiced enough to relay their suggestions at the right time.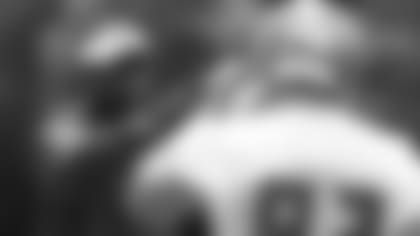 Tight Ends Coach Jon Embree says the Bucs' months of attention on the Panthers has helped with the game-planning this week
Embree is confident that he, Arroyo, Offensive Line Coach George Warhop, Running Backs Coach Tim Spencer and Wide Receivers Coach Andrew Hayes-Stoker will work together smoothly even if Tedford isn't in the booth with them.
"At the end of the day, it will be Marcus sending the plays in," said Embree. "But whether it's George Warhop, our offensive line coach, or Spencer talking about the runs that they like, or Drew or myself talking about different things in the passing situations, we'll get it all communicated. We've been pretty good through preseason of not a lot of chatter while the drive is going on but communicating in between series. That's important for any play-caller, whether it's Jeff up in the box or Marcus doing it on the field. Once that guy starts going with the plays that we want to run or see in that series, it's important that we stay off the line and let him think. Really, the only person that talks to those guys during it is Lovie [Smith]."
Embree says the rest of the staff has put plans in place to run the game if Tedford is there and if he's not there. While the communication lines might be a little different without Tedford, it's doubtful anyone outside of the Bucs' coaching booth will ever notice the difference. The game-planning process isn't suffering, either, because Tampa Bay has been targeting Carolina for months now.
"The fact that Jeff hasn't been around every day for the last eight, nine days, whatever it's been, has given us a chance to work like that," said Embree. "Because we've been doing this from the beginning, and the fact that we knew it was Carolina – we've known that since, whatever, April or May – we've had a chance to really start preparing back then what we wanted to look at in camp, that we wanted to use maybe against Carolina and our first few games. A lot of the leg work had already kind of been done."
And, as for those red zone plays Tedford left waiting for his fellow coaches on Wednesday, they might not have to be too complicated.
The Buccaneers made just one change to their injury report on Thursday, and while it was a positive change, it probably won't affect the team's lineup on Sunday.
Defensive end Da'Quan Bowers, who has missed several weeks due to an abdominal injury, returned to practice on Thursday in a limited fashion. While that might have seemed like a sign that Bowers was ramping up towards being ready for Sunday's opener, Smith said it's a better indication of where the fourth-year end might be next week. Smith said it was probably too much to expect Bowers to suit up for the opener after missing so much time.
Four other Bucs remained sidelined for the entirety of practice: defensive end William Gholston, safety Bradley McDougald, cornerback Rashaan Melvin and wide receiver Louis Murphy. Given Smith's assessment of Bowers, who is a step ahead of those four, it would seem safe to rule the others out for the Carolina game, as well.
Perhaps the best news on Thursday's injury update was the unchanged status of cornerback Mike Jenkins. After missing the entire preseason with a hamstring injury, Jenkins has returned to work this week and seen no ill effects. He participated fully for the second straight day, which would indicate that he has not experienced a setback after the team took a purposefully cautious approach to his recovery.