STORY HIGHLIGHTS
Twenty of the Bucs' 22 listed starters will sit out tonight's game, as both teams focus on reserves
QB Mike Glennon already has the trust of Buccaneer coaches but tonight is a good opportunity for him to stay sharp
Head Coach Lovie Smith says there are still roster decisions to be made

The Tampa Bay Buccaneers and Washington Redskins meet for their respective 2014 preseason finales at Raymond James Stadium on Thursday night, and the game will be a showcase for the players on the second, third and fourth lines of the depth chart, all of whom are fighting to have an NFL job past this weekend's roster cuts.
Yes, this night belongs to the young. Dozens of young NFL hopefuls will take the field on Thursday night for final auditions, but they don't need to – as the band Fun would say – "set the world on fire" or "burn brighter than the sun." They simply need to execute their assignments properly and show their coaches they belong in the league.
"Don't over-think it," counseled Buccaneers defensive tackle Gerald McCoy. "In the last preseason game, you see a lot of guys make mistakes and be uncharacteristic of what they usually do because they're trying to impress, they're trying to make a play. You don't have to do that. Just go out there and do what it takes to make plays. Don't try to make them, let them come to you."
McCoy will watch all the action from the sideline. As expected, the Buccaneers will play the game almost exclusively with reserves. The only two players listed in starting spots on the current depth chart who are expected to take part in the game are offensive guards Oniel Cousins and Patrick Omameh. In addition to the other 20 listed starters, the Buccaneers also will not use CB Johnthan Banks or TE Austin Seferian-Jenkins, plus a few others who are sitting out due to injury.
QB Mike Glennon will get the start, joining a backfield of RB Bobby Rainey and FB Lonnie Pryor. His primary wideouts will be Louis Murphy and Chris Owusu, with Luke Stocker in the tight end spot. Glennon, who started the last 13 games of the regular season as a rookie in 2013, intends to enjoy the experience even if it is a preseason contest.
"It will be good to get back out there, get the feel for starting," he said "It's always great, it's a dream to be a starting quarterback in the NFL, whether it's a preseason or regular-season game. I'm really fortunate to be in this situation, so I'm looking forward to it."
A third-round draft pick in 2013, Glennon performed well enough in training camp and the preseason to grab the #2 spot behind opening-day starter Josh Freeman, and to be in position when the coaching staff felt the need to make a move early. As impressive as he must have been last summer, he believes he's advanced significantly as a player since.
"I think it's gone well," said Glennon. "There have been good things and not-so-good things, but overall I think I'm a much better player this preseason than I was the last preseason. That's what you want. I want to continue to grow as a player and I think I did that this preseason."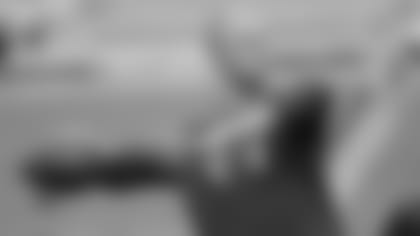 QB Mike Glennon believes he's a much better player this preseason than he was a year ago at this time
Indeed, Glennon doesn't necessarily have as much to prove on Thursday nights as some of his fellow reserves, but it's still a valuable opportunity for him to keep his game sharp in case he is needed when the games count.
"We've had great looks at Mike throughout [the year]," said Head Coach Lovie Smith. "We feel real comfortable with him as our backup quarterback. But it's time for him to get some playing time in, as simple as that. You're one play away – as with all of our players – from him being in the starting lineup. We're going to get a good look at Mike along with Bobby Rainey, Louis Murphy, Chris Owusu…some of those that we're going to be counting on this year.
Though one or two spots could change depending on opening-play personnel packages, here are the expected offensive and defensive starting lineups for the Buccaneers on Thursday night:
Keith Tandy
While the Buccaneers have fairly experienced fill-in starters at such spots as quarterback, tight end, running back, defensive tackle and middle linebacker, there are also other positions that will be manned by some very green players. This will certainly be true for the Redskins, as well, as both teams use this final game to evaluate young prospects in advance of this weekend's final roster cuts. The Bucs will be most inexperienced in the backfield, where Quinton Point and mid-camp serignee Kip Edwards will start at cornerback. In addition, cornerback Anthony Gaitor will be pressed into service at free safety, something he actually did for a good portion of last weekend's game in Buffalo, as well. Gaitor had last played safety in high school.
Gaitor isn't in the running at safety, of course. He's filling in because starters Dashon Goldson and Mark Barron won't play and safeties Bradley McDougald and Major Wright are nursing minor injuries. But there are plenty of who are still battling for real jobs at their natural positions.
"We have some positions at stake, as simple as that," said Smith. "We don't know what our final roster will be. This game tonight goes a long way for that. And then it's just valuable playing time for our guys. A lot of them haven't gotten the opportunity to prove what they can do. So here's the last chance for that, here at Raymond James Stadium in front of the home crowd. It should be a lot of fun."
The Bucs play their 2014 preseason finale against Washington on Thursday night at 7:30 p.m. ET at Raymond James Stadium.  The game will be broadcast locally on television by WFLA-TV and on radio through the Buccaneers Radio Network and its flagship station, US 103.5 FM.  That radio broadcast will also be carried live on Buccaneers.com.