STORY HIGHLIGHTS
Lovie Smith and the Buccaneers are going back to Josh McCown as the starting QB with the sole purpose of pursuing victories
Josh McCown thought the Bucs would win more games during Mike Glennon's run as the starter, and was ready to help out however needed
The Bucs remain confident in both passers and still believe Glennon has a bright future with the team

Josh McCown was the Tampa Bay Buccaneers' starting quarterback until a thumb injury made that impossible for about a month and a half. In his absence, second-year man Mike Glennon – called the Buccaneers' "quarterback of the future" on multiple occasions by the current administration – helmed the team's lone victory so far and had some bright moments while making five starts. Had those five starts included a couple more victories, Glennon's run very well might have continued.
And if that had been the case, then McCown would have been the proverbial athlete who "lost his job due to injury." That's a particularly cruel turn of events for any professional athlete, and one that could easily lead to bitterness for the deposed starter. McCown, however, would have accepted that fate with equanimity if it meant his team was winning.
"Part of me wishes this team was winning ball games," said McCown of his time on the sideline. "I've said this all along. I love playing this game, I love winning, I want to be a part of a winner and I want to be a part of an organization that wins. It's not about me. If Mike was winning ballgames, I don't care [if I'm playing] and I really don't."
As a result, the news on Tuesday that McCown would be getting his starting job back starting this Sunday against the Falcons was a bit of a double-edged sword. There is absolutely no doubt that McCown is pleased to be back in the lineup, but he wouldn't have complained about losing his job due to injury if it meant his team was putting up 'Ws.' That's why he wouldn't say that he was "expecting" to get that job back at any point.
"I was expecting that after the injury Mike would take it and run with it and we would win a lot of ball games," said McCown. "For some reason – it's not completely on Mike – but some reason or another we have not done that. That's my main thing is I want to win games and whatever it takes to make that happen, that's what I want to see happen. I love playing this game and we play to play – don't get me wrong on that – an opportunity to go out there and play in the National Football League, especially as a starting quarterback, there's only 32 of those and that's a special privilege. I'm excited about the opportunity and I don't take that lightly, but more than anything, I just want to serve our team and help us win a ballgame with those guys in the locker room and help get that done. Whatever it takes for me to do that, whatever role that's in, I embrace that and I just want to help us win."
That is the sole reason Head Coach Lovie Smith chose to make the switch under center. Coaches will almost always speak carefully in order not to disrespect or place too much blame on any one player, but in this case there really isn't much to read between the lines. The Buccaneers are 1-7, and even an undefeated second half wouldn't guarantee a playoff spot. McCown is on a two-year contract and, again, Glennon is considered the future at the position. One could understand a switch from the veteran to the younger player as a team looking to find out about its future, but the opposite change can only be about the here and now.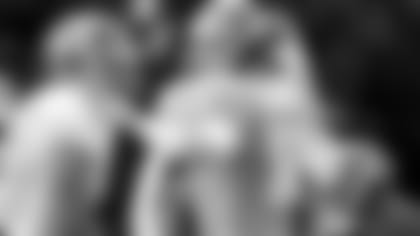 Josh McCown is preparing in practice to start a game for the first time since Week Three
"We're trying to win football games; it's as simple as that," said Smith. "I think it's the same with every position: You look at the production and what we're getting at the time. I think we need better play at the quarterback position right now. So you start with that. Then I'm going to go back – [McCown] was our starter before an injury. You need a little boost. And it's like that with all positions. If the play isn't what we think it should be, we're going to look and see if there's another option that we can look at. That's where we're at right now."
The Buccaneers have maintained since the early days of free agency in March that they felt very good about the overall strength of their quarterback position thanks to the pairing of McCown and Glennon. That was evident when McCown returned to active status for the last two games but was not immediately thrust back into the lineup, as Glennon had proved to be more than competent. The team brought in McCown with the intention of using him as the starter this season, and even though his first two-and-a-half games didn't go as well as expected, the coaching staff still has the same opinion of his abilities.
"We brought Josh in here to be our starter," said Quarterbacks Coach Marcus Arroyo. "He had two games and broke his thumb, had 68 attempts. He had one game he sat out as a backup and is now healthy again, so we've got to give him an opportunity to see if he can succeed."
Like McCown, Glennon wants very badly to be the starter, but he also puts the team first. Whether or not he agrees with the move – and most competitors in his situation would not – he understands that the ultimate judgment is based on wins and losses.
"That's the bottom line: Quarterbacks are judged on wins and losses and there were a lot of games there where we were right in it and we didn't win," he said. "I guess it's not what I was expecting, but it's part of the game. And like I said, [I'm] just going to help the team in whatever way I can and continue to play. Last time this happened, two and a half games in, I was playing again, so you never know what's going to happen."
Glennon has stepped into a starting role during the season in each of his two NFL campaigns, once due to injury and once due to the starter's ineffectiveness. He knows to be ready and won't be preparing any differently in the weeks ahead. McCown himself became a starter last year in Chicago due to an injury to Jay Cutler, providing him the opportunity to shine and earn an opening-day start with another team. Cutler got his job back, but not every situation plays out that way, and McCown was prepared to fill whatever role the Bucs needed him to fill.
"That's specific to situations," said McCown of injured starters reclaiming their jobs. "That's so hard because what happens during an injury? What does a player that comes in for him do? You see it historically time and time again: Tom Brady, Kurt Warner and all these guys that you can't really justify going back to the other guy if they do what they do. I think it's specific to every situation and that's for the leadership of that team to decide."
The leadership of McCown's team has decided he is their best bet to get more wins in the second half of the season. And that was all Smith and company needed to consider when making a switch at the most influential position on the field.
"What we're trying to do – and the reason why I made this decision – I think this gives us the best chance to win right now," said Smith. "It's not about the future or really about the past. Right now, this gives us the best opportunity to win, we think. Every decision we make is just based on that simple fact. That's the equation we go through."