(Opening Statement)
"I think most of you have heard that we acquired Kyle Brindza – kicker, strong leg. Of course he's a young guy. Playing at Notre Dame, we know a little bit about him. As we said all along, we are always looking to improve our ball club. [If] we see somebody we think deserves a look, we'll give them that. That's the case with us right now. Tim Wright, I talked to Tim. As I told Tim, good players end up in a good spot always. Last year he ended up in a good spot and of course having a chance to play for [Detroit Head Coach] Jim Caldwell and the crew there will be good for him also. Beyond that, good day for us. It's about getting back to work. We had some things to correct. We need to still get some looks at different players We have a few injuries, but this time of the year everybody has a few injuries. Donovan Smith has an ankle injury. Beyond that, the rest of the guys – Mike Evans and guys like that – continue to get better."
(On if tackle Donovan Smith will miss the final preseason game)
"I don't quite know that. He didn't practice today. [That's] about all we can tell you right now."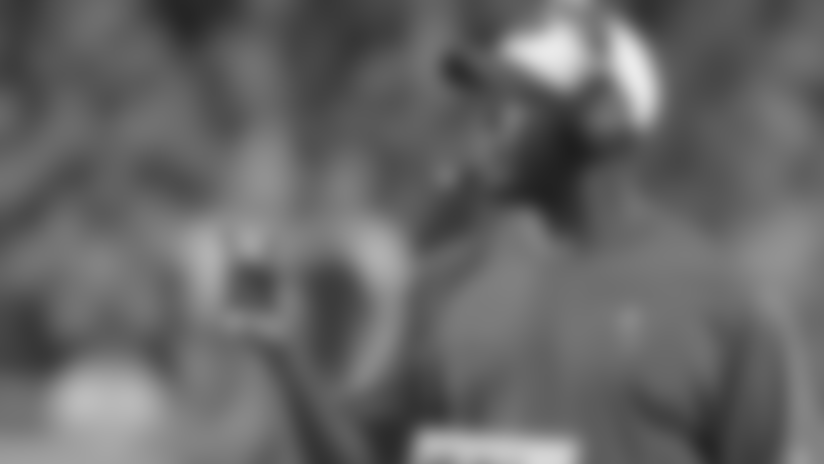 (On if the film from the Cleveland game wasn't as bad as he thought it would be)
"No, I think most of the time I look at the film [and] it's what I thought it was. That was the case. We didn't do some things well. Some things we can't continue to do. Things we need to get taken care of quickly. I talked a lot about being Tennessee ready. Tennessee is coming up quickly on us. These things we need to clean up. Young players need to step it up. Veterans know how to get ready. We need to do that, but we're running out of time and that's a good thing where guys feel that sense of urgency. You should always feel a sense of urgency, but the closer it gets to game time we should see and start playing our best ball."
(On if he has a higher expectation of guys having a sense of urgency compared to last year)
"We had a sense of urgency last year. We don't live in the past, but there was a sense of urgency then. There has been a sense of urgency every day we have been here. Again, I don't know what happened last year. It's about this year and we know what's at stake. We're a good football team and we need to play that way always."
(On what he thinks the defense is capable of this season)
"We have a high standard. As far as what we are capable of, we want to see exactly how far we can go. We've seen signs. We think we're are going to be pretty good. Once you become a good football team – good defensive team, whatever it might be – you expect to play that way always. We know what the standard is and we want to reach that standard each week no matter who is out there."
(On how ready quarterback Jameis Winston is for Tennessee)
"Like our ball club: we're not there yet. We are getting better. We've given him a lot of different looks. He has come a long way for a rookie quarterback. We feel real good about where he is, but we're not going to shut it down. We are going to keep practicing. We need these practices still. Before long we'll gear it strictly toward Tennessee. Jameis is in a good place right now."
(On if the outcome of Saturday's game will have an impact on how he plays the starters against Miami)
"No, because just like Minnesota didn't have an effect. That's all in the past right now. We had a plan all along of how we will handle the fourth preseason game. That's what we're going to do. We plan all along how we handle each week, each day, this week the specific plan of what we want to get done and that's what we are going to stay with.
(On trading Tim Wright and whether it says something about the rest of the tight end group.)
"Yes it does. To bring Tim back, we knew he was a good football player and is going to play in the league. We had an opportunity to add him and let him compete with our guys. It's a good point. It does say something about the guys that we have and what their roles are. From Austin [Seferian-Jenkins], Luke [Stocker], to Brandon [Myers], to Cameron [Brate], we have seen and have an idea of how we are going to use them. We haven't decided exactly how many, whether we keep three, keep four. How does the fullback come into play with that. Just right now we felt it was fair to – what's best for our team always – but we also thought it was fair to Tim right now to get him with the right spot."
(On if moving the extra point distance to 33 yards has increased the importance of the kicker)
"I think no doubt it has. From when we moved the ball back to the 35 maybe lessened it a little bit, the guys with a strong leg. Extra points were pretty much automatic, but now every time you move it back of course it's harder to get it through there. That has been the case, I think the preseason has played out that way. There is importance to it and to have a kicker that can kick it out of the end zone. We know exactly where they started. Good returners – taking them out of the game. Then it's about being accurate when you need it. Whether it be an extra point form the 15 [yard line] or 50-plus we need somebody to get those points. Last game, you can't miss field goals like that. It really does hurt you."
(On defensive end Jacquies Smith health status)
"Jack Smith is getting better. That is not just a standard answer. He is. He won't play this week but hopefully he'll be ready for the Tennessee game. As far as our defensive line play overall, we weren't pleased with it the last game. It's as simple as that. First third down we need containment and Gerald McCoy probably has a sack. We need more from it. We ask an awful lot from it. We are good inside, but our defensive ends have to step up. It was good to get T.J. Fatinikun back in there the other night. We're still looking. There is still hard competition. That's why this game is very important for a lot of guys to show us something."
(On kicker Patrick Murray's struggles this preseason)
"[I'm] surprised because he was very accurate. There is a reason why went with him as our kicker last year. That happens sometimes. For him, he knows how important it is and we need someone that we can rely on in those situations. I think his kickoffs have improved a little bit, but it's simple. You can't miss an extra point this year, if we decide to go for that. And in field goals, when we do it we need an automatic three, pretty much. Patrick knows that."
(On if players and coaches in the NFL are ultimately measured by the number of championships they have)
"No doubt that's how. It's one thing to be an all-pro and get some individual awards, but it's a team sport, yes. Most of the great ones though, it's funny how it goes that eventually they are on winning teams. Most of the great ones I know. That's part of your responsibly as a great player to bring your team along to that. We have to get to that point. We have good players. We have great players. I think we have a few great players on our team, but to really validate everything that they stand for, yes, as a football team we need to win more games."
(On if it is possible to keep two kickers on the 53-man roster)
"We like to have options. I'll always talk about our options. Most likely not, but we'll see. At the same time, if there is a good football player that we just think we need to keep, we always find a way to do that. Hopefully we have guys put us in that situation where we have to and we're considering keeping more than we normally would."
(On if it's troubling having a starting group of offensive linemen who haven't all played together)
"In an ideal world, you would like to have all five guys together through training camp, through the preseason. I really judge it more on getting in position and looking at a lot of different combinations in the preseason, but it's about the regular season. To me, I would be disappointed if we are having to rotate guys once the regular season starts, but right now we're still on pace. We've gotten a lot of reps, we looked at a lot of different combinations. It's all about that Tennessee game and who we go with. That initial group we go with, hopefully the entire year we can keep them together."
(On how far has tackle Gosder Cherilus come along in terms of picking up the offense)
"He's coming along quickly, we think. When we got him, I looked at it like he was starting his training camp right then. We didn't want to throw him in there, full load, right away. He's a veteran, so we had a schedule too that we wanted to put him on. He's right on schedule. The knee hasn't been an issue. Really his conditioning hasn't been. Again, we wanted to gradually bring him along like we gradually brought along our entire football team and he is right on schedule."
(On if he is interested in free agent Tim Jennings)
"Every player that is available we look at. Of course I have a history with Tim. Tim is a good football player when I was with him. We look at all players that are available."
OFFENSIVE COORDINATOR DIRK KOETTER
(On Saturday's game)
"Everything is an excuse. Bottom line is we stunk. Not good enough in any phase on offense. There were three or four individuals that played okay but this is a team game. We were terrible on offense. Just not good enough. We will watch with the players later this afternoon. Because of the weather we switched around the schedule today so we haven't had a chance to watch with the players yet. I think they already know. Yeah, just not good enough in any aspect."
(On quarterback Jameis Winston's performance)
"As an offense, in general, you're taking two steps forward against Cincinnati and we took a step backwards in this last game. That could be everybody. Jameis on that interception, he recognized the blitz was coming, he saw it coming. We had a protection foul-up. He turned it into a scramble. Bottom line is end of the day he is the one who has to cut our losses. He just made a bad decision – a pick that turned into three points. He came right off the field. He knows it. I told you guys last time, Jameis is an easy guy to coach. Jameis gets it and Jameis isn't one of those guys saying, 'Oh, it's not my fault.' Jameis knows when he needs to do stuff better. We didn't protect him good enough. When we did protect him good enough – there were just so many issues, so many breakdowns across the board. The quarterback always gets too much credit when you do well and always gets too much blame when you don't do [well enough]. It was just one thing after another went wrong. [It wasn't] all Jameis' fault."
(On how does he accurately evaluate players in the preseason when opponents are showing a lot)
"It's not hard for me to accurately evaluate it. We stunk. I mean that's what I told you. We stunk. It's not hard to evaluate. It was a good eye-opener for our guys. Cleveland is the first 3-4 team we've played. We are going to open with a 3-4 team. It's hard to duplicate that look in practice. From that standpoint, great eye-opener for us for what we need to improve on for Tennessee."
(On if he is concerned the offense looked like that in the third preseason game)
"I'm not going to lie. I was a little disappointed. I didn't sleep too good Saturday night. Again, that's coaching. I get paid to coach. The other coaches get paid to coach. We have to figure out a way – this isn't all players' errors. I made errors in that game too. I think two of those sacks were on me. You look in the mirror and you say, 'What do we have to do to get better?' I say all the time, 'Play to our strengths, hide our weaknesses.' I have a pretty good handle on what our strengths and weaknesses are. It's my job to get our strengths out there and hide our weaknesses. I didn't do a very good job either."
(On how does he adjust when the offensive line is not playing well)
"[Shorter drop backs] are one thing you can do. We talked about this last week. There's different things you can do to help your protection or help any individual guy that is struggling. We are not doing any of that in the preseason. Again, as I said last week, we are trying to teach a system and then when we really drill down on a game plan and match-ups, we'll worry more about that. Even that wasn't going to be the answer this last game. There are some things we can do and we've been practicing them out there. We haven't necessarily taken them to the game yet."
(On if Winston can gain anything by playing in the final preseason game)
"That's a great question. I would say it's very hard to replicate it in practice unless we are going ones-on-ones. That's Coach [Lovie] Smith's decision if we do that or not, different style defense. You get to this last preseason game and the hard part is we all get tight about not wanting to get anyone hurt in a meaningless game. You've got the extra couple days off. The number one thing in my experience is you want your starters healthy going into that first game. Sometimes certain guys are held out based on other guys that are playing. You don't want to put guys at risk. That's a fine line. It's a tough call. Ultimately, it's a head coach's call and we'll see what Coach decides."
(On if Winston's resiliency helps in situations where the offensive is not doing well)
"Absolutely. Trust me, Jameis Winston is not gun shy. You say young quarterbacks, all quarterbacks when they get hit, they don't like it. Jameis, when he makes a mistake, a critical mistake even, or when he takes one in the chops, Jameis is incredibly resilient – one of his best qualities."
(On if Winston's ankle is affecting his performance)
"Yeah, a little bit. It's affecting him a little bit, but he'll be full speed by Tennessee. It's not anything he can't play on. Shoot, even at practice you can't keep him out. Mike [Bajakian] is trying to slow the drills down on the side field and Jameis won't come out. We'll get him healthy, but he's got a sprained ankle. If you have ever had one and you have to move around and cut and plant, it can be painful, but easily something he can get through."
(On if there was anything he liked about Saturday's game)
"Like I said some individuals, I thought Vincent Jackson played well. I thought Evan Smith played well. I think our running backs played well. We just didn't give our running backs a chance a lot of the time. Obviously, Doug [Martin] had the big run. [Charles Sims] had a couple nice runs, Bobby [Rainey], Mike [James] 25. All four of those running backs, when we gave them a chance to get started they all made yards."
(On facing Tennessee Assistant Head Coach/Defense Dick Lebeau)
"Nobody is going to out experience Dick Lebeau. He's got the most experience out of anyone in the league. We have matched up a few times and rookie quarterback or not he's going to throw some junk at you especially on third down. The hardest thing about the first game is you have Dick Lebeau and then you have [Tennessee Defensive Coordinator] Ray Horton, one of his disciples. These last couple of years, now we have to prepare for both. Ray Horton is a heck of a coach in his own right – coming from the Cardinals and then Cleveland and Tennessee. We have about 10 million blitzes drawn up on our board and you can't get them all. I would anticipate it's going to be a pressure fest. Like I said, we got the wake-up call for what we need to do."     
QUARTERBACK JAMEIS WINSTON
(On Saturday's performance)
"I feel good, because we got so much stuff from that film that we can learn on, especially from the blitz pick-up standpoint and we can take at least five plays from that game that we can transfer and help us out for the rest of the season, so I feel good."
(On if not playing in the final preseason game would give him more of an opportunity to prepare for Tennessee)
"For us, today to study Tennessee and get that upper step on them – it's important. Studying is always good."
(On if he is already studying for Tennessee and not worried about Miami)
"We have been studying Tennessee for quite a minute going back to OTAs time. We're actually going to fix a couple things, make some corrections, see how they are playing in the preseason, but we've been studying film from last year of them. Definitely, we have one more game left in the preseason so we're definitely going to focus on Miami as well. We can multitask and do things like that."
(On his ankle)
"Pain is temporary. I really don't focus on that at all. I played last year at Florida State with a sprained ankle so that is the least of my worries. My job is to go out there and play quarterback and fight for the team."
(On if the ankle gets loosened up and warmer as he is out there)
"[Head Athletic Trainer] Bobby [Slater] does a great job getting me warm before the game - the routine that we do, the contrast with hot and cold, I'll be ready as soon as I step foot onto the field."
(On if he welcomes being chased by his opponents)
"Absolutely, that's why we go back to this last game. There are so many things we can learn from that. It's kind of a common thing when you have a rookie quarterback, you are going to see a lot of pressure. I definitely accept that challenge. Definitely the guys are with me too. When you look back on that film, we look at it as hey man, we saw what we are going to see during the season. That was definitely helping us out."
(On his resiliency and being able to take hits)
"I know it's just the beginning. Every time I get a chance to talk to the offensive linemen or the running backs or the even the whole offense, I just tell them, 'Guys it's just the beginning. Everybody is fixing things You guys are taking so many reps.' During the season you are not going got be that tired when you get out there on the field. I take it slow, being hit is a part of the game of football. I trust my line. I trust the running backs, so I know during the season everything is going to be good. We just have to get some stuff fine-tuned and we'll be great."
(On his offensive line needing to grow like his did last year at Florida State)
"Absolutely. As a quarterback, our job is to not focus on the negatives. At Florida State we had some early pressures. We had a very young line – had a young center that started for us. He has to get ready just like most of these guys. Some of these guys weren't even on the team last year. These guys have to get ready just like I have to get ready in the situation – me being a rookie quarterback. They have to get ready, see different looks and get some reps so they can be able to perfect their craft."
(On what is something he has learned through his first three preseason games)
"You can take so much from these preseason games. Of course you have [your own] opinion, but as a player I get to look and actually scout myself. Not really think about the future just yet, I just get to scout myself and just sit down and talk to myself like, 'OK, you have to be quicker here, you have to find the back here, Ok you should have said this protection here.' Just trying to fine-tune some little things."
(On his statement at the NFL Combine about making it to the Super Bowl this season and being compared to Tom Brady and Peyton Manning)
"Yeah, that's the dreams. My dreams are to the ceiling. I believe my dreams have no ceiling. That's just me as a person and that's how I kind of push my leadership up on the other guys. Trying toget them to dream big. We want a lot, but to get that lot we have to get crumbs. We have to go little by little, by little and hopefully get to that point. Yeah, I'm still thinking that. That's just my personality. That's just how I carry myself."