STORY HIGHLIGHTS
Does the Brooks-Sapp combo in the first round make 1995 untouchable as the best draft class in Buc history?
The Bo Jackson pick in 1986 might be the worst in team history, but how high does the Booker Reese selection rank?
Quarterbacks are still the most valued commodity in the draft, as evidenced by a study on FootballPerspective.com

The NFL generates a massive amount of online media coverage, a share of which is devoted to the Tampa Bay Buccaneers.  Even the most avid Buccaneer fans might not catch everything that's out there.
That is why I will be taking a weekly look around the web to gather some of the analysis you might have missed.  I'll also provide my own take on those articles; I will "read and react," if you will.
The pieces that caught my attention this week include an NFL.com list of the best draft classes in each NFC team's history, an opinion on the biggest draft busts in Buc annals, and an interesting bit of analysis from FootballPerspective.com about how highly each position is valued in the draft.  Keep in mind, the opinions stated below are my own and don't necessarily reflect Buccaneers management, coaches or ownership.
You know how everyone is saying that these extra two weeks of draft run-up this year have become tedious…because, well, they have?  Well, even if we're all growing a bit weary of updated mock drafts and Johnny Manziel rumors, site editors are still asking their writers to fill the space for those two weeks, so we're seeing just about every iteration of draft coverage one can imagine.  Over at the excellent Sports on Earth site, three writers combined to do one mock draft in which one picked in the usual predictive manner, one picked the players he thought each team should take and one took a purposefully "outside the box" and "provocative" approach.  Honestly, it's a very entertaining read, but when I was finished I didn't feel as if I was any closer to knowing what was going to happen next Thursday.  Maybe that wasn't the point.
So, you can find some interesting stuff if you get past your draft oversaturation, and I would put Wesseling's article in the same category.  It's not a mock draft but rather a look back, and as the title suggests, it's his opinion of the best work every NFC team has ever done on draft weekend.  Some of the choices were pretty easy, like the Bears and the 1965 draft that netted them two Hall of Famers – Dick Butkus and Gale Sayers – before the fifth pick of the first round.  Some seemed a little tougher; who would have thought that Atlanta's 2008 draft that started with Matt Ryan and followed with the effective but pretty uninspiring group of Curtis Lofton, Sam Baker, Thomas DeCoud and Harry Douglas would be their best ever?
Since you're presumably a Buccaneers fan if you're reading this article, you're waiting to hear about the author's take on Tampa Bay's best draft ever.  Actually, you've probably already come up with your own answer, and there's a very good bet it matches Wesseling's pick.  In fact, he starts the Buccaneer section by saying, "[T]here's only one possible answer to this question."
Yes, of course Wesseling's pick is the 1995 draft that landed the Bucs a pair of Hall of Famers in the first round in Warren Sapp and Derrick Brooks.  The funny thing is, the rest of the section on Tampa Bay veers away from analysis of that draft class and instead looks at the great Buccaneer defenses that would spring from that Sapp-Brooks starting point.  There's even a famous John McKay quote thrown in for no obvious reason, but those are always fun (it's the in-favor-of-his-team's-execution one).
Want to know why Wesseling's account of the Bucs' 1995 draft ends after Sapp and Brooks?  Because that was essentially the end of what the team got out of that class.  That draft should have been held in March rather than April because it came in like a lion and went out like a lamb.  Third-round safety Melvin Johnson spent three years with the team and started 26 games but was unceremoniously traded to Kansas City after that.  The rest of the class (CB Jerry Wilson, CB Clifton Abraham, LB Wardell Rouse, G Stephen Ingram and DE Jeffrey Rodgers) combined to play 24 games as Buccaneers, though Wilson went on to play 10 years in the league.
It is for that reason that I'm going to quibble a little bit with the selection of 1995.  No, in the end, I probably won't put another class above it – because, two Hall of Famers – but I don't think I would go so far as to say "there's only one possible answer to this question."
There are, in fact (or rather, in opinion), some other possible answers to the question, especially if one allows for a quantity over quality argument.  That is, would a draft that produced five or six players who went on to have a big impact for the franchise have an argument against a draft that only produced two, even if those two are Warren Sapp and Derrick Brooks?  I think it would have an argument, yes.
In that vein, we can start with the team's inaugural draft in 1976, which produced one Hall of Famer in Lee Roy Selmon, the first overall pick, as well as useful RB/FB Jimmy DuBose; a five-year starting linebacker in Lee Roy's brother, Dewey; a tackle who would turn into a long-time starter at center in Steve Wilson; a versatile and sometimes-starting defensive back in Curtis Jordan; and a decent kick returner in George Ragsdale (in the 12th-round, no less).  Okay, that's not enough to unseat Sapp and Brooks, but Selmon's presence and some good and lasting roster depth made this a nice starting point for the franchise.
The 1981 draft began with two of the better players in team history – LB Hugh Green and RB James Wilder.  Green developed into a Pro Bowler by just his second season and Wilder is the all-time leading rusher and pass-catcher in franchise history.  Unfortunately, like 1995, this one fizzled out after that, although fourth-round CB John Holt and 11th-round CB Johnny Ray Smith returned some value.
It's too bad the 1992 draft started with the Sean Farrell-Booker Reese debacle because the middle rounds proved pretty darn good with TE Jerry Bell, DE John Cannon and LB Jeff Davis.  The next three drafts were largely a wasteland, and the less said about the Bo Jackson experience in 1986 the better.  But in 1987 the Bucs went into the draft with roughly a million picks and actually made pretty good use of them.  In fact, I would argue that, from a depth perspective, this is probably the most impactful class in team history.
That '87 draft started with QB Vinny Testaverde, and while his career in Tampa was unfulfilling and at times a little painful, we are talking about a five-year starter who also went on to a long and good career in the NFL after leaving.  Ricky Reynolds, one of the best cornerbacks in team history, followed in the second round, which also produced standout LB Winston Moss. The third round brought Mark Carrier, who would become the franchise's all-time leader in receiving yards, and the fourth round produced TE Ron Hall and WR Bruce Hill.  Hall and Hill weren't Pro Bowlers, but they were productive members of the Bucs' passing game for years.  The Bucs found a useful nose tackle in the seventh round in Curt Jarvis and not long after that picked up Harry Swayne, who would eventually convert from defense to offense and become a long-time starter at tackle in the NFL.  I don't know if the Bucs get credit for this or not, but they managed to find a kicker in the ninth round, the Citadel's Greg Davis, who would go on to a 12-year career in the league.
Did you know the Bucs got John Lynch and Chidi Ahanotu in the same draft in 1993, both of them third round or later.  It's too bad that draft started with Eric Curry and Demetrius DuBose.  The 1996 draft netted two useful defensive linemen in Regan Upshaw and Marcus Jones plus all-time Buc greats Mike Alstott and Donnie Abraham.  Jason Odom and Jason Maniecki also stuck, but Upshaw and Jones didn't do enough to push this one over the top.  The 1997 draft, however, has an argument with Warrick Dunn, Reidel Anthony, Jerry Wunsch, Frank Middleton, Ronde Barber, Alshermond Singleton and Patrick Hape.  If we get to count sixth-round CB Al Harris, who didn't stick in Tampa but went on to a very good NFL career, then this one might give 1995 a run for its money.  Barber will probably be in the Hall of Fame and Dunn was excellent in both Tampa and Atlanta.  Wunsch, Middleton, Singleton and Hape weren't stars, but they were good role players and Singleton started on the 2002 Super Bowl team.
There's also a dark horse in the building.  It's way too early to know for sure what the fate of the 2012 draft class will be, but let's not forget that it started with Mark Barron, Doug Martin and Lavonte David.  David is a bona fide star, Martin was the same as a rookie before injury troubles last year, and there's a feeling that bigger things are ahead for Barron.  We could be looking back at this one with wonder in 10 years.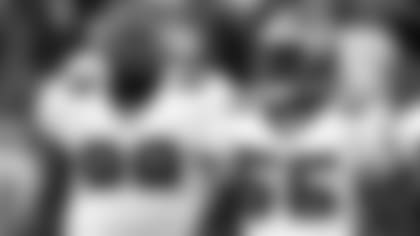 Hall-of-Fame pals DT Warren Sapp and LB Derrick Brooks were picked in the same round of what may be the best draft in Bucs history
So, no, I don't think I've made a compelling enough argument to unseat the 1995 draft from its perch at the top.  I do think it has some pretty strong competitors for the title, however, most notably the very deep 1987 group.
What the heck, as long as we're taking a trip down memory lane, let's look at the flip side of this draft thing, too.  We got to look at the Bucs' best draft-weekend moments above; now let's look at the worst.
As long-time Buccaneer fans know, there will be some competition for this list.  Recent seasons have had their share of draft ups and downs, as is the case with pretty much every team in this very inexact science.  There was a time, however, when draft disappointments were more of the norm for the franchise, before its reinvention under new ownership in the mid-90s.  Let's just say that Mr. Astleford probably could've expanded the list to 15 or 20 if he so desired.
Read the whole article, because it's entertaining in sort of an exquisitely-painful way, but to save you some time, let me list Astleford's top 10, in descending order, with #1 being his choice for the biggest draft bust: WR Dexter Jackson (2008), G Brett Moritz (1978), WR Arrelious Benn (2010), DE Booker Reese (1982), QB Josh Freeman (2009), T Charles McRae (1991), DE Gaines Adams (2007), LB Keith McCants (1990), QB Vinny Testaverde (1987), RB Bo Jackson (1986).
I respect that list.  I do not completely agree with it.  There are a few names I would add and subtract, and a couple I would leave on the list but move up or down the order.  I'll get to that in a moment, but first let's note that all of the author's choices are first or second-round picks.  I think that's a good decision on his part, as a player really should be a high pick to be considered a significant bust.  It's not particularly noteworthy when a fifth-round pick fails to make an impact.  I'll stick to that same convention.
Let me start with some words of praise: The inclusion of Moritz is surprisingly astute.  Many Buc fans can rattle off such names as McCants, McRae and Adams, but I doubt they recognize Moritz's name.  Surely that's because he played back in 1978, and because he barely played back in 1978.  Moritz was a guard from Nebraska, which is usually a pretty promising start when trying to describe a good player, and he went 44th overall that year.  You can call players like Vinny Testaverde and Charles McRae busts, but at least they stuck around for a fairly long time.  Drafting a player in the second round who plays in only six career games is a massive failure for the team.
In fact, Moritz might have been the least successful second-round pick the Bucs ever made, at least until 2008 when Appalachian State wide receiver Dexter Jackson arrived.  He played in only seven games, never had a catch and wasn't much help in the one area he was expected to excel in right away, the return game.  The Bucs thought he could be a big-playmaker but he seemed a little too concerned about taking a hard hit.  I'm not sure which one of these two I would say was the bigger miss, but I agree with Astleford that both belong on the list.
I do not agree, however, that second-round receiver Arrelious Benn deserves one of the top 10 spots.  I admit to a little bias here because I found Benn such a pleasure to work with, but I still think he's objectively not one of the 10 biggest Buc busts.  It was not a successful pick, by any measure, and I suppose he doesn't get a free pass just because much of his troubles were injury-related.  That continued last year after he was traded to the Eagles, unfortunately.
But I can name any number of former second-round picks I consider more problematic than Benn, including Demetrius DuBose, Brian Price, Sabby Piscitelli, Don Smith and Mike Alstott (just seeing if you were paying attention!).  In fact, let's consider WR Danny Peebles, who was taken in the second round in 1989, with the 33rd overall selection, six spots higher than Benn.  I don't think I've ever heard any specifically mentioning Peebles as a notable Buc draft bust, but the record shows that he played in 23 games with one start over two seasons in Tampa, catching 18 passes for 369 yards and no touchdowns.  Benn lasted three seasons in Tampa, played in 37 games with 24 starts and caught 59 passes for 862 yards and five touchdowns.  I'm not trying to put the bust label on Peebles, I'm just saying that Benn did more than Peebles and thus doesn't deserve to be on the list.
I might have difficulty deciding which other second-rounder to replace Benn on the list if there wasn't a surprising omission from among the Bucs' first-round history.  That would be Eric Curry, the Alabama defensive end who went sixth overall in 1993 and never lived up to expectations.  In 1995, Curry started all 16 games at right end for the Buccaneers and nearly made it through the year without a single sack, finally getting on board with two in the season finale.  Twelve sacks in five years is certainly not what one is looking for with a defensive end picked sixth overall.  Curry should be on the list, right around where McCants and Adams are.
Freeman is an unusual case in that I don't think anyone would have considered him an out-and-out bust until last year.  I generally think of draft busts as players who are uninspiring right out of the gate and never get much better, which wasn't really Freeman's arc, and he had a very promising 2010 season.  If he's on this list, and I'm not convinced he should be, I'd put him near the bottom.
As long as we're rearranging, let's move Booker Reese way up, perhaps even to #2 (the Bo Jackson debacle cannot be topped).  Let's swap him and Vinny, since as I mentioned before Testaverde put together a pretty good NFL career in the long run.  I know he's going to have his spot here because he was a number-one overall pick who did not develop into the franchise quarterback, but I can't have him anywhere near #2.  Reese, on the other hand, was both a total bust as a player and part of one of the worst sequence of events in franchise history.  I've written about it many times so I won't rehash it in detail again here.  Just know that the team's coveting of Reese essentially cost them first-round draft picks in each of the next two years and tied into ongoing problems at the quarterback position.
Yep, my list probably goes Jackson, Reese, McCants and Curry at the top, and after that I'm not too concerned with the order.
Hopefully you'll allow me a bit of leeway in several directions on this one.  First, this article wasn't posted this past week, but I also haven't done a Read and React in two weeks, so I felt okay widening the scope.  Second, nothing about this article is specifically aimed at Buccaneer analysis.  But it does have a lot to do with the upcoming draft, and I think it might offer some food for thought when we're trying to determine if this year's class of quarterbacks is going to collectively rise in the draft, as in 2011 and 2012 or collectively slide, as in 2013.
Basically, the author combines his own draft value chart (a topic I discussed in yesterday's mailbag) with the results of the last 10 drafts to see which positions have had the most draft assets thrown at them.  As an example, Stuart's draft chart values the first overall pick at 34.6 points, so when Andrew Luck was first off the board in 2012 that gave 34.6 points to the quarterback group.  E.J. Manuel went 16th last year, which was good for another 16.9 points.  And so on.  Add up all the points at each position and you can see which ones are considered most important to NFL teams when using those highly-coveted draft-pick assets.
If you're like me, you immediately assume that quarterback is going to be at the top of the value list.  According to Stuart's analysis, the answer is no…but then, yes.
Straight up, the quarterback position ate up just 7% of all draft capital over the last 10 years, a lower percentage than running back, wide receiver, tackle, defensive end, defensive tackle, linebacker and defensive back.  However, as Stuart immediately points out and then adjusts for, a football team starts just one quarterback but four defensive backs (actually, he puts the number at 4.5, which accounts for extra-DB packages).  The marks work out to 1.2 running backs per snap, 2.5 tight ends per snap, etc.  Divide the original percentages by those starts-per-position numbers and suddenly QB shoots to the top, just ahead of running back and well ahead of every other position.
Stuart uses the data in his charts to draw some conclusions about the rise and fall of perceived value at various positions, but I won't dumb it down for you here.  Check it out if you're interested; I think it's particularly noteworthy what he has to say about the running back position.
The reason I included this article, however, is to point out what might seem like the obvious: Quarterback continues to be valued above all other positions.  Personally, I was quite surprised in 2011 when Jake Locker, Blaine Gabbert and Christian Ponder all went in the top 12 picks.  I was less surprised the following year when Ryan Tannehill went eighth (after the obvious 1-2 picks of Luck and RGIII) and Brandon Weeden went 22nd.  Personally, I think this is the trend we should pay attention to, and that last year's drop of Geno Smith to 39th was the exception.  When you're trying to mock out how high Johnny Manziel, Blake Bortles and Teddy Bridgewater – he of the supposedly plummeting stock – are going to go next Thursday, take the over.