STORY HIGHLIGHTS
Pro Football Focus looks at Tampa Bay's main roster needs as free agency approaches
Jeff Tedford tells CBS Sports about his preparations for his debut as an NFL offensive coordinator
Examining the logic that led to outside Darrelle Revis trade speculation this past week

The NFL generates a massive amount of online media coverage, a share of which is devoted to the Tampa Bay Buccaneers. Even the most avid Buccaneer fans might not catch everything that's out there.
That is why I will be taking a weekly look around the web to gather some of the analysis you might have missed. I'll also provide my own take on those articles; I will "read and react," if you will.
The pieces that caught my attention this week include Pro Football Focus's evaluation of the Buccaneers' team needs, a CBSSports.com piece on Jeff Tedford's approach to the NFL and the Tampa Tribune's take on the recent Darrelle Revis trade speculation. Keep in mind, the opinions stated below are my own and don't necessarily reflect Buccaneers management, coaches or ownership.
There has been a lot of very interesting content in the last month or so on the Pro Football Focus site, which taken together works as something of a primer for the start of free agency on March 11.  For instance, they have a series of articles pinpointing the most "undervalued" and "overvalued" players on each team based on their production and salary (here's the one on Tampa Bay), their projected 2014 starting lineups for each team (the Bucs) and ranked lists of the potentially available free agents at each position (check out the edge defenders).
PFF is currently working through another series of "team needs" for each franchise, with the Buccaneers getting their treatment on Friday. Author Peter Damilatis first goes through a list of players he considers potential "cap casualties" before the start of free agency, then identifies the main positions at which the team needs to add talent. The story also begins in the same way that many offseason analyses of the Bucs' current situation have, namely, "… thanks to some solid drafting and big-money free agent signings in recent offseasons, the Buccaneers have a lot more talent than your typical 4-12 team."
As for the possible cap casualties, Damilatis mentions that the team is estimated to be holding around $10 million in available cap space already, but still thinks some cuts are possible. Essentially, the author sees overvalued players on the offensive line and in the kicking game, and if you've read PFF's work on the Buccaneers in the past you know that they have consistently graded Davin Joseph lower than his pay scale. To quibble with that, I'd have to take issue with the whole PFF grading process, and that would render this exercise useless. I could say, however, that Joseph was returning from a very serious knee injury last year, that he basically started the season with almost no preparation and that he felt stronger as the season went along. Even if PFF's 2013 assessment of Joseph is fair, one could argue that the 2014 version has a good chance to be better.
Other than that, my main reaction would be to the inclusion of kicker Connor Barth, "whose $2 million is too rich for a kicker who consistently falls short of his peers."  I'm not sure if that statement is based on some more in-depth analysis than percentage of field goals made, but it makes me scratch my head.  There's no grade on Barth in 2013, of course, because he missed the season after tearing an Achilles tendon in July.  From 2010-2012, however, Barth made 86.5% of his field goal attempts, which ranked sixth in the entire NFL in that span.  Over the 2011-12 seasons, he made 88.5% of his tries, seventh-best in the league in that two-year span.  Barth doesn't have kickoff numbers to throw into that equation, as punter Michael Koenen handles those duties, and handles them well.  Perhaps the fact that Barth doesn't kick off factors into Damilatis' assessment, but I think the Bucs have to be happy with what Barth has done with his scoring opportunities.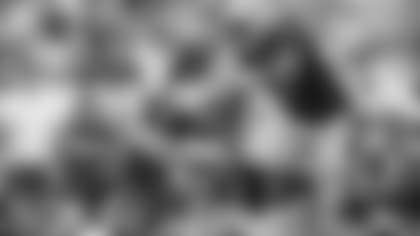 Could 2014 be the year Adrian Clayborn builds significantly on the promise of his 7.5-sack rookie season in 2011?
The author's selections at the three positions at which the Bucs need help this offseason won't surprise anyone: defensive end, tight end and guard. Damilatis doesn't think the team will miss Daniel Te'o-Nesheim and doesn't seem too bullish on what Adrian Clayborn or Da'Quan Bowers will contribute. While admitting that Bowers' future contributions are nearly impossible to predict, I would be a little higher on the possibilities for Clayborn, who had 7.5 sacks as a rookie in 2011 before losing most of 2012 to a knee injury. Without arguing with PFF's 2013 grades on those players, I would suggest that Clayborn still has a very real chance to tap into potential that made him a first-round pick three years ago. The PFF solution at this spot is to add quantity with mid-tier free agents; to me, that sounds like it dovetails with the approach I believe the team will take in the market this year.
There's no doubt that the Bucs were feeling about for options at tight end last year after a rash of injuries to Luke Stocker, Tom Crabtree and Nate Byham. The PFF take on Tim Wright seems on the money – the converted receiver showed promise in the passing game (54 catches) but is a work-in-progress as a blocker. The PFF suggestion: Keep developing Wright and use free agency to find a very good blocking tight end to pair him with. That seems like a doable idea, as a blocking tight end should be pretty affordable.
The equation at guard is murkier.  Again, part of that is due to PFF's assessment of Joseph.  Part of it has to do with uncertainty over Carl Nicks' recovery from his toe ailments.  As noted, Nicks was one of the highest graded guards in the league before his injuries; having that player back in the lineup in 2014 would be a huge boost at the position. PFF accurately notes that part-time starter Jamon Meredith is a pending free agent; so, too, is Ted Larsen, who started the season finale over Meredith. Guards are generally an available and reasonably affordable asset on the free agent market, so PFF's suggestion of treating the situation much the same as the defensive end approach above makes sense on paper.
This is more a story of Tedford's journey from Cal to the NFL than it is an opinion piece, but there are still some interesting points to highlight.
We know the story of Lovie Smith contacting Jeff Tedford last fall – they had never met but both were in a year away from the game after being let go by their respective teams after the 2012 season – and setting up a meeting in Smith's basement. Fowler adds details to that meeting of the minds, noting that, like Smith, Tedford had no intention of being out of the game for long. Both coaches used their year off to study both themselves and the game of football intently; both watched endless amount of film to keep on developments in the college and pro game.
Fowler calls Tedford's new post one of the more "intriguing" hires in either college or the pros, "because of the implications for both men involved." In essence, he sees Tedford's efforts to be one of the keys to Smith succeeding in Tampa and having a lengthy tenure with the Buccaneers. Because Tedford's only pro coaching experience came in the CFL more than two decades ago, Fowler acknowledges that he's something of an unknown quantity for the NFL. However, he appears to come down on the optimistic side of Tedford's future.
"His sophisticated, quarterback-driven scheme, which reportedly overwhelmed Bears quarterbacks late in Tedford's tenure, should acquit well in the complex NFL game," writes Fowler, who caught up the Bucs' OC during the NFL Scouting Combine last week. The author quotes Tedford as saying, "This came in the perfect time in my life and career."
What's particularly interesting in Fowler's story is the description of what happened after Smith and Tedford hit it off and agreed to pair up wherever Smith got his anticipated next head coaching job. How does a long-time college coach prepare for the transition to calling plays in the NFL? In Tedford's case, it surely meant a lot of film study, but there was one procedural issue he played particularly close attention to: clock management.
"One thing stuck out after watching dozens of NFL games in the fall: So many come down to the last minute," writes Fowler. "'I'm not going to come in and act like I know everything about the NFL because I don't,' Tedford said. 'I can feed off [Bucs coaches] with what their experiences have been. I'm really fortunate to be with a guy like [Smith], with very high values and strong philosophies about things.'"
Problems managing the clock at the end of halves and games are a common complaint among fans and members of the media who take issue with a coaching staff. Nobody's immune to the occasional mistake, but it's comforting to know that Tedford is making a specific and detailed effort to get that part of his coaching on point.
The reaction: Of course they do. Cummings gets to the heart of the matter before he's done with the first sentence of his article: "… a move involving Revis would seem to run contrary to the Bucs defensive plans for 2014."
The recent Revis Trade (it's practically a proper noun at this point) discussion did not originate at One Buc Place, obviously.  It seems to stem from this bit of conjecture and addition: [The Buccaneers play a Cover Two defense dependent upon good zone-coverage corners] + [Darrelle Revis is considered the NFL's premier cover corner].  As Cummings points out, however, that ignores the fact that even teams that identify as "Cover Two" or "Tampa Two" defenses only use that base when the situation calls for it, and that more often than not the situation does not call for it. Lovie Smith got his start in the Tampa Two under its masters, Tony Dungy and Monte Kiffin, and even Kiffin spent his last three or four yours in Tampa trying to explain to people that only about 25-30% of snaps called for the Cover Two.
That's why Smith says to Cummings: "We're primarily going to be a man team. Whether we win or lose is going to be based on how we play man coverage."