STORY HIGHLIGHTS
Lavonte David and Johnthan Banks represent two of the biggest potential bargains on the Bucs' 2014 roster
Dashon Goldson sees potential greatness in Tampa Bay's 2014 defense, particularly with the arrival of Lovie Smith
Vincent Jackson was one of the 10 most productive receivers in the NFL in 2013 on a yards-per-route basis

The NFL generates a massive amount of online media coverage, a share of which is devoted to the Tampa Bay Buccaneers.  Even the most avid Buccaneer fans might not catch everything that's out there.
That is why I will be taking a weekly look around the web to gather some of the analysis you might have missed.  I'll also provide my own take on those articles; I will "read and react," if you will.
The pieces that caught my attention this week include an ESPN.com blog entry about the best salary cap bargains on the Bucs' roster; a Tampabay.com story on Dashon Goldson's belief in the Bucs' 2014 defense; and a Pro Football Focus analysis of the NFL's most productive receivers per route run.  Keep in mind, the opinions stated below are my own and don't necessarily reflect Buccaneers management, coaches or ownership.
As Grantland's Bill Barnwell astutely pointed out in his post-Super Bowl analysis, one of the Seattle Seahawks' greatest assets is an above-average quarterback with a contract that pays him far below what an above-average quarterback usually makes.  The Seahawks can use the difference between what Russell Wilson makes and what his sort of production usually costs and devote it to other positions, such as a deep stable of pass-rushers.
ESPN.com blogger Pat Yasinskas edges into the same territory with his take on the players on Tampa Bay's roster who produce the most while costing the least.  Not surprisingly, four of Yasinskas' five selections are draft picks outside of the first round.  Draft picks – especially those outside of the first round – who produce quickly have always been the best value in the NFL's free agency era, but that has become even more pronounced since the new collective bargaining agreement in 2011 introduced a fairly rigid rookie salary cap structure.
Yasinskas lists his five choices in descending order of their salary cap figure for 2014, and not surprisingly it moves straight down the draft rounds, from cornerback Johnthan Banks (second round, 2013) to linebacker Lavonte David (2nd, 2012) to Akeem Spence (4th, 2013) to Keith Tandy (6th, 2012) to Tim Wright (undrafted, 2013).
There are different levels of value here, though, and Yasinskas' list might have been even more informative if he listed them in order of what he thought were the best values.  If I were re-ordering that list, for instance, I would put Lavonte David at the top, and there would be a big gap between him and the player in the number two spot.  By Yasinskas' figures, David counted about $100,000 less against the cap than Banks and you could make an argument that the second-year linebacker was the most productive player on the entire team in 2013.  Again, Yasinskas is talking about the players' 2014 cap hit, which means he's looking ahead to the production they will provide, but it's a safe bet that David will be at least as good season as he was in 2014.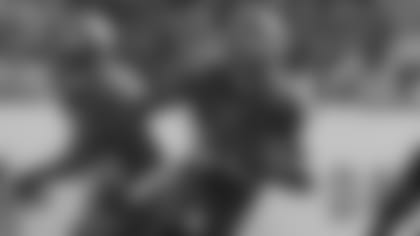 LB Lavonte David was one of the Buccaneers' most productive players in 2013 and is likely to be the same next fall
Yasinskas points to Darrelle Revis and Gerald McCoy as examples of very good players who are getting paid as such, and that further demonstrates the value of draft picks since 2011.  Revis arrived via trade last spring and then was given a new six-year contract at the level a team would pay for perhaps the NFL's best cornerback on the free agent market.  Which is to say, a whole lot.  McCoy was a draft pick, but he was taken third overall in 2010, right before the new rookie cap, and that spot commands a rather large cap number (which fortunately for the Buccaneers has been well worth it).
McCoy, David and Revis would probably be in a pretty tight heat if one were trying to determine the best player on Tampa Bay's defense.  That David is in that conversation while having such a relatively small impact on the Bucs' cap situation indicates his enormous value to the team.  A bargain indeed, and that will remain true in 2014 because, as Yasinskas points out, the new CBA doesn't allow a contract extension until after a player's third year.
Banks and Wright seem like good choices for the list as well.  Banks has room to grow, of course, but he gave the Bucs solid play at a very important position as a rookie in 2013.  Wright's future as an NFL tight end will be tied to how well he can develop as a blocker, but 54 catches and five touchdowns for a half-million cap hit was clearly a bargain in 2013.  That hopefully will hold true in 2014, as well.
Spence and Tandy are essentially on the list because they had low (mid-range draft-pick controlled) salaries and they made a significant amount of starts.  That's especially true for Spence, who was basically the starting nose tackle for the entire 2013 campaign.  The question is, was Spence's production significantly better than the player who would have replaced him were he not there.  That's difficult to assess in the absence of any overwhelming statistics (29 tackles, one sack, part of the 15th-ranked run defense), but given that the Bucs' reserves were mostly career back-ups, the answer was probably yes in 2013.  That could very well be true in 2014, but as the author points out, it will depend on how Spence fits into the team's new defensive scheme.
Of course, it would be easy to argue that quarterback Mike Glennon, with a very similar cap hit, provided just as much of a bargain in 2013.  He started 13 games and fared better on a per-game basis than the man he replaced, Josh Freeman.  As a rookie, Glennon didn't give the Buccaneers the same disparity between production and cost as Wilson has in Seattle (that very well could still come for Glennon), but he had 2,600 yards, 19 touchdowns and an 83.9 passer rating.  If he can hold on to the starting job and further improve on his production, Glennon could emerge as one of the team's biggest bargains in 2014.
There is one player not on Yasinskas' list, and indeed not even in the same category of player, who was sneakily a big bargain in 2013: Vincent Jackson.
Again, to be clear, Yasinskas' post focuses on players who look like bargains heading into 2014, so it's understandable why he did not include Jackson, who signed a five-year $55-million dollar deal with the Bucs during the 2012 free agency period.  That's an average of $11 million a year, but there was no signing bonus and thus no proration of that bonus over the five years.  And, following a 2013 restructure, there was one season in which Jackson's cap hit was far lower than the other five: 2013.  While he has counted or will count at least $12 million against the cap in each of the other four years of the deal, in 2013 it was just $3.27 million.  That's still a significant number, however, but it still seems like a bargain for a player who produced 78 catches for 1,224 yards and seven touchdowns and was the team's only consistently effective weapon on offense.
I include this one in part because of a minor detail Stroud slips into his story: Buccaneers safety Dashon Goldson has traded in his dreadlocks for a "close cropped hair cut."  Man, that's hard to imagine!
Anyway, Rick Stroud caught up with the newly-shorn Goldson along Radio Row during Super Bowl week in New York, and it's safe to say that the veteran safety is excited about the arrival of Lovie Smith and his coaching staff.  There's nothing to quibble with in terms of the author's point of view – Stroud is merely passing along Goldson's thoughts and providing some background details, summing up the Bucs' difficulties in 2013 and Goldson's own issues with league fines for illegal hits.
What's interesting is Goldson's point of view – he sees the Bucs' defense as already solid on all three levels (line, linebackers, secondary), with just a few pieces needed.  He also seems confident that the new management of Smith and General Manager Jason Licht will find those necessary pieces.
"I think we already have a good football team and I'm sure they're going to bring big names and some good players," Goldson told Stroud.  "I'm excited about this year."
What's striking is how Tampa Bay players – assuming Goldson's viewpoint is shared by a majority of them – felt the struggles of 2013 were the product not of insufficient talent but of the myriad of unforeseen issues (MRSA, etc.) and communication problems.  If Goldson is right, and there are plenty of outside analysts who also see a lot of talent on Tampa Bay's roster, the turnaround in Tampa could be swift.
Goldson is certainly confident in the future of Tampa Bay's defense, which should be encouraging for Buccaneer fans.
"I think we can be a top five defense," he told Stroud.  "Easy."
This is a really interesting list.  And, obviously, I wouldn't be bringing it up if there wasn't a Buccaneer on it somewhere.
There's a deep well of statistical analysis on the Pro Football Focus web site, and a good amount of it is, understandably, available only by subscription.  That's not the case for this article, however, as Khaled Elsayed considers a relatively straightforward statistical concept: Which NFL receivers produced the most yards per route they ran over the course of the entire 2013 season?
Some of the statistics generated by PFF are very involved, and some of the efforts that go into their grading system are necessarily subjective.  That's not the case with this one, however.  Elsayed simply recorded the number of actual routes a receiver ran during the season, then used that number to divide his receiving yardage total.  A receiver who gained 1,000 yards and ran 500 routes would have a yards-per-route figure of 2.00.  Another 1,000-yard receiver who did it on 400 routes would have a figure of 2.50 and would appear to be capable of getting more out of any given play.
Elsayed lists the top 10 in the NFL in yards per route run.  His main take-away from his statistical analysis is that Atlanta's Julio Jones was as good as ever before his injury in 2013, and that his loss was a devastating blow to the Falcons.  It's a fair point; Jones averaged an NFL-best 2.74 yards per route run in 2013, just edging out the 2.72 put up by Detroit's Calvin Johnson.  Jones, however, ran just 212 routes this past season, roughly one-third of the total of every other receiver on the top 10 of this PFF list.
The rest of the list is, unsurprisingly a star-studded group.  It includes seven players who were selected to the Pro Bowl, either originally or as replacements: Dez Bryant, A.J. Green, Josh Gordon, Alshon Jeffery, Antonio Brown, Brandon Marshall and DeSean Jackson.  Jones got hurt too early in the season to get a nod, leaving just two other receivers in the top 10 who didn't go to Hawaii in January: San Francisco's Anquan Boldin and the Bucs' Vincent Jackson.
Jackson did go to the Pro Bowl in 2011 (with San Diego) and 2012 (with the Buccaneers), and he certainly was just as productive in 2013.  He set a career high with 78 catches and put up his second-highest yardage total ever with 1,224.  In 2012, Jackson led the NFL with an average of 19.2 yards per catch.  He wasn't able to duplicate that in 2013, but his mark of 15.7 was still outstanding…and according to PFF's Elsayed, he was one of the league's best at getting the most production out of every route he ran.
It was hard to find much to get excited about in the Bucs' offense in 2013, partly due to injuries to Doug Martin, Mike Williams, Carl Nicks and roughly 300 tight ends, and partly due to a rather dramatic change at quarterback.  But Jackson managed to have another fruitful campaign despite being frequently targeted by opposing defenses, and in fact he might have been even better than was immediately obvious.  PFF's analysis suggest as much, at least in one respect.