STORY HIGHLIGHTS
Gerald McCoy is the obvious face of the franchise today among players, but others have come before, starting with Lee Roy Selmon
Is Adrian Clayborn one of the Buccaneers with the most to prove in 2014?
If you could take any player in NFL history in your next fantasy draft, who would be high on your list?

The NFL generates a massive amount of online media coverage, a share of which is devoted to the Tampa Bay Buccaneers.  Even the most avid Buccaneer fans might not catch everything that's out there.
That is why I will be taking a weekly look around the web to gather some of the analysis you might have missed.  I'll also provide my own take on those articles; I will "read and react," if you will.  In some cases, these choices also serve as recommendations, alerting you to articles of particular interest about your Buccaneers.
The pieces that caught my attention this week included a "face of the franchise" series by NFL.com's Bucky Brooks, an SI.com analysis of the players with the most to prove on each team, and one of the more bizarre fantasy drafts you'll ever see.
Keep in mind, the opinions stated below are my own and don't necessarily reflect Buccaneers management, coaches or ownership.
So, the concept here is to go through every team in the league, one division's worth per day, and identify the one player who, "through sheer force of skill and personality," defines his team's identity and leads it into the future.
Fair enough.  We knew what Mr. Brooks meant, right?  Face of the franchise is a pretty straightforward term, and it usually has an easily-identifiable answer, as well.  Tom Brady is obviously the face of the Patriots (if we're including only players, since even Brady might be trumped by Bill Belichick).  I'd say it's Calvin Johnson in Detroit, Aaron Rodgers in Green Bay, Adrian Peterson in Minnesota and Patrick Willis in San Francisco.
On Thursday, Brooks swung through the NFC South and I can't imagine how anyone could argue with his choices.  Even with the author picking both his top choice and another player who could be waiting in the wings, it's still hard to quibble.  Drew Brees, Matt Ryan and Cam Newton.  Yes, of course.  In Tampa we have the relatively rare defensive face-of-the-franchise but how could you pick anybody but Gerald McCoy.  Waiting in the wings is Lavonte David, which is at least a little more speculative.  What that feels like is a list of the team's two best players, and while McCoy is obviously also the gregarious team leader, that's not yet so obvious about David.
Lest that sound like criticism, let me explain, because it certainly is not.  David is an absolute rock.  He was also grew into more of a leadership role last year, but that was bound to happen because he was such an incredible performer on the field that his teammates were bound to be drawn to him.  He handled it well, but this is still not yet a terribly outspoken player.  Derrick Brooks – the player to which David is so often compared (which is hardly fair to David and yet it still doesn't seem outrageous) – was certainly a team leader, but he too was more likely to lead by example.  And what an incredible example it was.  There were always bigger personalities around (hello, Mr. Sapp), but everyone knew they could count on Brooks.  Eventually, Brooks was a face of the franchise by default; he was simply too good and around too long (thankfully) not to be.
Hopefully, David is around for a very, very long time, too.  The thing is, we have to hope the same thing about McCoy, and David is just two years behind his defensive teammate.  McCoy should continue to lead the way, David should continue to be the same relatively quiet but completely dependable rock in the locker room, and other big personalities will emerge along the way.  It's not like McCoy needs an heir apparent any time soon, but in the long run David may not be the only obvious choice.
Anyway, like I said, there's little too argue with here, but I linked to Brooks' article anyway because it inspired another thought in my head.  And that thought is this: Gerald McCoy is the obvious face of the franchise right now, but that's only been true since 2013.  So, who was the face before McCoy, and who was the face before that player?  Voila!  We have ourselves an exercise.
With the wonderfully sharp tool of hindsight, let's start in 1976 and conjecture who would be considered the "face of the franchise" for the Buccaneers from Day One until now, with only players as candidates.  This is an important distinction, because at the very least you'd have to give it to founding Head Coach John McKay at least in the first season, and he'd be battling a certain Hall of Fame defensive end for a year or two.
We'll do this by time periods instead of year by year, so at times we may be able to bite off large chunks of the last four decades all at once.  Here we go:
1976-84: Lee Roy Selmon. The easiest choice on this list until perhaps McCoy himself in 2014.  Selmon is perhaps the greatest player in team history and its first Hall of Famer, but the strength of his character far outweighed anything he ever did on the field.  Selmon was a universally beloved figure during his playing days, and then a force for good in the Bay area community for the rest of his too-short life.  You see Selmon's name all over the Bay area, on roadways and restaurants and on the stadium façade as part of the Ring of Honor.  If anything, his influence grew bigger after he retired; you could truly call this Oklahoma native one of the enduring faces of the Tampa Bay area, not just its football franchise.  One note: I originally gave Selmon the 1977-84 range and tried to give 1976, the franchise's inaugural season, to someone else.  My thought was that Selmon was just a rookie and that an injury limited him to eight games.  However, a source very familiar with the era tells me that, even in 1976, Lee Roy was well-loved and the franchise focal point.  Fine by me; '76 goes to Selmon.  I was having a hard time finding a better candidate anyway.  Spurrier? Batman? Dave Pear?
1985: James Wilder. With Selmon forced into retirement by a back injury and Wilder coming off the greatest offensive season in the franchise's history (which is still true), the team gets a new face.  Wilder would have another huge season in 1985 to hold on to the spotlight.  Actually, you could make an argument that it was still Selmon for several years to come, but I'm trying to restrict this to players who were on the roster at the time.
1986: Steve Young. Wilder's gradual decline began in this season and the Bucs went into it hoping their 1985 bonus from the USFL would grab the reins from Steve DeBerg.  He did by the third game and started the rest of the way.  It wasn't a good season and Young's play wasn't always pretty, but there were already hints of the dynamic Hall of Famer he would become with San Francisco.  This team didn't have a lot going for it and was about to undergo a massive overhaul, making Young by far the most interesting thing about it.
1987-89: Vinny Testaverde. For better or worse, the first overall pick of the 1987 draft stepped right into the face-of-the-franchise role for the Buccaneers, especially with Young traded away.  He didn't get his first start until December, but everyone knew that Steve DeBerg was just keeping the seat warm for him.  From that point on, all eyes were on the former University of Miami star, who was presumably going to stabilize the quarterback position for the first time since Doug Williams departed.  The next few years were rocky – and 1988 was particularly hard, with Testaverde throwing 35 interceptions – but that didn't change the fact that the young passer was out front and center.  He would actually play with the team through 1992, and you could make the argument that he remained the face that entire time (obviously, I'm arguing differently), but as it became less and less likely that Testaverde was going to be around for the long haul his hold on the public consciousness started to fade.
1990-91: Broderick Thomas. These two seasons were another transition time for the Buccaneers, as they moved on from Ray Perkins and briefly had Richard Williamson at the helm.  They won only nine games in this span and had a mostly punchless offense.  Testaverde and Chris Chandler kept trading the starting job back and forth, with the prickly Chandler adding a lot of tension to the situation.  However, Broderick Thomas had 18.5 sacks over those two seasons and the 1989 first-round pick looked like he could develop into the team's next defensive star.  It didn't work out that way in the long run, but for these two years Thomas was probably the team's main player in the spotlight.
1992: Santana Dotson. This is the most difficult season to call of all of them. Testaverde was in his final season as a Buc before hitting the inaugural free agent market the next spring (and going on to a long and quite good NFL career).  He did have two marvelous games to start the season, but he and the Bucs faded from there.  Reggie Cobb had his best year but he wasn't really the type to demand the spotlight.  Broderick Thomas was headed downhill.  Paul Gruber was probably the team's best player but he would always toil in anonymity relative to how good he was.  So I'll go with Dotson, who came in as a fifth-round pick with a chip on his shoulder and was immediately one of the bigger personalities on the team.  He also racked up five sacks in the first three games and went on to get a Buc rookie record of 10.
1993-96: Hardy Nickerson. The first season of real free agency led to the departure of Testaverde but also the arrival of Nickerson, who would instantly emerge as the team's new leader.  It was also clear from Day One that he was a special player, and he would go on to set the team's single-season tackle record in his first year in orange.  Nickerson would eventually be joined by the players remembered as the core of the Super Bowl team – John Lynch in 1993, Derrick Brooks and Warren Sapp in 1995, Ronde Barber in 1997, but he was the first piece in the puzzle that came together as the best defense in franchise history.
1997-2001: Warren Sapp. The Bucs emerged from their 15-year walk through the valley in 1997, and the first game of that year was a stunning 13-6 win over the powerful 49ers.  Sapp was all over the field in that one, announcing his presence with backfield drops of both Steve Young and Jerry Rice, both of whom would have to leave the game due to injury.  Derrick Brooks was just as important to the defense over this span, but you couldn't tear your eyes away from the pylon-kicking, quarterback-hunting Sapp, especially if Brett Favre happened to be around, too.
2002-05: Derrick Brooks. By virtue of putting together his NFL Defensive Player of the Year season in the campaign that ended in the team's first Super Bowl championship, Brooks stepped into the face-of-the-franchise role in 2002, even if Sapp was still around and still just as brash as ever.  Sapp would depart after just one more season, however, while Brooks would stay and finish his Hall of Fame career in Tampa.  In 2005, Brooks was still a first-team All-Pro as the Buccaneers once again fielded the NFL's top-ranked defense.
2006-09: Ronde Barber. You could argue that it was still Brooks for the next few years, and Barber certainly didn't ever try to steal attention away from his teammates.  But Barber was also a first-team All-Pro in 2005, and he earned All-Pro honors again in 2006 while Brooks did not (although they both went to the Pro Bowl).  What started to push Barber into a more prominent role – and he definitely had the mantle in 2009 after Barber's retirement – was the growing amazement at his continued high level of play well into his 30s.  He kept scoring touchdowns, he made the Pro Bowl again in 2008, and he came back year after year on one-year contracts.  Barber might have kept the mantle for his last three years, if not for the arrival of what was hoped would be the next franchise quarterback.
2010-12: Josh Freeman. Those were the expectations for Freeman, the 19th overall pick in 2009 and the first quarterback taken by the Bucs in the first round since Trent Dilfer in 1994.  Freeman took over the starting job midway through 2009, and when he produced a stunning 25-touchdown/six-interception season in 2010, it looked like the Bucs did indeed have their franchise QB.  Finally.  There were plenty of ups and downs over the next two seasons, but that didn't mean Freeman was any less the face of the franchise.  It then unraveled quickly in 2013, but by then McCoy was ready to step into the face of the franchise role.
2013-14: Gerald McCoy. Bucky Brooks has already handled this argument for me.
Oooh, we've got a theme going here: Pick a division, pick a question and name two players who fit the bill.  The difference here is that we have two writers making one pick a piece, and both Burke and Farrar have done good work in the past.
No difference here.  I don't know if they made a point of making sure that they selected different players, but they did so for each of the four NFC South teams.  For the Buccaneers, Burke went with defensive end Adrian Clayborn while Farrar tabbed rookie tight end Austin Seferian-Jenkins.  I like Burke's pick better.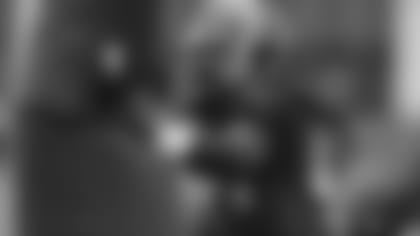 DE Adrian Clayborn has a chance for more one-on-one pass-rush opportunities this year with the new additions on the Bucs' defensive line
I'm an Adrian Clayborn fan.  I know some analytical sites, such as Pro Football Focus, didn't love his work in 2013, but I believe we haven't seen the best of him yet.  He's a high-motor guy – as promised – and he's good at getting into the backfield on running plays, as evidenced by his 15 tackles for loss last year.  He had 7.5 sacks as a rookie and another 5.5 last year.  And he's a hard-worker; if Lovie Smith's defense can bring out the best in him, he's going to make sure that happens.  Isn't that the kind of guy you want on a defensive line that sports two potential superstars in Gerald McCoy and Michael Johnson and another pass-rushing threat in Clinton McDonald – a guy who's going to go all-out on every play?  If the attention paid to McCoy and company opens up opportunities for the left end, I like Clayborn to take advantage.
That doesn't change the fact that Burke makes a good point.  The Buccaneers did not exercise the fifth-year option on Clayborn's contract, which means he'll hit free agency if he so chooses next spring.  I can't imagine any other way Clayborn can interpret that than as a challenge, meaning he has something to prove, which is pretty much the point of this SI.com article.
There's nothing wrong with Farrar's analysis, either.  He points out that ASJ didn't have the production some expected he would last fall after a strong sophomore season, and hints that the Washington product might have struggled with his weight last year.  That all may be valid, but can we really put the "most to prove" mantle on a second-round tight end who's joining a team that also picked up a potential tight end starter in free agency (Brandon Myers) and has an intriguing 2013 rookie to develop in Tim Wright?  Many, many, many rookies need a little bit of NFL seasoning before they're ready to contribute at a high level in the NFL.
The Bucs may want to see ASJ step right into a prominent role on offense, but I'm sure they're prepared for him to take it more slowly, if that ends up happening.  My point is, I don't think Seferian-Jenkins is a good choice as a "most-to-prove" player on the current roster because he could have a relatively unproductive rookie season and the Bucs would still probably happy to have him for the long haul.
I'm hoping that you can allow me a little bit of whimsy here.  Because this is awesome and I want to find 11 friends who will do this with me.
That said, I feel like there is so much left unsaid here.  I mean, the concept is simple: You've got all of NFL history at your fingertips and you get to draft a fantasy football team from it.  It goes without saying that we're bending the laws of time here, because there isn't much point in drafting the 2014 version of Jim Brown, no matter how incredible he was in his prime.
Other than that, however, I'm a bit confused by what I see.  Are we drafting players who dominated in their specific fantasy seasons, or players who in real life would be good no matter when they played?  Is this a dynasty league?  Are we trying to get peak seasons.  I'll quote the third person in the comment section, one "Travis:"
"Were there any criteria at all? Do you get their best single season, or do you have them their whole career? Are injuries curable? Are they playing in the conditions of their career, 2014 conditions, 1920 conditions, or something in-between?"
Yep, that's what I mean.  Judging from the draft results, I would say they simply are taking the best players in NFL history, regardless of the variables Travis brings up.  I'd like to see a little more definition, and maybe that exists somewhere, but it's still an interesting exercise.
The link above goes to the review of the team drafted by FO's Scott Kacsmar.  There are links within, however, to the whole draft chart.  That's what is particularly interesting.  Kacsmar drafted eighth and went with Marshall Faulk, which is hard to argue with until you see that Emmitt Smith went two picks later.  Now I'm questioning the parameters again.  Is this a PPR league?  Are we more concerned with a four or five-year peak or overall career production?  Either one is still a great pick, but I might have to go Smith over Faulk.  (The third pick, Barry Sanders, is where I'm really jealous.)
Other picks of note: Tony Gonzalez going 11th overall.  I like it.  No matter how you answer the above rules defining the game, Gonzalez is a good bet to be a stud every year.  And there isn't so much of a worry about "position scarcity" when you have all of NFL history to choose from.  The Gonzalez drafter came back with RB Shaun Alexander which is…meh.  Eric Dickerson went three picks later and Earl Campbell went at the end of the third round.  Campbell and Gale Sayers, who went one pick after Dickerson, test the bounds of this premise.  Both were ridiculously good fantasy players (before there was fantasy) for a relatively short period of time.
So you might be wondering, were there any Buccaneers in this draft?  The answer is, kind of.  One team took Keyshawn Johnson in the ninth round, one round after tabbing Josh Gordon.  All of which underscores the no-rules atmosphere of this exercise.  Josh Gordon has exactly one impressive season, and it comes in as the 10th-best receiving-yardage campaign in league history.  Why not take Herman Moore, who put up the seventh-best total in league history in 1995, a decidedly less pass-happy era, and also proved he could do it for the long haul?  Someone agreed; Moore was drafted eight picks after Gordon.
Anyway, check this out if you want to see names like Don Hutson juxtaposed with Roddy White, or LeSean McCoy with Ottis Anderson, or Joe Montana with Andrew Luck.  Yes, Andrew Luck was drafted…exactly 16 picks after Joe Montana.