STORY HIGHLIGHTS
One Buc analyst predicts the team will go 9-7 and that Josh McCown will throw for 4,000 yards and 30 TDs
Those comparisons between the Bucs and Bears' big receivers may actually be quite accurate, after more detailed study
Who is the most overrated player on each NFC team, including the Buccaneers?

The NFL generates a massive amount of online media coverage, a share of which is devoted to the Tampa Bay Buccaneers.  Even the most avid Buccaneer fans might not catch everything that's out there.
That is why I will be taking a weekly look around the web to gather some of the analysis you might have missed.  I'll also provide my own take on those articles; I will "read and react," if you will.  In some cases, these choices also serve as recommendations, alerting you to articles of particular interest about your Buccaneers.
The pieces that caught my attention this week included some bold predictions about the Bucs' upcoming season, a very detailed look at the potential of Mike Evans in the Bucs' offense, a note about tryout receiver David Gettis and a list of the NFC's most overrated players.
Keep in mind, the opinions stated below are my own and don't necessarily reflect Buccaneers management, coaches or ownership.
Everyone loves list, and this article gives you two of them!  How can we pass it up?
Actually, they're sort of embedded, or maybe intertwined, lists, so it really comes off as just one.  Sorry.  You just have to make sure you notice which predictions are labeled as "Bold" or "(Slightly Less) Bold" at the top.
Usually, when sports columnists do a "Bold Predictions" list they're going for outcomes that are going to surprise the reader.  I don't think we even necessarily hold them to the letter of those predictions.  For instance, it would be quite bold indeed to predict that the Oakland Raiders will win 12 games this year (they haven't won more than eight since 2002).  If the Raiders proved to be one of the NFL's most improved teams in 2010, went 10-6 and made the playoffs, I don't think anyone would give that prognosticator trouble for the 12-win prediction.  You were one of the few who saw the big turnaround coming for Oakland – good job.
I don't think that's quite what Easterling is doing here.  He makes a total of eight predictions, and I don't think any of them are of the shock-value variety.  Some of them are a little more probable (and thus "slightly less bold") but there's nothing too off-the-wall.  I don't happen to agree with all of them, but they're mostly optimistic (if you're a Bucs fan) and several are thought-provoking.  Let's go down them one by one (I'll mark them with a "B" or an "SLB" to let you know whether they are considered bold, or slightly less so):
(1) Bucs Will Trade Mike James or Bobby Rainey (SLB)…You know, I would have put this one into the bold category.  It's not that it's hard to connect the dots here – the draft of Charles Sims has the Bucs stacked in the backfield, and Sims isn't going anywhere so the surplus would have to come from James or Rainey – but it's always going out on a limb to predict an NFL trade if there aren't already rumors flying.
The author posits a scenario in which another team loses its lead back to injury and comes calling on the Bucs to snare one of their extras.  So now you already have one condition that has to occur first – a prominent back getting hurt – and then you also have to decide that trading a pick for a third or fourth-stringer is the best way for a team to fill that void.  Last year the Bucs were in exactly that position after Doug Martin went down, and they found Rainey on the waiver wire.  They found Mike James lurking on the depth chart, and given that James was a sixth-round pick who wasn't even a full-time runner in college, that was a leap of faith.  Given the ongoing devaluing of the running back position across the league, I actually think it's a bold prediction to say a team would give the Bucs a pick of any value for either Rainey or James.
I also ask you this: Are we sure that Lovie Smith and company see that position as having a surplus?  We already know they're going to have at least two backs heavily involved in the offense, which really means you need at least three so you can continue to operate the way you want to if one of them goes down.  What if that team that suffers a running back injury and suddenly needs depth is the Buccaneers themselves, as it was last year?  Trade away Rainey or James and then see one of your remaining backs get hurt and now all of a sudden you're the team that's lacking depth.
(2) Charles Sims Will Be a Better Fantasy Value Than Doug Martin (B)…I agree that this is bold, but make sure you catch that "V" word in there.  Easterling is not saying that Sims is a better back than Martin or even that he'll put up more fantasy points than Martin.  He's simply saying that it will cost you a second-round pick at the least to get Martin while Sims could be a back-end selection or even a waiver-wire pickup.  If Sims produces enough fantasy points to make him a viable RB2 or flex option, than he truly would be a great value for that investment.
We'll see.  That's a little bold for my blood, especially if you're not in a PPR league.  Martin may or may not get back to the level that made him a total fantasy star in 2012, but I think it's a fairly safe bet that he'll produce at least like a RB2.  I'm afraid you'd have trouble trusting Sims in your lineup each week to give you RB2 numbers.  If he does, that probably portends some very good things for the Bucs' offense…and as you'll see in a moment, Easterling is high on those prospects.
(3) Gerald McCoy Will Get Double-Digit Sacks (SLB)…This one is accurately categorized as less bold.  McCoy had 9.5 sacks last year, which is literally as close as you can get to double digits without clearing that hurdle.  (Note that Easterling has him with nine sacks last year, not 9.5, but that's not his fault. A stat correction following the final week of the season gave McCoy an extra half-sack in the season finale at New Orleans, which has not been updated on many sources, such as Pro Football Reference.)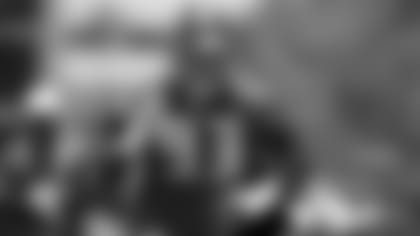 DT Gerald McCoy making the jump from 9.5 sacks in 2013 to double digits in 2014? That's a prediction with a high chance of success
So he needs to find one extra half-sack somewhere, and now he has Michael Johnson and Clinton McDonald joining him on the line and dividing the blockers' attention.  McCoy also has a new defense to explore that seems perfectly suited to his talents and has always operated best when its under tackle thrives.  Sacks can be a fickle stat; just ask Michael Johnson, who had 11.5 of them in 2012 but saw that number drop to 3.5 last year despite playing, by all accounts, at least as well if not better in 2013.  On paper, though, the equation seems to add up to McCoy having a career year.
(4) William Gholston Will Have More Sacks Than Adrian Clayborn/Da'Quan Bowers (B)…Again, I agree on the classification.  This one is bold simply because it's predicting relatively big things for a second-year player with two career starts and two career sacks.  Gholston did indeed come on strong at the end of his rookie season, but he still has to prove himself to a new coaching staff, as do Clayborn and Bowers.
Predicting Gholston to out-sack Bowers isn't particularly bold, in that Bowers has had longer that Gholston to try to establish himself and hasn't really done so yet.  Predicting Gholston to outdo Clayborn is bold, however.  Clayborn had 7.5 sacks as a rookie, missed most of 2012 due to injury and then came back with 6.0 sacks last year.  Those six sacks came during a season in which he didn't always get rave reviews.  That is, that wasn't the best Clayborn has to offer, probably, and he still got six.  Consider that a baseline, and now you're probably saying that Gholston will have to get six or seven of his own for that prediction to come true.  That's pretty bold.
(5) Kadeem Edwards Has More Starts Than Carl Nicks (SLB)…This prediction is a little more impressive because it came right before the Bucs started their mini-camp this past week and Edwards was seen getting snaps at left guard with the first-team line for the first time.  Still, this prediction is predicated almost completely on the idea that Nicks will not return from his foot woes to the player he was before 2012.  If he does return to that level, or anything close to it, he will most definitely be starting at left guard for the Buccaneers.  Easterling made this prediction before Nicks said on Tuesday that he expected to be ready for the start of training camp, but I'm not sure that would have changed his mind anyway.  There are certainly many who are going to take an "I'll-believe-it-when-I-see-it" approach to Nicks' return, and it's really hard to blame them.
(6) Josh McCown Will Throw for 4,000 Yards, 30 TDs (B)…This is where Easterling gets particularly optimistic, and more power to him.  I tend to agree that McCown is going to have a very strong season, coming down on the side of the believers rather than those who think McCown's work in the Bears' offense last year was an outlier and he's just keeping the seat warm for Mike Glennon.  As Easterling points out, the Bucs have done a very good job of surrounding him with a better arsenal of weapons than Glennon had last year, and if the front line holds up the offense could be special.
Still, those statistical bars are set high.  The Bucs have had one 4,000-yard passing season in their entire four-decade history, and they've never had a 30-touchdown campaign.  I know the game has changed during that time and bigger passing numbers are more common – in fact, that 4,000-yard season was just two years ago by Josh Freeman.  However, I don't think the Buccaneers are going to be one of those teams that throws the ball on 60-65% of their snaps.  Lovie Smith will want to emphasize the running game and I think Josh McCown could end up with a very, very good season and not get particularly close to 4,000/30.
(7) Vincent Jackson and Mike Evans Each Get 1,000 Yards, 7 TDs (SLB)…This is pretty much a companion piece to the prediction above, although Easterling considers this prediction less bold.  I think it's still pretty dang bold.
Again, I agree with the basic optimism driving this prediction and think Vincent Jackson will have a typical Vincent Jackson year (that's a compliment) while Evans will produce big numbers for a rookie.  But those bars are also set pretty high.  There have been 10 1,000-yard/7 TD seasons in Bucs history, and never two in the same year.  There were 14 of them across the NFL last year, and exactly one belong to a rookie.  No rookies hit that combined plateau in 2012; two did in 2011 if you count tight ends (A.J. Green and Rob Gronkowski).
I don't think this prediction is particularly outlandish; maybe just a little too specific. But, hey, that's what makes them "bold" predictions.
(8) Bucs Go 9-7, Finish 2nd in NFC South (B)…Eh, that's fine I guess.  But how about we add a "(Slightly More) Bold" category and I predict 10-6 instead, with the team needing a tiebreaker to make it into the postseason for the first time since 2007?  Sound good?
And now I provide the counterpoint to my own (stat-based) skepticism to Easterling's Mike Evans prediction.  That's basically the reason to include it here in Read and React; I don't have any quibble with Farrar's contentions.
The author compares the Bucs' lead receivers (Jackson and Evans) with those that Josh McCown threw to in Chicago last year, Brandon Marshall and Alshon Jeffery.  Specifically, he puts Evans in the Jeffery role, calling them both "matchup nightmares."
This is, of course, nothing new.  Particularly with McCown jumping from the Bears to the Bucs this spring, that same comparison has been made by many, as Tampa Bay can now field two receivers of that coveted huge-but-fast variety, just like Chicago did.  What's different here – and it's where the "All-22" part of the title comes in, as it refers to the use of coaches' video tape – is the detail provided.  Farrar doesn't just make the obvious "two big receivers" comparison; he embeds screen grabs from those tapes to show specifically how Jeffery makes big plays, and why Evans will do the same.  Follow that link above; it's worth it.
Farrar also makes another interesting point that I hadn't seen before in the Marshall/Jeffery-Jackson/Evans comparisons: The big Bears receivers were used in the slot far more often than most pass-catchers of their size.  Now, that may or not be relevant to the Buccaneers' 2014 experience, since Jackson and Evans are playing in Jeff Tedford's offense, not Marc Trestman's.  Still, Farrar quotes Lovie Smith as saying, essentially, the Bucs saw that it worked in Chicago and a similar combination was attractive to him and to Josh McCown in Tampa.  They surely took note of the slot work Marshall and Jeffery did, too.
Anyway, after reading Farrar's analysis, I might be coming around a bit on Prediction #7 by Easterling.
The author wrote this piece on Wednesday, after the second day of the Bucs' mini-camp, noting that Gettis was "down to one final day to convince the squad to invite him back for training camp."  Gettis participated in the camp on a tryout basis, hoping to win an invitation to training camp in July.
So, did it happen for Gettis?
Brown describes a particularly good play Gettis made on his first day in Tampa but notes that it wouldn't be easy to make an impact in such a brief window of opportunity.  On Thursday, the Buccaneers wrapped up their camp and on Friday they announced that they had signed another player who had been trying out during the week, defensive end Ronald Talley.  That was the only addition immediately following camp.
However, the story might not be over.  The Buccaneers also waived two players on Friday, meaning they created an additional opening on the 90-man roster.  That spot will definitely be filled before the Bucs go to camp, and it's certainly possible that it will go to one of the other six players who tried out last week: Gettis, safety Anthony Dye, cornerback Kip Edwards, linebacker T.J. Fatinikun and punter Kirby Van Der Kamp.  Gettis could still get the call.
There's not much point getting worked up about this type of article, because in it the author is tasked with making one pick for each team to fit the category.  So there was definitely going to be one Buccaneer (and one Falcon and Cowboy and Packer, etc.) labeled as overrated before it was over.
In this case, Sobleski goes with third-year safety Mark Barron.  My only quibble, and it's a small one, is with the criteria for the designation of "overrated."  I believe that word applies to something – in this case, someone – whose performance doesn't match its (or his) reputation.  For example, Derek Jeter has had a slam-dunk Hall-of-Fame career for the Yankees, but you could definitely point to seasons where he has been overrated, particularly on defense.  Jeter has won five Gold Gloves, one as recently as 2010, and even some relatively simple sabermetrics have shown his defense to range from nothing special to below average in many seasons.  (Apologies to Derek Jeter fans and saber-haters.)
So for Barron to be overrated, he would need to have a reputation for strong play and a performance that didn't match.  The author solves that by noting that Barron was the seventh overall pick in the 2012 draft, and that a safety picked that high had better be a "tremendous all-around player."  That's actually a decent point, but I'm not sure that failing to live up to draft expectations (assuming one agrees with that point on Barron) is the same thing as being overrated.
Otherwise, Sobleski simply notes that Barron has proved to be a better run defender than pass defender in his first two seasons.  That's probably fair; the grading system over at Pro Football Focus has Barron faring significantly better in run support than coverage last year.
Readers of this feature and the One Buc Mailbag know that I've already tabbed Barron as a top breakout candidate twice this year, and that isn't necessarily at odds with the Sobleski's point.  If Barron has fallen short – to this point, at least – of the expectations for a safety picked seventh overall, he has plenty of time left to change that assessment.  And then it's doubtful anyone would be calling him the most overrated player on Tampa Bay's roster.
Interestingly, the player that Sobleski tabs as most overrated for the Cowboys is cornerback Morris Claiborne.  Buc fans may recall that Claiborne was a popular prediction for the Buccaneers at pick #5 overall in 2012, before they traded back to #7, at which point the Cowboys traded up to #6 to take the LSU cornerback.
Other notable choices on Sobleski's list include Bears cornerback Charles Tillman, Rams tackle Jake Long and Lions quarterback Matthew Stafford.  Follow the link to find out the reasoning behind each pick.