STORY HIGHLIGHTS
Jason La Canfora of CBS Sports gets a behind-the-scenes look at the Bucs' assault on free agency
Josh McCown says he's a more accurate passer later in his career, and Pro Football Focus agrees
The 2013 trade for Darrelle Revis may not have worked out in the long run, but neither should it have lasting consequences

The NFL generates a massive amount of online media coverage, a share of which is devoted to the Tampa Bay Buccaneers.  Even the most avid Buccaneer fans might not catch everything that's out there.
That is why I will be taking a weekly look around the web to gather some of the analysis you might have missed.  I'll also provide my own take on those articles; I will "read and react," if you will.
The pieces that caught my attention this week include Jason La Canfora's inside look at Jason Licht's first run through free agency as an NFL G.M., a Pro Football Focus breakdown of QB accuracy and a measured opinion on the 2013 Darrelle Revis trade.  Keep in mind, the opinions stated below are my own and don't necessarily reflect Buccaneers management, coaches or ownership.
Frankly, with the Buccaneers being so aggressive in free agency, and with most of their deals being met with nearly unanimous approval, there hasn't been much to debate in the past week.  You can find any number of reviews of the first week of free agency on the internet, but most of them are positive, and most of them are saying the same things.  It is, as they say, a good problem to have.
This particular article by Jason La Canfora doesn't deviate from that same basic storyline.  What it does do, however – thanks to a well-timed interview with Bucs G.M. Jason Licht – is add some very interesting detail to the process that allowed Tampa Bay to have so much success in the early days of the open market.  Some of those details are worth emphasizing here.
For instance, La Canfora lauds the work Licht has done in his first run through free agency as an NFL general manager.  The Buccaneers made the sort of immediate splash that is necessary to land the most coveted players available but then continued to look for good-value deals as the initial rush slowed down.  La Canfora says Licht got the pace right when setting up such deals, "showing the requisite aggression when necessary as well as a steady pulse and patient bent when needed, with every negotiation taking on its own ebbs and flows."
The author gets Licht to describe how the Buccaneers' personnel department could be working on so many deals at once and successfully see most of them through.  That department is a mix of the new-to-town Licht and holdovers from the previous regime, and that could have been cause for concern for the new general manager.  The picture that emerges, instead, is one of a group that has already knitted together seamlessly.  Licht speaks of being forced to trust his assistants to get important pieces of the puzzle in place with eight to 10 negotiations going on at once.  It should be encouraging for Buccaneer fans to see Licht's department already working so smoothly, especially with the draft rapidly approaching.
If there is one move the Buccaneers have made in the last two weeks that hasn't been favorably received by every analyst, it is the release of cornerback Darrelle Revis.  Though the reasoning behind the move has been well-reported and even applauded by some – rather than devoting $16 million to one cornerback position, the Bucs have chosen to redistribute that asset to a number of important spots – it isn't universally agreed that letting Revis go was a good idea.  What's interesting in La Canfora's article is the revelation that Revis' departure wasn't necessarily as much of a foregone conclusion as it seemed to be for about three days.  The Bucs prepared strategies to go in either direction, with or without Revis, and Licht said, "[I]t really came a little bit closer than what many might think."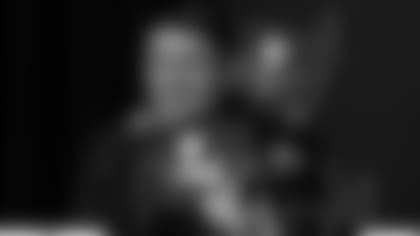 Bucs General Manager Jason Licht heads a personnel handled the varying pace of the first week of free agency very well
Finally (in terms of my reaction), the author makes note of a trend in the Bucs' signings that others had begun to notice, and gets Licht to comment on it directly.  Namely, the team is continuing a practice it began under former G.M. Mark Dominik to sign contracts that avoid big signing bonuses, which are the prime cause for "dead money" down the road.  Revis' deal was structured that way and that was the primary reason the Bucs were able to go a different route with the cap space he represented once they decided to do so.  Licht praises Dominik for this practice and confirms that it's one his own crew chose to adopt.
"It's a structure that provides flexibility, and I don't think you ever want to make a decision down the road based on money -- whether to keep a player because of cash or cap," Licht told La Canfora. "And you don't want to be forced to keep a player because it hurts you and if you are set up correctly, like the Glazers and the former regime have practiced, it just makes for better business."
This might be a bit of a cheat, as this article was first posted on February 12, not this week, but PFF has just rotated it back up to a prominent spot on their home page, and I saw it for the first time on Friday.  Let's bend the rules a bit because there is a lot of interesting information in this breakdown, a good amount of it with relevance to the Buccaneers.
Through their film study, the Pro Football Focus analysts have come up with passing accuracy ratings for each quarterback in the league in 2013.  The numbers are separated into three categories: overall accuracy, accuracy on deep throws and accuracy under pressure.  Obviously, this basic concept is addressed by completion percentage, a stat that is readily available for all quarterbacks and doesn't hold a lot of surprises.  The top three passers in terms of completion percentage last season were Philip Rivers, Drew Brees and Peyton Manning.  However, PFF takes it a little deeper than that.  As McGuiness explains:
"Our Accuracy Percentage stat goes beyond your standard quarterback completion percentage, taking into account dropped passes, throw aways, spiked balls, batted passes and passes where the quarterback was hit while attempting to throw."
Why is this worth looking at now if you're a Buccaneer fan?  Well, during his introductory press conference, new Tampa Bay quarterback Josh McCown was asked to describe the ways in which his game has improved later in his career.  One of the first things he mentioned was his belief that he has developed into a much more accurate passer.  The PFF numbers back that up, at least in regard to his 2013 performance.
McCown comes in fourth on PFF's list with an accuracy mark of 77.8%.  That puts him right between Atlanta's Matt Ryan (78.4%) and Denver's Manning (77.0%).  Green Bay's Aaron Rodgers and San Diego's Rivers head the list.  The Bucs' 2013 starter, then-rookie Mike Glennon, doesn't appear in the top 10 list, but neither is he on the bottom 10, which McGuiness also lists.  In contrast, the two other primary rookie QB starters last year, Buffalo's E.J. Manuel and the New York Jets' Geno Smith are in the bottom 10 at 68.7% and 67.4%, respectively.
Interestingly, Glennon does make it into the top 10 when McGuiness looks specifically at accuracy on deep balls.  He comes in 10th, as a matter of fact, at 45.0%, further indication that the early book on Glennon last year – he wasn't adept at the long throw – was off the mark.  McCown is neither in the top or bottom 10 in this category.
We get right back to McCown, however, when McGuiness parses out the top 10 passers in terms of accuracy under pressure.  At the very top, ahead of Rivers (third), Manning (fourth), Ryan (sixth) and Carolina's Cam Newton (ninth), is the newest Buccaneer passer.  His mark of 77.0% is well ahead of the rest of the field and one of only two that crosses the 70.0% line.  Now, it is quite fair to point out that McCown put up his numbers in just eight games and five starts, whereas all the other passers listed above were full-season starters.  Still, when he did get to play, McCown was very good in the toughest situations.  Glennon does not appear in either the top or bottom 10 in this category.
Again, this article first went up more than a month ago, and well before free agency, which is why you find the following line from the author about McCown: "In fourth we have Josh McCown, highlighting his impressive season and something that will surely catch the attention of teams looking for a quarterback this offseason."  Indeed.
To clarify, if you haven't clicked on the link yet, the author is referring to the trade that brought Revis to Tampa in 2013, not the reported attempts to deal him earlier this month before his eventual release.  Though it's not specifically stated, the presumption is that Philipse is reacting to someone ranking that 2013 move as one of the worst trades in league annals.
So, my reaction to Philipse's reaction: Agreed.
The author isn't letting the former Bucs management off the hook for the deal, of course,  As he states, "Every time you give up two picks and a massive salary for a player who lasts just one year on your roster, something went horribly wrong."  Rather, the point of this opinion piece is that the damage caused by the 2013 trade will prove to be far more limited than some of the personnel moves that plagued the Buccaneers franchise during it's rough times in the 1980s and early '90s.
He couldn't be more right.  There were many reasons that the Buccaneers failed to post a single winning season from 1983-96, most of that during the Culverhouse era, but the ones identified here were among the biggest.  The ill-advised Bo Jackson pick (and, while not stated here, the pre-draft decisions that made Jackson unwilling to come to Tampa), the Chris Chandler trade, the domino effect caused by a draft-day flub in 1982, and so on. Philipse only touches on that last one briefly, and without many of the specifics, though he undoubtedly knows them.  The Buccaneers.com "Answer Man" (recently retired) has written about that series of events on more than one occasion, and it really is a multi-season tale of woe.  To recap briefly, the Buccaneers a) Wanted to draft Bethune Cookman DE Booker Reese in the first round in 1982 but due to some telephone problems ended up turning in a card for Penn State G Sean Farrell; b) Tried to make up for that by trading a 1983 first-round pick to the Bears for a second-round pick in 1982, which was used to get Reese; c) Had to sit out that legendarily QB-heavy 1983 first round immediately after letting starting QB Doug Williams walk; d) Tried to address that issue by trading a 1984 first-round pick to Cincinnati for Jack Thompson.
See how that initial 1982 trade just kept getting worse?  The Bucs bottomed out in 1985 and 1986 after all those maneuvers, winning a total of four games under Leeman Bennett.  Reese was one of the biggest busts in team history, playing in just 24 games with seven starts, and Thompson was most definitely not the answer at quarterback.  When the Bears executed the Bucs' first-round pick in '83, John Elway, Todd Blackledge, Jim Kelly and Tony Eason were already off the board but Ken O'Brien and, gulp, Dan Marino were still available.  Farrell, ironically, was actually pretty good.
The Chandler deal not only cost the Bucs what would have been the second overall pick in the 1992 draft (though, truth be told, that proved to be a really bad top 10 that year) but it led to serious locker-room strife between him and Vinny Testaverde.  A number of pretty darn good running backs were drafted later in the first round of 1986 (back when people were more likely to use first-round picks on RBs) after the Bucs wasted their pick on Jackson.  Et cetera.
This SI.com article from last December attempts to identify the 15 worst trades in NFL history.  There is a Buccaneers deal on the list, all the way up at number four, but it isn't the Revis trade or any of the others mentioned here.  It's the 1987 trade – just days before the Bucs were going to use the first overall pick on Testaverde – of QB Steve Young to the 49ers for second and fourth round picks.  Obviously, that is now considered insufficient compensation for a future Hall of Famer, but at least the Buccaneers did get two pretty good players with those picks in LB Winston Moss and WR Bruce Hill.
Again, the difference noted by Philipse between most of those moves and the Revis trade – the mitigating factor, if you will – is how lasting the fallout was or will prove to be.  The new leadership team of Lovie Smith and Jason Licht did not want a roster/salary cap structure that included a $16 million hit at cornerback, so Revis didn't fit the plan, as good of a player as he obviously is.  Because of the way the contract itself was structured, he could be released without causing any further damage to the team's cap space.  In fact, the release immediately gave the team that much to spend elsewhere, and they rather aggressively did so.  The net loss in the two Revis moves was not good, particularly the cost of the first-round pick last year, but it is contained.  One could argue that there is an ongoing deficit of whatever that first-rounder last year would be contributing this year and in the future, and that's a valid point.  But the Bucs have probably made up for that deficit with all of their free agency moves.
The conclusion is aptly put by Philipse:
"In fact, there's a small chance that we'll look back at the Revis trade and decide that that was the turning point for the Bucs. That that trade was the catalyst for Lovie Smith's entrance as the Bucs' head coach. That cutting him allowed the Bucs to build a foundation for the future."