STORY HIGHLIGHTS
After Jason Licht said the Bucs were trying to win immediately, ESPN.com's Pat Yasinskas broke down why it could happen
The latest three-author mock draft on Sports on Earth comes to some interesting conclusions about pick #7
The Buccaneers were one of the league's healthiest teams on defense last year, but the story was quite different on offense

The NFL generates a massive amount of online media coverage, a share of which is devoted to the Tampa Bay Buccaneers.  Even the most avid Buccaneer fans might not catch everything that's out there.
That is why I will be taking a weekly look around the web to gather some of the analysis you might have missed.  I'll also provide my own take on those articles; I will "read and react," if you will.
The pieces that caught my attention this week include a reaction to Jason Licht and Lovie Smith saying the Bucs are trying to build a team that will win immediately, an interesting three-way mock draft and some illuminating injury analysis on the Football Outsiders website.  Keep in mind, the opinions stated below are my own and don't necessarily reflect Buccaneers management, coaches or ownership.
Of the roughly 90 minutes of collective Q&A held by Buccaneers Co-Chairman Joel Glazer, General Manager Jason Licht and Head Coach Lovie Smith during the NFL's Annual Meeting earlier this week, the most ear-catching quote probably came from Licht's session in the Ritz hallway.  It certainly caught my attention when Licht said, "We thought it would be unfair to ask the fans to be patient with us. We wanted to go out and sign as many good players as we could this year to help our football team, make it competitive this year and strive to win the championship this year."
That quote was the starting point for many articles this week, especially because the Bay area media had a large number of representatives at the league meeting in nearby Orlando.  So why link to this one by Yasinskas in particular?  Well, it could be another way of thanking Yasinskas for appearing on our latest version of the Pewter Panel along with Derrick Brooks, but it's not.  The difference in Yasinskas article is that he not only reports on the Buccaneers' stated desire to skip rebuilding and go right into contention, but also shares his thoughts on if that is actually possible.
The good news for Bucs fans who trust Yasinskas' judgment is that he comes down on the optimistic side of that answer, and offers some concrete reasons as to why.
First, Yaz notes that the two regimes between Jon Gruden and Lovie Smith had equally good intentions but "the results weren't pretty."  In Licht and Smith, the author sees a leadership group that is quite clearly following a detailed plan, and it's a plan "that has a firm chance to work – and work quickly."
The Buccaneers current situation has been compared by many to last year's Kansas City Chiefs, a team that had six Pro Bowlers in 2012 but a dismal 2-14 record before swinging all the way back to 11-5 in 2013 under new Head Coach Andy Reid, a proven winner.  Yasinskas makes one more specific connection with the Chiefs, and one I hadn't seen elsewhere before.  Noting that some analysts believe the acquisition of new starting quarterback Josh McCown won't be sufficient enough to get the team over the top, Yasinskas argues that McCown is essentially on the same level as Kansas City's Alex Smith.  Smith had become a backup to Colin Kaepernick in San Francisco before a trade to the Chiefs put him back under center.  McCown was a backup to Jay Cutler in 2013 before a Cutler injury gave him a chance to shine and earned him his new opportunity in Tampa Bay.
Yasinskas also believes the Bucs are modeling their plan after the one Seattle took to the title this past season, and notes that the Seahawks had far greater strengths, relative to the rest of the league, than quarterback Russell Wilson.  I think it's likely that Licht and Smith would have the same plan in motion this offseason whether or not a defense-driven team was currently in ownership of the Lombardi Trophy, but there's certainly no harm in being compared to the champs.  Smith has won with defense and a power running game before, as have the Buccaneers as a franchise.  In fact, Tampa Bay's Super Bowl XXXVII win at the end of the 2002 season followed a storyline much like Seattle's triumph in February, with the league's best defense dominating the league's best offense, with the NFL MVP at the helm.
That 2002 defense was anchored by DT Warren Sapp and LB Derrick Brooks (that year's NFL Defensive Player of the Year) but it also had a terrific edge rusher in Simeon Rice.  The Bucs' defense finished the 2013 season with credible matches for Sapp and Brooks in Gerald McCoy and Lavonte David but clearly lacked a Rice impersonator.  Yasinskas says the addition of free agent defensive end Michael Johnson could complete the puzzle for the current squad: "…you could make an argument that a pass-rusher was the only thing Tampa Bay needed to be a dominant defense."
The Buccaneers' overhaul of team management in January and their free agency splurge in March give teeth to Licht's contention that the franchise is trying to win right away.  Yasinskas repeats what others have said over the last two months, that the Bucs are "winners in free agency" and in their press conferences.  That's not always said in a completely positive sense; the unwritten but understood follow-up that winning free agency doesn't count for anything in itself or guaranteed any success in the fall.  That's fair enough, but Yasinskas gives a good number of reasons why he thinks the plan Licht and Smith are following may actually work, and work right away.  It's an encouraging read for Buccaneer fans.
I'm trying not to go to the well on mock drafts too often because, as I've said before, there are enough of them out there to read-and-react to every day, and twice on Sunday.  I'm making an exception here, however, because in this one (posted Wednesday) you get a three-in-one, with each of the authors making their selections at each spot and three different (but sometimes similar) first-round storylines developing.  Plus, Tanier and Pompei are pretty funny, too.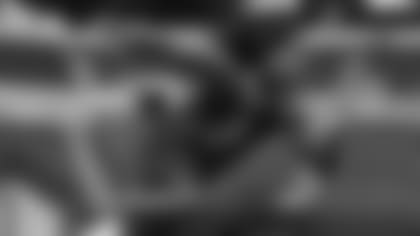 South Carolina DE Jadeveon Clowney could be coveted by several NFC South teams
I'll get to the Buccaneer predictions at #7 in a moment, but first here's an excerpt from the intro to the picks, which makes note of how certain free agency maneuvers may be connected with teams' draft plans:
"March Mentor Madness saw teams at the top of the draft board sign creaky free-agent veteran quarterbacks like Ryan Fitzpatrick, Chad Henne (a re-signing by the Jaguars) and Matt Schaub. These are exactly the type of quarterbacks you sign when battening down the hatches for a rookie: They need minimal practice reps to be ready, can start for a while if called upon and provide precious life lessons to the next generation. Think of them as brown avocados that have to be used immediately: The Texans, Jaguars and Raiders will want something far fresher than mid-autumn guacamole."
I believe those are the cleverly-worded thoughts of Tanier, based on the "…Russ, Dan and I…" phrasing in the final sentence of the intro, but all three writers apply that reasoning to at least one of their picks.  It's similar to a point I made in yesterday's mailbag about the Schaub trade, and I think it's potentially relevant to the Buccaneers pick in two ways.  One, moves such as the one the Raiders made doesn't necessarily take them out of the QB market in the draft, and that may affect which of the other prospects fall all the way to #7.  And, two, the Buccaneers are another team that signed a veteran quarterback this month, but they too could still be looking for a long-term franchise answer.  Lovie Smith is obviously very high on Josh McCown, but he has personally attended the workouts for Blake Bortles and Johnny Manziel.
Both Tanier and Lande have Houston and Jacksonville taking quarterbacks at #1 and #3, though the former goes Bridgewater and Manziel while the latter goes Bortles and Bridgewater.  Pompei doesn't give a QB to either of those two teams but does send Manziel to Oakland at #5.  That still leaves at least one of those three quarterbacks on the board when the Buccaneers pick at #7, but none of the three writers has the Bucs' taking that bait.
This three-and-one draft doesn't really follow the recent mock-draft trend of pushing all the QBs down the board, and that makes for an extremely interesting prediction for the Buccaneers by two of the three authors.  Both Tanier and Lande send South Carolina pass-rusher Jadeveon Clowney to Tampa.  Yes, please!
Personally, I have a hard time believing Clowney will make it that far (and Pompei agrees, giving him to the Jags at #3.  I do believe, however, that the Bucs would be hugely tempted if he were there.  That might especially be the case if – as the Tanier and Lande scenarios predict – Clemson wide receiver Sammy Watkins is off the board.
Pompei's pick is equally interesting in that he does not have Watkins off the board at #7.  He also doesn't have the Bucs taking him, instead predicting that they opt for another receiver, Texas A&M's Mike Evans.  In Pompei's draft, Watkins then goes to Buffalo at #9.  Pompei acknowledges that Watkins is the preferred first receiver by many but writes that, "…Evans is the type of big, athletic player who appeals to Lovie Smith."  Perhaps, but the Bucs already have Vincent Jackson, who fits that description, and Mike Williams, who is 6-2 and 212 and known for making an acrobatic catch or two.  They don't necessarily have a Sammy Watkins, who has game-breaking speed and elite-level acceleration.
In Tanier's draft, Texas A&M offensive tackle Jake Matthews goes one pick before the Buccaneers, to division-rival Atlanta.  Tanier hedges that the sixth and seventh pick could be flipped, with the Falcons opting for the pass-rusher and the Bucs bringing in O-line reinforcements.  Matthews does indeed look like a player who might be available at pick #7 and who would represent good value at that spot, and the Bucs haven't spent a high pick on an offensive lineman in a looooong time.  Personally, however, I find Tanier's first scenario much more intriguing, and his best line from the pick description sums up why: "But this draft is deep at tackle, while planet Earth is thin at Clowney."
I included an article last week from  Pro Football Focus and this week we check in on Football Outsiders.  These are two sites full of statistical analysis and independent player evaluation that can suck hours of productivity from your day if you let them.  Lots of good stuff.
This piece of analysis was just posted by Kacsmar on Friday and it compares how significantly each team was hit by injuries last season, as well as how well they were able to overcome those losses.  The Adjusted Games Lost metric is "based not strictly on whether the player is active for the game or not, but instead is based on the player's listed status that week (IR/PUP, out, doubtful, questionable or probable)."  The author acknowledges that much of this data comes from team-issued injury reports, which means it is likely missing some unreported injuries, but concludes that, "secrecy is an unavoidable aspect of this side of the game."
The results of the AGL analysis as they pertain to the Buccaneers won't be a big surprise to those who followed the team closely the last two years.  While Tampa Bay had the league's 12th-lowest AGL mark in 2012 at 56.9 (lower numbers are better, meaning less productivity lost to injury), it came in 25th last year at 86.6.  One might see that as part of the reason the team slipped from 7-9 in '12 to 4-12 last year, and indeed it was certainly not helpful to play much of the season without RB Doug Martin, WR Mike Williams, G Carl Nicks and a couple dozen tight ends.  However, last year at least, there wasn't a huge correlation between the teams that had the healthiest rosters and the teams that made the playoffs.
In fact, notes Kacsmar, "Seven of the bottom 10 teams in 2013 AGL made the postseason compared to only three of the 10 healthiest teams. In fact, none of the teams ranked 4-10 even had a winning record. It was just an unusual season in how the injuries impacted teams."  The Indianapolis Colts, for instance, had the NFL's second-worst AGL (and, weirdly, have ranked 31st in three of the last five years) but not only made the playoffs but won a postseason game.  Kacsmar points out that the Green Bay Packers were able to overcome a slew of injuries – including a near-crippling one that took QB Aaron Rodgers out of the mix for seven games – and still make the postseason while the Atlanta Falcons were not.  Of course, Green Bay was helped by an NFC North Division that essentially collapsed around it, while the Falcons got no mercy from Carolina and New Orleans.
The Buccaneers had a run of about two months last year in which they had to put at least one player on injured reserve every week.  That may have obscured the fact, however, that the team actually enjoyed remarkably good health on the defensive side of the ball.  SLB Jonathan Casillas missed the last four games but was replaced mostly be Dekoda Watson, who had been the starter for much of the first half of the season.  Middle linebacker Mason Foster was out for one week while safeties Mark Barron and Dashon Goldson missed two games each.  All told, the Bucs ended up with a 9.9 AGL on defense, which was the lowest mark in the league.  Their AGL on offense, however, was 76.6, which was the second highest total in the league.  Of that total 30.8 was soaked up by the Bucs' tight ends, which is the worst single-season mark Football Outsiders has in their database.  Welcome, Brandon Myers!
I found one other note of interest at the very bottom of Kacsmar's comprehensive column.  While commenting on whether or not teams falsify certain things on their injury reports – and, if so, whether anything can be done about it – the author also compiled all the league's injury reports and matched up game-status designations with the likelihood of the players suiting up.  Fantasy football players may find it useful to know that 94.4% of the players who were listed as "probable" on these injury reports were able to play that week.  On the other hand, only one player in the entire league played the same week that he was listed as "doubtful" on the injury report, with Giants defensive end Damontre Moore getting in four snaps on special teams in Week Six.
Of course, as these fantasy football players know, it's the "questionable" designation that really makes for some tense lineup-setting moments on Sunday mornings.  Kacsmar reports that, league-wide, 61.3% of questionable players suited up that week, which seems rather high given that the designation is supposed to indicate a "50/50 chance" of the player being available.  As the author points out, however, the Patriots affect that average severely by leading the league at 69.9% and having by far the most players listed as questionable during the season.