STORY HIGHLIGHTS
Reactions: Will the Bucs pursue Jared Allen, Charles Tillman or Josh McCown?
Will Buccaneer fans have to come to grips with a major roster overhaul before the team returns to the playoffs?
Could Texas A&M WR Mike Evans be a target for Tampa Bay in the first round of the 2014 draft?

The NFL generates a massive amount of online media coverage, a share of which is devoted to the Tampa Bay Buccaneers. Even the most avid Buccaneer fans might not catch everything that's out there.
That is why I will be taking a weekly look around the web to gather some of the analysis you might have missed. I'll also provide my own take on those articles; I will "read and react," if you will.
The pieces that caught my attention this week include a Fox Sports Florida analysis of potential free agency targets for the Bucs; a Tampa Bay Times piece suggesting a wake-up call for Buccaneer fans; and a mock draft with a different prediction for the Bucs than most. Keep in mind, the opinions stated below are my own and don't necessarily reflect Buccaneers management, coaches or ownership.
The doors to the free agency market are about to be unlocked, and as such sports sites have been flooded with two types of list articles over the last few days: One type ranks the best players likely to be available and the other identifies a specific team's needs in relation to those potential movers.
Andrew Astleford took the latter approach on Friday and turned his attention to the Buccaneers. He picks three areas on the depth chart that need an infusion of talent and then identifies five players who could help alleviate those concerns for the Buccaneers. He ends with an appreciated bit of practicality: "Signing all five of these players is unrealistic, but securing two or three could make a big difference leading into Smith's first season."
Actually, I would be surprised if the Bucs ended up with more than one of the five that Astleford chooses: Jared Allen, Josh McCown, Charles Tillman, Devin Hester and Dexter McCluster.  The most likely Buccaneer signing from among that group – in my opinion – is Hester, who will definitely be leaving Chicago and who has a long and respectful history with new Tampa Bay Head Coach Lovie Smith.  I went on record in yesterday's mailbag that I think Hester would be a productive addition for the Buccaneers.
Now, to be sure, Astleford has good and rational reasoning for matching up all five of these players with the Buccaneers, and when you're premise is identifying and then filling team needs, then that's a successful effort. There's absolutely nothing wrong with his list. Jared Allen: The Bucs' most pressing need, by most accounts (including mine) is a more robust pass rush. Josh McCown: Last year's veteran backup, Dan Orlovsky, is a free agent and the Bucs seem likely to search for a veteran option. Charles Tillman: You can never have enough good cornerbacks, and Tillman also has a history with Smith. Devin Hester: See above. Dexter McCluster: Same as Hester – an uninspiring return game that could use a jolt – without the Bears connection but perhaps at a lower price.
The problem is that reality is never quite as clean as those logical storylines.  Any one of those five could end up in Tampa, but I have reasons to doubt on each one of them, and so I'll personally play the odds and take the field against any of these specific choices, even if the Bucs do end up addressing the aforementioned needs in free agency.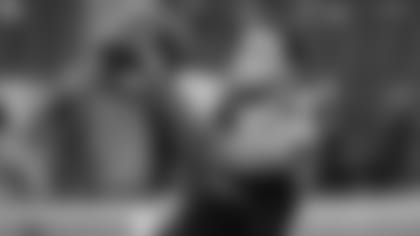 If Clemson's Sammy Watkins is already gone and the Buccaneers want a receiver in May's draft, would they consider Texas A&M's Mike Evans at #7?
Allen, for instance, could quickly be priced out of the Bucs' range.  As I've previously noted in this space and in a couple recent mailbags, my gut feeling is that Tampa Bay won't be one of those teams signing a mega-deal player in the first few hours of free agency next Tuesday.  If I'm wrong, then I think Allen has a better chance to be a Buccaneer.  If I'm right, then Allen may quickly find a new NFL home without the Bucs ever getting involved.  As Astleford notes, the Viking sack-master made more than $14 million last year and, "He won't come cheap."  The same can probably be said for Cincinnati's Michael Johnson and Seattle's Michael Bennett, but once those three have set the top-end market, teams should be able to sort through a fairly deep group of available ends.
Josh McCown had a nice run last year (109.0 passer rating 13/1 TD/INT ratio) while Jay Cutler was out, and he too spent two seasons with Smith in Chicago. Some team will bring him in as veteran insurance and perhaps even let him compete to open the season as the starter, and I wouldn't rule out the Buccaneers being that team. But the question is whether or not his half-season of work last fall will be overvalued. He had thrown just 36 passes in the previous four seasons combined and he'd never posted a single-season passer rating of higher than 74.9 before last year. If McCown is anything like his brother Luke, the former Buccaneer, he's a great guy who'd be an asset to any team, but his eventual landing spot will depend on which team most strongly believes that his 2013 season was the best indication of his talents.
I'll say it again: You can never have enough quality cornerbacks, and Tillman is still that, even at age 33.  But the author believes that the former Bear could get about $9 million per season in the next contract he signs, and that makes it hard for me to believe he'll be a Buccaneer.  Tampa Bay has already invested quite a bit of cap space in Darrelle Revis, and it's hard to imagine them pouring that much into a single position.  It seems far more likely to me that the team will work to develop young Johnthan Banks, who has promise and a much more cost-effective bottom line while he's still on his first contract.  If the Bucs want to add to the cornerback position in free agency – which I think would be a good idea – there is a pretty deep group to choose from. Also, it's interesting that a cornerback comes in third on this list, ahead of Hester and McCluster, when the three identified top needs do not include that position.
And if I'm working with the premise that Hester is the most likely signing of this group, then that would make McCluster redundant.  The versatile Chiefs weapon can also help in the receiving game, but his primary value seems to be in his return ability, and the Bucs certainly wouldn't sign two such players.
Astleford made a fine list, and I personally wouldn't mind seeing any of these players in a Buccaneer uniform in 2014. My guess, however, is that most of them will end up elsewhere.
You know what? This one is just sort of…strange.
The main premise, to borrow a few phrases from the author's text, is that the Buccaneers are a team "in shambles," and that only a "major overhaul" will get them back into playoff contention. Jones goes so far as to call any fan who thinks differently a "fool." Basically, he wants Buccaneer fans to come to grips with the idea that it might be necessary for the team to let some of their favorite players go, and that save for Gerald McCoy and Lavonte David, nobody should be safe.
You would probably expect to get a strong defensive reaction from me, based on that premise. In reality, though, it's hard to get too worked up over it once you get past the more incendiary lines: *This is business and, right now, business is bad at One Buc Place … only two teams had a worse record than the Bucs last season. Two! … The old regime left the Bucs in shambles … clearing out the dead wood;' *etc. That's because, when you get to the analysis mixed in among those shots across the bow, that "major overhaul" seems to boil down to the possible release of two players.
Those two players are offensive linemen Donald Penn and Davin Joseph. Jones notes, as have many – including Buccaneers General Manager Jason Licht – that the team's offensive line did not perform up to expected standards in 2013. Penn and Jones are both former Pro Bowlers who did not have their best seasons last fall, Joseph in part because he was recovering from a significant injury. As Jones also notes, those factors have combined to make the two long-time Buc linemen very popular discussion topics among analysts trying to predict how the team's new management will handle the salary cap.
Frankly, I would think most Buccaneer fans understand this by now.  I don't know if either of those two linemen will be cut, but if either do depart, or even if both do, it would hardly be the most dramatic roster upheaval Tampa Bay fans have experienced. There could be other cuts, as well, maybe even big names, and I still don't think most fans would find this particularly shocking. It's something that happens every year all around the league, on good teams and bad.
McCoy and David are safe but Jones goes on to mention a number of other Buccaneers who, on the other hand, should not be considered untouchable, including Doug Martin, Vincent Jackson and Darrelle Revis.  I agree; no player should be thought of as untouchable when a new G.M. and coach come to town, though McCoy and David do feel like obvious exceptions.  However, Jones then calls all the additional players he mentioned good pieces to build around and predicts all will still be with the team in 2014.  It is apparently just the notion that virtually any player on the roster could be sacrificed to get the team out of its current state of shambles that Buccaneer fans must wrap their heads around.
Okay, done. We are no longer fools.
Otherwise, the only other thing in this article with which I would take issue with is this paragraph:
"They haven't won a playoff game since they won the Super Bowl. That was 12 seasons, three coaches and something like half a dozen quarterbacks ago. They haven't even been to the playoffs in seven years."
These are facts. They are used here to reinforce how dramatically the Bucs need an overhaul. The problem is, they are mostly irrelevant to the issue of how far the team is from playoff contention, accept perhaps in a psychological sense. The Bucs' playoff drought might make its fans more weary of losing, and more accepting of that "major overhaul." It does not, however, impact how much or little the team needs to do to the current roster in order to fix it.
What the Buccaneers did on the field in 2013, with these players, is relevant.  Lessons from 2012 and maybe even 2011 also may figure into the team's current thinking.  Who they drafted last year matters, as do their draft hauls from 2010-12.  What happened in 2003, however, has no bearing on what needs to be done now.  Joseph and Penn  (plus long-snapper Andrew Economos), who arrived in 2006, are the longest-tenured players on the team.  They did taste the playoffs, in 2007. That the Buccaneers lost that playoff game, to the eventual-champion Giants, also is irrelevant. The move from Josh Freeman to Mike Glennon last year is definitely germane to this conversation; the carousel between Chris Simms and Brian Griese in 2004-05 is not.
The Detroit Lions haven't won a playoff game since 1991.  They came into 2011 riding a streak of 10 straight losing seasons, and they were only three years removed from a historic 0-16 finish.  Those were also facts, and they were also irrelevant to the state of the Lions' 2011 roster, which pulled together to produce a 10-6 season.  The length of the Lions' playoff drought was not a factor Detroit's management considered when approaching free agency that March.
Yes, if I'm going to start including mock drafts, I could post a Read and React piece every day of the week.  Actually, I'm not even going to react to this one either, in terms of debating whether the author is right or wrong. Mock drafts are a lot of fun, but they don't really mean much, and they're constantly being updated anyway.
No, I'm pointing out this particular mock draft because it has two ideas I find interesting, one I like and one I do not.
To begin with, this is the first mock I've seen that has Tampa Bay selecting Texas A&M wide receiver Mike Evans. I'm sure I'm not the only one who hopes the Bucs end up with a shot at Clemson wideout Sammy Watkins in May, but many believe he'll be gone before the seventh pick (including this mock draft, which has him going fourth). The common wisdom at that point would have the Buccaneers waiting until the second round if they wanted to nab a receiver because this year's class is very deep at the position. However, if Evans, who had a strong Combine, can close the perceived gap between himself and Watkins, perhaps the Bucs could use that seventh overall pick to upgrade the passing game after all. The idea is starting to grow on me.
This same mock draft has the Atlanta Falcons trading up to the #2 spot to take defensive end Jadeveon Clowney.  This is the idea I do not like. Oh, it makes sense. The Falcons and Clowney look like a perfect match and the St. Louis Rams might be willing to move down from the second pick given that they are already strong at defensive end and apparently happy with Sam Bradford at quarterback. Atlanta's management showed it was willing to make the big move a few years ago with the trade up to get Julio Jones.
So, yes, on paper, it makes sense.  I just don't want it to happen.  Count me among those who believe Clowney is going to be a force in the NFL, and I'd just as rather see him land in a different division if he isn't going to be wearing pewter and red.