STORY HIGHLIGHTS
If you read only one (more) "Draft Grade" article, make it Mike Tanier's on Sportsonearth.com
Could the Buccaneers end up keeping four tight ends this season, now that the position is so deep?
Head Coach Lovie Smith may have allowed a QB smokescreen to linger before the draft, but his praise of Mike Glennon seems genuine

The NFL generates a massive amount of online media coverage, a share of which is devoted to the Tampa Bay Buccaneers.  Even the most avid Buccaneer fans might not catch everything that's out there.
That is why I will be taking a weekly look around the web to gather some of the analysis you might have missed.  I'll also provide my own take on those articles; I will "read and react," if you will.
The pieces that caught my attention this week included Mike Tanier's amusing (in a good way) approach to grading last weekend's draft over at Sports on Earth, ESPN.com's prediction of how the Bucs will sort out their deep tight end group and a Bradenton writer's reaction to Lovie Smith's vote of confidence for Mike Glennon.
Keep in mind, the opinions stated below are my own and don't necessarily reflect Buccaneers management, coaches or ownership.
Just like last Friday's R&R was sure to include a review of the first round of the draft, this week's version obviously had to start off with at least one "grading the draft" piece.  Rapid-reaction grades are as much a part of the annual draft coverage as three rounds of mocks and, in my opinion, even more entertaining than the pre-draft onslaught.  I read a lot of them, even though most of them said the same thing in regards to the Buccaneers' draft.
You've probably checked in on a couple draft-grade articles as well, so you've witnessed the collective wisdom regarding what the Buccaneers did last Thursday, Friday and Saturday.  With a few exceptions, the following pretty much encapsulates the media reaction to Tampa Bay's draft efforts: Mike Evans was the obvious choice but the right one at #7 (with a few Johnny Manziel holdouts); Austin Seferian-Jenkins was a strong follow-up and a nice addition to the suddenly gigantic Bucs' receiving corps; Charles Sims was a surprise choice in Round Three, and not everybody was pleasantly surprised; the two fifth-round linemen are projects with upside; and Robert Herron in Round Six was a steal.  The grades were mostly in the B range, with the lack of an early-round linemen being the major knock.
So let's skip the Mel Kipers and the Chris Burkes and head over instead to Sports on Earth, a site you should bookmark.  I chose Tanier's grades mainly because he has become one of my favorite NFL writers and I recommend you check out his stuff.  He knows what he's talking about, but more than that he's just downright entertaining.
The utilitarian title of his draft-grade article belies anything but a common write-up.  For one thing, this review was posted on Thursday, five days after the final round of the 2014 draft, whereas most analysts were rushing their grades up on Sunday morning.  It was worth the wait.  If you've grown a bit weary of reading about "nonstop motors" and "great length" – oh, and this year's hottest phrase, "catch radius," Tanier is the antidote.  Here you'll find "marauding Visigoth tackles" and a quarterback who "looks and sounds like a Jedi but has the aim of a Stormtrooper" and a team that is guilty of "using differential calculus to count change."
While we're here enjoying ourselves inside Tanier's prose, we might as well evaluate his evaluation, in terms of the Buccaneers at least.  His thoughts on the Evans-ASJ-Herron trio fall in step with the collective wisdom; he's not extremely high on Herron, calling him a speed guy but little else, but considers the pick very good value in Round Six.
Tanier also echoes the Sims' skepticism, calling it an "odd" choice because the West Virginia back is "a power runner on a roster flooded with them."  While I've read many an opinion (I'm looking at you, Bucs fans on Twitter!) that adding to a deep running back corps in the third round verged on lunacy, I haven't seen it put exactly that way before.  I'm not sure why "power" is chosen as Sims' defining trait, when most scouting reports emphasize his speed and cut him down a bit for lacking an ideal build.  It's no mystery that the Buccaneers wanted Sims primarily for his pass-catching ability, so a more likely criticism would have been that the team is undervaluing the receiving skills of Doug Martin and Mike James.
But you know what, Tanier just might be right about that, too.  NFL.com says that Sims is "narrow with a relatively thin build" and that he "needs to bulk up."  I literally just came back from the practice field at the Bucs' rookie mini-camp, however, and I was stunned by how big Sims looks, even without pads.  I think he's going to be the Bucs' biggest tailback, no matter how many they keep, and I'm no scout but I just don't see the "thin build."
Tanier is apparently also a schoolteacher in addition to being a sportswriter, and he uses that background to shape his methods.  There are no As and Bs here; rather teams are judged on an Excellent-Satisfactory-Needs Improvement scale in three categories (finding talent, meeting needs and using resources), leading to an overall assessment of Advanced, Proficient or Needs Improvement (or, interchangeably, Remediation).  So getting a trio of "Satisfactory" marks, as the Bucs did, doesn't seem like acing the test, but they do add up to a Proficient score at the end, so we can live with it.  That's particularly true because Tanier explains that the Bucs' heavy lifting in free agency left them without too much to accomplish on draft weekend.  Another promising point by the author: He compares sticking with Mike Glennon favorably to the idea of drafting a Jimmy Garoppolo or Aaron Murray type.  Agreed.
Since there wasn't anything too outside-the-box in Tanier's assessment of the Bucs, Tampa Bay fans might get more satisfaction out of his write-up for the Panthers.  Most of the 16 NFC team grades were pretty favorable – I counted 11 Proficients, three Advanced and one "Curve Blown" (Tanier absolutely raves about the 49ers' draft), which leaves Carolina as the only team in danger of being held back a grade.  Tanier, in fact, gives the Panthers a Needs Improvement in all three categories.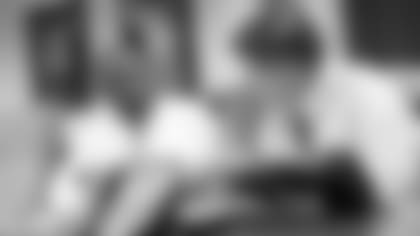 Head Coach Lovie Smith and General Manager Jason Licht had fewer pressing needs to address in the draft after a good run through free agency
It would be a bit hypocritical of me to defend the Bucs' pick of Sims and then kill the Panthers for failing to fill their biggest needs on draft weekend.  However, Carolina did fire first at their biggest void, wide receiver, and I agree with Tanier that they made a risky choice in Florida State's Kelvin Benjamin.  The Panthers need help right now in the receiving corps, and I agree with Tanier that Benjamin may not provide that. (Actually, "may not" is my phrasing; the author calls him "as ready as a frozen turkey.")  Elsewhere, you see the Packers praised for "saturation drafting" at the receiver position – they took three of them, including Fresno State's Davante Adams, who might have offered Carolina more immediate help – and that could have been a better approach for the Panthers.  Two of Green Bay's receiver picks were in the fifth round or later, but I still like the Packers' chances of getting an immediate contribution from at least one receiver better than the Panthers' chances.  This was, after all, widely regarded as the deepest class of receiver prospects in eons.  I won't pretend to have Tanier's scouting chops, so I'll have to hope, as a Buccaneer fan, that he's correct in believing the Panther's third-day selections of S Tre Boston and CB Bene Benwikere are not going to give a shaky secondary the help it needs.
After weighing in on everybody's favorite Tampa Bay depth chart topic – the "overloaded" running back corps – on Wednesday, Yasinskas followed up on Thursday with a similar and less publicized assessment of the team's tight end bunch.  It's true and, as Yasinskas also points out, it's an abrupt turnaround because eight months ago it seemed like the Bucs were turning over every rock they saw to try to find even one viable tight end.
Then converted rookie receiver Tim Wright emerged out of nowhere as a viable receiving threat at tight end, at least.  And then the first day of free agency brought in Brandon Myers, who averaged 63 catches over the previous two seasons in Oakland and New York.  And then University of Washington's Austin Seferian-Jenkins was hanging there at pick #38 of last weekend's draft, waiting to be plucked by the Buccaneers, who had never before used a pick that high on a tight end.
Why did the Buccaneers sign Brandon Myers in free agency if tight end was a target in the draft?  I suspect that, as with several other positions, the Bucs covered themselves with a good option in Myers, making it so they wouldn't have to force a pick in the draft.  Had Seferian-Jenkins gone before pick #38 (because it doesn't look like the Bucs had any plans of trading up during the first two days of the draft), they likely would have gone in another direction and been happy with Myers, Wright and Crabtree or Stocker.  When ASJ was still on the board, they made the pick that could impact the offense right now and hopefully lock down a position that has been rife with turnover in Tampa.
Now – as Yasinskas says, "all of a sudden" – the Bucs may have more tight ends than they know what to do with.  Both Tom Crabtree and Luke Stocker return from injuries that cost them most of last season to offer some intriguing potential to the group.  By the author's way of thinking, however, those two are likely to be the odd men out when the Bucs pare the position down to the usual total of three to start the regular season.
As usual, I find little fault in Yasinskas' logic.  I think he's right to assume that ASJ is the likely starter, though it wouldn't shock me if Myers is there to start the season and the change is gradual.  Also, depending upon how many two-TE sets Jeff Tedford employs, the two could be something of co-starters, playing a similar amount of snaps.  I also agree that Wright showed enough last year to make him the favorite for the third spot and someone the team can continue to develop.
But let me throw another wrinkle into this that might change the answer.  Start with this question: Is it impossible that the Buccaneers will choose to keep four tight ends on the 53-man roster this year?  I know that's uncommon, at least in Tampa, but it's not unprecedented.  Crabtree came from a Packers team on which, at one point, he was one of five tight ends on the 53.
I do think it's possible that the Buccaneers could keep four tight ends, and not just because they have four players at the position they can't bear to part with.  What it boils down to is what kind of role the Buccaneers design for Wright.
First of all, take note that the Bucs' current roster doesn't really have an established fullback.  Erik Lorig has departed for New Orleans and Earnest Graham isn't walking through that door any time soon.  It's possible that Lonnie Pryor or Jorvorskie Lane could emerge as a viable frontline fullback, but those are deceptively hard to find so I don't feel comfortable predicting that will happen.  If the Buccaneers were to put together a 53-man roster without a fullback, they would have a spot to keep an extra tight end.  And then one or more of those tight ends might find themselves in an H-back or a hybrid type of role where they occasionally lined up somewhere in the backfield.
Let's say that ASJ and Myers are your 1-2 punch at tight end and Crabtree is seen as a good #3 to have around because he's a strong blocker and a sneaky-good pass-catcher.  You could go with that crew and still have a roster spot and some work for Wright as an H-back, creating mismatches out of the backfield even better than most fullbacks would.  I'm not completely discounting Stocker's chances, either, but I'm not putting him ahead of Crabtree at the moment because of his unfortunate injury history.
Yes, I would have to agree that a three-TE configuration is more likely on the final 53-man roster, but I wouldn't be shocked to see the Bucs go with four, particularly because they have so many good options from which to choose.
Before the draft, the Buccaneers kicked the tires on a half-dozen quarterback prospects, fueling speculation that the team would target a passer either at pick #7 or pick #38.  I thought at the time (but did not truly know) that this was a team doing its due diligence on the most important position on the team, and if that happened to create the proverbial smokescreen on its intentions, well that was a nice side benefit.  Head Coach Lovie Smith didn't say anything strong enough to dissipate that smokescreen before the draft, and why would he?
As soon as the first round was over, however, and the Bucs had used their #7 pick on Texas A&M wide receiver – a top-notch prospect at a position of quite obvious need – Smith spoke up much more directly, stating his belief that Mike Glennon was the team's quarterback of the future.  This, too, made sense to me: Now that there was no more need for unclear intentions, there was also no need to be lukewarm in his support of Glennon.
This is the point that I thought Dell was making for the first seven or eight paragraphs of his commentary piece on Sunday, especially when he wrote, "Smith will bluff the socks off your feet and steal that fancy pinstriped suit hanging in your closet while you're counting your toes to make sure you still have 10."
I was only half right.  I do believe that is what Dell means in regards to the pre-draft ogling of Johnny Manziel.  However, as for the post-draft support of Glennon, the author's point is that Smith very well may still be bluffing.  The contention is that the Buccaneers always planned to take Evans at #7, but that they may have been hoping that pick #38 brought in a different quarterback, say Terry Bridgewater or Derek Carr.  When Bridgewater went 32nd and Carr went 36th, the Bucs settled for a tight end and running back at their next two picks and then turned up the charm on Glennon to mask their true intentions.  Dell's skepticism springs largely from the strength of Smith's vote of confidence; "liking" Mike Glennon would have been believable, but "loving" him was taking it too far.
Honestly, this was a fun read, and I don't blame Dell for choosing not to take Smith's words at face value.  We would all be a bit foolish to think an NFL coach never has unspoken motives behind his choice of words.  If you're hoping to trade a player, for instance, you're better off if other teams don't think you're going to release him if no deal can be made.
So, no, I don't have a problem with Dell's assessment, and I don't think he is being mean-spirited in his characterization of Smith as a poker player.  I just happen to disagree on this one.  I'm choosing to believe that Smith's confidence in Glennon's future is genuine, and that he and Jason Licht truly thought he was a better long-term option than any of the quarterbacks they could have picked up in this year's draft.  That doesn't mean they'll be proven correct in the long run, but NFL team-builders have to follow their convictions.  Now, I think Dell is right that Smith is good at the NFL poker game, but in this case I think he just liked the cards in his hand and didn't feel the need to bluff anymore.