Raymond James Stadium is ready for football.
More specifically, a newly-enhanced Raymond James Stadium is ready to offer an unparalleled game-day experience to fans who attend the Tampa Bay Buccaneers' 2016 preseason home opener on Friday night against the Cleveland Browns. With the second phase of the $140 million stadium renovation project officially complete – and highlighted by more than 31,000 square feet of new videoboard space – it's time to let Tampa Bay fans see, hear and taste all that is new and exciting at the Buccaneers' home.
"Buccaneer football starts tomorrow night," said Brian Ford, the team's chief operating officer, as he helped show off all the stadium's new and improved features on Thursday afternoon. "The game day experience at Raymond James Stadium, with all these enhancements and a chance to watch that game with other Buccaneer fans, is second-to-none. We just want people to come out and experience it."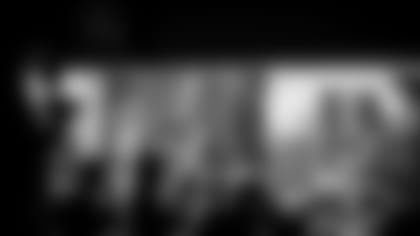 The all-new video boards at Raymond James Stadium.
---
Ford estimated that over 275,000 man-hours were spent upgrading the stadium since the end of last season, as the Bucs worked in conjunction with the Tampa Sports Authority, Manhattan Construction, ARAMARK and 42 other subcontractors to completely overhaul the video and sound systems. Now in place are massive high-definition videoboards in each end zone, each with 9,600 square feet of video space, as well as large boards on each of the four corner towers. Along with new six-foot-high ribbon boards running the length of the stands on both sides, Raymond James Stadium now offers fans more than eight times as much video space as it previously had.
All of that video is complemented by a surround sound system featuring more than 400 speakers, replacing the single bank of speakers in the previous arrangement.
"Raymond James Stadium is the Crown Jewel of the NFL, and these enhancements only put us higher," said Ford. "When the Bucs are playing, the fans are going to be able to see it and hear it and get involved. The experience on and off the field is going to be electrifying and cutting edge at Raymond James Stadium this coming season."
While the end zone boards provide the best replays that Buccaneer fans have ever experienced at their home stadium, the tower boards will feature the type of additional content that combines the thrill of attending the game in person with the easy access to information that fans value at home. That includes scores and video from around the league, statistics from the Bucs' game, constantly updated fantasy football information, social media interaction and more.
"We need to give our fans a reason to come out and experience it," said Ford. "There are reasons to sit at home or go out [to a sports bar], but there's nothing like the game day experience at Raymond James Stadium. It's about coming out and being a part of cheering on the Buccaneers with other die-hard fans, best fans in the NFL. To be a part of that, you can't match it and you can't get it sitting at home."
Thursday's tour of the upgraded stadium also included stops in the new Mercedes-Benz Hall of Fame Clubs, the new and state-of-the art control room for the video and sound systems and renovated luxury suites. Attendees also had a chance to sample some of the new food items that will be available at Buccaneer games this season, from braised beef melts to red hot taco stands to funnel cake fries.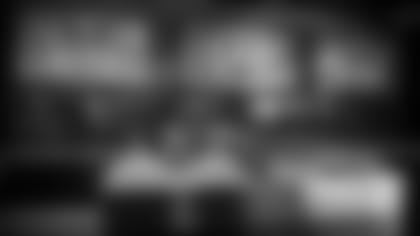 A look inside the all-new Hall of Fame Club at Raymond James Stadium.
---
The all-inclusive Hall of Fame Clubs, each of which houses 240 comfortable seats in 9,500 square feet of luxurious, air-conditioned space, represent the newest way to take in a Buccaneers game in style. The clubs have extensive buffets, 126 combined TV monitors and windows that slide open to allow the game day atmosphere in. Hall of Fame Club members also have access to all events at Raymond James Stadium throughout the calendar year.
And all of this, from the new menu items to the new clubs to the massive new videoboards, is set and ready to go for Friday's opener against the Browns. Raymond James Stadium is ready for football, on the field and off.
"This was a team effort and I am so excited that we're here," said Ford of the completion of the project's second phase. "I knew we would be, I was fully confident that we would be, but it's still exciting to see all these enhancements. It's here, we're at the finish line and I'm so excited about tomorrow."