STORY HIGHLIGHTS
A total of 50 players will take part in this weekend's rookie mini-camp at One Buc Place, including 23 on tryout contracts
The Bucs added a 13th undrafted free agent on Thursday, signing former Cal RB Brendan Bigelow
The weekend mini-camp will give the Bucs' rookies a chance to catch up with their veteran teammates before OTAs begin

This weekend, the rookies get the run of the place.
That would be One Buccaneer Place, to be specific.  The Tampa Bay Buccaneers' annual rookie mini-camp begins on Friday at team headquarters, giving the team's coaches a chance to focus exclusively on the team's newest players.
Those coaches will also evaluate two dozen prospects who may or may not end up in pewter and red.  As always, the rookie mini-camp roster has been filled out with undrafted players who did not immediately sign on with an NFL team and are in town on tryout contracts.  Any one of those players could perform well enough to earn a contract and a longer opportunity to prove himself in Tampa, just as Jace Daniels and Ka'Lial Glaud did a year ago.  Perhaps the most famous example of a tryout player making it big in Tampa is Fresno State running back Clifton Smith, who went from his original three-day contract to the Pro Bowl as a return man by the end of his 2008 rookie season.
There are actually four categories of players set to participate in the weekend's three-day mini-camp: 2014 draft picks, of which the Bucs have six; 2014 undrafted free agents, which stand at 13 after Thursday's signing of Cal running back Brendan Bigelow (more on that below); first-year holdovers from the Bucs' 2013 roster or 2014 offseason signings, which number eight; and the aforementioned 23 tryout players.
Bigelow (5-10, 180) played three seasons at Cal, the first two under current Buccaneers' Offensive Coordinator Jeff Tedford.  He declared for the 2014 draft as an underclassmen, finishing his collegiate career with 35 games played, 10 starts and 155 carries for 877 yards and five scores.  Bigelow also caught 42 passes for 305 yards and one score and also found the end zone on a kickoff return.  As a return man, he averaged 21.9 yards per attempt on 62 kickoff runbacks.  Bigelow's most memorable game for the Bears came at Ohio State in 2012 when he scored on runs of 81 and 59 yards.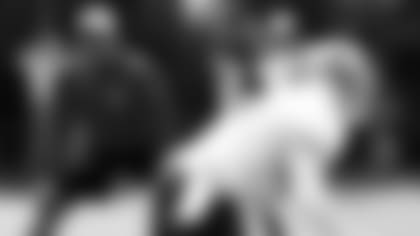 Head Coach Lovie Smith will get to focus exclusively on rookies and first-year players this weekend
In addition to giving the team a chance to scout some potential roster talent, the inclusion of players on tryout contracts also creates a nearly full depth chart for the weekend's three practices.  For instance, Bigelow will be sharing handoffs with third-round pick Charles Sims and tryout player Jeremy Smith of Oklahoma State.  After using all six of their draft picks on offensive players, the Bucs' personnel men obviously had to line up a few more tryout players on the defensive side of the ball.  For example, the defensive end rotation will consist of recent UDFA signing Chaz Sutton of South Carolina along with three players in on tryout contracts: Florida Atlantic's Cory Henry and the USF duo of Julius Forte and Ryne Giddins.  Many of the 24 players getting tryouts this weekend were also part of the pre-draft workout the Bucs were allowed to hold for local prospects in early April.
The following 24 players will participate in this weekend's mini-camp at One Buccaneer Place on tryout contracts:
Five former defenders for the USF Bulls will reunite at One Buc Place this weekend, which isn't unusual at the Bucs' annual rookie camp.  What's a bit surprising is that the group of former Texas A&M Aggies nearly matches that local bunch.  Tampa Bay used its first-round pick on A&M wide receiver Mike Evans last Thursday, then subsequently signed linebackers Nate Askew and Steven Jenkins as undrafted free agents.  They'll welcome former teammate Tony Hurd, an Aggies cornerback, to Tampa this weekend.
Because the 2014 draft was approximately two weeks later in the offseason schedule than is typical, the schedule for rookies was a bit different this year.  This time around, the Buccaneers were able to bring all of their draft picks into town immediately, so they have actually been taking part in light practices at team headquarters since Tuesday, along with Buccaneer veterans.  This weekend's work is different, however.
Any player with at least one season of accrued free agency credit cannot take part in a rookie mini-camp, so the only real "veterans" on the field this weekend will be first-year players like Daniels and defensive tackle Everett Dawkins.  Most of the participants will be getting their first real NFL work and – more importantly in particular for the draft picks and UDFAs – the complete attention of the Buccaneers' coaches.  The team's veteran players have already been in the classroom and on the field learning the new offensive and defensive systems for more than a month.  When the more fleshed-out practices of OTA days begin next week, there will be a gulf between the playbook knowledge of the veterans and the newcomers.  This weekend's camp will help shrink that gap.
The Buccaneers will practice from 1:30-3:30 p.m. ET on Friday and Saturday, with Sunday's schedule still to be determined.  Buccaneers.com will provide coverage of Head Coach Lovie Smith's post-practice press briefings and other updates from the rookie mini-camp.