STORY HIGHLIGHTS
Rookie WR Mike Evans is gaining confidence and becoming a bigger part of the offense each week
QB Mike Kafka has returned to the practice squad and has been joined by WR Tavarres King
A closer look at Sunday's game tape revealed several more big plays by DT Gerald McCoy

The Tampa Bay Buccaneers are looking for solutions to their unexpected 1-6 start to the 2014 season, and Buccaneer fans are looking for reasons to get excited about the next nine games. As those searches go on, it doesn't hurt to hit upon a silver lining or two, and the Buccaneers appear to have one in rookie wide receiver Mike Evans.
If there's one subject that has been met with nothing but positive commentary this week, following the Bucs' overtime loss to Minnesota, it's the ever-improving play of Evans, the seventh overall pick in this year's draft. By the raw numbers, Evans has been consistent all season catching at least four passes in each game he's played and usually falling somewhere between 50 and 80 yards per week. But everyone from his quarterback to his coordinator to himself believes that Evans is riding an upward trajectory towards potential stardom.
Evans' fantasy football output really isn't important (says the guy who doesn't have the Bucs' rookie on any teams), but his development is absolutely crucial to the Buccaneers finding their way on offense. As Evans becomes more assured from play to play, more of a physical force against smaller defensive backs, more of a player Mike Glennon looks to when he needs a big play, opposing defenses will find their coverage decisions getting more difficult. With Evans and Vincent Jackson, the Bucs have two big, fast and agile receivers, either one of which could make a big day out of single coverage.
"I think he's a guy that's definitely getting better every week," said Glennon. "I feel like he's playing faster. I imagine he's probably just getting more comfortable out there. He's definitely one thing that I took away from that game [against Minnesota] being a positive – his play and his ability. We always knew how talented he was and now he's really showing it against some really good players and it's exciting because with him [and] Vincent it's going to be hard for those guys to pick [who to cover]. We're really happy with Mike and his development."
Marcus Arroyo, the Buccaneers' quarterbacks coach and the de facto play-caller in the absence of Offensive Coordinator Jeff Tedford, sees his rookie pass-catcher gaining confidence each week.
"I think that's the biggest thing – in the early stages of anything, you're taking that next step into any endeavor, the more experience you get, the more confident you feel, the better you see things, the faster you play," said Arroyo. "He knows he's capable of doing [those things] – just finding ways to do them. Last week was a good example of him being more confident and us continuing to find ways to give him a chance to make plays. He's a big-time playmaker and we're excited about continuing to find ways to get him the ball. And if coverage dictates it, you'd like to do it as much as you can because he's proven he can do some stuff with the ball."
Evans' two most eye-opening plays against Minnesota were a 40-yard catch down the right sideline in the fourth quarter and a 26-yarder over the middle in the third quarter that came back on the penalty. On the former play, Evans ran past cornerback Josh Robinson and though there wasn't a huge amount of separation between the two Glennon threw it up and allowed the rookie to come down with it. Glennon had shown the same confidence on a scrambling play in the first quarter but on that occasion the pass was underthrown and intercepted.
On the latter play, Evans caught the pass over the middle and then eluded several tacklers to get down the sideline for extra yards. The Bucs believe they can get big plays from the rookie both by throwing deep and throwing into space and letting Evans work. The 2014 first-round pick is just happy his quarterback is showing confidence in him.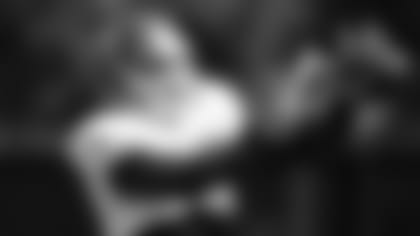 Rookie WR Mike Evans is a big play threat on both long and short passes
"Seven games into the season, I'm getting a better feel for it," said Evans. "Mike has given me a lot of opportunities, so I'm trying to make the best of them."
The Bucs haven't hit a lot of deep passes through the first seven games, even with the proven one-on-one downfield ability of Jackson and the early glimmers from Evans. Those plays will come, everyone involved in the offense agrees, but if opposing defenses are determined to keep the lid on Evans and Jackson then the Bucs will have to take what is available.
"We like to establish the run first and foremost," said Evans. "It's just what the defense gives us – we take it. We take the underneath stuff, and most teams don't like to get beat over the top. So we're just taking what the defense gives us, and they haven't been giving us many looks at the deep ball."
Of course, as mentioned above, this encouraging development by Evans is a silver lining for an offense that has not yet lived up to expectations. The rookie can definitely be part of the solution over the next nine weeks, but no more so than Jackson or Glennon or many others.
"Everybody has to do their job," said Evans. "Everybody has to make plays when the ball comes their way or when their number is called. We have to make plays and hopefully we'll be in better position to finish at the end."
The Buccaneers returned their practice squad to full capacity on Wednesday but kept the active roster three players short of the limit…for now.
A variety of moves over the previous 48 hours – including Tuesday's trades of Mark Barron and Jonathan Casillas – had left the Bucs with eight players on the practice squad and 50 on the active list. One of the open spots on the 53-man roster was due to the Monday waiver of quarterback Mike Kafka, an expected move after opening-day starter Josh McCown was cleared to play in last Sunday's game. Also as expected, Kafka then returned to the practice squad on Wednesday after clearing waivers.
The 10th and final spot on the practice squad went to wide receiver Tavarres King, who had also been waived on Monday, by the Jacksonville Jaguars. The 6-1, 210-pound King had been on the Jaguars' active roster for five games, though he was a game-day inactive for each contest, after starting the season on the Carolina Panther's practice squad.
The former University of Georgia standout was a fifth-round pick of the Denver Broncos in 2013. As a rookie, he went from the Broncos practice squad to their active roster to the waiver wire in mid-October. The Panthers claimed him off waivers and then made him a game-day inactive for the remaining 10 weeks. King has thus spent approximately one full season on NFL active rosters but is still looking for his first regular-season action.
The three open spots on the active roster are still pending. One of them could go to running back Charles Sims if the team decides to activate him from the injured reserve list before Sunday's game in Cleveland. The Bucs also have two players who are serving commissioner's suspensions – defensive end Da'Quan Bowers and fullback Jorvorskie Lane – but neither is eligible to return until after the game against the Browns.
Defensive tackle Gerald McCoy celebrated the new seven-year contract extension he signed on Saturday by splitting a sack of Teddy Bridgewater with fellow defensive tackle Clinton McDonald and adding a pair of tackles. As it turns out, his performance was actually a little better than that.
Each week, the analysts at the Elias Sports Bureau review tape of all the games to verify that the stats accumulated during the heat of the action over the weekend are accurate. Inevitably, there are a few things here and there that must be corrected, and the league will send out its list of corrections in the middle of the week.
There were three changes to the Buccaneers' stat sheet from Sunday's game against Minnesota, and all of them represent good plays by McCoy that were missed or inaccurately attributed at the time. The end result is McCoy's half-sack turning into a full one and his stat line also acquiring one extra quarterback hit and one extra pass defensed.
The sack occurred on third-and-four at the Bucs' 44 in the second quarter and it killed what looked like a strong scoring opportunity for the Vikings. On the play, McCoy shot around the right tackle and took Bridgewater down before he could set up for the play; McDonald hustled in to help complete the play but McCoy took the quarterback to the ground on his own.
Later in that same period, the Vikings got the ball at their own 35 and Bridgewater's first-down pass attempt was deflected by a Buccaneer linemen. At the time it was credited to T.J. Fatinikun, but tape study showed that it was actually McCoy who knocked it down. In addition, McCoy hit Bridgewater as he threw on a third-and-six play from the Bucs' 17 in the third quarter, though Bridgewater was somehow able to get off a perfect lob to Greg Jennings in the back of the end zone.
As a result, McCoy's numbers for the season now include 19 tackles, seven tackles for loss, three sacks for 21 yards, eight quarterback hits and two passes defensed. He missed most of two games due to a hand fracture sustained in Week Two.