STORY HIGHLIGHTS
Draft picks Charles Sims and Robert Herron could factor into the Bucs' kickoff and punt return plans this season
The Bucs released TE Tom Crabtree on Saturday and are likely to sign several tryout players in the coming days
G Kadeem Edwards already appreciates the detail-oriented approach of his position coach, George Warhop

The Tampa Bay Buccaneers are a long way from deciding who will return punts and kickoffs for them during the 2014 season, but it's never too early to start auditioning candidates.
For about half of the players who took part in the Buccaneers' rookie mini-camp on Friday and Saturday (Sunday will be limited to walk-throughs and classroom work), the whole weekend is one big audition. The two-dozen players participating on tryout contracts are hoping to prove they can add something to the 90-man roster and extend their stay in Tampa at least to training camp.
That's less of a concern for Charles Sims and Robert Herron, Tampa Bay's third- and sixth-round draft picks, respectively. Sims and Herron already have their roster spots and are strong bets to make it through to the 53-man roster, as well. Still, the more they can offer the team on game day, whether it be on offense or special teams, the greater the chance they'll have a role of significance when the real action begins.
Thus, Sims spent part of the weekend returning kickoffs while Herron got a lot of work fielding punts. Sims has a gliding but still powerful style of running that would seem to be well-suited to kickoffs while Herron has the sort of quick-twitch moves and rapid acceleration that might pop the occasional big play on punts.
Neither player has an extensive history in their chosen role. Sims returned four kickoffs for 53 yards at West Virginia last year and was not used in that capacity during two seasons at Houston. Herron hasn't returned punts since his high school days. Still, the Buccaneers have reason to believe they can take on those duties at the NFL level.
"With new guys coming in, we searched their history a little bit, to see what they've done, from Pop Warner on," said Head Coach Lovie Smith. "Charles has returned, feels comfortable with the kickoffs. I wanted to know if he's ever returned punts – he hasn't. If you have good hands, normally you can do a few things, and we'll keep working on that."
Herron had a trial by fire on Friday when camp began, as a windy day contributed to more dropped punts than Smith would like to see. However, he did much better on Saturday and is likely to continue to be a strong candidate for that job.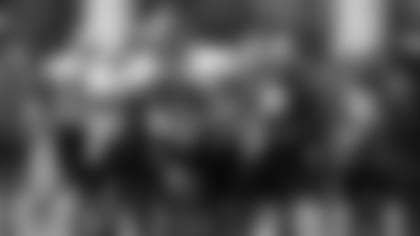 RB Charles Sims didn't return many kickoffs in college but may be well-suited to the role in the NFL
"He didn't do a lot in college, but he has been working on it," said Smith. "He caught the ball better today than he did yesterday. I was a little concerned, to say the least, yesterday. But today was better for the guys. It was windy, but as I told them, there's going to be a couple windy games that we'll be playing this year too. [There was] improvement, not only from Robert, but from a couple of the guys. We'll just keep looking at guys and hopefully someone will step up."
Undrafted free agent Solomon Patton was one of the other rookies who got a chance to field punts over the weekend, and of course that field will expand when the OTAs begin next week and veterans are added back into the mix. Wide receivers Eric Page and Skye Dawson and running back Jeff Demps all returned kickoffs last season and are sure to be part of the competition going forward, and Page is also the incumbent punt returner.
Herron anticipated being a part of that competition wherever he landed in the NFL, and so he spent time during the run-up to the draft practicing the deceptively difficult art of catching punts. Even so, it may take him a little while to get comfortable in that role again.
"Yeah, [I'm] kind of getting used to it, adjusting to it," said Herron. "It's hard to judge those things, especially when you haven't done it in so long. I'm trying to get back in the feel of that."
The Buccaneers made a roster move before practice on Saturday, though it did not apply to any of the 50 players about to take the field, at least not directly. Rather, the team released veteran tight end Tom Crabtree, who joined the team a year ago after three seasons in Green Bay. Smith said it was apparent that Crabtree was not in the Bucs' long-term plans, so it was better to make the move early.
"As far as Tom is concerned, we have some numbers at tight end, and it wasn't really looking good for him," said Smith. "So whenever I see that maybe it's not going to work out for a veteran, I want to give him the opportunity to get on with someone else. That was the case with Tom. He's a good football player, he's been playing good ball in the league. [The move] does coincide a little bit with what's going on on the field with some of the rookies."
Crabtree didn't get much of a chance to carve out a role in Tampa last season due to a pair of injuries. A high ankle sprain suffered in the preseason kept him out of the first month of the regular season, and a torn biceps sidelined him in November after he appeared in seven games with five starts. Crabtree finished the season with four catches for 21 yards and one touchdown.
The move temporarily reduces the Buccaneers' roster to 89 players, but it won't stay that way for long. Though he will wait until after the mini-camp concludes to announce the names, Smith said that "a couple" of tryout players performed well enough to earn a more lasting contract. That will be a big step for those players, because once they're on the roster they will have a very real chance to make the team, as other UDFAs and tryout players have done in the past.
"It's been documented what Demar Dotson did here and when I was in Chicago I had two defensive backs that started from this [type of] tryout camp," said Smith. "It's always good to see guys come up the hard way. There were a couple guys that have a chance that we have in camp right now."
Rookie guard Kadeem Edwards, one of the two offensive linemen selected by the Buccaneers in the fifth round of last weekend's draft, might have had a little advantage over the tryout linemen heading into the weekend. Most of this year's draftees had already turned in several Phase II workouts with their new veteran teammates in the days leading up to the mini-camp, so Edwards had an idea of what Offensive Line Coach George Warhop would demand on the practice field.
"He's very, very detailed," said Edwards of Warhop's approach. "He's detailed [on] the plays – he wants everything right. I've never had a coach who wanted everything right from every detail, from every point, every direction. He wants everything right."
Edwards wasn't complaining. He thinks Warhop will be able to bring the best out of his game, which will help him become a bigger part of the team's plans along the front line this fall.
"I get along with Coach Warhop real, real well, because he likes smart football players and I think I'm smart at the game," said the rookie blocker. "I'm a student. I never know too much, so I'm willing to learn anything and everything, the ins and outs of the game. I'm still a student of the game, fresh out of college, so he's just breaking down the whole NFL aspect and helping me get the game more."
The Buccaneers appear to be set at both tackle spots and at center heading into training camp, but at least one guard spot – and maybe both depending upon the status of Carl Nicks – will be an open competition. Smith likes what he has seen from Edwards early on but is far from knowing if he'll be able to contribute right away.
"It's pretty early for that," said Smith. "I wish I could look into the future that much, but in time, I feel like he will be able to help us. He's a good football player, he's as good as advertised. We thought he was a big athlete, which he is. He's picking up things. He has an excellent offensive line coach in George Warhop. I feel like his future is pretty bright."