STORY HIGHLIGHTS
The Bucs have three 2014 draft picks making a difference on offense, and could soon have four
CB Isaiah Frey could offer some competition at the nickel back position, where he played last season for Chicago
Buc players will get four days in a row off before returning for a bonus practice on Monday

In the Tampa Bay Buccaneers loss to the Baltimore Ravens on Sunday, second-year quarterback Mike Glennon threw 44 passes, and just over a third of them – 15 to be exact – were aimed at rookies. Austin Seferian-Jenkins, Mike Evans and Robert Herron caught 10 of those 15 passes to produce 144 yards and a touchdown. On a day that didn't offer much for Buccaneers or Buccaneer fans to take pleasure in, the performance of this trio was one thing that offers hope for what will unfold after the bye week.
That Evans, Seferian-Jenkins and Herron – the team's first, second and sixth-round draft picks, respectively – were able to make this significant of a collective impact is important for the team's future, of course. In a more immediate sense, what it does for an offense that may have to lead the way if the season is to be turned around is provide a much greater depth of options for the passing attack.
Veteran wide receiver Vincent Jackson is a proven commodity, demonstrated once again by his 210 receiving yards over the past two weeks, and his two touchdowns in Weeks Three and Four. Since re-signing with the team in Week Four, veteran Louis Murphy has quickly emerged as the most productive #3 receiver (and at times he's been in the starting lineup) that the Bucs have had in quite some time. Brandon Myers, a free agent acquisition from this past spring, has well-established NFL receiving credentials and he had two catches for 29 yards on Sunday.
Now add the aforementioned rookie trio to that list, and suddenly Buccaneer play-callers have many different and exciting ways they can attack opposing defenses.
"We have the talent, we have the players on both sides of the ball to be a very good football team," said Glennon. "We just need to execute better. We've seen everybody now, every playmaker we have has shown signs of what he's capable of doing. Mike Evans, coming off the injury, his past two games he's scored. We obviously know what Vincent can do, what he's done over his entire career. Austin Seferian-Jenkins – again a safety tried to come up and make a play on the ball but he's too big and he steps in front. We have guys with all different skill sets that we feel can do a lot of damage in this offense."
Seferian-Jenkins missed most of the first three games with an ankle injury but has come back to contribute eight catches for 113 yards in the most recent three outings, averaging a nice 14.1 yards per catch. Evans is just four catches behind Jackson on the Bucs' leaderboard despite missing about a game and a half. Herron didn't play much in the season's first month but is starting to get involved, with a touchdown in New Orleans and two catches for 31 yards against the Ravens.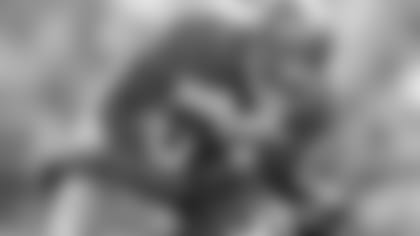 Rookie TE Austin Seferian-Jenkins has used his big frame to keep opposing safeties from breaking up passes sent in his direction
The Bucs actually drafted four skill-position players in May, but running back Charles Sims has been out since August with an ankle injury. He's eligible to start practicing next week and potentially get back into the mix after the Minnesota game. Given that he is widely seen as the best pass-catching back on the Bucs' roster, he could expand the Bucs' passing-game options even more when and if he returns.
Evans looks at all of those assorted weapons and believes the Buccaneers can do some special things on offense when the season resumes after the bye week.
"It has come together a lot," he said. "We're just getting better from the offensive line, to our backs and to our receivers. We're all building that chemistry and we're trying to be the most explosive offense."
*Isaiah Frey, the newest Buccaneer, may get a chance to compete for a role of some importance rather quickly.
The Buccaneers signed Frey on Wednesday, using the open spot created by Jorvorskie Lane
's suspension. The 6-0, 190-pound cornerback brings some interesting credentials to the team in that he was drafted by Lovie Smith in 2012 and that he was the Chicago Bears nickel back last season.
The Bears released Frey last week after he had appeared in three games, with one start. Given that they had started the season with Frey on the practice squad and then promoted him in mid-September, it's possible that Chicago had plans to bring him back to the practice squad. Whether or not that's the case is moot now because he's got a new spot on a 53-man roster and maybe a chance to carve out a role on defense.
"We drafted him when I was at my last job," said Smith. "He's a good football player, he has played at the corner position, we brought him in as a corner. He was their nickel last year. I got a chance to watch him play a little bit then and this year. He knows the system and we liked him as a player and with the situation that we're in now, we're trying to add players that can help us win some football games. It's a natural union."
Obviously, the Buccaneers are looking for some answers at cornerback after Sunday's rough outing in the secondary. The absence of starting RCB Johnthan Banks and the Week One loss of Mike Jenkins didn't help, as the Buccaneers gave significant playing time to players like Crezdon Butler and Brandon Dixon who haven't had much time to learn the defense. Nickel back Leonard Johnson was replaced for a portion of the Baltimore game, too, but Smith wasn't pointing any fingers at the third-year DB on Wednesday. Still, if the Bucs are going to examine everything in an effort to shore up the pass defense, it stands to reason that Frey will at least get a look.
"This is a standard answer, but we have been pleased with very little that we've done at all positions," said Smith. "Leonard will tell you that he needs to improve his play and if you're not playing at a certain level, you look for other options and that's what we did. Leonard is still a big part of what we're going to do, but we need to continue to bring in players to give him competition."
After getting in a pair of "bonus practices" on Tuesday and Wednesday, the Buccaneers will now bid their players farewell for the next four days.
Many will use the time to visit families in various towns across the country. Linebacker Lavonte David, for instance, spoke to the press after practice on Wednesday but was moving quickly afterward to catch a flight. While he'll surely enjoy catching up with his family, he also thought the extra field work will have a positive effect.
"Everybody is starting from point one, everybody is going back to basic techniques and basic assignments," said David. "I think it will help out. It's been a while since we've been doing things like that – a lot of studying and game planning and stuff like that. Once you get back to basics and knowing what you're supposed to be doing, it helps out a lot."
The Buccaneers will get a chance for another bonus practice on Monday when they reconvene to begin preparing for the Minnesota Vikings. During a normal in-season week, Smith gives the players the day off on Monday following a Sunday game, then brings them back on Tuesday for film review. In this instance, however, the team will work on Monday and then have Tuesday off before getting back into the usual Wednesday-Sunday routine.