STORY HIGHLIGHTS
QB Joe Flacco is adept at the deep ball and has two big-play receivers on the outside
Rookie LB C.J. Mosley has been an instant hit in the middle of a Baltimore defense ranked third in points allowed
Jacoby Jones is a big-play threat in the return game and K Justin Tucker has been perfect from inside the 50

On Sunday, the 1-4 Tampa Bay Buccaneers take on the 3-2 Baltimore Ravens at Raymond James Stadium in Tampa.  It will be just the fifth meeting between the two teams in the regular season, and this one will break a 2-2 tie (more on the Bucs-Ravens series history here). Baltimore, which saw a three-game winning streak snapped last Sunday in Indianapolis, are in the midst of a stretch that has them on the road four times in five weeks. Meanwhile the Buccaneers are making a very welcome return home after three straight road trips.
To get their second road win, the Buccaneers will need to first stop a Ravens rushing attack that is picking up 4.7 yards per carry. Baltimore's defense is also a significant challenge, as it has allowed just 16 points per game so far in 2014. Here's a closer look at the challenges the Buccaneers will face on Sunday when they play their first game at home in a month.
HEAD COACH: The "John Harbaugh Era" began in Baltimore in 2008 and it has been a massive success. Under Harbaugh, the Ravens have never had a losing season – last year's 8-8 finish was the closest, and they've been to the postseason dance five times. In fact, Harbaugh was the first head coach in league history to win at least one playoff game in each of his first four seasons (2008-11), and then he extended that streak to a fifth season in 2012. Of course, the Ravens won four games the last time they were invited to the dance, enough to take home the Lombardi Trophy after a 34-31 win over San Francisco in Super Bowl XLVII. Overall, the Ravens are 9-4 in the postseason under "Coach Harbs," complementing their 65-36 regular-season mark in that span (including this year's 3-2 start). Only the Patriots have won more overall games since the start of 2008 than the Ravens' 74.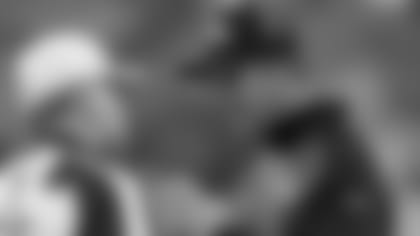 Ravens Head Coach John Harbaugh has led his team to a 9-4 record in the postseason, including a Super Bowl victory
The Ravens' Super Bowl win over San Francisco famously paired the Harbaugh against his brother, 49ers Head Coach Jim Harbaugh. Those two are just as famously the offspring of a football coach, Jack Harbaugh, who was a player and a coach at the collegiate level for over 50 years. While Jim spent 14 years playing in the NFL, John went straight into coaching after college in 1984 and got his first crack at the NFL with the Philadelphia Eagles in 1998. He was a well-regarded special teams coordinator for nine years in Philly under Ray Rhodes and Andy Reid, but he requested and was granted a move to tutoring the defensive backs in 2007. If that move was made to put him more on the NFL's head-coaching radar, it worked, as Baltimore came calling the very next year. Even when John and Jim are not on opposing sidelines they are often compared, and John (the older brother) is considered a far less emotional and demonstrative coach on the field than the demonstrative Jim. Harbaugh is also considered quite adept at handling veteran players and incorporating their requests and advice into his leadership approach.
OFFENSE: Baltimore has not only a top-10 offense (in terms of yards), but a well-balanced one, as they rank 12th on the ground and 13th through the air. Former Houston Texans head coach Gary Kubiak joined Harbaugh's staff this year after the Ravens' offense went from 10th in the league in scoring in their Super Bowl year to 25th in 2013. Under Kubiak's guidance, Baltimore has thrown the ball (or taken a sack) on 59.7% of its offensive snaps (the league average is 62.8%), and has gotten good production in the ground game from the unheralded trio of Justin Forsett, Bernard Pierce and Lorenzo Taliaferro. The 5-8, 197-pound Forsett has been the home run hitter, averaging 5.9 yards per carry en route to a team high 297 rushing yards and three touchdowns. Taliaferro has been a nice complement with a 4.4-yard pace of his own and two scores, but the veteran Pierce returned last week after missing two games and might eat into the other backs' touches going forward. The Ravens' ballcarriers have combined for seven carries of 20 or more yards so far this year, the highest total in the NFL.
The Ravens' overall team mark of 4.7 yards per carry is ninth-best in the league and an indication that a somewhat-rebuilt offensive line is blocking well up front. Rick Wagner has replaced Michael Oher at right tackle and Jeremy Zuttah, the former Buccaneer, is now at center instead of Gino Gradkowski. The Ravens have been playing without well-regarded left tackle Eugene Monroe the last two weeks, which likely played a role in the team giving up a season-high four sacks against Indianapolis after going three straight games without allowing a single one. Rookie James Hurst, an undrafted free agent out of North Carolina, has filled in on Joe Flacco's blind side the last two weeks.
After a 2013 season in which he threw 22 interceptions against just 19 touchdown passes, Flacco has looked very much like the 2012 version through the first five weeks of this season. His 2014 passer rating of 87.8 is nearly identical to the mark of 87.7 he finished with in 2012, but he's actually completing a higher percentage of his passes (62.3%) and is on pace for his first 4,000-yard season. In many ways, the common scouting report on Flacco sounds like the way people are beginning to describe the Bucs' Mike Glennon: They're both taller than the average quarterback (6-6), they both have very strong arms and neither is considered especially mobile (which may not be a completely fair assessment in Glennon's case). Indeed, Flacco has gained just 19 yards on his 13 scrambles this year, but he moves deftly enough in the pocket to keep plays alive. He is considered particularly adept at the deep ball.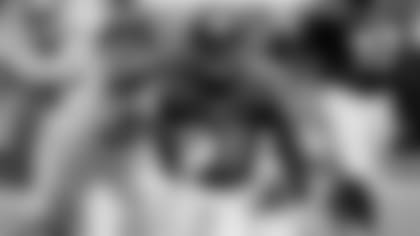 RB Justin Forsett is averaging 4.7 yards per carry for a Ravens' rushing attack that has produced a lot of big plays
In that last regard, Flacco has a very useful pair of Smiths as his starting receiver. The deep ball has always been the best part of Torrey Smiths' game, and that's evidenced by his career average of 17.1 yards per catch and his 20 scores in 175 receptions. He had a career breakout year in 2013 with 1,128 yards but so far in 2014 is averaging a career-low 35.2 yards per game. He has been targeted 29 times in five games but only five of those have resulted in receptions. That average of just under six targets per game is down from his mark of 8.5 last year, and some of those have probably gone to his new teammate, long-time Carolina Panther Steve Smith.
The Buccaneers now the latter Smith well, having faced him 22 times in NFC South play. In fact, Smith has the second-most yards against the Buccaneers of any opponent in Tampa Bay's four-decade history (Cris Carter holds the top spot). He wasn't thrilled with the handling of his release from Carolina earlier this year and appears to be using the motivation to have a bounce-back year, ranking fourth in the NFL with 463 yards, or nearly 93 per game. And, indeed, Smith is getting targeted nearly 10 times a game by Flacco. No other wideout has been much of a factor for the Ravens; when Flacco looks away from the two Smiths it's usually to his tight end. Dennis Pitta had 22 targets and 16 catches through three games before he got hurt; replacement Owen Daniels has 24 targets, 19 receptions and two touchdowns. Forsett has also been heavily involved in the passing attack, though he has averaged just 5.1 yards on his 23 receptions, which is actually lower than his per-carry average in the ground game.
Baltimore hasn't hurt itself too much with turnovers; they're 11th in the league with a +2 takeaway/giveaway ratio and their eight turnovers are right in the middle of the pack. Their runners have fumbled just once in 134 carries (that one belongs to Bernard Pierce). They have had some problems in the red zone, ranking 28th with a touchdown percentage of just 40% (eight of 20 red zone drives have reached the end zone).
DEFENSE: Like the Buccaneers, the Ravens have long been known for their defense. From 1999-2011 they ranked in the top 10 in scoring defense 11 of out 13 times, and even a minor dip the last two years has only taken them down to 12th. This season, Baltimore is giving up exactly 16 points per game, which is third best in the entire NFL. None of their five opponents in 2014 has put up more than 23 points.
Surprisingly, Baltimore's defense ranks 29th in the NFL in sacks produced per pass play, with just five in five games so far. Almost all of them belong to LB Elvis Dumervil, who is technically not even part of the starting 11 in the Ravens' 3-4. Dumervil hasn't started a game yet but the SAM spot on the Baltimore depth chart lists "Courtney Upshaw or Elvis Dumervil." Obviously, Dumervil still plays a lot; in fact, he's been on the field or 14 more snaps than Upshaw.
That low sack total is probably misleading; the Ravens still have plenty of talented pass-rushers, including Terrell Suggs, who starts at the "RUSH" linebacker position and has double-digit sacks in three of previous four seasons. He has just 0.5 so far this year. Defensive tackle Haloti Ngata has never been a huge sack producer (his career high for a single season is 5.5) but he's been disruptive enough to make five Pro Bowls, including the most recent one. The 330-pounder is obviously a critical plugger for the Ravens in the middle of the line – and they rank sixth with an opponent average carry of 3.4 yards – but he can even do some damage in coverage. The first of Ngata's surprising five career interceptions actually came in Tampa in the 2006 season opener, his NFL debut.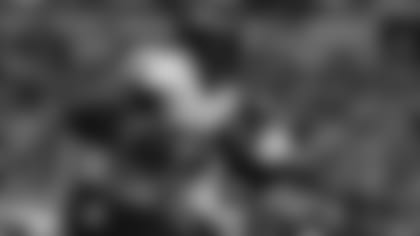 Rookie LB C.J. Mosley leads the Ravens in tackles and has already broken up five passes
Rookie linebacker C.J. Mosley was considered by many to be a steal when the Ravens got him with the 17th overall pick in May, and the early results are backing up that contention. Manning the WILL linebacker spot for the Ravens, he leads the team – and all NFL rookies – with 57 tackles and has also picked off one pass and recorded five passes defensed. That latter total is the highest mark for any linebacker in the NFL, not just rookies. He is currently the only defender in the league with at least 40 tackles and an interception, a forced fumble and a fumble recovery.
Baltimore's pass defense looks a little more vulnerable, perhaps in large part due to the low sack total. The Ravens rank 27th in the league in passing yards allowed, at 269.2, and have picked off just three passes. Moreover, all three of those picks belong to Ngata and Mosley; the Baltimore DBs are still trying to erase their collective goose-egg. CB Lardarius Webb has been limited to two games and no starts so far by a back injury and that has likely been costly; last year, Webb finished second in the NFL (to current Buccaneer Alterraun Verner) with 22 passes defensed. Jimmy Smith is considered the team's top cover corner and he's coming off a strong 2013 in which he combined 58 tackles with two interceptions and 16 passes defensed. At 6-2, he's got the height to match up with big Buccaneer receivers like Vincent Jackson and Mike Evans, and he's already broken up five passes this year.
As much as the Ravens have struggled in the red zone on offense, they've made sure opposing teams have done the same. In fact, Baltimore leads the league in that category, with opponents finding the end zone on a paltry 31.3% of their red zone trips. That's obviously a big reason why Baltimore has allowed a league-low seven touchdowns overall. On the other hand, the Ravens' defense has allowed a 47.4% third-down conversion rate, tied for 26th-worst in the NFL.
SPECIAL TEAMS: He hasn't had too many opportunities – six punt returns and six kickoff returns so far – but Ravens return man Jacoby Jones has been up to his old tricks, averaging 11.2 yards in the former category and 26.9 in the latter. His career marks in both categories are 10.2 and 29.6, and more importantly he's also scored on seven runbacks, including two in 2012 of 105 and 108 yards. His career ledger includes eight punt returns of 50 or more yards, and he already has a 33-yarder this season, so the Buccaneers' cover teams will face a stiff challenge this week.
Punter Sam Koch has a career gross average of 44.9 but so far in 2014 he's upped that to 47.5, which would be a new franchise record if maintained. Koch's net average is a healthy 41.8, as well, and the Ravens rank sixth in gross and 11th in net in the NFL. He has dropped seven punts inside the 20 against just one touchback and has 232 punts downed inside the 20 since 2006, the third-highest mark in the NFL in that span.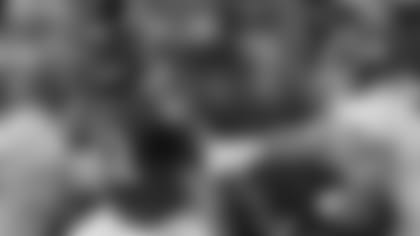 Return man Jacoby Jones has found the end zone seven times on punts and kickoffs combined in his career
Kicker Justin Tucker has gotten plenty of work so far due to those aforementioned red zone struggles, and he's been perfect when the team gets him that close. Tucker has made all 10 of his tries from 39 yards in, with his only two misses on the season coming from 55 and 57 yards. He did nail a 52-yarder last Sunday in Indianapolis.  Tucker handles the kickoffs and has produced 22 touchbacks in 26 attempts, helping Baltimore hold opponents to an average kickoff drive start of the 19.7-yard line.