STORY HIGHLIGHTS
The Panthers will likely still favor the run but have a potential deep threat in rookie WR Kelvin Benjamin
Carolina's front seven includes the reigning Defensive Player of the Year and two dangerous edge rushers
K Graham Gano made 24 of 27 field goal tries last year and was the league's best touchback specialist on kickoffs

On Sunday, the Tampa Bay Buccaneers take on the Carolina Panthers at Raymond James Stadium in the 2014 season opener for both teams.  It will be the 28th meeting between the two teams in the regular season, and the first of intra-divisional matchups this fall (more on the Bucs-Panthers series history here). The Buccaneers will be looking for their second opening-day win over Carolina in the last three years.
To get their 2014 season started off with a victory, the Buccaneers will need to slow down the Panthers' dangerous and multi-faceted pass rush and keep Carolina quarterback Cam Newton from getting into synch with his overhauled receiving corps.
HEAD COACH: Ron Rivera was a linebacker on the famous 1985 Chicago Bears Super Bowl team, and he began his NFL coaching career in Chicago as well, in 1997. In subsequent stops in Philadelphia, Chicago again and San Diego, Rivera became known as one of the NFL's top defensive coordinators, and that eventually led to his first head coaching opportunity in Carolina.  The Panthers named Rivera the fourth head coach in their history in January of 2011; since then, Carolina has a 25-23 record and a division title, secured last year after a 1-3 start was followed by an eight-game winning streak.  Rivera's job had reportedly been in jeopardy after that 1-3 start, on the heels of a 7-9 season that led to the hiring of new general manager, Dave Gettleman.  However, Rivera consciously chose to take a more aggressive approach to play-calling – including some gutsy fourth-down decisions – earning the nickname of "Riverboat Ron" and at the very least providing an easy narrative for the Panthers' incredible 11-1 run to end the season.  This year, Rivera faces a challenge that no other NFC South coach has ever met: Repeating as division champs.  In addition, the Panthers have never posted back-to-back winning seasons. Rivera's hopes of avoiding Carolina's typical slow start and taking control of the division early may hinge on how well he helps the team integrate a new receiving corps and a shuffled offensive front.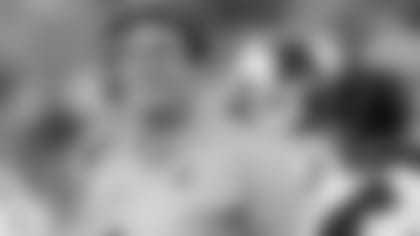 Head Coach Ron Rivera led his team to a 12-4 finish in 2013 despite a 1-3 start
OFFENSE: Heading into the 2014 season, with so much still to be revealed, the Panthers' offense appears to have an unusual mix of sure things and complete question marks.
For instance, it would be a surprise to see the team move away from its run-heavy approach. Running backs DeAngelo Williams, Jonathan Stewart and Mike Tolbert are all still in place, and quarterback Cam Newton adds serious punch to the rushing attack. Last year, the Panthers ranked 26th in overall offense but 11th on the ground, and their ability to create short third downs and power-run to convert them led to a fourth-place finish in third-down efficiency. It's not immediately clear how much the 31-year-old Williams has left in his tank, but the 27-year-old Stewart looked sharp during the preseason.
The potential problem for Carolina's rushing attack is the men opening the holes. Like the Buccaneers, the Panthers head into the new season with a line featuring at four spots, though in Carolina's case a lot of the shuffling was caused by the surprise retirement of Jordan Gross. That prompted the move of right tackle Byron Bell to the left edge and right guard Nate Chandler (a recently-converted defensive lineman) to right tackle. Rookie Trai Turner steps in at right guard and third-year man Amini Silatolu returns from an injury-plagued 2013 to regain his left guard position. Turner is also nursing a groin injury that kept him out of the last two weeks of the preseason.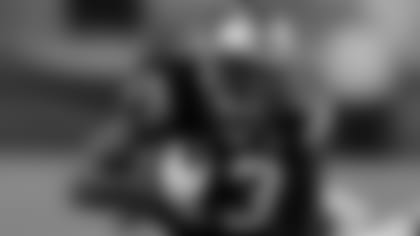 Rookie WR Kelvin Benjamin has the size and speed to be a big-play threat that Carolina's passing attack needs
The Panthers hope that front five will give Newton enough time to get into a rhythm with his receivers, none of whom has ever caught a regular-season pass in a Carolina uniform. There are some experienced veterans in the group, including starter Jerricho Cotchery, but the player most likely to emerge as an eventual star is rookie Kelvin Benjamin, the 28th overall pick in the 2014 draft. At 6-5 and 240 pounds, Benjamin has that coveted size-speed combination that could make him a big-play producer in the NFL, and he had some eye-opening moments in the preseason. Benjamin is already listed as a starter, but the Panthers will probably also lean heavily on veteran Jason Avant. Carolina ranked 29th in the NFL in passing yardage last season – in part due to the nature of their offensive play-calling – and they'll have to come together quickly to make a significant improvement from there.
Of course, any offense with Newton at the center offers its own variety of dangers.  With Greg Olsen and Ed Dickson on hand, the Panthers can utilize two-TE sets to set up running options for Newton or give him quick outlets  in the passing game.  As he enters his contract year, Newton will surely be motivated to prove he's the all-around force that produced a 4,000-yard passing season and 14 rushing touchdowns in his 2011 rookie campaign.
DEFENSE: There aren't many questions about Carolina's defense, on the other hand. The Panthers have a deep and talented front seven – perhaps the most talented in the league – that produced an NFL-best 60 sacks last season. There are few more dangerous edge-rushing duos in the NFL than Greg Hardy (15.0 sacks last year) and Charles Johnson (11.0), and last year they were joined by a new duo of defensive tackles in Star Lotulelei and Kawann Short. Those two, the team's top two picks in 2013, were an instant hit, combining with Dwan Edwards and Colin Cole to instantly turn a defensive weakness into the strength. With Defensive Player of the Year Luke Kuechly backing them up in the MIKE linebacker spot, there simply wasn't anywhere to run against the Panthers. Those who tried averaged just 86.9 yards per game, the second-lowest mark in the league.
Obviously, Kuechly is one of the very best defenders in the league, and he's reportedly been honing his pass coverage skills to try to take his game to yet another level. Of course, Kuechly picked off six passes and broke up 15 during his first two seasons, so this wasn't exactly a weakness in his game. Kuechly has "only" three sacks in that same span, but hasn't really been asked to rush the passer much. That could change in 2014; Kuechly recorded a sack in the Panthers' second preseason game this summer on a perfectly timed third-down blitz up the middle. Unfortunately for Carolina opponents, Kuechly isn't a one-man army in the middle of the Panthers' defense. He's got the ideal running mate in weakside linebacker Thomas Davis, a playmaker in his own right. Davis had 85 tackles, four sacks, two interceptions and a forced fumble last year and, like Kuechly, has great sideline-to-sideline range to help limit opposing ballcarriers.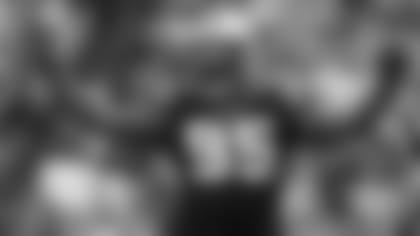 DE Charles Johnson combined with fellow end Greg Hardy to produce 26 sacks last year
The Panthers' secondary has been reworked this season, with a much more veteran taste. The two new starters at safety are both long-time NFC South combatants – former Falcon Thomas DeCoud and former Saint Roman Harper. Right cornerback Melvin White, a second-year player, is home-grown, but left corner Antoine Cason is another 2014 import. It remains to be seen how well the Panthers' new-look secondary comes together, but it's likely not a significant concern. The defensive backfield was supposed to be a significant weakness for the Panthers last year, populated by mostly young and unproven players, but the incredible pressure applied by the front seven allowed that group to perform quite well.
SPECIAL TEAMS: There's been a lot of upheaval on the Panthers' roster this season, not all of it by choice, but the team does return a very solid kicking duo of Graham Gano and Brad Nortman. Gano made 24 of 27 field goal tries last year (88.9%), while Nortman blasted punts for a gross average of 47.8 yards per and a net of 41.6.
Gano was a weapon for the Panthers in another very significant way last year. His long kickoffs produced 63 touchbacks on 79 kicks, for a touchback percentage of 79.7% that was easily the best mark in the league. The Buccaneers led the NFL in opponent kickoff drive start last year, with an average starting point of the 19.4-yard line, but the Panthers weren't far behind at 20.2.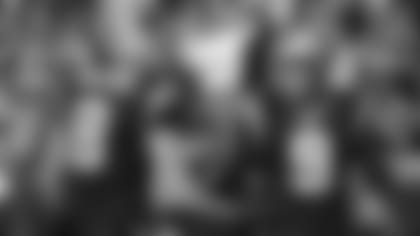 P Brad Nortman and K Graham Gano formed one of the league's most reliable kicking duos last year
Carolina's return game was good but not overwhelming last year, even with the one-year rental of return specialist Ted Ginn.  Ginn was strong on punt returns, with a 12.2-yard mark that ranked sixth in the league, but he got just 23.8 yards per kickoff return and the Panthers ranked 24th in that category.  Ginn is no longer with the team and the return job seems to have fallen to Philly Brown, an undrafted rookie out of Ohio State.  There isn't much from the preseason to go on when assessing Brown's threat level; he averaged just 1.2 yards on six punt returns (with seven fair catches), and while he did get 37.5 per on kickoff returns, that was on just two attempts.