STORY HIGHLIGHTS
WR Kelvin Benjamin and TE Greg Olsen have combined to account for nearly half of the Panthers' passing attack
Carolina has made some recent changes in the secondary, where third-year CB Josh Norman has been the top performer
The Panthers' kick-coverage squads have been among the least effective in the league in 2014

On Sunday, the 2-11 Tampa Bay Buccaneers take on the 4-8-1 Carolina Panthers at Bank of America Stadium in Charlotte, North Carolina. It will be the 29th meeting between the two teams in the regular season, with the Buccaneers trying to forge the first season split with their division foes since 2008 (more on the Bucs-Panthers series history here). After a critical win in the Superdome on Sunday, the Panthers are trying to prevail in a three-game sprint to the division title against the 5-8 Saints and the 5-8 Falcons.
To kick off a season-ending winning streak of their own, the Buccaneers will need to find a way to take away Derek Anderson's two top targets: veteran TE Greg Olsen and rookie WR Kelvin Benjamin. Meanwhile, the Buccaneers' offensive front has to keep DE Charles Johnson away from Josh McCown and Tampa Bay ballcarriers will need to avoid LB Luke Kuechly as much as possible. Here's a closer look at the challenges the Buccaneers will face on Sunday when they visit Bank of America Stadium.
HEAD COACH: Ron Rivera was a linebacker on the famous 1985 Chicago Bears Super Bowl team, and he began his NFL coaching career in Chicago as well, in 1997. In subsequent stops in Philadelphia, Chicago again and San Diego, Rivera became known as one of the NFL's top defensive coordinators, and that eventually led to his first head coaching opportunity in Carolina.
The Panthers named Rivera the fourth head coach in their history in January of 2011; since then, Carolina has a 29-31-1 record and a division title, secured last year after a 1-3 start was followed by an eight-game winning streak. Rivera's job had reportedly been in jeopardy after that 1-3 start, on the heels of a 7-9 season that led to the hiring of new general manager, Dave Gettleman. However, Rivera consciously chose to take a more aggressive approach to play-calling – including some gutsy fourth-down decisions – earning the nickname of "Riverboat Ron" and at the very least providing an easy narrative for the Panthers' incredible 11-1 run to end the season.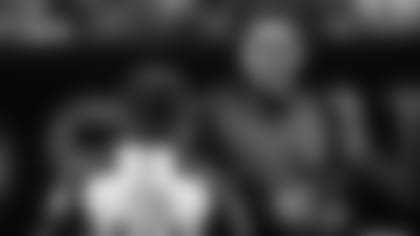 Ron Rivera could still become the first head coach to lead his team to consecutive division titles in the NFC South
This year, the pattern was flipped, as Carolina won its first two games and was in first place after five weeks with a 3-2 record. However, a seven-game winless streak followed (including a 37-37 tie at Cincinnati in Week Six) and nearly knocked the Panthers out of playoff contention. Still, the Panthers could finish the season strong again, and they began that process last Sunday with a dominating 41-10 victory at New Orleans. That left the Panthers just a half-game out of first place in the divison and left Rivera with the chance to do something no other NFC South head coach has ever done: Lead his team to consecutive division titles. Rivera will not, however, become the first Panthers coach to direct his team to back-to-back winning seasons.
This season's challenges have included a series of injuries to the offensive line and the running back corps, though Rivera's Panthers have stuck to their usual formula as a run-heavy team. More significantly, a defense that finished second in the league in points and yards allowed and first in sacks record in 2013 has not fared nearly as well in any of those categories in 2014, a surprising development under Rivera's leadership.
OFFENSE: There were two main concerns about the Panthers' offense heading into 2014, an offensive line that lost LT Jordan Gross to retirement and a wide receiver corps that had few tested options after the departure of Steve Smith. That second concern has been seriously alleviated by the emergence of rookie Kelvin Benjamin a late first-round pick out of Florida State who many thought was something of a "raw" if talented NFL prospect. Instead, Benjamin began his season with a 92-yard, one-TD effort at Raymond James Stadium in Week One and hasn't slowed down much, ranking 14th in the NFC with 748 receiving yards while scoring nine touchdowns.
Benjamin does not lead the Panthers in receiving yards, however, though he's very close. Prolific TE Greg Olsen was expected to be a primary target for QB Cam Newton given the unproven nature of the receiving corps, and indeed Olsen leads the team in both catches (71) and yards (850) and has added six TDs. Otherwise, veteran Jerricho Cotchery has been the only other receiver of note for the Panthers this year, with a 35-462-0 line more suited for a third wideout. Combined, Benjamin and Olsen have accounted for 48.3% of the Panthers' targets in the passing game, 47.4% of the receptions, 52.5% of the yards and 75% of the touchdowns. When Cam Newton drops back to pass, the opposing defense should know which two players to give the brunt of their attention.
Of course, it will actually be Derek Anderson dropping back to pass for the Panthers on Sunday, as Newton is recovering from a frightening auto accident on Tuesday that left him in the hospital with a pair of transverse fractures in his back. It will certainly give the Panthers confidence that Anderson also started their win over the Buccaneers in Tampa in Week One, completing 24 of 34 passes for 230 yards, no interceptions and two touchdowns…one each to Benjamin and Olsen, of course. Anderson has thrown just 57 passes this year to Newton's 401, but he has a sparkling 114.9 passer rating in that amount of action, built on a 70.2% completion rate and a 4-0 TD-INT ratio.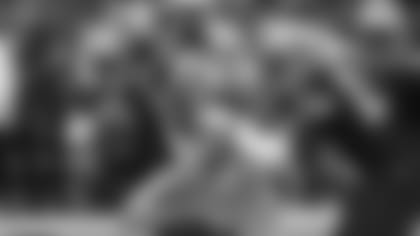 Rookie Kelvin Benjamin has quickly emerged as one of the league's most productive receivers
As for the aforementioned concern about the offensive line, it has been a valid one, and it has been exacerbated by a rash of injuries. The Panthers moved Byron Bell from right tackle to left tackle to replace Gross, giving the job on the right side to Nate Chandler, who had only converted from defensive tackle midway through the previous season. Chandler, however, was recently lost to injured reserve and the new starter is Mike Remmers, a journeyman making his first NFL starts. Pro Bowl center Ryan Kalil has remained a rock in the middle of the line but injuries at the guard spots have kept any player from starting more than seven games at either spot. Amini Silatolu and Fernando Velasco played LG and RG against the Bucs in the season opener but the starters last week in New Orleans were Andrew Norwell and Trai Turner.
That upheaval has manifested itself most obviously in pass protection, as Panther passers have absorbed 37 sacks, 36 by Newton, who started the season dealing with cracked ribs. Carolina ranks 22nd in sacks allowed per pass play and 21st in passing yards per game. However, while the Panthers' rushing attack hasn't quite been up to its usual top-of-the-league standards – injuries to Newton and RBs DeAngelo Williams, Jonathan Stewart and Mike Tolbert have played a big part in that – it has still been good. It was spectacular last Sunday in New Orleans, with 271 yards, and it looks as if Stewart is making a late-season emergence as the bellcow back. Stewart had 155 yards in that game, in which Williams didn't play due to injury, and he'll be even more of a focal point if Newton can't bring his scrambling and read-option skills to the game Sunday. Carolina ranks 11th in the NFL in rushing with 116.1 yards per game and has averaged 4.2 per tote.
The Panthers haven't hurt themselves too much with the turnover; they have given it away 20 times, which is almost exactly the league average and is just one more takeaway than the Carolina defense has managed. They haven't helped themselves much in the red zone, however, ranking 27th in the league with a TD rate of 45.9%.
DEFENSE: In contrast, there weren't many concerns about Carolina's defense at the beginning of 2014, apart from DE Greg Hardy's legal concerns. The Panthers led the NFL with 55 sacks in 2014 and allowed just 15.1 points per game. The Carolina secondary did have some new faces and some question marks, but the strength of the front seven was expected to minimize those, just as it had in 2013.
As it turned out, that Hardy concern was a big one, as he has been on the commissioner's exempt list since Week One. He did play that opening game in Tampa, and did register a sack, but since then the team has been without perhaps its best pass-rusher. Hardy and fellow end Charles Johnson combined for 26 sacks in 2013 but this year they have just seven. Thanks to DE Mario Addison (6.0) and DT Dwan Edwards (4.0), the Panthers still have 28 QB takedowns on the season, but they've dropped to 22nd in the lead in sacks per pass play. That decrease in pressure is undoubtedly one of the reasons that opposing quarterbacks have seen their collective passer rating against Carolina rise from 81.4 last year to 95.2 this year.
The middle level of Carolina's defense remains a force. Luke Kuechly, the reigning NFL Defensive Player of the Year, patrols the middle and has played 2,583 of a possible 2,638 defensive snaps (97.9%) since he moved to the MIKE 'backer position five games into his 2012 Rookie of the Year campaign. Kuechly is the NFL's leading tackler (according to STATS, LLC) and he's been credited with 145 stops by the Panther coaches to go with 3.0 sacks, 10 passes defensed, one forced fumble and one fumble recovery. His running mate at the WILL linebacker spot remains the very active and productive Thomas Davis, who has 116 tackles, two sacks, eight QB pressures and five passes defensed. Despite those two linebackers, and the second-year DT duo of Star Lotulelei and Kawann Short that played so well in 2013, Carolina has dropped to 19th in the league against the run, giving up 114.9 yards per game. More troubling is the 4.4 yards per carry opponents have managed against the Panthers, which is worse than all but three other teams.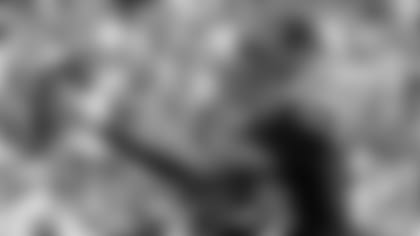 Third-year CB Josh Norman has put together a strong year amid a secondary that has seen quite a few changes
Carolina reworked its secondary during the 2014 offseason, bringing in such veteran as S Roman Harper, S Thomas DeCoud and CB Antoine Cason. However, Cason has since been released and the team recently promoted rookie Tre Boston to the starting free safety spot ahead of DeCoud. Rookie CB Bené Benwikere also cracked the starting lineup a few weeks ago, replacing Melvin White as the Panthers have purposely tried to get a look at some of their younger players down the stretch. Boston and Benwikere were the Panthers' fourth and fifth-round draft picks this past May.
Of course, that veteran trio of Harper (who remains the starting strong safety), DeCoud and Cason had combined for six of the Panthers' 11 interceptions through the first 13 games. No other player on the roster has more than one pick this season. Third-year man Josh Norman, a former fifth-round pick out of Coastal Carolina, continues to be a bright spot in Carolina's defensive backfield. He is the highest-rated Carolina cornerback in the NFL on Pro Football Focus, coming in 24th in the NFL, just ahead of Benwikere, another promising fifth-rounder.
Put it all together and you have a defense that ranks 16th in the NFL in pass defense but 22nd in interceptions per pass play. That said, the secondary just passed a big test with flying colors on Sunday in the Superdome, holding Drew Brees and company to 235 yards, one touchdown and one interception (by Benwikere). Brees came into the game with a passer rating north of 100 but was held to a single-game mark of 69.7 by the Panthers. Carolina's defense has only one touchdown in its last six quarters of play.
Carolina's defense has had some trouble getting off the field this season, ranking 25th in the league with an opposer third-down success rate of 43.5%. They've also been one of the league's least successful groups in the red zone, ranking 30th in the league as opponents reach the end zone on 65.9% of their trips inside the 20.
SPECIAL TEAMS: While there has been a lot of change in the Panthers' depth chart this season, the punting-kicking duo of Brad Nortman and Graham Gano stayed the same. Still, this stability hasn't translated into a lot of success in the kicking game for Carolina this year. The Panthers rank 26th in gross punting average, last in net punting average, 18th in kickoff return average and 14th in punt return average. On the other side of the ball, defending those punts and returns, the Panthers rank 27th, 24th, last and last.
Punter Brad Nortman has seen his net average decline steeply from last year, when he posted a fine 41.6-yard mark. This is not all Nortman's fault, or perhaps not even primarily his fault, as his gross average has only dipped from 47.8 to 45.0. What has helped drive down the net average has been two blocked punts and a league-worst 15.8 yards per punt return.
On kickoffs, the Panthers are also averaging a league-worst 31.7 yards allowed per return, although the impact of that is lessened by the fact that only 13 kickoffs have been run back against them all year. That's because Gano continues to be a weapon on kickoffs, blasting 49 touchbacks in 61 tries this year to lead the league with a touchback rate of 80.3%. Only one of his kickoffs has failed to at least reach the end zone this year, and that has helped Carolina rank 14th in average opponent kickoff drive start despite that poor kick coverage.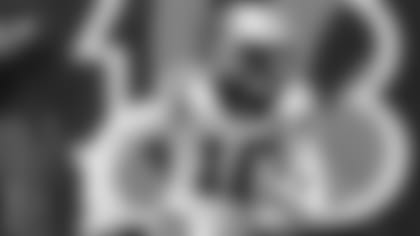 Rookie WR Philly Brown handles most of the Panthers' punt and kickoff return chores
On field goals, Gano has been quite solid, hitting 22 of 26 tries, with only one of those four misses coming from inside 40 yards. One of his other three misses was a 63-yard attempt that was blocked.
Ted Ginn gave the Panthers a pretty solid return game in 2013, averaging 12.2 yards per punt and 23.8 yards per kickoff. His replacements in the punting game haven't fared as well, as Philly Brown and Brenton Bersin have combined to average just 8.3 per, though Brown does have a 79-yard TD on his ledger. Brown has been the most common man back on kcioffs, but six different Panthers have at least one return and they've combined for an average of 22.7, with a long of 49. Carolina ranks 12th in the league with an average kickoff drive start of the 22.1-yard line.