STORY HIGHLIGHTS
Bears QB Jay Cutler has two big and fast receivers to target but also gets good results out of short passes to RB Matt Forte
Rookie CB Kyle Fuller has helped make up for Charles Tillman's absence with three picks and three FFs
Chicago's special teams have blocked two kicks and produced a return touchdown this year

On Sunday, the 2-8 Tampa Bay Buccaneers take on the 4-6 Chicago Bears at Soldier Field in Chicago, Illinois.  It will be the 55th meeting between the two teams and the Buccaneers third visit to Soldier Field since 2006 (more on the Bucs-Bears series history here). Like the Buccaneers, the Bears snapped a losing streak (three games, in Chicago's case) with a victory last week but would need to make a serious run to get back into the playoff race. The Buccaneers are hoping to win consecutive games for the first time in 2014, and also to even its road record at 3-3.
To get that victory, the Buccaneers will need to take advantage of a Chicago pass defense that has been susceptible to the big play. On defense, Tampa Bay will have to make stopping versatile RB Matt Forte their number-one priority. Here's a closer look at the challenges the Buccaneers will face on Sunday when they visit Soldier Field.
HEAD COACH: In 2013, Marc Trestman replaced Lovie Smith in Chicago, making the fairly uncommon move from Canadian Football League head coach to NFL head coach. Trestman had spent the previous five years at the helm of the Montreal Alouettes, leading the team to league championships in 2009 and 2010 and winning CFL Coach of the Year honors in '09. The move harkened back several decades to when Bud Grant and Marv Levy made very successful transitions from the CFL to the NFL.
The hire bought Trestman back to a league in which he had last worked in 2004, since he also spent several years at North Carolina State before heading north. His most recent NFL job before signing on with the bears as the assistant head coach with the Miami Dolphins. That was a one-season gig after he had spent three years as the offensive coordinator with the Oakland Raiders, the first of those seasons under Jon Gruden and the second on the team that would take the NFL's #1-ranked offense into the Super Bowl against Gruden's Buccaneers.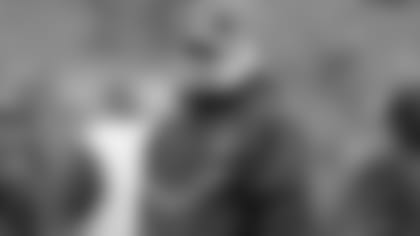 Marc Trestman has a 12-16 record since taking over as the Bears' head coach in 2013
Indeed, for close to two decades, Trestman helped build some of the best offenses in the NFL. Indeed, his 1995 and 1996 offenses with the San Francisco 49ers – he was the offensive coordinator and the quarterbacks coach – had Steve Young at the helm and were extremely prolific. Working mostly with the quarterbacks and often designing the game plan, Trestman had stops in Cleveland, Minnesota (two separate occasions), Detroit and Arizona in addition to the teams mentioned above. His first NFL job came with the Vikings as a running backs coach in 1985 and '86, but he then made a one-year stop in Tampa. Ray Perkins hired, Trestman, who had helped develop Vinny Testaverde at the University of Miami, to be his quarterbacks coach and to once again work with Testaverde, the first overall pick in the 1987 draft.
Trestman's hand in the development of such quarterbacks as Rich Gannon, Jake Plummer and Scott Mitchell made him an oft-interviewed head coaching candidate for years before his college and CFL stints, though that top job never materialized until the Bears brought him back to the league. It didn't take long for his influence to be seen on the Bears' offense, which set franchise records for net passing yards (4,281), completion percentage (64.4%), touchdown passes (32) and passer rating (96.9). This happened despite starting quarterback Jay Cutler missing nearly half of the season due to injury, as current Buccaneer Josh McCown stepped in and played extremely well.
Trestman's first team finished the season at the .500 mark, and he is now 12-16 at the Bears' helm overall.
OFFENSE: The Bears fielded one of the league's most productive and explosive offenses in 2013 but the team has slipped back to about the middle of the pack so far in 2014. Chicago ranks 13th in yards gained and 19th in points scored, though the passing attack remains a top-10 unit.
That aerial game is directed by Cutler, who has been the target of criticism this year despite putting up numbers quite similar to what he produced in 2013. In fact, Cutler has now played in just one less game in 2014 than he did a season ago and has posted almost identical statistics, right down to a 4-6 record as a starter compared to last year's 5-6. Here are some key Cutler stats from those two years:
93.4
Cutler still has all of his main weapons from last year's highly productive offense, too, although his wide receiver duo of Brandon Marshall and Alshon Jeffery have had to work through assorted injuries. The 6-4 Marshall is about 22 catches off his 2013 pace but still has eight touchdowns, while the 6-3 Jeffery is about 200 yards off his 2013 pace but is still averaging 13.8 per catch. Marshall and Jeffery are trying to work through ankle and hamstring injuries, respectively, this week, but if they are healthy they will remain one of the most dangerous pairs of receivers the Bucs will face this week. Both players have eight 100-yard receiving games since Trestman's arrival; the Bears are the only team that has two players that can say that.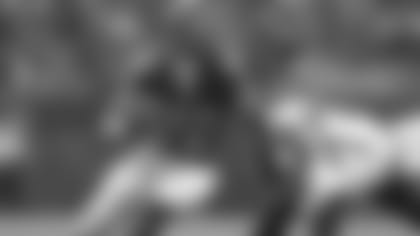 RB Matt Forte leads the Bears in both rushing yards and receptions and is third among all NFL players in yards from scrimmage
Whatever Marshall and Jeffery have lost from last year's paces, it has been picked up by running back Matt Forte, the true focal point of the Bears attack. One of the best all-around backs in the league for the past seven years, Forte leads the team in both rushing yards (733) and receptions (67), and only Dallas' DeMarco Murray and Pittsburgh's Le'Veon Bell have more yards from scrimmage than his 1,308. Always an outstanding receiver out of the backfield, he has been even more important in that regard since Trestman's arrival, setting a career-high last year with 74 grabs. That mark is sure to fall this year again, as Forte is on pace for 107 receptions.
The check-down to Forte is clearly a huge part of the Chicago attack, as evidenced by the fact that 56.3% of the team's passing yards have come after the catch. Of course, it's also possible that opposing teams have contributed to this by giving up the underneath passes in order to limit the big throws down the field to Marshall and Jeffery. According to Pro Football Focus, Cutler has thrown only 33.9% of his passes farther than 10 yards down the field. As a point of comparison, Buccaneer QBs Josh McCown and Mike Glennon have combined to throw 49.7% of their passes farther than 10 yards down the field. Of course, it's worth noting that in last week's comeback win over Minnesota, both Jeffery and Marshall caught long touchdown passes, and Marshall's in particular was a deep pass down the middle on which he was well-covered but was still able to fight for the ball.
If Jeffery and/or Marshall can't play, the Bears could be a little toothless at the wideout spot. After those two, the wide receiver with the most catches is Santonio Holmes, who had eight grabs before he was released last week. Josh Morgan, Marquess Wilson and Chris Williams, the other three receivers on Chicago's roster, have combined for eight catches and 58 yards. Of course, if the Bears are thin at receiver they can continue to lean on TE Martellus Bennett, who now has three straight seasons (two of them in Chicago) with at least 50 catches and five touchdowns. Bennett is a huge target at 6-5 and 265 pounds but he still has enough speed to work down the seams; that's a strategy the Bears could very well use against the Buccaneers' defense, which early in the season was susceptible to tight ends down the middle.
DEFENSE: If Chicago's offense has failed to progress significantly from a very promising 2013 season, the Bears' defense had very little room to get worse. Chicago ranked 30th in overall defense last year, 32nd against the run and 15th against the pass. The pass defense still ranks near the bottom but the run defense has improved to 15th in the league, leading to an overall ranking of 19th.
Of course, as any coach will stress, points allowed are far more important than yardage figures, and in that regard Chicago ranks last in the league, having given up 29.0 points per outing. Of course, it should be noted that the Bears sunk to the bottom following successive 50-point games hung on them by the New England and Green Bay offenses, which are rolling everybody right now. The Vikings managed only 13 points in Soldier Field last Sunday.
Much as the Buccaneers have struggled in some statistical categories this season on defense despite believing it has the talent to do far better, the Bears still have some top performers on that side of the ball. Pass-rusher Julius Peppers left for Green Bay but Chicago immediately replaced him with Jared Allen, who is two years younger than Peppers and had 15.5 more sacks than Peppers over the last three seasons. Allen has just 2.5 sacks as a Bear so far, but his presence may have helped lead to the emerge of left end Willie Young, who has more than doubled his career total with eight sacks. Chicago has rushed the passer reasonably well, ranking 13th in the NFL in sacks per pass play, and that has helped lead to nine interceptions and a ranking of 12th in picks per pass play.
The leader of the Bears' defense is in the middle level, where seven-time Pro Bowl linebacker Lance Briggs roams. Briggs has 57 tackles, 2.5 tackles for loss, two quarterback pressures, one interception, one forced fumble and two passes defensed. He has had a big-play touch throughout his career, with six career touchdowns and a league-best 83.5 "run stuffs" since he was drafted in 2003. Briggs is also one of just 10 linebackers since 199 who have recorded at least 15 interceptions, 15 sacks and 15 forced fumbles. Chicago gave up 161.4 rushing yards per game and 5.3 yards per rush last season but with Briggs, D.J. Williams and Shea McClellin roaming the middle they have improved those numbers to 110.9 and 4.3.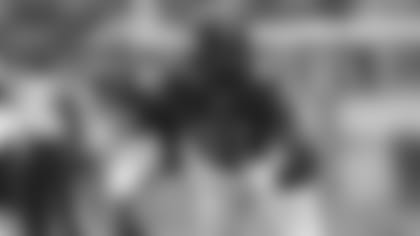 DE Willie Young had six sacks in his first four NFL seasons but leads the team this year with eight
Strong safety Ryan Mundy has been a big help in run support, as well. The Bears picked up Mundy after he spent four years in Pittsburgh and one with the Giants, and they've liked the results. He leads the team with 62 tackles and has also picked off two passes. Mundy sealed Chicago's win over Minnesota last Sunday when, playing in a Cover Two package, he read a deep pass attempt by Teddy Bridgewater and intercepted the ball in the end zone.
Chicago's secondary lost a key player and an emotional leader early when Charles Tillman suffered a season-ending biceps injury. Fortunately for the Bears, they had chosen well with the 14th overall pick in the 2014 draft when they landed on Virginia Tech CB Kyle Fuller. Fuller has stepped right into the starting lineup and become a playmaker like his veteran teammate, leading the team with three interceptions while also emulating Tillman's knack for forcing fumbles, with three of those as well.
The secondary has struggled overall, however, giving up 256.4 passing yards per game. Chicago has surrendered 37 passing plays of 20 or more yards, which is tied for the seventh-worst mark in the league. Opponents are also converting on 45.0% of their third-down attempts against the Bears' defense. The safeties and linebackers are not the fleetest group in the league, which has left the team susceptible to some big plays down the middle of the field.
The Bears were known as big-time turnover producers during the Lovie Smith era, but even with Fuller's good work they are near the bottom of the league list with 14 takeaways and a -6 turnover ratio. Chicago has been relatively good in the red zone, however, holding opponents to a 52.2% touchdown success rate.
SPECIAL TEAMS: The kick-and-return game has not be a winning edge for the Bears very often in 2014, although return man Chris Williams does own a 101-yard kickoff return touchdown. Williams is averaging 24.1 yards per kickoff return, a reasonably good number that is somewhat leading on the current NFL stage because return men often have to start five or more yards deep if they are going to bring one out. The more telling statistic is average kickoff drive start, which for the Bears is their 21.0-yard line, good for 18th in the league. Williams had been sharing the punt-return duties with the now-departed Holmes, and the two combined for 6.2 yards per runback.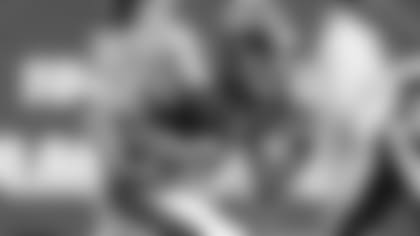 Chris Williams' 101-yard kickoff return for a touchdown has been one of the bright spots on special teams for Chicago in 2014
The punter is rookie Patrick O'Donnell, who has a respectable 44.3-yard gross average but ranks 31st in the NFL with a net of 35.7. O'Donnell has also had one punt blocked but his coverage units have allowed a high 11.1 yards per return and one touchdown. On the flip side, the Bears' special teams have also blocked two kicks, both of them field goals.
Chicago does have a well-earned faith in its kicker, Robbie Gould, who has been with the team for a decade and is currently the seventh most accurate kicker in NFL history. He's at 80% this year, but on only 10 tries, and for his career he owns a stellar 85.8% success rate. Gould has yet to try a kick from beyond 50 yards this year but there's little doubt the team would trust him to do so, as he is 16 of 21 from that range in his career. In fact, Gould has missed only one 50+-yard kick in 12 tries since the start of 2011.