STORY HIGHLIGHTS
The Bengals' running game is loaded after the return of Giovani Bernard to team with rookie Jeremy Hill
Cincinnati's secondary is a deep veteran group that has put up the NFL's seventh-best pass defense
Veteran CB Adam Jones has also helped Cincinnati quite a bit in the return game this year

On Sunday, the 2-9 Tampa Bay Buccaneers take on the 7-3-1 Cincinnati Bengals at Raymond James Stadium in Tampa. It will be the 11th meeting between the two teams and the Buccaneers' second attempt this season to extend a winning streak against a specific opponent to seven games (more on the Bucs-Bengals series history here). The Bengals are trying to sweep a three-game road swing through New Orleans, Houston and Tampa and at the same time maintain their very slim lead in the extremely competitive AFC North. The Buccaneers, even at 2-9, are still in the playoff hunt, just two games behind NFC South co-leaders Atlanta and New Orleans.
To get the victory, the Buccaneers will need to deal with Cincinnati's pair of young and productive running backs on offense while navigating a secondary full of experienced veterans. Here's a closer look at the challenges the Buccaneers will face on Sunday when they welcome the Bengals to town.
HEAD COACH: After New England's Bill Belichick, Cincinnati's Marvin Lewis has the longest tenure in the NFL as the head coach of his current team. Lewis first took over for the Bengals in 2003 and is now in his 12th season at the helm; in that span he has racked up a 97-88-2 record to make him the winningest coach in franchise history by a wide margin. Lewis has also led the Bengals to five playoff seasons, the most of any coach in team annals. He is trying to lead his squad to a second straight division title and their fourth overall under Lewis.
The Cincinnati team that Lewis inherited in '03 was coming off a franchise-worst 2-14 record but, more significantly, a streak of 12 straight years without a winning record. Cincinnati was a combined 55-137 from 1991-2002 and, obviously, did not make a single playoff appearance in that spin. Lewis didn't quite get the Bengals over that hump in his first season, but he did guide them to a six-win improvement and 8-8 records in 2003 and 2004. The next year, Lewis was named the NFL Coach of the Year after his Bengals went 11-5 and won the division. The one thing that has eluded the Bengals during Lewis' tenure is playoff success; all five of those aforementioned playoff seasons ended in a loss in the Wild Card round.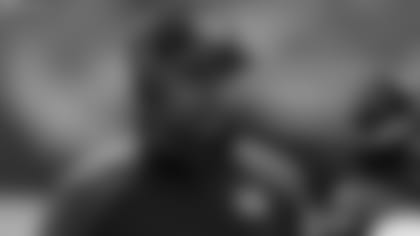 Cincinnati's Marvin Lewis has been at his post longer than every other head coach in the league other than Bill Belichick
As one would suspect of a coach who has held onto his position well beyond the league average, Lewis has been a very steady hand guiding the Bengals for the last dozen years. He has routinely employed strong offensive and defensive coordinators and given them plenty of room to run their crews. He has often built his offenses around power runners like Cedric Benson, Rudi Johnson and BenJarvus Green-Ellis but has also gotten great value out of young quarterback Andy Dalton.
Lewis came to Cincinnati with a sterling defensive pedigree, having been the coordinator for the legendary Baltimore Ravens' defense from 1996-2001. Lewis won a Super Bowl with the Ravens, primarily on the strength of that defense. He went to the Washington Redskins in the same capacity in 2002, where his defense ranked fifth in the league, before getting the call from Cincinnati. Prior to his first coordinator position in Baltimore, Lewis spent his first four NFL years as the linebackers coach with the Pittsburgh Steelers. His tenure as a college coach ran from 1981-91 and included stops at Idaho State, Long Beach State, New Mexico and Pittsburgh.
OFFENSE: Cincinnati opened the season with two straight 300-yard passing days in wins over Baltimore and Atlanta, but has since found its rushing attack to be the most consistent part of its game. Second-year man Giovani Bernard was hot early, but an injury in October opened the door for rookie Jeremy Hill to show what he can do, with 448 yards and three touchdowns over the past three weeks. Now that Bernard is back, the Bengals suddenly have one of the better one-two punches in the NFL, made even more attractive by the complementary running styles of Hill and Bernard. The 6-1, 235-pound Hill gains a head of steam quickly and can bounce off or power through tackles. The 5-9, 208-pound Bernard is a quick slasher with great open-field moves. Both backs catch the ball well; they have combined for 41 receptions 369 yards and a strong nine yards per catch, offering another dimension to Cincinnati's attack.
Dalton, the fourth-year passer who has never missed a start and owns a 36-21-1 win-loss record, has had some rough moments in 2014, particularly in a 24-3 loss to Cleveland three weeks ago. Completing only 10 of 33 passes and throwing three picks led Dalton to an almost-unprecedented single-game passer rating of 2.0, but he has rebounded with two strong starts since. Again, it has been an up-and-down year for the Bengal passer, including three games with a passer rating below 70 and three games with a rating above 115. Dalton's career rating is a respectable 85.3, and he has good career rates in such things as completion percentage (61.1%), yards per attempt (7.0) and TD-INT ratio (92-59). The knock on Dalton – almost certainly enhanced by the Bengals' three straight playoff one-and-dones – is that he doesn't operate as well under pressure. However, according to Stats LLC the Bengals have a passer rating of 97.28 when facing a blitz, and that ranks right in the middle of the NFL pack.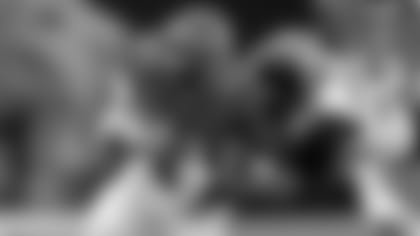 Rookie RB Jeremy Hill emerged as a big-time rushing threat while teammate Giovani Bernard was injured in October
That issue is also tempered by the fact that the Bengals field a very solid offensive lines. The tackle combination of Andre Smith and Andrew Whitworth has been particularly strong, helping limit Cincy opponents to just 13 sacks all season. Smith, unfortunately, just landed on injured reserve with a triceps tear, but the team still has Whitworth, currently ranked third among all NFL offensive tackles by Pro Football Focus, as the anchor. PFF also grades Bengal guards Kevin Zeitler and Clint Boling highly, though rookie center Russell Bodine, a fourth-round pick out of North Carolina, has apparently had some struggles in pass protection. The Buccaneers may try to create matchups with Bodine and Tampa Bay's star defensive tackle, Gerald McCoy.
When Dalton has time to throw, he can turn to a pair of tall and fast receivers in A.J. Green and Mohamed Sanu. As Hill did during Bernard's absence, Sanu took advantage of a chance to shine while Green was out for most of October. Sanu had two 120-yard games in that span and is currently the team's leading pass-catcher with 49 receptions for 719 yards and five touchdowns. Still, Green remains the most dangerous weapon in Dalton's arsenal – big, fast, athletic and able to catch just about anything that comes near him. Green averaged 1,277 yards and almost 10 touchdowns during his first three seasons in the NFL. Green was the Bengals' first-round pick in 2011, one year after they used their first-rounder on TE Jermaine Gresham. Gresham has been a perfectly productive NFL tight end, good for about 55 catches, 550 yards and five touchdowns a year, but he hasn't quite put himself among the NFL's elite at the position. Though he had a 10-catch game at Indy in October and a two-touchdown game against New Orleans two weeks ago, Gresham has not topped 36 yards in any of the last five Bengal outings.
Cincinnati's offense has converted on 40.7% of its third-down tries, a number that seems high by old NFL standards but ranks just 19th this season. The Bengals have been a strong red zone team, converting 55.9% of their trips inside the 20 into touchdowns to tie for 11th in the NFL.
DEFENSE: The strength of the Bengals' defense is on the back end. Cincinnati ranks 24th against the run and has only recorded 14 sacks in 2014, but its pass defense stands at seventh and has come up with 11 interceptions. It has worked out overall, as the Bengals rank 13th with 21.3 points allowed per game.
Starting at the back, then, we see a secondary that has hoarded proven NFL producers at both safety and cornerback. The Bengals ranked third in the NFL in pass defense a year ago and brought back all four primary starters, including safeties Reggie Nelson and George Iloka. Iloka leads the team with three interceptions while Nelson has been an all-around force with 70 tackles, two interceptions, 1.5 sacks and eight passes defensed. Those two are backed up by Shaun Williams and Taylor Mays, who have a combined 78 NFL starts.
The depth is just as recognizable at cornerback, where the team is starting former first-round pick Leon Hall and former Cowboy Terence Newman but also making extensive use of Adam Jones. All three have at least 48 tackles and five passes defensed. Jones started 13 games last season, too, much of it while Hall was hurt, and this year has made spot starts for both Newman and Hall when they were injured. In addition to those three, the Bengals also have Dre Kirkpatrick, their first-round pick in 2012, and rookie Darqueze Dennard, their first-round pick this year. All five of those cornerbacks have logged a significant amount of time on defense this year.
Put it all together and you have a pass defense that ranks third in the NFL in lowest opponent passer rating (76.2). That's based largely on the fact that the Bengals have picked off as many passes (11) as they've allowed touchdown passes; only Cincy and Arizona can say that. In addition, the Bengals are one of only six NFL teams allowing a combined completion rate of less than 60%.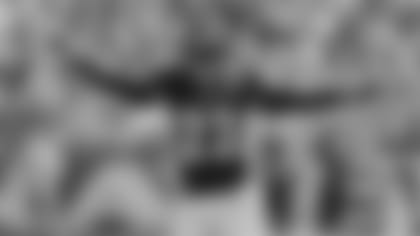 CB Terence Newman has broken up nine passes and helped the Bengals defense get as many interceptions as touchdowns allowed
The star for the Bengals at the next level is weakside linebacker Vontaze Burfict, who went to the Pro Bowl last year after mixing 115 tackles with three sacks, an interception, eight passes defensed, a forced fumble and two fumble recoveries. Since Burfict has missed a significant amount of time this year due to injury, it is actually strongside linebacker Emmanuel Lamur who leads the team with 78 tackles to go along with two interceptions. Like Burfict, Lamur came into the league as an undrafted free agent in 2012, but this is the first year he has played a significant role on defense for the Bengals, who have found his size (6-4, 240) and speed to be of great use in the middle of their defense.
Burfict is trying to return from arthroscopic knee surgery that has kept him out since the end of October; his status this week is still uncertain. The NFL's leading tackler last year, Burfict is obviously considered a key cog in the defense by the Bengals, as they signed him to a contract extension this summer before his third NFL season.
The good news for the Bengals' defensive line is that left end Carlos Dunlap has 5.5 sacks, which puts him right around his five-year average. The bad news is that Dunlap's sacks account for nearly half of the team's total, and nobody else has more than 1.5. The rest of the Cincinnati D-Line has accounted for six sacks, including 1.5 by right end Wallace Gilberry, the replacement for the departed Michael Johnson, now Tampa Bay's right end. Opposing offenses have also run for 129.6 yards per game and 4.3 yards per carry, rankings of 27th and 20th in the league, respectively.
Of course, sack numbers don't tell the whole story, and the Bengals' line is still anchored by defensive tackle Geno Atkins, one of the league's best at his position. Atkins, who had 12.5 sacks in an MVP-caliber season in 2012, missed about half of last year due to injury and so far in 2014 has just 1.5 QB takedowns. However, Atkins remains a disruptive force and has a strong pass-rush grade on Pro Football Focus, so the Buccaneers' interior line will have another tough test on its hands this week.
SPECIAL TEAMS: What Adam Jones has done for the Bengals on defense doesn't tell nearly the full story. The 10th-year veteran has been one of the league's best return men, averaging a league-high 31.8 yards on 17 kickoff returns as well as 13.1 yards on 17 punt returns. Though Jones hasn't scored in either capacity, he does have a 97-yard kickoff runback and a 47-yard punt return. WR Brandon Tate has also helped out with a combined 20 returns on punts and kickoffs, and while his numbers haven't been as eye-catching, Cincinnati is still one of just three teams in the league that ranks in the top six in both punt and kickoff return yardage. Not surprisingly, the Bengals are also second in the NFL in average kickoff drive start, with an average starting spot of the 24.7-yard line. Opposing teams have fared nearly as well on kickoffs against the Bengals (25.9 yards per return) but have found little room to run on punt returns, with a low 4.9-yard average (third-best in the league). Kirkpatrick, one of those aforementioned cornerbacks on that deep depth chart, has also given the Bengals great value as a gunner on punt returns.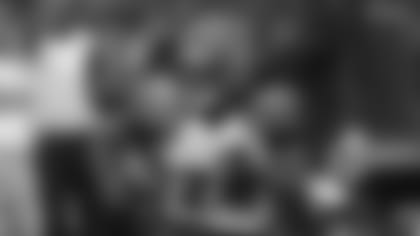 Veteran CB Adam Jones has been one of the NFL's best return men in 2014
Kicker Mike Nugent, who was briefly a Buccaneer in 2009, has been perhaps a little less reliable than the Bengals would like, ranking 28th in the league with a 76.0% success rate. One of his six misses was particularly costly, as he failed to convert a 39-yarder in overtime against Carolina in Week Six, allowing the game to end in a 37-37 tie. Nugent's career mark is 80.6% and his longest successful field goals this year were a pair of 49-yarders, one last week in Houston.
Kevin Huber has been entrenched as Cincinnati's punter since they drafted him in the fifth round in 2009, and he is working on what may prove to be his best year yet. Huber's gross average of 47.4 yards per punt ranks third in the NFL and his net of 44.4 is the league's second-best, behind only Indianapolis' Pat McAfee (44.7). Huber has thrown great placement as well, dropping 23 punts inside the 20 while suffering just three touchbacks.