STORY HIGHLIGHTS
While Calvin Johnson was slowed with an ankle injury, new Lions WR Golden Tate emerged as a force in the passing game
Detroit's run defense could go down as one of the top five the NFL has seen since the 1970 merger
The Lions' special teams have been solid, and more so since K Matt Prater arrived

On Sunday, the 2-10 Tampa Bay Buccaneers take on the 8-4 Detroit Lions at Ford Field in Detroit, Michigan.  It will be the 56th meeting between the two teams in the regular season, making the Lions the most common opponent in Tampa Bay's 39-year history (more on the Bucs-Lions series history here).  The Buccaneers will look to get their third road win of the season by securing victory in Detroit for the second straight year.
To get that win, the Buccaneers will need to deal with the explosive WR duo of Calvin Johnson and Golden Tate and crack what may be the league's best defense in 2014.  Here's a closer look at the challenges the Buccaneers will face on Sunday when they visit Ford Field to face the Lions.
HEAD COACH: For the third time in the last four weeks, the Buccaneers face a head coach who was previously a member of their own staff, albeit only briefly in the case of Jim Caldwell, the Lions helmsman. Like Chicago's Marc Trestman, Caldwell spent exactly one season as Tampa Bay's quarterbacks coach, joining Tony Dungy's staff in 2001. When the Buccaneers parted ways with Dungy after that season and traded for the Raiders' Jon Gruden, Dungy moved on to the Indianapolis Colts and took Caldwell with him.
That was a fortuitous move for both Caldwell and the Colts. As the QB coach (and assistant head coach) in Indianapolis, Caldwell inherited Peyton Manning, who had already been to two Pro Bowls in his first four seasons. Working with Caldwell, Manning's star continued to rise, as he achieved All-Pro status by 2003 and was the league MVP in four of the next eight years. Caldwell went to the first of three Super Bowls with the Colts at the end of the 2006 season, helping his team beat Lovie Smith's Chicago Bears, 29-17, in Super Bowl XLI. Considered similar in approach and testament to Dungy, Caldwell was the obvious replacement as the Colts' head coach when Dungy retired following the 2008 campaign. Things couldn't have started better for Caldwell, as Indianapolis won his first 14 games at the helm in 2009 on the way to a berth in Super Bowl XLIV (the Colts lost to the New Orleans Saints). Indianapolis went back to the playoffs in 2010 but sunk to 2-14 in 2011 after an injury to Manning and that ended Caldwell's tenure with the team.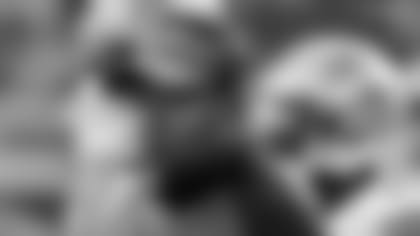 Lions Head Coach Jim Caldwell isn't a stranger to strong first seasons at the helm; his 2009 Colts won their first 14 games
Caldwell landed his next job just 13 days later and eventually found himself in another Super Bowl. John Harbaugh brought him aboard to be his quarterbacks coach in 2012, but with the Ravens' offense struggling the team dismissed Offensive Coordinator Cam Cameron and gave the job to Caldwell.  Baltimore's offense – and QB Joe Flacco in particular – caught fire down the stretch and in the playoffs and the Ravens won Super Bowl XLVII over the San Francisco 49ers. Caldwell retained the OC position for the Ravens in 2013 before the Lions came calling this past January.
Caldwell supporters point to his excellent track record developing quarterbacks over 37 years of coaching in college and the pros. He is the sort of coach, supporters say, who holds everyone accountable and pays close attention to details. As is usually the case with coaches in the Tony Dungy tree, he is also considered an excellent teacher.
OFFENSE: Detroit's offense has seemingly taken a step backward in 2014, though the team has one more win at the three-quarter pole than it did in 2013. After finishing sixth in the league with 24.7 points per game last year, the Lions have slid to 17th (19.3) this season, while their yardage ranking has dropped from 13th to 25th. Detroit still has a top-10 passing attack run by prolific QB Matthew Stafford but the running game ranks 30th in the NFL and has produced just 81.7 yards per game and 3.3 yards per carry.
Stafford has had the privilege of throwing to Calvin "Megatron" Johnson since the quarterback was drafted first overall in 2009, but now the Lions have apparently found their best wideout complement to Johnson yet (apologies to Nate Burleson). That would be former Seahawk Golden Tate, who never topped 64 catches or 898 yards in Seattle but already has 80 for 1,136 this year. Tate's skill set complements that of his fellow Lion receiver, too, as he is smaller (5-11, 195) but quick and explosive with the ball in his hands. Tate leads all NFL receivers in 2014 with 599 yards after the catch. Johnson's numbers have been held well below his usual stratospheric levels (an average of 1,712 receiving yards over the last three seasons) by an ankle injury but he appears to be rounding into full health after a huge day against the Bears on Thanksgiving.
Stafford continues to pile up the numbers with his strong right arm, as his 277.8 passing yards per game is just slightly below his career average (284.8). However, he has not approached his career-high 97.2 passer rating of 2011 for the last three years due in large part to a completion rate stuck right around 60% and a touchdowns-per-attempt mark that fell from 6.3 in 2010 and 6.2 in 2011 to 2.8, 4.6 and 3.3 over the last three seasons, respectively. Stafford doesn't run for many yards but he's good at moving around to avoid sacks and can get off passes at all kinds of improvised arm angles. His protection has been more of an issue this season, however, with 35 sacks absorbed that is already just one below his single-season high. Stafford has been good in the clutch, driving the Lions to the game-winning points in the fourth quarter when behind or tied on 15 occasion. In fact, his four game-winning TD passes in the final 30 seconds of the fourth quarter are as many as Tom Brady and Brett Favre have on their resumes.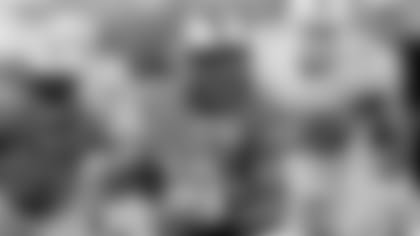 WR Golden Tate has already blown past his previous season highs in receptions and yards with a full quarter of the season still to play
As good as Johnson and Tate have been – and one or the other has been the target on 206 of Stafford's 453 passes – they aren't the only productive pass-catchers on the roster. The Lions also make good use of their running backs in the passing game, with a combined 76 catches by Joique Bell, Reggie Bush and Theo Reddick. However, despite using the 10th overall pick in this year's draft on North Carolina TE Eric Ebron, that position has produced only 33 combined receptions all season, and only one touchdown.
Bush has had some familiar struggles with injuries this year, missing five games, but the Lions' rushing attack has struggled with or without him on the field. Detroit has cracked triple digits in rushing yards as a team on just two occasions this year, and none since Week Six. Bell has been the workhorse, with 164 carries to 53 for Bush, and he leads the team with 581 yards while gaining just 3.5 per tote. Detroit's longest run this year is a 33-yarder by Bell, and the team ranks 28th in rushing plays of 10 or more yards, with 24, or two per game. The Lions' backs have only lost one fumble all season, helping keep the team at a +4 turnover ratio despite Stafford's 10 interceptions.
If the sack totals and rushing issues indicate a problem with the Lions' offensive line, some of that can be attributed to injuries that have kept LT Riley Reiff, RG Larry Warford and RT LaAdrian Waddle out for a combined eight games. Reiff and Warford missed Detroit's game on Thanksgiving but both are expected to return to action this Sunday against the Buccaneers.
Though the Lions are moving the ball to the tune of 344.3 yards per game, they've converted on a little under 40% of their third-down tries, which in the modern revved-up NFL is only 23rd-best in the league. They have made it tougher on themselves by averaging just 4.53 yards on first down, a category in which only Oakland and San Francisco have fared worse and a figure that is almost a full yard behind the league average. Detroit has been just about average, however, in the red zone, scoring touchdowns on 53.3% of their trips.
DEFENSE: With Stafford and Johnson in place since 2009, the Lions have generally been viewed as more of an offensive team, and indeed their offense has ranked better than their defense in both yards and points in each of the previous five seasons. Detroit has written an entirely new script under Caldwell and first-year Defensive Coordinator Teryl Austin.
By many measures, in fact, Detroit has had the league's best defense in 2014. The simplest and most direct of those measurements is, of course, points allowed, and the Lions are giving up a league-low 17.3 per game. Only the Patriots, two weeks ago in Foxborough, have scored more than 25 points in a game this season against Ndamukong Suh and company. Detroit also ranks second in yards allowed per game, seventh in interception percentage, sixth in defensive third-down efficiency and eight in first downs allowed per game.
The more advanced metrics found on the Football Outsiders site agree, ranking the Lions first in DVOA (defense-adjusted value over average), their signature catch-all stat. Detroit has been extraordinarily against the run, in particular, allowing just 65.9 yards per game and 3.1 yards per carry. If the Lions can maintain that average for one more month, they will finish with the fourth-best run defense the NFL has seen since the 1970 AFL-NFL merger.
Leading the way is Ndamukong Suh, the highest-rated run-stopper among defensive tackles in the NFL according to Pro Football Focus. The second-overall pick in the 2010 draft – taken just before the Bucs' Gerald McCoy, Suh has been his usual two-way destructive force this year, also recording 4.5 sacks. As for the stingy run defense, it is also helped by outside linebacker DeAndre Levy and his 16 total tackles, which is tied with Lavonte David for second most in the league. PFF's grading loves Levy as well, listing him as the second-highest rated 4-3 outside linebacker overall and the best against the run. If that wasn't enough, the third level of the defense has a pair of strong tacklers in safeties Glover Quin and James Ihedigbo. Both are over 50 stops on the season and Quin also has a team-high four interceptions.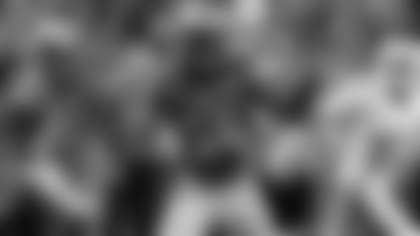 LB DeAndre Levy is one of the NFL's top three tacklers and a big reason why opponents are only getting 64.7 rushing yards per game
While Suh's interior running mate and fellow first-round pick Nick Fairley has been out with a knee injury for the last month, the Lions have another first-rounder wreaking havoc on the edge in Ezekiel Ansah. Tall, lean and quick, Ansah had eight sacks as a rookie in 2013 and has another 6.5 this year, plus 13 hits and 27 hurries, according to PFF. He has also been strong against the run, unsurprisingly. All told, the Lions' defense has produced 29 sacks this season and is ranked 17th in the league in sacks per pass play.
Detroit's secondary, for many years a glaring weakness, has been a source of great strength this year. Slay was one of two Mississippi State cornerbacks drafted in the second round last year – the other was the Bucs' Johnthan Banks – and like Banks he has shaken off some early inconsistencies as a rookie to put together a very good season in 2014. In fact, the Lions are hoping that Slay becomes their first Pro Bowl cornerback since Dre Bly a decade ago, and Slay is helping that cause by combining 40 tackles with one interception and 12 passes defensed. While the interception total is obviously not gaudy, Slay has largely been responsible for the opposition's #1 receiver, and no team defense has been better against the opposition's top wideout this year than Detroit's. With 12th-year veteran Rashean Mathis offering plenty of experience at the other corner and the aforementioned safety duo combining for seven picks, Detroit has held the opposition to the league's seventh-lowest yards per pass play mark. Ihedigbo has been all over the field with his 51 tackles, 2.5 sacks, three interceptions, seven passes defensed, two forced fumbles and one fumble recovery.
It's hard to find a statistical weakness in Detroit's 2014 defense. The team is even 11th in the NFL red zone D, with opponents getting it into the end zone just 51.4% of the time. The Lions have forced their foes into three-and-outs on 37 of 139 drives this season, a 26.6% rate that ranks fourth in the NFL.
SPECIAL TEAMS: If the Lions' offense has been a bit less than expected and the defense has been a revelation, then the team's special teams have been more of a mixed bag.
Detroit's return game has been relatively good, if lacking in big plays. With WR Jeremy Ross handling all of the punt and kickoff returns so far this season, Detroit ranks 12th in the first category (9.3-yard avg.) and 10th in the second category (24.4). The big plays have been lacking, however, with Ross's longest return of either kind going for 34 yards. Detroit's minor weakness in the return game is in covering kickoffs, where they rank 30th by allowing 28.4 yards per runback. However, that part of the game has been minimized in the NFL in recent years – that average is on just 13 returns all year, or about one a game – and Detroit's average opponent kickoff drive start is almost exactly league-average at 21.8.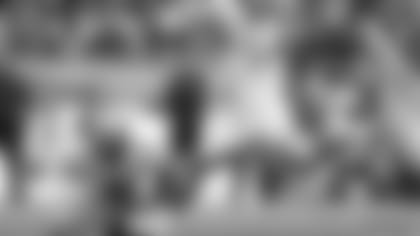 K Matt Prater has stabilized the position for the Lions after two other kickers missed eight of their first 12 tries
After relying on Jason Hanson for a solid 20 years, the Lions have had to search around a little bit the last two seasons for a suitable replacement. David Akers handled the job last year but was merely passable with a 79.2% success rate. This year they tried Nate Freese and Alex Henery but then called in long-time Bronco Matt Prater after the first two combined to go four of 12 in five games. Prater missed two field goals in his Lions debut in October but has settled down since and is 14-of-18 overall. Two of his four misses have been from beyond 50 yards. In what has been something of a theme this year, the Buccaneers are running into a young punter who has immediately established himself as one of the league's best. The Lions used a fifth-round draft pick to address the position in 2013 and Martin had a 47.2-yard gross as a rookie. He's at 46.9 in 2014 with a net of 41.3 that has the Lions ranked fourth and seventh in those categories, respectively, in the league. Martin has also adeptly dropped 24 punts – or two a game – inside the opponent's 20-yard line.