On Sunday, the 1-1 Tampa Bay Buccaneers take on the 0-3 New York Giants at Raymond James Stadium in Tampa. It will be the 21st meeting between the two teams (including the postseason), with the Giants prevailing in the last five (more on the Bucs-Giants series history here). The Buccaneers will be seeking their sixth straight home victory, dating back to the 2016 season.
To get that win and get back above .500, the Buccaneers will need to take advantage of the large imbalance between the Giants and their opponents in ground-game success. In addition, the Tampa Bay offensive line will have to deal with a talented New York defensive front that can bring serious pressure off both edges. Here's a closer look at the challenges the Buccaneers will face on Sunday when they return home to play host to the Giants.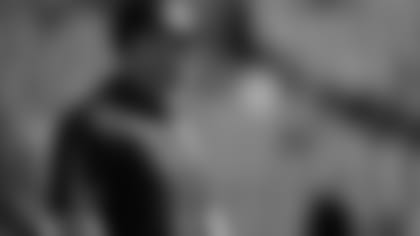 Like the Buccaneers' Dirk Koetter, Ben McAdoo took over the head coaching job in 2016 after previously serving as the team's offensive coordinator. McAdoo had a tall order in replacing Tom Coughlin, who won two Super Bowls in 12 years at the Giants' helm, but he quickly won over the locker room in New York and delivered a very successful first season. McAdoo's Giants went 11-5 and won a Wild Card berth before bowing out of the playoffs on a loss to the Green Bay Packers.
McAdoo had spent just two years as a coordinator for the Giants, both of them directing a very productive offense. New York ranked 13th in points scored and 10th in yards in his 2014 debut campaign, then improved to sixth and eighth, respectively, in 2015. McAdoo retained the play-calling duties when he graduated to the corner office, though New York's offensive production fell sharply in 2016.
McAdoo is respected for his work ethic and resolve, which he credits to growing up with a father who worked in the Pennsylvania coal mines. He credits much of his development in the coaching ranks to current Packers Head Coach Mike McCarthy, who gave him his first NFL opportunity in 2004 with the Saints. Later, when McCarthy took over in Green Bay in 2006, he hired McAdoo to coach the tight ends. After six years in that position, he was moved to the quarterbacks, which allowed him to work with all-star Aaron Rodgers. That experience surely prepared him for his time with Eli Manning in New York.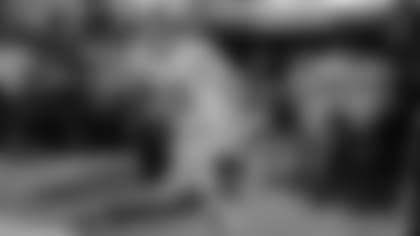 Through the first three weeks of the season, New York's offense has suffered from a significant imbalance between the run and the pass, which has surely contributed to the team ranking second-to-last in points scored per game (12.3). However, the Giants' attack is still clearly very dangerous – New York had scored a total 13 points through its first 11 game quarters before exploding for 24 in the fourth period of a wild loss to Philadelphia this past Sunday.
The problem for the Giants is their rushing attack, which ranks last in the NFL with an average production of 48.7 yards per game. Some of that may be by design – the Giants' offensive strengths lie in Manning's experience and a host of explosive passing-game weapons – and some if it may be a function of being behind in games, but New York has only averaged 3.1 yards per carry when it has run the ball. Paul Perkins has been the primary ballcarrier, but he's been limited to 38 yards on 23 carries. Orleans Darkwa has fared somewhat better, with 53 yards on 10 fewer totes. Shane Vereen is the best pass-catching option out of the backfield and he already has 14 receptions through three games.
Again, however, the Giants' passing attack is loaded with options for Manning, who often operates out of a three-receiver set. McAdoo has given Manning a lot of control at the line of scrimmage to check into different plays based on what he sees from the defense. Manning has thrown for 257.3 yards per game and is completing a remarkable 73.5% of his passes so far, numbers that rank sixth and second in the NFL, respectively. However, his four touchdown passes have been balanced by four interceptions.
Manning's top target, obviously, is explosive fourth-year receiver Odell Beckham, who missed the first game of the season due to an ankle injury but was able to grab two touchdown passes last Sunday against the Eagles. Beckham is known for his incredible one-handed catches – he had another one for a score on Sunday – but his scariest asset is his speed and elusiveness after the catch. Manning throws a lot of slants, and when he hits Beckham on the run a short throw can quickly turn into a very long touchdown.
The Giants drafted Beckham in the first round in 2014, just as the Buccaneers did with their star receiver, Mike Evans. This offseason, the Buccaneers brought in former Redskin DeSean Jackson to pair with Evans, and the Giants did something similar by importing former Jet Brandon Marshall to play opposite Beckham. While Jackson is the speed complement to Evans, Marshall is a big target with nearly 1,000 career catches and 82 touchdowns. Between those two, the Giants have the dynamic Sterling Shepard operating out of the slot. A second-round pick in 2016, Shepard currently leads the team with 16 receptions for 200 yards, including a 77-yard touchdown this past Sunday. He has averaged just 8.2 yards per catch on his other 15 receptions, but that's not unusual for a slot receiver working the middle of the field.
The Giants added another intriguing option to Manning's arsenal in this year's draft, taking tight end Evan Engram in the first round. Engram is not considered as proficient a blocker as the Bucs' own first-round rookie tight end, O.J. Howard, but he is very fast and can essentially operate as another receiver in the Giants' multiple sets. Engram already has 13 receptions and a touchdown.
Despite all these weapons, the Giants didn't produce many big plays until the fourth quarter of their most recent game. They are currently tied for 27th in the league in completions of 20 or more yards, with five. On passes that travel more than 20 yards in the air, New York is 30th in the league with Manning's 10.1 passer rating. The league average is 98.3. The Giants haven't helped themselves in the red zone, either, ranking 26th in the league with a touchdown efficiency of 37.5%. That's actually a bit surprising, because New York's offense ranks fourth in the NFL in yards per play in the red zone, and first in yards per play inside the 30.
New York's offensive line was considered a weakness in 2016, although right guard John Jerry had a nice season, particularly in terms of pass-blocking, and was rewarded with a new three-year contract in the spring. The Giants were fairly solid in the middle, actually, with former second-rounder Weston Richburg at center and Justin Pugh, a strong run blocker, at left guard. The problems came on the edges with left tackle Ereck Flowers, the ninth overall pick in 2015, and right tackle Bobby Hart. Those two remain in place, though Hart has been out since suffering an ankle injury in Week One. In his absence, Pugh has moved to right tackle and Brett Jones has stepped in at left guard. The Giants have allowed eight sacks of Manning so far.
The Giants' offense ranks 27th in the NFL on third downs, with a conversion rate of 32.4%. They've had problems when their early downs have been ineffective – as many of the runs have been – because they rank 10th in the league on conversions from 4-6 yards but 27th when they have to try from beyond six yards. New York is the least likely team to call a running play in the NFL and the sixth least likely to run on first-and-10.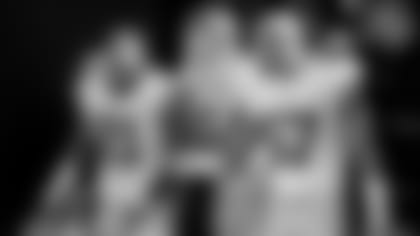 The strength of the Giants' defense is in its edge rushers and a secondary studded with high draft picks. So far, that group has produced an imbalance exactly like that of the Giants' offense: New York ranks eighth against the pass but dead last against the run, allowing 153.3 yards per game. That means New York's opponents are getting an average of 105 more rushing yards per outing than the Giants' offense is producing. Injuries to linebackers B.J. Goodson and Jonathan Casillas have not helped.
New York can bring pressure off both edges at the same time, with Olivier Vernon coming around the left end and Jason Pierre-Paul racing in from the right side of the offense. Those two had 15.5 sacks between them last year and have combined for 3.0 so far this year. Damon Harrison is a load in the middle and the Giants drafted Dalvin Tomlinson to help replace departed defensive tackle Johnathan Hankins. As noted, the Giants haven't stopped the run well so far this year – giving up 13 carries of 10 or more yards to rank 31st in the league – but have held opposing passing attacks to 181.0 yards per game. The Giants have racked up seven sacks and rank 13th in the NFL in sacks per pass play. New York has done a good job of keeping teams from striking big through the air on first down, ranking ninth in percentage of first-down passes that gain four or more yards.
The Giants' run defense could get a boost this week if middle linebacker B.J. Goodson returns to action after missing two games with a shin injury. Goodwin was a fourth-round draft pick in 2016 who played very sparingly as a rookie, but he won the job in the middle to start this season and immediately racked up 18 tackles in his NFL starting debut against Dallas. However, starting weakside linebacker, Jonathan Casillas – a former Buccaneer – could be headed in the other direction after sustaining ankle and wrist injuries against Philadelphia. Casillas had three tackles for loss and two quarterback hits through the first three games. New York's other starting linebacker, Devon Kennard, already has a sack, two tackles for loss, two quarterback hits and a fumble recovery.
The Giants used the first round in 2016 to get help for their secondary, taking cornerback Eli Apple 10th overall. The other two cornerback starters on defense, Dominique Rodgers-Cromartie and Janoris Jenkins, came to New York via free agency in recent years but are also former first-round picks. The starting safeties are Landon Collins, a second-round pick in 2015, and Darian Thompson, a third-round selection in 2016. Last year, the Giants picked off 17 passes, with Rodgers-Cromartie getting six and Collins snaring five.
Collins is the biggest star in that group, at least for now. A Pro Bowler and first-team All-Pro last year in just his second NFL season, he led the Giants with 125 tackles to go with those five interceptions and also racked up 4.0 sacks and 13 passes defensed. Quite simply, he can make plays all over the field and hit and cover with equally aplomb. Collins has helped the Giants' defense hold opposing teams to 4.21 yards per first-down play, the fifth-lowest mark in the league.
Unfortunately for the Giants, opposing teams have clearly decided to pick on the rush defense until it no longer proves to be a weakness. New York opponents have run the ball on 68.5% of their first-down plays, the second-highest mark against any team in the NFL. Overall, Giant foes are running on 51.0% of all snaps, also the league's second-highest percentage. New York has been good in the red zone, however. Opposing offenses are gaining just 2.40 yards per play in that territory (eighth-lowest).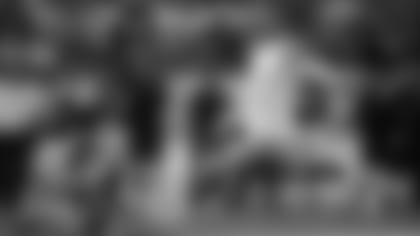 The Giants have a new placekicker in first-year man Aldrick Rosas, who beat out veteran Mike Nugent in a preseason battle. Rosas won the job by making every kick he tried in the preseason – eight field goals and four extra points – and he still hasn't missed. The former Southern Oregon kicker is 4-4 on extra points and 3-3 on field goals so far, though his longest attempt is 41 yards.
Otherwise, special teams have not been an edge for the Giants to this point in the season. Rosas ranks last in the league in touchback percentage on kickoffs, getting kneel-downs on just three of 10 tries so far this season. Brad Wing, in his third season as the Giants' punter, ranks 26th in the league with a gross average of 44.1 yards per punt and dead last with a net average of 34.1 yards per try. However, that second number is largely influenced by the 88-yard punt return touchdown the New York cover units gave up against Detroit.
Overall, New York is allowing 22.0 yards per punt return while their own return men have an average of 2.5 yards. The Giants have covered kickoffs well, allowing an average of 21.7 yards per return, but they've countered with a 20.8-yard average of their own. The Giants' low return averages can probably be chalked up to a small sample size, because their return man for both punts and kickoffs is Dwayne Harris, who has career averages of 9.6 yards on the former and 26.3 on the latter, with four total touchdowns.
And, while this may not be any fault of the Giants, they have been on the wrong end of several long field goals by their opponents, including a 56-yarder in Detroit and a 61-yarder by Philadelphia that won the game this past Sunday.