STORY HIGHLIGHTS
Austin Seferian-Jenkins got a good grade for his first game from his mom, but he didn't particularly agree
The rookie tight end believes the key to his improvement is focusing on technique
Tampa Bay's coaching staff has recently been giving Seferian-Jenkins more time with the first-team offense

Austin Seferian-Jenkins, the Tampa Bay Buccaneers' rookie tight end, got a big hug from his mother, Linda, after his professional debut on Friday night in Jacksonville. He also got a very favorable grade from mom, which is to be expected.
"She said I did really, really well, but she would never tell me I did really, really bad," said Seferian-Jenkins with a laugh. "No…she would tell me. She just hugged me, told me she loved me. She said she was happy for me and there's nothing better than seeing my mom smile after a game and having her being able to be there for me."
Seferian-Jenkins had a large group of family in attendance at the Buccaneers' game against Jacksonville on Friday, including his father, his sister, his grandmother and several aunts, and that was one of the best parts of the experience for him. As for his mother's grade for him, however, Seferian-Jenkins didn't particularly agree, and that's also to be expected.
Those who have spoken with the rookie tight end after various practices over the past three weeks have noticed that he is almost always unflinchingly tough on himself. That was certainly the case regarding his first NFL game; Seferian-Jenkins was meticulously evaluated by the Buccaneers' coaching staff, as were the rest of his teammates, but he didn't need to see a particular letter grade to know that he wasn't satisfied.
"I didn't grade out good enough," he said. "I didn't play well enough, as you could see. I had two holding calls, I didn't block well enough and I didn't run my routes well enough, so I didn't get enough of a satisfactory grade to my liking. I don't know what my grade was, but it wasn't good enough.
"What I know about football and what I know about my ability, if I don't reach a certain standard I don't think it's good enough, and I haven't met that standard. I didn't play well enough in the game. So, yeah, I do grade myself tough and I'll be my biggest critic because I think that's the best way to get better."
The Bucs committed a number of holding calls against the Jaguars and drew 11 flags in all, which was certainly one of their bigger downfalls on the evening. Seferian-Jenkins had two of them, but another one by a teammate actually erased what would have been his biggest play of the night, a 48-yard catch-and-run in the fourth quarter. Instead, he finished with two catches for 29 yards, which was certainly a decent first game for a rookie in his first game, playing with mostly reserves in the second half.
As Seferian-Jenkins knows, there is a lot more that determines a player's success or failure – how well he will grade out in the coaches' meetings the next day – than the numbers in the play-by-play. And making sure there are more successes than failures involves a lot more than just possessing physical talents and knowing the playbook.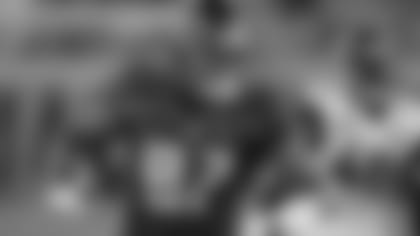 TE Austin Seferian-Jenkins had a solid NFL debut and may be in line for more playing time going forward
"It's just technique," said Seferian-Jenkins, getting to the heart of his own harsh self-critique. "It wasn't anything different, it was just my coaches telling me, Coach [Jon] Embree was telling me, 'It's going to be technique, technique.' Then you do the things in practice, you kind of get away with it and then it comes to a game and there's a flag or you didn't get open quick enough. Little things – the linebacker jumps the route and tips the ball just a bit because you didn't get outside on your right landmark. It's just the real small stuff and that's the biggest thing, it was the technique. Everybody is just really good with their technique.
"When you're in a game and things are going and you're thinking about just your assignment, sometimes you forget about your technique. I think that's what got me held up. In the first preseason game I was so worried about doing my assignment and making sure I won my rep, that I forgot about the small techniques that would help me win my rep and help me dominate that rep and not get a holding call or not get open enough."
Players are graded for their practice performances, as well, and though he would probably not agree, Seferian-Jenkins has apparently been scoring great marks throughout training camp. Head Coach Lovie Smith has spoken highly of him on a couple occasions – going against his own desire not to over-hype rookies – and he did so again on Monday.
"You have to let it play out, but for the ones who have been around here for training camp, just about every day he's done something that you like," said Smith. "You don't have to look real hard to like something the guy has done. So he's warranted more time, moving up through the ranks. He's got a great future ahead of him; it's as simple as that. He's got great size. He can still work on his blocking. He has actually hands. He's in our plans."
Even more important than Smith's positive words are the actions of the coaching staff. This week, Seferian-Jenkins has seen his share of repetitions with the first-team offense increase, and that's a better sign of a player's progress than the depth chart, where he is listed fourth. It's an exponential process, too – Seferian-Jenkins has earned more first-team reps, and those additional first-team reps are only going to improve his chances of standing out.
"It helps out a lot," he said. "It's definitely going to get me better – not to discredit the second guys because there are a lot of good players on our second and third teams – but it helps out to get chemistry with those guys [on the first-team offense]. At the end of the day it's football, and if you're getting better, you're getting better and if you're getting worse, you're getting worse."
Seferian-Jenkins is determined to get better in his second NFL game. For one thing, he's not sure if his mom will continue to be as forgiving with her marks as she was on Friday night.
"She gave me a high grade for my first game," he said. "She made it clear, though: It was good for your first game. The second game she's definitely going to be a tougher critic."