The Tampa Bay Buccaneers have taken on the team known as the Cardinals in three different states and five different stadiums over four decades of head-to-head play…and they really haven't decided anything. After 18 thunderous clashes with that not-too-heated rival from the NFC West (late of the NFC East), it's nine up and nine down for the Buccaneers.
Barring a tie – of which there has only been one in Buccaneers history – one of those teams will take the lead on Sunday when Tampa Bay makes its second-ever trip to University of Phoenix Stadium. The Bucs are also even all-time with Miami (5-5) and Washington (10-10) but don't get a chance to take on the Dolphins or Redskins this year, so Sunday's contest is their best bet to put an opponent in the rear-view mirror.
The most recent action in the Bucs-Cards saga includes road wins for both teams. In 2010, Tampa Bay got its first taste of the tethered spaceship in Glendale, Arizona known as University of Phoenix Stadium, and rather enjoyed it. It was no means an easy win over a Cardinals team led – albeit briefly – by Max Hall, a quarterback making his third (and final) NFL start. The visitors got their first touchdown, tying the game at 7-7, in the first quarter on a pick-six by LB Geno Hayes off Hall, beginning a shootout that would end in a 38-35 decision.
Hayes would later score again on a 21-yard fumble return, though at this point veteran Derek Anderson was under center because Bucs CB Aqib Talib had also redirected one of Hall's passes to the opposite end zone. If it seems like that's a lot of defensive weapons for a shootout, this game also featured 803 yards of offense, split almost evenly down the middle by the two teams. It is probably best remembered for the work of Buccaneers RB LeGarrette Blount, who ran for 120 yards and two touchdowns and hurdled clear over an Arizona defender on a 48-yard ramble. The game was still very much in doubt down to the two-minute warning of the fourth quarter, at which time Talib got his second interception, this one off Anderson at the Bucs' six-yard line.
The Cardinals got their revenge three years later at Raymond James Stadium, though in a game featuring far fewer fireworks (say that three times fast). After being so felonious with the football (this week's Series History brought to you by the letter F) in Arizona, the Buccaneers were far more giving in the rematch, coughing up two costly turnovers to fuel a furious fourth-quarter Cardinals comeback. Tampa Bay had started the season 0-3 but managed to build a 10-0 halftime lead over an Arizona team that would eventually finish 10-6. It was still 10-0 in the fourth when a botched snap by the Bucs set up a Cardinal field goal and Patrick Peterson interception off Mike Glennon led to Carson Palmer's 13-yard TD pass to Larry Fitzgerald. An ill-advised kickoff return by Jeff Demps out to the Bucs' 10-yard line followed, and then a sack of Glennon at the one and a punt that gave the ball back to Arizona at Tampa Bay's 38. The game-winning field goal was little more than an afterthought at that point.
The Bucs and Cardinals also split their first two games in the NFL's new rotating-division scheduling format, with Arizona winning at home in 2004 and the Bucs doing the same in 2007. The '04 game was the finale of one of the most forgettable Buccaneer seasons of the new millennium, and it fittingly featured just 471 combined yards of offense to go with five turnovers. If you must know, Michael Clayton scored the Bucs' only points on a 75-yard touchdown catch, but the Cardinals countered with four scintillating Neil Rackers field goals. The 2007 game was certainly more meaningful for the Buccaneers as they won it, 17-10, in Tampa to start a streak of five wins in six weeks that carried them to their most recent division title. Earnest Graham ran for 124 yards and a score, Joey Galloway caught a 37-yard TD pass and Tanard Jackson broke up five passes as the Bucs' defense allowed only 195 yards.
The 2004 Bucs-Cardinals meeting broke up a seven-year drought in the series since the previous meeting in 1997, which was also a memorable one for Tampa Bay. Those '97 Bucs broke out in a big way with five straight wins to start the season, eventually earning the franchise's first playoff berth in 15 years, and Arizona was the last victim on that list. It looked like the streak might end at four when future Hall-of-Famer Aeneas Williams returned a Trent Dilfer interception 42 yards for a touchdown and an 18-12 lead in the second half. However, with the game on the line in the fourth quarter, Dilfer converted a fourth-and-six by hitting Karl Williams on a crossing route, and Williams took it all the way to the end zone for the go-ahead score in a 19-18 decision.
The first five games of the Bucs-Cardinals series were played in Tampa, with the home team winning three of them. That included the first home field victory in franchise history in 1977. After the brand-new Buccaneers, in an era of unforgiving team-building conditions for expansion teams, lost their first 26 games in 1976-77, the club finally got a "W" in New Orleans in Week 13. The following Sunday, in the '77 season finale, Tampa Bay downed the visiting St. Louis Cardinals, 17-7, to make it two in a row. WR Morris Owens caught four passes for 138 yards, including a 61-yard touchdown, and both Mark Cotney and Mike Washington picked off St. Louis QB Jim Hart.
The Bucs' 16-0 win over St. Louis in 1985 was significant largely because it was just the second shutout ever pitched by Tampa Bay's defense. It was also the team's first win under first-year Head Coach Leeman Bennett after nine losses, and one of only four the Bucs would take in Bennett's two years at the helm. James Wilder ran for 120 yards and Donald Igwebuike booted field goals of 46, 47 and 50 yards. The Cardinals' top highlight in that stretch was a 34-27 victory in 1983 in which both Neil Lomax and short-lived Bucs starter Jack Thompson tossed three touchdown passes.
A 30-19 win for the Cardinals at Tampa Stadium in October of 1986 began a weird stretch in which the two teams played each other twice each in both '86 and '87 despite not being in the same division, which was relatively rare back then (and impossible with today's scheduling format). The Cardinals scored an average of 28.5 points per game while sweeping all four contests. The most exciting of those games was played in St. Louis in 1987, as Neil Lomax threw two touchdown passes to WR J.T. Smith in the fourth quarter to turn a 28-17 deficit into a 31-28 win. Lomax, who would go to the Pro Bowl in 1987, threw six touchdown passes against the Bucs that year.
The Cardinals extended their winning streak in the series to five games in 1988 but the Bucs got back on top in '89 in their first visit to Sun Devil Stadium after the Cards' 1987 move from St. Louis to Phoenix. Vinny Testaverde's five-yard touchdown pass to WR Mark Carrier with 47 seconds to play gave visitors a 14-13 decision, but not before Phoenix K Al Del Greco hooked a 47-yard field goal attempt wide left. In 1992, the Bucs gave first-year Head Coach Sam Wyche a win in his debut with a 23-7 final in which the defense allowed just 181 total yards. Weirdly, the 1992 Bucs also closed out their season with a win over the Cardinals, this one in Phoenix.
Bucs-Cardinals Game-by-Game Record: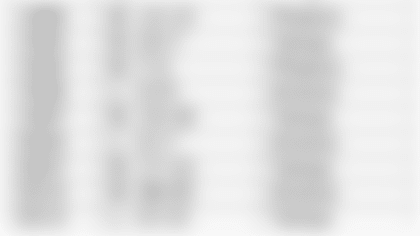 Overall Series: Series tied, 9-9
Bucs' Home Record: 6-5
Bucs' Road Record: 3-4
Current Streak: Lose 1 (2013)
Buccaneers' Longest Winning Streak: 3 (1989-92)
Cardinals' Longest Winning Streak: 5 (1986-88)
Regular Season Point Total: Buccaneers 326, Falcons 318
Most Points in a Game, Tampa Bay: Buccaneers 38-35 (2010)
Most Points in a Game, Arizona: Buccaneers 38-35 (2010)
Most Points, both teams: 73, Buccaneers 38-35 (2010)
Fewest Points in a Game, Buccaneers: 7, twice (1992, 2004)
Fewest Points in a Game, Falcons: Buccaneers 16-0 (1985)
Fewest Points in a Game, both teams: 10, Buccaneers 7-3 (1992)

---