STORY HIGHLIGHTS
The Buccaneers are 11-14 all-time in games played after bye weeks, with better results in recent years
Overall, the team has had more post-bye success when its break has come later in the season
The current Bucs could use the type of post-bye turnaround they got in Tony Dungy's first year in 1996

This week, the Tampa Bay Buccaneers face an opponent to whom they have never lost. It's a streak 25 years in the making.
The National Football League introduced bye weeks into the schedule in 1990, creating a 17-week schedule to give football fans a little more of what they love. In 1993, the league experimented with an 18-week schedule involving two bye weeks…and quickly shelved it the next year. Teams were simply losing too much momentum in their seasons. The Buccaneers, for instance, had byes in Weeks Three and Six that year; they had only played six games before Halloween.
The single bye week has stuck, however, and isn't going anywhere soon. Even if this wasn't necessarily its initial purpose, the bye is now looked upon as a once-per-season opportunity to rest battered bodies and get an extra week of healing for players who are out due to injury. In some cases, it can be useful as a mind-cleansing period, for a team that has struggled and is looking for a fresh start. Put the 2014 Buccaneers squarely in that group.
Just like the Buccaneers face different levels of competition from their various opponents, the bye weeks they've encountered through the years have not all been created equally. Generally, teams prefer to draw their bye as late into the season as possible, given that theoretically the further along one is into a campaign the more likely one is to be dealing with assorted injuries and general fatigue.
Initially, the bye weeks were spread out over a greater portion of the season. That's how Tampa Bay ended up with an early-December bye in 1990; that could have been a significant advantage for a contender, but the Buccaneers were 5-8 at the time. Over the next 11 years, however, the Bucs almost always took their byes at the same time of the season, getting that time off in either Week Six or Week Seven nine times in an 11-year stretch.
From 1999-2001, after the Cleveland Browns franchise was resurrected but before the Houston Texans arrived as the most recent expansion team, the league operated with 31 times. That meant that at least one team had to be out of action every week, and the bye weeks were spread from the beginning of the schedule to the end. That wasn't considered a particularly good situation, a Week One bye seemed almost like a waste, while a Week 17 bye could have been a very significant advantage for a playoff team. Nothing too drastic happened to the Bucs during that span; in 2001, they had a Week Three bye but otherwise they were in their usual 6-7 range.
That 2001 bye was rather poorly timed, however, and for a tragic reason. The NFL had played only its first week of games in '01 when the 9/11 terrorist strikes took place. The league cancelled its game for the following weekend and eventually rescheduled them for what would have been the first weekend of the playoffs. Because the Bucs had that Week Three bye, they actually had two weeks of inaction before returning to the field. Obviously, there was no complaint; as the 9/11 tragedy affected many others in far, far more serious ways.
So the Bucs have never lost during the bye week…but what about when they get back on the field. Has the extra time off been a noticeable help? Not really. The Bucs are 11-14 in games after bye weeks, although they have won that game in five of the past seven seasons. What is perhaps more encouraging is that Tampa Bay is 9-5 in post-bye games played at home. Maybe the extra time off and the lack of travel offers just the right amount of rest.
On the other hand, the Bucs might wish the schedule-makers had pushed this year's bye either up or back a single week. They're getting their extra free time in Week Seven of the season, and that has been a bad situation for the team, for some reason. The Bucs have lost all six times after a Week Seven bye week, while they are 3-1 after Week Six byes and 2-1 after Week Eight byes. Overall, it's easy to see why teams prefer late byes; Tampa Bay is 6-2 in games after byes that fall in Week Eight or later.
One of the most notable post-bye games for the Buccaneers occurred in 1996, Tony Dungy's first season as the team's head coach. Dungy's Buccaneers had struggled to an 0-5 start and went into their break on the heels of an ugly 27-0 home loss to Detroit. The team made some corrections during the bye but also listened to their new coach telling them to stay the course. QB Trent Dilfer had one of the best games of his career to that point, completing 22 of 35 passes for 218 yards, three touchdowns and no interceptions and the Bucs easily handled a 5-1 Minnesota Vikings team, 24-13.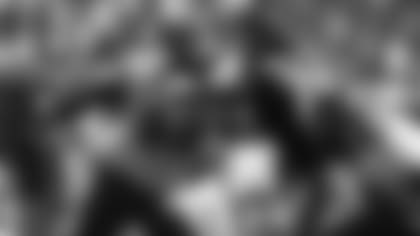 Warren Sapp and the great Bucs defense of 1999 got down and dirty with their Black-and-Blue pals in a 6-3 win after a bye week
The 1999 Buccaneers team that went to the NFC Championship Game in St. Louis started off 26-23 before hitting its bye week. The Chicago Bears came to town and an old-fashioned Black-and-Blue Division slugfest broke out. The Bucs gained only 225 yards of offense but won, 6-3, on two field goals by rookie K Martin Gramatica.
The least enjoyable game the Buccaneers have ever played directly after a bye occurred in 2003. The defending Super Bowl champs began that season with a 2-1 record and despite a painful and memorable 12-9 overtime loss to Carolina had thoroughly demolished Philadelphia and Carolina. They appeared to be well on their way to another lopsided win in a Week Five Monday Night Football matchup with Carolina before Peyton Manning erased a three-touchdown deficit in the game's last five minutes. The Colts eventually won, 38-35, in overtime and the Bus title-defense season came off the rails not long after.
In 2009, the Bucs were given a Week Eight bye to pair with their Week Seven game in London. A 35-7 loss to the New England Patriots at Wembley Stadium had dropped Tampa Bay to 0-7 in Raheem Morris's first season as head coach. During that game, the Buccaneers had given rookie quarterback Josh Freeman his first playing time, and after a bye week to get him ready, they gave him his first start against the visiting Green Bay Packers in Week Nine. Freeman threw three touchdown passes and the Bucs held on for a wild 38-28 victory against a Packers team that would go on to win 11 games and a Wild Card spot.
Bucs Game-by-Game Record After Bye Weeks
Overall Record After Bye Weeks: 11-14
Home Record After Bye Weeks: 9-5
Road Record After Bye Weeks: 2-9
Current Streak After Bye Weeks: Lose 1 (2013)
Longest Winning Streak: 4 (2007-10)
Longest Losing Streak: 6 (1991-95)
Points Scored and Allowed: Buccaneers 509, Opponents 561
Most Points in a Game After a Bye: 38, twice
Most Points Allowed in a Game After a Bye: 47…Chicago 47, Tampa Bay 17 (1993)
Most Points, Combined, After a Bye: 73…Indianapolis 38, Tampa Bay 35 (2003)
Fewest Points, Combined, After a Bye: 9…Buccaneers 6, Bears 3 (1999)