Shaq Barrett's magical first season as a Tampa Bay Buccaneer continued on Sunday in Los Angeles when he sacked Jared Goff late in the fourth quarter, forcing a fumble that was scooped and taken to the end zone by Ndamukong Suh. That play and the subsequent points sealed a victory that had still seemed rather tenuous just moments earlier.
That was Barrett's "only" sack of the game, which can only fairly be written that way in comparison to the three and four-sack games he had posted in the two previous weeks. With at least one sack in every regular-season outing since joining the Buccaneers as an unrestricted free agent in March, Barrett continues on a quarterback-hunting pace rarely seen in NFL history.
Specifically, Barrett has nine sacks through his team's first four games, tying an all-time record only achieved by three other players and obviously establishing a new Buccaneer best. The previous three players to hit that mark all finished their seasons with at least 13.5 sacks. As should be noted for all of the following notes about Barrett's totals, the NFL first made sacks an official statistic in 1982.
Most Sacks, First Four Games of a Team's Season, NFL History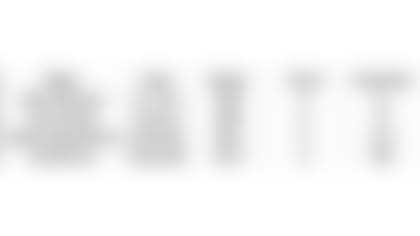 Barrett also had his first career interception earlier in the game. That marks just the 20th time in Buccaneers history that a player has recorded both a sack and interception in the same game, and he is the first to do so in six years, since Lavonte David did it twice, most recently against Buffalo on Dec. 8, 2013.
Barrett's total of 9.0 sacks leads the NFL and is three better than the next player on the list.
1. Shaq Barrett, Tampa Bay: 9.0
2. Myles Garrett, Cleveland: 6.0
3. Mario Addison, Carolina: 5.5
4t. Clay Matthews, L.A. Rams: 5.0
4t. Whitney Mercilus, Houston: 5.0
Barrett's strip-sack of Goff gave him three forced fumbles in the Bucs' last two games. Barrett is tied for third in the NFL in that category, matching the total of Arizona's Chandler Jones and standing one behind the leading duo of Houston's Whitney Mercilus and Chicago's Khalil Mack.
Speaking of Lavonte David, he also had an interception in Sunday's game, as did second-year safety Jordan Whitehead. Whitehead secured his first career pick in the second quarter, and one drive later David got his 11th. The only linebacker in Buccaneers history with more interceptions than David is Hall of Famer Derrick Brooks.
Most Career Interceptions by a Linebacker, Buccaneers History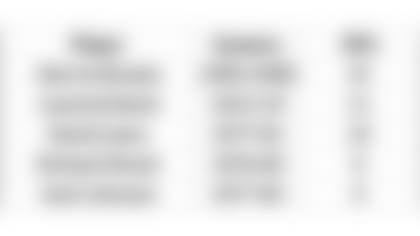 David took his interception down to the Rams' nine-yard line and the Bucs scored on the next play on a screen pass to Chris Godwin. The Buccaneers also scored touchdowns on the possessions following the interceptions by Barrett and Whitehead, and as noted above, Barrett's forced fumble led directly to points.
That's 28 points off turnovers, just more than half of the Buccaneers' total of 55 points on the afternoon. Tampa Bay is the first team this season to score at least 28 points off turnovers in a single game, and the first to do so the Chargers score 31 points off turnovers against the Bills in a 54-24 win on Nov. 19, 2017. Data is available on points off turnovers back through the 1997 season, and this is the first time in that span that the Buccaneers have scored 28 or more points in a single game off turnovers.
Here are some additional miscellaneous bits of data from Sunday's big win in L.A.:
- The Buccaneers' 55-40 victory is the first game in NFL history to end in that score. This is the second year in a row the Bucs have broken new ground in that way, as their 48-40 win at New Orleans in the season opener also was (and remains) the first contest to end in that exact score.
- As noted in our earlier Data Crunch article, rookie kicker Matt Gay hit a 58-yard field goal in Sunday's game, tied for the third-longest in team history. The Rams' Greg Zuerlein also was good from 58 yards earlier in the same contest, and NFL Research said that was a unique dual accomplishment:
- The Bucs won a game played in Los Angeles for the first time in team history. They had previously been 0-4 against the Rams during their first stint in L.A. and 0-1 against the Raiders during the time they inhabited the City of Angels.
- Tampa Bay's win in Los Angeles followed a Week Two victory at Carolina. This is the first time since 2010 that the Buccaneers have started a season 2-0 on the road. They would go on to a team-record-tying six road victories that season during a 10-6 campaign. The Bucs also started 2-0 on the road in 2005, 2003, 2002, 2000, 1997, 1990, 1979 and 1978.
- The Buccaneers scored 24 points in the fourth quarter of Sunday's win over the Rams, the second highest total they've ever posted in a fourth quarter, and the most in a victory. The Buccaneers scored 27 fourth-quarter points at Arizona on Oct. 15, 2017 but still fell, 38-33. Tampa Bay has two other 24-point quarters in their annals, both in the second period. That happened in wins over Chicago on Dec. 22, 1996 and Green Bay on Nov. 22, 1981.