STORY HIGHLIGHTS
Bucs Head Coach Lovie Smith helped 2014 HOF finalists Derrick Brooks, Tony Dungy and John Lynch resurrect the team in the 1990s
Smith, who coached Tampa Bay's LBs from 1996-2000, formed a particularly tight bond with Brooks, his star pupil
The Pro Football Hall of Fame Class of 2014 will be revealed on Saturday night

Lovie Smith was still in bed on the morning of January 21, 2007, when his phone rang for the first time that day.
Make no mistake, Smith is an early riser under any circumstances, and with his Chicago Bears due to face the New Orleans Saints in the NFC Championship Game that afternoon, he wasn't going to be spending any extra time under the covers. But before he could rise he had a caller, a kindred mind, someone just as restless and just as focused on the fine points of winning a football game.
The only difference was, the man on the other end of the line had no stake in that afternoon's contest, at least not directly. Smith was the Bears' head coach, trying to lead his team to the Super Bowl in his fourth year at the helm. His caller was Derrick Brooks, his former pupil in Tampa Bay and still very much a Buccaneer. Brooks would be following the Bears and Saints on television, and if Chicago won he'd watch Smith chase the Lombardi Trophy from afar.
"The first call I get that day is Derrick Brooks," recalled Smith. "He said, 'Alright, Coach, did we go over this? Did you hit this? Did you hit that?' He started going over all the little details. I'll never forget that."
Brooks' stake in the game was, of course, personal, one family member desperately wanting another family member to succeed. He and Smith had become part of a very close family over five seasons in Tampa, forming a bond that was as strong as ever six years later, on the day the Bears would go on to beat the Saints and head on to Super Bowl XLI. Another seven years has passed since that day, Brooks is retired and Smith is now the head coach of the Buccaneers, but family is still family. And now it's Smiths turn to experience the nervous energy of anticipation.
On Saturday, the Pro Football Hall of Fame's Selection Committee will choose up to five men from a list of 15 modern-era finalists to form the Hall's Class of 2014. Brooks is one of those 15 finalists, as are John Lynch and Tony Dungy, two other members of that tight-knit group that called old One Buc Place home and helped resurrect a dormant franchise.
On Tuesday, Smith admitted that he had "butterflies in his stomach" in anticipation of Saturday's announcement.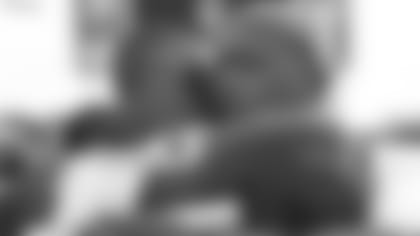 Derrick Brooks developed into one of the NFL's best linebackers under the tutelage of Lovie Smith from 1996-2000
Smith has hardly had time to register such feelings in the last month. He was named the 10th head coach in Buccaneers history on January 2 and was formally introduced to the Bay area at a press conference four days later. He swiftly put together a coaching staff, helped in the search for the team's new general manager and began evaluating the Buccaneers' current roster. He was energized but not at all nervous at his press conference, and he looks forward to such milestone experiences as his first game as Tampa Bay's head coach at Raymond James Stadium. There's something about this weekend's pending announcement, however, that stirs his emotions in a different way.
"There are some other things that aren't directly related to you that get you excited, too," he said. "You've got to be excited when your teammate makes a big play. You've got to be genuinely excited for him. For me, this week, I'm genuinely excited about the weekend for Derrick. I'm excited for Tony, I'm excited for John Lynch. These are men that I care about."
Smith first came to Tampa in 1996, when Dungy was putting together his first staff after being hired as the Bucs' new head coach. The following year, the Buccaneers snapped a 15-year playoff drought, and two years later they would advance all the way to the 1999 NFC Championship Game. Smith left after the 2000 season to become the St. Louis Rams' defensive coordinator, but he was still part of a franchise turnaround that eventually led to a Super Bowl championship in 2002.
Last summer, the first member of that group, Warren Sapp, got his gold jacket as part of the Hall of Fame's Class of 2013. He was a first-ballot inductee, as Brooks and Dungy could possibly be this year; Lynch is in his second year of eligibility and his first as a finalist. Smith is excited about the chance of Sapp getting some Buccaneer company this year.
"An opportunity for us to get three Buccaneers in the Hall of Fame? That's amazing," said Smith. "That group, the original One Buc group, that's a special group, a family. You all really do feel connected."
Obviously, Smith's connection to Brooks is particularly close. The year before Dungy and Smith arrived, the Buccaneers had spent first-round picks on Sapp and Brooks in the 1995 NFL Draft. Brooks had a fine rookie season, but it was under Smith that he would blossom into a perennial Pro Bowler and a future NFL Defensive Player of the Year.
"For me, personally, John was a position coach that I didn't actually coach every day," said Smith. "Tony was my head coach at the time, the man who brought me into the league. That was special. But Derrick Brooks? Derrick Brooks – my first job in the NFL and I get a chance to coach him on a daily basis? And we've maintained a relationship throughout all these years."
The type of relationship, in fact, that creates early-morning wake-up calls on the most important of days. This Saturday is a very important one for Brooks; chances are he and Smith will find time to talk. And if Brooks' name is called on Saturday night, there's little doubt what Smith will be feeling:
"For Derrick to get in the Hall of Fame here this weekend, if he does, that will be a happy day for me."