STORY HIGHLIGHTS
DE Jacquies Smith's snaps have risen in each of the past three weeks, and he played more than 50% of the downs against Washington
Smith's three sacks are tied for second on the Bucs' defense behind Gerald McCoy's 6.5
As much as Bucs coaches appreciate the QB takedowns, they were especially happy about a certain hustle play by Smith

Jacquies, a 24-year-old first-year defensive end who was not on the Tampa Bay Buccaneers' roster when the season began, has recently emerged as a very rotational pass-rusher for the team. His path to that role has its fair share of twists and turns, including brief stays with the Miami Dolphins, Buffalo Bills and New York Jets and even an exploratory run through the Canadian Football League. Until the second week of this season, his third since coming into the NFL as an undrafted free agent, Smith had never played a down in a regular-season NFL game.
It's an interesting enough story, and to Smith, it's totally irrelevant at this point. His background obviously doesn't mean much to the Buccaneers' coaching staff, either; when prized free agent acquisition Michael Johnson was held out of the Week 10 game against Atlanta, it was Smith they selected to start in his place at the critical right end position.
"Everybody has a story in this league," said Smith. "It doesn't really matter how you get here – it's what you do when you get here when you're given the opportunity. You've got a lot of guys buying into what the coaches are talking about and they're comfortable in the playbook and things of that nature. Once you get your opportunity, you just have to go out there and do the best you can with the opportunity. Guys are making plays."
Lately, Smith has been doing some eye-opening things with those opportunities, which in turn is creating even more of them. Smith has three sacks, five quarterback hits and a forced fumble over the Bucs' last three games, primarily playing on obvious passing downs due to his good speed off the edge. In Washington last Sunday, the Bucs got a key sack from Johnson and 1.5 QB takedowns from All-Pro DT Gerald McCoy, but it was Smith who led the six-sack deluge with two of his own.
Now that he is finally seeing some playing time in the NFL, Smith is proving both to himself and his coaches that he belongs. The Bucs certainly thought there was some promise there when they claimed him off waivers when the Bills cut him after the first game in September.
"Once you have success you get a lot of confidence," said Smith. "It's just not only me having confidence in myself; I want my teammates to have confidence in me, and the coaches. They put me out there on the field and just hopefully I'll go out there and fulfill the role that they give me.
"I just do whatever those guys upstairs tell me to do. If they put me out there 20 snaps, I have to make the most of those 20 snaps. If I get out there 40, I have to make the most of those 40. So basically just doing whatever the coaches tell me to do."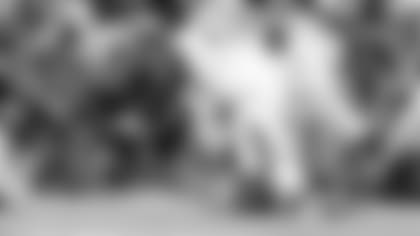 DE Jacquies Smith had to chase Roy Helu well downfield in order to get in position to force a fumble Sunday in Washington
Head Coach Lovie Smith said on Monday that Smith's recent play is likely to lead to an increase in his share of the time in the Bucs' front-line rotation. That has already been happening, actually. Smith played 22 snaps against Cleveland in Week Nine (and turned in a sack), 32 against Atlanta in Week 10 and 48 against Washington last Sunday. That snap count in the Redskins game was significant in that it was the first time he had been on the field for more than 50 of his team's defensive plays.
It's safe to say that the Bucs' defensive coaches were going with the hot hand, and with the combinations of rushers that were working the best.
"I'd just say we were working more together as a unit," said Smith of the Bucs hitting a season-high in sacks on Sunday. "I think if I'm collapsing the pocket on the right side, Gerald is right there or Michael is right there picking up the sack, things of that nature. It's kind of poetry in motion when all of us are working together. We did that [Sunday]."
As much as Smith's two takedowns of Robert Griffin III must have jumped off the screen when the defensive line was breaking down the game tape on Monday morning, it was another play the young pass-rusher made that might do the most to keep him on the field. Rushing from the right end, as usual, Smith saw Griffin dump a short pass out to running back Roy Helu, Jr. on the opposite side. The play worked well and Helu darted upfield for 13 yards. However, Smith was one of several Buc defenders who pursued the play from behind and he ended up catching Helu and forcing a fumble. The Bucs recovered at their own 37 to avert a Washington scoring opportunity.
Smith said Defensive Line Coach Joe Cullen was smiling at the back of the D-Line meeting room when that play came on the screen.
"You know Coach loves those hustle plays," said Smith. "They're always telling us to run for the ball and we all know how Lovie [Smith] preaches about getting takeaways. [I was] just going and punching for the ball and trying to get the ball out, and it actually came out."
McCoy leads the Bucs' defense with 6.5 sacks and is the best bet for the first 10-sack season by an individual Buccaneer since Simeon Rice in 2005. After that, it's a three-way tie between Johnson, Smith and defensive tackle Clinton McDonald. Johnson and McDonald were introduced together this past March when the Bucs jumped headfirst into free agency to try to kick-start their pass rush. Meanwhile, Smith was playing against the Buccaneers as recently as August 23. Sometimes contributions come from unexpected sources. In this case, when the Bucs' pass rush is working as it is supposed to be, it's a combination of the expected and unexpected.
"Some guys have one-on-ones in certain protections and some guys don't," said Smith. "That guy has to win his one-on-one. Even when guys in the middle are getting double-teamed, they have to stay in the A-Gap, just forcing the quarterback to step into places he shouldn't have to be. That's where our guys have to pick up the sacks. We all have to play as a collective unit and once it's clicking and all of us are clicking on all cylinders, you see the potential and you see the things that we're capable of doing. It's just a matter of just consistently doing that."