STORY HIGHLIGHTS
Despite their early-season struggles, the Bucs are still just a game off the NFC South lead
The Bucs' response to the stress of crunch time in Pittsburgh may be a sign that they've been hardened by adversity
After finishing the first quarter of the season on a high note, the team now seeks a winning streak

After a surprisingly rough start to the season, the Tampa Bay Buccaneers finished the first quarter of 2014 the way they wanted to, with a hard-fought victory in Pittsburgh that will hopefully kick-start a winning streak. At 1-3, the Buccaneers did not achieve the overall first-quarter record they anticipated, but it's worth noting that the team is only one game out of first place in the always-unpredictable NFC South.
That note about the standings is not an attempt to put a shine on a 1-3 start. Rather, it is presented as evidence that, despite those three disappointing weeks, the team's long-term goals for the season are still well within reach. And maybe, just maybe, the struggles the team endured during that 0-3 start will serve them well in the long run.
"Early on – I'm just not saying this – early on though, you need to go through adversity like that," said Head Coach Lovie Smith on Monday while discussing his team's dramatic 27-24 win at Heinz Field. "You need everything to go wrong. What else could happen to make us go down that road? We've had to face a lot of things, and our guys haven't blinked. They've just adjusted to it."
This is a nebulous topic, like a player's "intangibles" on draft weekend, so make of it what you will. It seems quite believable (to this observer, at least) that those three weeks of adversity – and in particular two losses in which the Bucs didn't get the plays they needed at the end of the game – helped harden the team for crunch time in Pittsburgh.
"Adversity, it makes you check yourself," said Smith. "I don't have to tell you about what happened the last time that we went out [in Atlanta] – it did. Our team really kind of stood the test. Things did go against us and on the sideline I know there had come a point right at the end of the game where – Pittsburgh has a great crowd. It seemed like right at the end when we needed to make a play, our offense was out there and had to go the distance, that's when that crowd became the loudest, it seemed like they were energizing our group as much as anything. We didn't blink at all and that was good to see. To get your first win, you need to get through that, through a hard time like that to see that you can get over the hump."
Buccaneer players definitely enjoyed hearing the Heinz Field crowd deflate after Vincent Jackson's winning touchdown catch with seven seconds to play. They enjoyed the plane flight home, too, much more so than last week's trip back from Atlanta. And they had Monday off, which meant another day to relax and bask in that first victory. Smith thinks he'll encounter a team with a different mood when they reconvene on Tuesday.
"Everything we're doing, we've asked the players to have faith," said Smith. "To validate what we're doing and how we're doing it, you need to get a win. So we got that and we have something to really build on from here. But we have so far to go, and once our guys see the video, they'll see we left a lot of plays out there yesterday."
And, of course, in the bigger picture the Bucs still have just one win, as Jackson himself pointed out in the postgame locker room on Sunday. It's a very encouraging win – on the road against a quality opponent with plays that had to be made as the clock ran out – but it doesn't guarantee anything beyond a happy locker room for one week. It does give the team a reason to believe.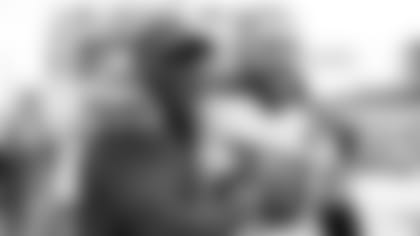 Lovie Smith and Logan Mankins enjoyed their first taste of victory in 2014
"We tell our guys constantly that it's how you finish," said Smith. "It's how you get yourself in position early on and hang in there, and in the first quarter [of the season], that's what we've done. You want to finish that first quarter strong, and that's why there was so much of an emphasis placed on this game. We got a lot accomplished. Still, yes, 1-3 is disappointing. But in the big scheme of things, there's a lot of disappointed teams in the league. And for us, we are one game away [from leading the division]. We have an opportunity to play another division [opponent]. We have a chance to get a division road game. So what better position for us to be in? We are getting some of our injured players back and our guys can see where we can go."
Lovie Smith discussed a number of other topics during his press conference on Monday. The rest of the transcript follows.
Opening statement:
"Not a whole lot has changed since yesterday, we're still feeling real good about getting our first win. Sometimes you go and look at the video afterwards and you see a lot of things – you're never as good as you think I guess and you're never quite as bad also. For this I think it was pretty much how we thought it played out. We didn't play as well as we needed to on both sides of the ball early on, but we finished strong. A lot of guys contributed on both sides of the football, players that haven't played their best ball. Defensively: getting Gerald [McCoy] back helps quite a bit, it would help any football team and that was evident from the start, it gave the defensive line a boost. Michael Johnson has played injured throughout the season, I wouldn't say that he was 100 percent yesterday, but he really showed up, he played well, got one of our highest grades we give from a performance and I'm really pleased with him – our entire defensive line, they set the tempo. Da'Quan Bowers, another player that's been injured quite a bit, played very well. Offensively: a lot of guys – our offensive line giving Mike [Glennon] a chance to throw the ball; you do judge quarterbacks based on what they do late and he was at his best at the end, right up until the last throw. Louis Murphy, this time last week wasn't on our football team and for him to come back like that and have that type of impact on the game. Our captain [Vincent Jackson] – you see I'm talking about a lot of guys, but a lot of guys really contributed. Injuries, you're never excited about injuries. Dashon Goldson going down early on made us adjust a little bit with him, we'll have to – we don't know exactly, he's day-to-day, we don't know how long it will take for him to get back. The same goes with Mike Evans. Mike Evans played well yesterday, made big plays, but losing him in that period of the game didn't help our case any at all either. We finished up the first quarter [of the season] the way you want to finish up, with a win. We had an opportunity to get a couple back-to-back getting into the division, another division road game, it's important that we build on that."
On who the starting quarterback will be if Josh McCown is healthy:
"Are you asking me to name our starting quarterback right now? What I do is I look at who's available at the time and who gives us our best chance to win at all positions. We'll do the same thing when Josh gets back. He's not back yet though."
On how defensive tackle Gerald McCoy being back impacted the team:
"When your best football player plays, it definitely does pick everything up. We all get a lot more confidence when Gerald is playing and he played well. With the cast he had to adjust his game a little bit, but he adjusted it and just played well. He's the leader of the group and they know how important it is for our defense, for that defensive line to play well, but most of the time they haven't been healthy and that's been the problem as much as anything and this just kind of gave us a glimpse of hopefully what it will be like once we get all of them at full speed."
On what he saw from Glennon in his first start of the season and if there are any regrets not starting him sooner:
"I don't have any regrets, we let things play out and I tell guys – you start off with a group and eventually if you deserve, wherever you belong, that's where you'll end up. No regrets at all and as far as yesterday's game it was good to see – I saw the same guy that I've seen with everything else that we've asked him to do, a poised and confident player that can play football. When you're labeled the 'Quarterback of the Future' that's what you're supposed to do when you come out. The future was in front of us a little bit earlier than the initial plan, but you need to be ready at all times and again, how he handled it there right at the end, having to make that final throw kind of said it all."
On the adjustments that were made for the offense to be better in second half:
"A lot of times everybody thinks 'OK, it's halftime you go in and make some adjustments and then everything is fine.' No, we stay with the plan. You have a 60-minute plan and part of the 60-minute plan isn't for some things to happen at the end. We ran some plays that we saved for the second half, but we felt like we were right where we needed to be going in at the half. I did like what we were able to do on the offensive side and that some of things that we tried to get accomplished, we felt like we could get some good matchups on the outside and we're able to get the ball to some of our players that we haven't been able to in the past. Doug Martin too, I talk a lot about guys, but Doug Martin coming back, Doug ran hard, he blocked well, picking up some their blitzing linebackers, he did a lot of good things. As I mentioned yesterday, Marcus [Arroyo] and the rest of the offensive staff did a good job of over the course of the game getting us in plays at the end that were successful."
On the miscommunication that led to delay of game penalties:
"Yes, it was a communication breakdown. I could throw that out there [Glennon switching his helmet], but yes we had some issues early on, technical issues early on and that led to some of it, but we just didn't do as good of a job as we needed to with some of the plays, getting them in and some things like that. From that game, we made improvements and we played well enough to win yesterday, but we're not there yet and there are still some things that we have to do to win on the consistent basis."
On if there is a backup plan for when communication breaks down over the headsets:
"Of course we do. We use our regular system that everybody else does, but we can use hand-signals and you can go old school and send different players in with the plays. It won't come to that. We just didn't handle some situations as well as we needed to, the clock snuck up on us a few times and we have to clean that up."
On what he liked about defensive end Michael Johnson's performance on Sunday:
"What we brought him here to do: rush the passer. But not just rush the passer; play the run. You look at just about every one of his plays – to me, as I look at a player, every time you get an opportunity to strip the football, we want you going for the ball. Michael is doing that for the most part. I just liked his overall play. He tweaked his ankle a little bit early. Got rolled up again. Wasn't lucky with that, but shook it off, came back in. We'll need play like that from Michael throughout."
On the mood of the team coming back from Pittsburgh in comparison to the mood coming home from Atlanta last week:
"It's kind of obvious, probably. It felt good. It's a feeling you want to have again. A lot of excitement, I'll just say that, in our locker room. When you get a win and you haven't had one… so many people contributed, and you can tell by their reaction on whether they felt like they were a part of it. And everybody felt – from their reaction – [they] helped us win that football game. We saw that on the field right after the game, going into the locker room. Of course, the ride home was as good of a ride as we've had – everything's a little bit better. Looking forward to seeing the players tomorrow. Today is our day off, so as I've said, we haven't really talked to them. The mood will be different.
On if quarterback Mike Glennon's arm strength is a potential weapon for this offense:
"No doubt. Before the game – [I] had been keeping Mike loose all week. I asked him if he needed a sleeping pill this week and all that; he assured me he didn't. But before the game, I said, 'Hey, Mike, how far can you throw the ball?' But he has a great arm, so a lot of the throws, he's confident that he can get the ball wherever. But that can get you into trouble some times. You feel like, 'Hey, I can force any ball anywhere.' And that's what I like about him: he doesn't take a lot of chances. Threw the ball away when he needed to. Taking that sack late in the game, that was a big play. As I look at quarterbacks' decision-making – and he made good decisions throughout the day, and if he couldn't get a ball some place, he put it where no one could get it. Again, that's a big game to build on, but he'll tell you there's a lot of plays we left on the football field with that too."
On if Glennon's ability to throw to fade routes is something that needs to be worked on:
"There's a lot that we have to work on. There are a couple of fade routes that we'd like to have back where we threw the ball a little bit low instead of getting the ball up a little bit higher where we do have an advantage on the DB a little bit. I guess I'm talking too much strategy now though, aren't I? No, again, there's some things we can work on and we will."
On the performance of the offensive line:
"Protection was pretty good. Overall, very good. Still, as you break it down individually, there's a couple of areas we do need to improve. But as a group, there were enough holes to make our running game relevant, and to also, of course, buy time. And that's another thing Mike [Glennon] did a good job of. Sometimes when you're one read [isn't open], dumping it down; that's a good option for you."
On if there is any concern about how many yards per pass attempt the team has allowed:
"Just like everything else, there's a lot of areas we need to improve on. But we got better in some areas. As far as the yards per catch, that can be misleading sometimes. We're disappointed in some of the third-and-longs we had yesterday – you shouldn't lose third-and-long; not with how we play ball. Some of those situations and a couple of the play action passes that we gave up, more disappointed in those areas than yards per catch and things like that. We shouldn't give up a lot of big plays, and we're giving up a few. Again, we'll get that ironed out eventually."
On how critical it was to shut down Pittsburgh's rushing attack:
"Going in, I talked all week about how [Le'Veon] Bell is a great running back – maybe one of the best in the league – and of course, with [LeGarrette] Blount. It was a big challenge to not let their running game get going. Our defense did a good job of that: playing the run. With an offense like that, you take away the run, be careful what you ask for a little bit when you have a player like Ben Roethlisberger leading the charge. They had a couple of opportunities. We let a couple get behind us. That's part of some of the things I'm talking about we need to take care of. But it was important [to stop the run].
On the defense forcing a three-and-out late in the game to get the ball back with a chance to win:
"Gave us a chance. To me, how we started the game and how we ended it – the start of deferring, shutting them down, getting into position, and then getting a takeaway; great play by Michael [Johnson], good by I think Jacquies [Smith] to get the ball. So [they] put our offense in position to score there early [and] take the lead. And at the end, well now, it's on the defense. You know we're going to play, we have to play tight coverage – tight man coverage for the most part – one-on-one, can't let them convert, and our guys came through to give our offense a chance to win it at the end again. Defense and offense working together."
On if it is more special getting his first win with the Buccaneers against his friend and Steelers head coach Mike Tomlin:
"I can't say that it's any more…we needed a win as much as anything. As I told Mike [Tomlin] after the game, 'Mike, we needed this a lot more than you did.' So I think it's documented what Mike's done in the league. Just a class organization. Mr. Rooney stopped by the dressing room after the game to congratulate us. I mean, how many people would do that? Any win is special, but you know when you get one against a great organization like that, it's one to remember."