STORY HIGHLIGHTS
WR Russell Shepard made the Bucs' roster in 2013 and 2014 due to his outstanding special teams work
Shepard's critical third-down catch in the fourth quarter was the first reception of his career
Thomas McGaughey, now the Jets' special teams coach, made an impact on Shepard at LSU

If the Tampa Bay Buccaneers were handing out helmet stickers to anyone who contributed, even in a small way, to their dramatic win in Pittsburgh on Sunday, they might want to mail one to Thomas McGaughey, courtesy of the New York Jets.
McGaughey is in his first year as the Jets' special teams coordinator, which makes him a pretty unlikely contributor to the Bucs' success. But something he said to a young man with NFL dreams in 2011 was the first domino in a chain that led to a big play from an unlikely source on Sunday.
When McGaughey was hired as LSU's special teams coordinator in 2011, he encountered a player on the roster named Russell Shepard. Shepard came to Baton Rouge as one of the nation's top recruits, but he spent most of his time with the Tigers in a hybrid role as quarterback-slash-receiver-slash-running back. He was heading into his junior season, still dreaming of playing football professionally. That's when McGaughey gave him some outstanding advice.
"We had so many talented guys at LSU, and some of your best players had to play special teams," said Shepard. "My last year or two at LSU I played special teams and I was actually introduced to it by Coach McGaughey, who's with the Jets now. He introduced it to me and said, 'If you're going to make it in the league you have to be able to play special teams.' That's where it started."
Shepard wasn't drafted but he signed with the Philadelphia Eagles as a rookie free agent in the spring of 2013. The Eagles waived him during the final roster cuts and the Bucs jumped in with a waiver claim. Shepard not only got his spot on an NFL team but kept it his entire rookie season…and almost exclusively due to special teams. An outstanding "gunner" on the punting crew, he finished third on the team with six kick-coverage stops and also forced a fumble.
The new year brought in a new Buccaneer coaching staff, meaning Shepard, who saw virtually no action on offense as a rookie had to prove his worth all over again. New Head Coach Lovie Smith and new General Manager Jason Licht were overhauling huge chunks of the depth chart, and there was certainly no guaranteed spot a player of Shepard's profile. He knew, however, that Tampa was where he wanted to be.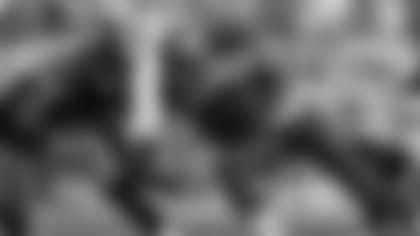 WR Russell Shepard's first NFL catch converted a critical third down for the Buccaneers on Sunday in Pittsburgh
"Going through the offseason, even through the first few games of the season, I was telling my parents and the guys back home that I wanted to be a part of this team," said Shepard. "I think Coach Lovie is really doing something special here and I just want to be able to contribute some way, somehow."
As the offseason program and then training camp and then the preseason games came and went, different names would rise to the top from time to time from among the dozen or so receivers on the roster. Tommy Streeter, Chris Owusu, Louis Murphy, David Gettis, Solomon Patton…but when the dust had settled in Week One of the regular season, there was Shepard, still standing.
Once again, there was little doubt that special teams had punched his ticket to the active roster. Now a core guy in the kicking game, he was just too valuable to let go, especially for a coach who so vocally expounds the importance of that phase of the game. Sure enough, Shepard notched a special teams tackle in each of the Bucs' first three games of the season.
To Shepard, this meant he had met his primary goal of the offseason.
"I'm excited to be a part of it," he said. "I'm just going to do my part, whether it's running down there and tackling somebody, blocking, catching balls. Whatever they ask me to do I'm going to do to the best of my ability."
But it was in Tampa Bay's fourth game – and first win – of 2014, that Shepard made his loudest play yet as a Buccaneer. With his team trailing by four points and facing a third-and-five at its own 30, he lined up in the slot, caught a short pass up the right seam and turned it into a 22-yard gain. It was the very first catch of Shepard's NFL career, and it couldn't have come at a more important time.
The Bucs wouldn't score on that drive – four shots at the end zone from the Pittsburgh 14 came up empty – but they would flip field position so that when they got the ball back with 40 seconds left in the game they had a chance. Louis Murphy's 41-yard catch then put the Bucs in position to win it with seven seconds left on Vincent Jackson's diving touchdown catch.
Remove Shepard's big play from the mix and the Bucs might have still found a way to win. It doesn't stretch the imagination, however, to picture them never getting another scoring opportunity if they had to punt from their own side of the field with less than six minutes to play.
"We prepare," said Shepard. "You never know when your time is coming. This is a crazy league. I knew my opportunity was going to come at some point this season and I was excited just to contribute.
"The one thing we stress on this team is to be a pro's pro. It's one thing to be here, but a pro's pro is a guy that prepares for every situation, no matter what time it is, what time of the year or the situation. The good thing is that we've got veteran guys like Vincent Jackson and Louis Murphy. They really mentor us young guys and teach us that you never know when your time is coming but you've got to be prepared because it is going to come."
Shepard would never have been on the Bucs' sideline Sunday if he hadn't made a concerted effort to excel on special teams.
"Going down there and tackling somebody is kind of the opposite thing you want to do as a wide receiver, but it gave me the opportunity to [play on offense]," he said. "It's just a great opportunity to be a part of this team. It's exciting to contribute and to be able to do certain things. To contribute to a win in that type of environment, with that group of guys – it was fun."