STORY HIGHLIGHTS
Now fully focused on football, RB Jeff Demps is turning heads every day on the practice field at Bucs camp
CB Anthony Gaitor returned to the team on Monday and immediately made an impact on the field
Depth chart competition is heating up at wide receiver, kick returner and fullback

When Jeff Demps lines up in the backfield during a practice at the Tampa Bay Buccaneers' training camp, the linebackers on the other side of the field search for whatever clues they can find. What stance is he in? What's his depth in the backfield? Which way does the formation suggest he will be heading?
Like a major league batter guessing pitch types against a fireballer, those Buccaneer linebackers are looking for ways to counter speed with predetermination. When you're potentially about to go one-on-one with Jeff Demps, you don't want to counter speed with speed.
Buccaneers Head Coach Lovie Smith believes Demps, the former Olympic track medalist, is the fastest player in the NFL. Demps wouldn't argue. "I don't think there's any doubt," said the former Florida Gator two-sport star. "If anybody challenges me, I'm taking myself all day."
Tampa Bay defenders are forced to take on that challenge from time to time during camp, and it doesn't always go their way. The first big eruption from the sideline bleachers, on Sunday evening, was the result of a Demps wheel route during a one-on-one passing drill, when the speedy back got loose down the right sideline and suddenly had a five-yard lead on the defender. The lucky Buccaneer quarterback dropped the deep ball in perfectly and Demps had an easy touchdown. Smith said plays like that have become a common sight during the early days of camp, which is obviously a good thing for Demps in his quest to make the roster.
"What you do is continue to put players in positions and the ones that make a lot of plays [get noticed]," said the coach. "I kid the guys always and ask them [if they] were they at practice, because if they don't do anything, it's hard to kind of notice them. Jeff seems to get noticed just about every day. There's tough competition there. I like all of our running backs. He brings something a little unique to the position, but we'll see."
For the first time, what Demps is bringing to the position – to any position the Bucs want to use him in, actually – is his undivided attention. He finished up his career at Florida in 2011 but put his football career on the backburner to focus on the Olympics. He spent 2012 on the New England Patriots' practice squad, then was traded to the Buccaneers in a deal that sent LeGarrette Blount to New England last fall. He didn't actually join the Bucs, however, until September due to continued track commitments. This time around, he is solely a football player, and he thinks that's going to make a big difference.
"It's given me that extra step that I need," said Demps. "Coming in from track season I'm already behind and I've got to learn the playbook and get into football shape. This year I was able to do the mini-camp and the OTAs, so I feel like I'm on an even playing field with everybody else."
Demps even put in extra work after the Buccaneers finished their offseason program in June, specifically trying to improve his pass-catching skills because he thought he would be more valuable to the offense if he could succeed on plays like the wheel route that got him noticed on Saturday.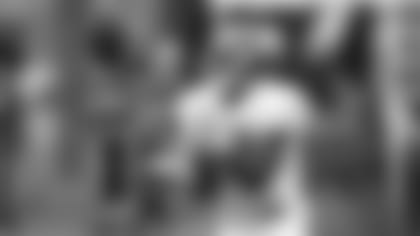 Without his track career dividing his attention this summer, RB Jeff Demps spent a lot of extra time working on his hands
"I was able to get a lot of work in over the summer, and catching was one of [the things I worked on]," he said. "So whenever I'm able to come out of the backfield and catch some balls I'm just trying to take advantage of it and catch every ball that's thrown to me. I know I have speed, so whenever I'm able to get the one-on-one against a 'backer I figured that would help me out a lot. So over the summer I was working a lot on catching the ball out of the backfield and down the field, stuff like that.
"I'm just trying to get in where I fit in. Whenever my number's called, I'm just trying to get on the field and make something happen."
Cornerback Anthony Gaitor will get another shot at a Buccaneers' training camp.
The Bucs made a quartet of roster moves on Tuesday, shortly before their fourth practice of camp, most notably bringing back fourth-year cornerback Anthony Gaitor. The team also signed defensive tackle Jibreel Black, an undrafted rookie out of Michigan, while waiving running back Brendan Bigelow and wide receiver Quintin Payton.
Gaitor spent his first three NFL seasons (2011-13) in Tampa after being drafted in the seventh round out of Florida International. The Buccaneers waived him in May and he had a brief stint with the Miami Dolphins this summer before being released again in late June. Injuries cost the 5-10, 182-pound Gaitor half of his 2012 season and all of last year's campaign, but he has played in 12 regular-season games with two starts and contributed 10 tackles and five passes defensed.
Gator's return coincides with recent minor injuries suffered by Alterraun Verner and Rashaan Melvin. Verner tweaked a hamstring and Melvin rolled an ankle, and while both cornerbacks should be back on the field relatively soon Smith didn't want to be shorthanded at that position during the dog days of training camp.
Gaitor stepped immediately into practice on Monday, in fact, and even had his own big moment, returning an interception for a touchdown.
"Putting a couple cornerbacks on the injury list, you can't get in a hole," said Smith. "It puts too much pressure on the other guys. When we released Anthony, I told him it was a numbers game. We may end up calling you back; stay ready. Because he never really got a true chance to show what he can do. He's back, made a couple plays, of course the pick-six out there today. We're taking those."
Black (6-2, 278) played four seasons at Michigan and was a full-time starter last year, when he recorded 27 tackles, 2.5 sacks and 7.5 tackles for loss. Overall, he played in 52 games for the Wolverines and made 16 starts, finishing with 72 tackles, 7.0 sacks and 14 tackles for loss.
Bigelow and Payton were both rookies signed after the draft, the former on May 15 and the latter on May 21. Bigelow played his college ball at Cal while Payton is a product of North Carolina State.
Lovie Smith said after Monday's practice that the heat in Tampa is "no joke." Neither is the competition, which has really been heating up on the practice field at One Buc. Here are a few observations from Monday's practice:
The team continues to experiment with the two guard positions on the offensive line, as well as the primary reserve spots behind starting tackles Anthony Collins and Demar Dotson. Versatile veteran Jamon Meredith spent the first few days of camp getting a lot of snaps as the first-team left guard, but on Monday that role was primarily filled by rookie Kadeem Edwards. Instead, Meredith was seen playing both tackle positions at various times for the second-team unit.
The receiver competition is a long way from being settled, but Smith has taken notice of the strong work being put in by one of the lesser-known candidates, second-year man Tommy Streeter. "For receivers, if you're any good, you get a chance," said Smith. "Odds are, you're going to get balls thrown your way. He has made a few plays. We have seen definite improvement in him."
Mike Jenkins continued to see a lot of action at left cornerback with Alterraun Verner temporarily sidelined. The Bucs obviously appreciate having an experienced second option at that critical position. While Verner is out, the most common first-team group of cornerbacks has been Jenkins on the left side, Johnthan Banks on the right side and Leonard Johnson at nickel.
Second-year fullback Jorvorskie Lane is getting significant first-team action in two-back sets. On Monday, he even got a carry during a heavy-hitting 9-on-7 running drill near the goal line and appeared to pop it around the left edge (it's hard to know for sure without full tackling). It's not yet clear what size of a role the fullback will have in Jeff Tedford's offense, but Lane is making a good early impression.
Coach Smith said he has been particularly impressed with the work the defensive tackles have put in during the first week of camp.
Smith wasn't kidding when he mentioned recently that he and his staff are combing through the whole roster to find kick return candidates. The Buccaneers' had a kickoff return period on Monday afternoon and no fewer than eight players were in the rotation to catch the ball: wide receivers Skye Dawson, Lavelle Hawkins, Chris Owusu, Eric Page and Solomon Patton and running backs Jeff Demps, Bobby Rainey and Charles Sims.