STORY HIGHLIGHTS
With Adrian Clayborn on I.R. and Michael Johnson sidelined, the Bucs will start Da'Quan Bowers and William Gholston at DE
Bobby Rainey will take Doug Martin's spot as the starting running back
The Rams kept all three of their QBs active, including Shaun Hill, who was injured last week/li>

The Tampa Bay Buccaneers will have two new starters at defensive end on Sunday and a different look in the offensive backfield, but their goal on game day remains the same as a week before: Give the home crowd a reason to come alive.
In his first year at the Buccaneers' helm, Head Coach Lovie Smith has made it clear that re-establishing the type of home field dominance the team once enjoyed around the turn of the millennium is a primary goal. That didn't happen in last week's season-opening loss to the Carolina Panthers, but the potential was obvious. Down 17-0 in the fourth quarter, the Bucs rallied furiously and the Raymond James Stadium crowd responded in impressive fashion.
"It's left up to us to start fast," said Smith of his team's second chance at pumping up the home crowd. "At the end of the game, when we gave our crowd something to cheer about, they were in it and we had that home field advantage we've talked about. We're going to start fast and hopefully play that way throughout the game."
The new starters on the edges of the defensive front are Da'Quan Bowers and William Gholston, who are returning from injury just in time to help a team that lost Adrian Clayborn to injured reserve and Michael Johnson, temporarily, to an ankle injury. Bowers and Gholston have been sidelined for about a month due to abdomen and shoulder injuries, respectively, and if it's a tall order for them to step directly into the starting lineup, they'll get help from reserves Larry English, Scott Solomon and Jacquies Smith.
"Michael hurt his ankle about the third play of last week's game," said Smith. "He worked through it, but this week he just couldn't quite get back. It's tough when you have an injury like that, so we have to move on. The good part about it is, we're losing Michael but we're getting a couple other players back, and I'm talking about Da'Quan Bowers and Will Gholston."
As for the offensive backfield, it will be without Doug Martin, who suffered a knee injury in the opener after just nine carries. The Bucs' once impressive running back depth is now being tested with Martin's injury and the earlier loss of rookie Charles Sims, but two intriguing runners from last season should be able to carry the load.
"We've always talked about playing multiple running backs, so today Bobby Rainey will start and Mike James will play an awful lot, too," said Smith. "We feel good about those two guys leading it."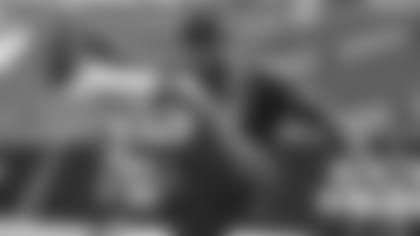 Second-year DE William Gholston returns from injury and steps right into a key role for the Bucs
James didn't play much during the preseason due to injury and did not log a carry in the season opener. However, he was in the midst of a breakout as a rookie last year after Martin got hurt before he suffered his own season-ending. As with the new availability of Bowers and Gholston, the Bucs are missing some key players but are also getting some complementary good news at the right time.
"Adrian and [CB] Mike [Jenkins] being out for the year, it hurts your ballclub, any ballclub, when you lose two of your starters, two of your better players, but you do have to move on," said Smith. "Everybody has injuries. We are getting other players back, which is a good thing, but we have a few of our key guys still out this week."
The lineup will not change at quarterback, where Josh McCown will play his second game as the Bucs' new starter at the most important position on the field. McCown finished the Carolina game on a strong note in a Buc comeback that just fell short, but two ill-advised throws earlier in the game led to interceptions that helped make that rally necessary. Smith is confident that McCown will start Sunday's game the way he finished the last one.
"Of course we have to do a better job with ball security," said the coach. "Those two interceptions from last week, we can't have. But I love the way Josh and the rest of our offense finished off that fourth quarter. We want to start off that way today. [On defense], I thought we started fast and finished strong. This week it starts up front. We need to be able to get better pressure. We didn't get enough pressure last week and we have to do a better job with that."
That defense will be pursuing Shaun Hill, who gets the start under center in the absence of Sam Bradford. Bradford landed on injured reserve in the preseason, pushing Hill into the top spot, but Hill left the Rams' Week One loss to Minnesota at halftime with a thigh injury. Though he was limited in practice this week, Hill will apparently try to go today. However, the Rams kept not one but two backup quarterbacks active in Austin Davis and Case Keenum, which would appear to be insurance against Hill struggling with the injury again.
St. Louis is also without starting left defensive end Chris Long, who had ankle surgery this week and is now on the injured reserve list with the team's one "designated for return" tag. Seventh-year veteran William Hayes will start in Long's place. The Rams' seven inactives are DB Lamarcus Joyner, CB Trumaine Johnson, RB Tre Mason, RB Trey Watts, G/C Barrett Jones, DT Matt Conrath and TE Alex Bayer. Joyner and Johnson are out due to injury.
In addition to Martin and Johnson, the Buccaneers also declared the following players inactive: CB Rashaan Melvin, T Kevin Pamphile, G Rishaw Johnson, G Kadeem Edwards and TE Austin Seferian-Jenkins. Martin, Michael Johnson, Melvin and Seferian-Jenkins are out due to injury.
The Buccaneers serve as host to the St. Louis Rams in Week Two of the 2014 season, with kickoff scheduled for 4:05 p.m. ET at Raymond James Stadium on Sunday. The game will be broadcast on television by FOX and on radio through the Buccaneers Radio Network and its flagship station, US 103.5 FM. That radio broadcast will also be carried live on Buccaneers.com.