Sunday's game between Tampa Bay and Oakland was one of the most unusual in Buccaneers team history, at least in statistical terms.
For instance, the Buccaneers allowed a team-record 626 total yards of offense and  yet the game came down to a fourth-down completion in the 73rd minute of action. Meanwhile, the Raiders won despite committing an NFL single-game record 23 penalties, which cost them 200 yards.
Obviously – and as those above numbers demonstrate well – the numbers are secondary to the game's outcome. The Buccaneers just missed on a chance to record a three-game winning streak for the first time since 2013, an outcome that would have kept them just a half-game out of first place in the NFC South. And, of course, the team is still looking for that elusive first win at home to pair with a stellar 3-1 road record.
That said, there were some statistics worth noting on Sunday, some of them continuations of positive Buccaneer trends and some of them just unusual.
For instance, the Buccaneers came into their Week Eight contest ranked second in the NFL in third-down defense. Prior to that game, Tampa Bay's defense had allowed a conversion rate of 32.9% on third downs; only Miami, at 31.3%, had fared better. By comparison, the league-wide average on third down to that point was 39.5%. At halftime, it appeared that might be key to another Buc victory, as the home team led 10-3 and Oakland's offense had converted on just one of six (16.7%) of its third downs. However, the Raiders turned it around significantly after halftime, converting on six of 12 third downs in the second half and overtime. Even with that improved run by Oakland, Tampa Bay's defense still ranks fifth in that category after eight weeks, at 34.0%.
Here are some other individual and team notes of interest after Sunday's game:
ran 19 times for 69 yards and scored his first touchdown as a Buccaneer on a one-yard run that gave Tampa Bay a short-lived 24-17 lead in the fourth quarter. That comes on the heels of 101 and 154-yard rushing performances in his first two starts as a Buccaneer, in a Week Five win at Carolina and a Week Seven victory at San Francisco, respectively.
Rodgers' 324 yards rushing yards over those three games are sixth-most in the NFL in that span, which also includes a bye week for his Buccaneers. Of those players who only played three games between Weeks Five and Eight, only Miami's Jay Ajayi (460) and Dallas's Ezekiel Elliott (387) had more.
Most Rushing Yards Per Game Since Week Five, NFL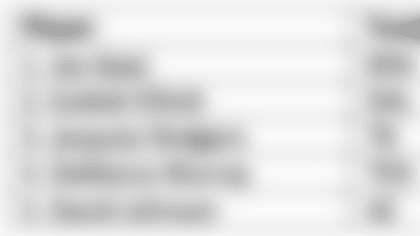 Those three games were also the first three starts for Rodgers, who joined the team on September 13 as a free agent. The only running back who has ever run for more yards in his first three starts as a Buccaneer was Cadillac Williams, a first-round draft pick in 2005. Williams set an NFL record with 434 rushing yards in his first three career games, all of them starts. Thus, Rodgers is the only free agent the Buccaneers have ever added who has rushed for at least 300 total yards in his first three starts with the team.
The Buccaneers have rebounded from their early-season turnover problems in a big way. In fact, since their Week Five win at Carolina, the Bucs have committed just one turnover in three games and are tied for the second-fewest giveaways in the NFL in that span.
Fewest Turnovers Since Week Five, NFL Teams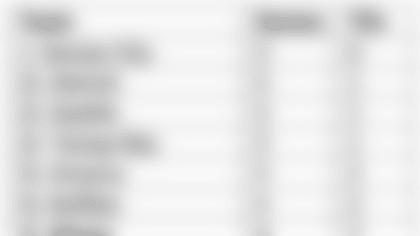 The Buccaneers committed 11 turnovers during their 1-3 start to the season, with those giveaways leading to 51 points. Their lone turnover in the last three weeks resulted in seven points. Meanwhile, Tampa Bay's defense has flipped its early-season script, too. After securing only two takeaways in those first eight games, the Bucs have grabbed eight in the past three contests. Tampa Bay's plus-seven turnover ratio since Week Five is the best in the NFL in that span.
Turnover Margin Since Week Five, NFL Teams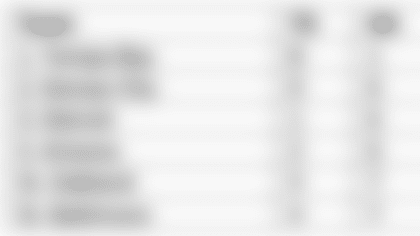 CB Brent Grimes broke up two more passes in Sunday's loss, giving him a team-high 11 on the season. Grimes continues to move up the league's leaderboard in that category, thanks to nine breakups in the Bucs' last four games. Grimes is tied for second on the list and tied for first among players who have only had seven games so far.
Most Passes Defensed, NFL, 2016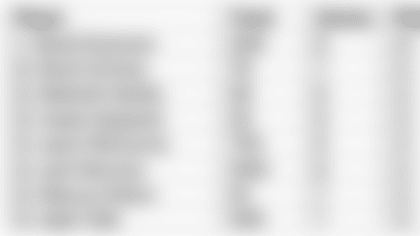 Grimes, who signed with Tampa Bay as a free agent in March after three straight Pro Bowl seasons in Miami, has had at least two passes defensed in five of his seven games as a Buccaneer. That includes each of the last four. Pass defensed totals are available via Statspass through the 1994 season, and in that span only three Buccaneers have ever had a streak of four games with at least two PDs in each. Grimes is the first to do it in a dozen years.
Four Consecutive Games with 2+ Passes Defensed, Buccaneers, Since 1994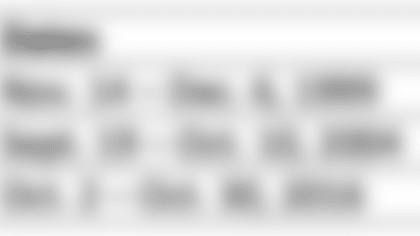 There are no recorded streaks of a Buccaneer with five straight games of 2+ passes defensed, something Grimes could accomplish with another good outing on Thursday night against Atlanta.
The Buccaneer record for passes defensed in a season, as recorded by Statspass, is 25 by Abraham in 1999. Ronde Barber had 24 in 2001, as did Ricky Reynolds in 1992. Grimes is on pace for just over 25.
One area in which the Buccaneers have fared well as a team is goal-to-go situations, on both offense and defense.
Tampa Bay faced two such situations in Sunday's overtime loss to the Raiders and converted both of them into touchdowns. As such, the team is still perfect in that regard, having produced touchdowns on all eight of its goal-to-go opportunities in 2016; the Pittsburgh Steelers are the only other team in the NFL with 100% TD efficiency in that category, having found the end zone on all seven of its chances.
Best Goal-To-Go Touchdown Rate, NFL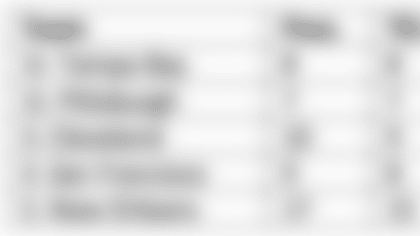 The Buccaneers are also faring relatively well in goal-to-go situations in 2016 after forcing Oakland to settle for a field goal after gaining a first-and-goal on Sunday. The Raiders did reach the end zone on their next two goal-to-go opportunities, giving the Bucs' defense a 64.7% mark on the season in that category. That is good for eighth-best in the NFL.