STORY HIGHLIGHTS
Tampa Bay's conversion of a third-and-23 was an impressive play AND an unexpected event
The Bucs' passing attack has been among the NFL's most prolific over the last four weeks
While third-down defense was a problem for the Bucs earlier in the season, that area has seen significant improvement

The Tampa Bay Buccaneers lost to the Chicago Bears, 21-13, Sunday at Soldier Field in Chicago, Illinois, falling to 2-9 on the season. Here are some of the more notable statistics and milestones from Sunday's game:
Late in the first half, as the Bucs were trying to add to their 7-0 lead, a pair of penalties helped push the offense back from the Chicago 37 all the way to midfield. After an incompletion on second down, the visitors faced a third-and-23, which is obviously a very low-percentage play. QB Josh McCown took a shotgun snap and drifted to his right, motioning to RB Bobby Rainey to move towards the sideline, perhaps as a decoy. Moments later, McCown lofted a pass over the hands of Chicago CB Demontre Hurst and into the general vicinity of WR Vincent Jackson. Jackson made a fantastic leaping catch and tapped his toes in-bounds to gain 27 yards and convert the long third down. It was a phenomenal play by McCown and Jackson…and as it turns out, an extremely rare one. It was in fact, the first time all season that the Buccaneers had converted a third down that needed more than 20 yards.
That's not even the most incredible part. The Buccaneers' media relations department has statistical charts breaking down third-down plays in a number of categories, including yards needed. Those charts go back through 1999. Not once before Sunday's game, in that span from 1999 through Week 11 of 2014, had the Buccaneers converted a third down needing more than 20 yards. They had had 66 tries in that span, and 67 if you include the postseason (one attempt in 2005). The "Play Finder" search tool on Pro Football Reference goes back one more year, to 1998, and there were no such conversions for the Bucs in that year, either. Thanks to the Elias Sports Bureau, we know that the most recent Buccaneer conversion of a third down of longer than 20 yards was on Sept. 21, 1997. A 20-yard intentional-grounding call on QB Trent Dilfer had put the Bucs into a third-and-29 hole around midfield against Miami. On the next play, Dilfer threw a screen pass to RB Warrick Dunn, who promptly scooted 58 yards for a touchdown.
Overall, the Buccaneers were seven for 17 on third down tries at Soldier Field. After converting on just 30 of 91 tries (33.0%) through their first eight games, the Bucs have succeeded on exactly half of their attempts in the last three outings, 22 of 44. Those three games coincide with McCown's return to the starting lineup, and one change of note for the Bucs' offense in that span has been a greater ability to convert more difficult third downs. Including Mike Glennon's most recent start, against Cleveland in Week Nine, the Bucs have had a good month on third downs of more than 10 yards. The team was 0-24 in that category through seven games but has been 5-13 since.
Jackson's had another big third-down catch in the fourth quarter, helping to convert a third-and-10 and keep a field goal drive alive with a diving 40-yard grab on an improvised play with McCown. Those were his two longest receptions on a day on which he finished with 117 yards on five receptions. Meanwhile, Louis Murphy used an impressive tackle-breaking 54-yard catch-and-run to help him get to 113 yards on six catches. That marked the first time since 2012 that the Buccaneers had two 100-yard receivers in the same game, and only the 10th time in franchise history that has occurred. As seen in the chart below, those occurrences have tended to come in clusters, grouped around such outstanding duos as Jimmie Giles-Kevin House, Mark Carrier-Bruce Hill and Vincent-Jackson Mike Williams. Jackson has been involved in three of the 10 games in the chart, tying Carrier and Hill for the most.
6-117
- Jackson's 100-yard receiving game was his 12th in 43 games as a Buccaneer. That moves him out of tie with Keyshawn Johnson and Joey Galloway and into sole possession of third place on the Bucs' all-time list in that category (Johnson has a 12th 100-yard game in the playoffs, but this is covering regular-season play only). Carrier (15) and House (14) stand first and second on the list. Jackson has put himself among the team's leaders in 100-yard receiving games at a much more torrid pace than the rest, averaging one 100-yard outing every 3.6 games. Below are the top five Bucs on the 100-yard receiving chart and how frequently they accomplished that feat among all their games with the team.
5.2
- Jackson remained in eighth place on the Bucs' all-time receiving yardage chart after his big game in Chicago, but he moved into position to jump at least two more spots before the season is over. At 3,286 yards as a Buccaneer, Jackson now needs 158 more to surpass Gerald Carter (3,443) for seventh place and 207 to move past James Wilder (3,492) into sixth place. Keyshawn Johnson holds the fifth spot, with 3,828 yards, which would require 543 more yards from Jackson to surpass. With five games left to play, that's conceivable, but it would take an average of 108.6 yards per game.
While Jackson and Murphy were both passing the century mark, rookie WR Mike Evans saw his own streak of 100-yard receiving games end at three. However, his superb month of November continued as he recorded 49 yards and a touchdown on three receptions. While that marked the first game of the season in which Evans did not catch at least four passes, it did push him over 500 yards for the month. In fact, Evans already has the second-best receiving-yardage month in franchise history, and with the benefit of a fifth November game next Sunday, he's almost certain to take over the top spot.
Bucs All-Time Single-Month Receiving Yardage Leaders
3
- Evans' six receiving touchdowns are the most any Buccaneer has ever recorded in a single month. It is also just one shy of the franchise mark for total offensive touchdowns in a month.
Bucs All-Time Single-Month Offensive Touchdown Leaders
6
- Evans now has eight receiving touchdowns on the season, the second-most in a single season by a Buccaneer rookie. He has scored a touchdown in four consecutive games, matching the franchise record. There have been five other four-game streaks in team annals, most recently by Mike Williams across the 2010 and 2011 seasons. (12/19/10 vs. Detroit- 9/11/11 vs. Detroit).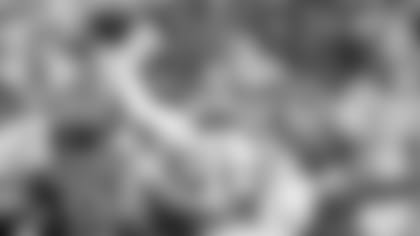 QB Josh McCown has helped the Buccaneeres average nearly 300 gross passing yards per game over the last month
Given the numbers attributed above to Evans, Jackson and Murphy, it's not surprising that McCown threw for a season-high 341 gross passing yards and the Bucs as a team finished with a season-best 301 net passing yards. McCown has had at least 280 yards in each of his last three starts, and the quarterback he replaced, Mike Glennon, had 260 passing yards in his last start to begin the month of November. Only three teams in the NFL have put up more passing yards in the month of November than the Buccaneers, and only four have had a better yards-per-attempt mark. Here are the top five in each category:
Most Gross Passing Yards, Games of November, 2014*:
1,150
Highest Yards Per Pass Attempt, Games of November, 2014*:
8.10
* Including the Oct. 30 Thursday night game that began the Week Nine slate of games.
Tampa Bay's defense held Jay Cutler and the Bears to 204 yards of total offense on Sunday, the lowest by a Buccaneer opponent since Dec. 26, 2010, when Seattle was held to 174 yards. The 112 net yards the Buccaneers surrendered through the air represent the team's best passing defense game since that same 2010 contest, when Seattle was held to 84 passing yards.
Defensive linemen Jacquies Smith, Clinton McDonald and Gerald McCoy all posted sacks of Cutler to aid in that pass defense. McCoy, who suffered a hand fracture in Week Two of the season, missed one game and played several others with a cast, has recorded at least one sack in four of the Bucs' last five games. He has pushed his season total to 7.5 sacks, the second-most by a defensive tackle in the NFL so far this season.
2014 Sack Leaders among Defensive Tackles
5.0
- McCoy, who had 9.5 sacks on his way to All-Pro honors in 2013, is trying to become the first Buccaneer to crack double digits in that category since Simeon Rice had 14.0 in 2005. In the meantime, McCoy has climbed into a tie for ninth on the team's all-time sack list.
26.0
- Jacquies Smith's sack was his fourth in the last four games. It came in his first NFL start at left defensive end; he had previously started at right end against Atlanta on November 9 in place of the injured Michael Johnson. Smith is one of six players who have notched their first career NFL starts this season while with the Buccaneers. That includes, of course, rookies Mike Evans and Austin Seferian-Jenkins, but also non-rookies Smith, Patrick Omameh, Danny Lansanah and Crezdon Butler. Linebacker Orie Lemon was slated to make his first start on Sunday, at strongside linebacker with Danny Lansanah moving from that spot to WLB to cover for the injured Lavonte David. However, the Bears opened in a three-receiver package and the Bucs countered with a nickel set, substituting CB Leonard Johnson in for Lemon.