STORY HIGHLIGHTS
CB Johnthan Banks' early interception Sunday helped the Bucs achieve something the NFL hasn't seen since at least 1998
DT Gerald McCoy is tied for third among all players with 6.5 sacks over the last six weeks
Tampa Bay's punt coverage crew had its best single-game performance in 14 years on Sunday

The Tampa Bay Buccaneers lost to the Cincinnati Bengals, 14-13, Sunday at Raymond James Stadium, falling to 2-10 on the season. Here are some of the more notable statistics and milestones from Sunday's game:
Second-year CB Johnthan Banks set up the game's first score with an interception off Andy Dalton on the opening play from scrimmage on Sunday. Banks returned the pick 32 yards to the Bengals' nine, setting up Patrick Murray's 42-yard field goal. Two weeks earlier, Banks had been involved in a somewhat similar play, as his hit on Washington TE Niles Paul helped create a deflection that Buccaneers LB Danny Lansanah intercepted on the first play of the game against the Redskins. Those two plays represent the only two interceptions on the first play from scrimmage of a game in the entire NFL in 2014. There have been five interceptions in the first minute of the game this year, including the two by Tampa Bay. The others: Chicago S Ryan Mundy intercepted New York Jets QB Geno Smith 23 seconds into their Sept. 22 matchup; San Francisco S Antoine Bethea intercepted New Orleans QB Drew Brees 44 seconds into their Nov. 9 game; and Oakland CB D.J. Hayden intercepted Denver QB Peyton Manning 30 seconds into their Nov. 9 contest. (In all cases, the time cited represents the time when the ball was snapped.)
The last time a team other than the Buccaneers secured an interception on the first play from scrimmage in a game was last Dec. 29 when Baltimore's Corey Graham did it to…wait for it…Cincinnati's Andy Dalton. Dating back to 1998, as far back as the Game Play Finder tool on Pro Football Reference covers, the Buccaneers are the only team to pull off this very specific feat twice in the same season, let alone twice in a three-week span.
Banks' pick on Sunday was his fourth of the season, giving him the team lead in that category by one over Lansanah. The Buccaneers' second-round pick in 2013, Banks also had three interceptions during his rookie season. That makes him the 17th player in franchise history to have back-to-back seasons of at least three interceptions, the first since Ronde Barber from 2010-12. The longest streak of seasons with three or more picks in Buccaneer history belongs to former CB Mike Washington, who did it for six straight years from 1977-82. Banks is only the third player in Buccaneer annals to start his NFL career with two straight three-interception campaigns. The other two were Donnie Abraham (1996-97) and Aqib Talib (three years, 2008-10). Abraham and Talib are the only two Buccaneers to have more interceptions in their first two NFL seasons than Banks' seven.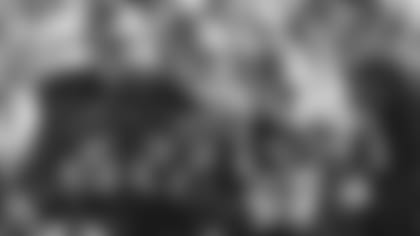 CB Johnthan Banks has seven interceptions through his first two NFL seasons
DT Gerald McCoy is closing in on a milestone that has eluded the Buccaneers, collectively, for almost a decade. The last Tampa Bay player to hit double digits in sacks in a single season was Simeon Rice, who had 14.0 in 2005. The last Buccaneer defensive tackle to pull off that feat was, of course, Warren Sapp, who collected a team-record 16.5 sacks in 2000. McCoy dropped Dalton for an eight-yard loss on third-and-three in the first quarter Sunday, giving him at least one mark in that category for the fifth time in the last six games. McCoy's total is up to 8.5 sacks at the season's three-quarter pole, a pace that, if maintained, would push him to just over 11 by season's end. McCoy is also still in the running to lead all NFL defensive tackles in the sack column this year.
2014 NFL Sack Leaders Among Defensive Tackles:
6.0
- Over the last three seasons, McCoy and Dareus are in a dead heat to lead the DT position in sacks.
2012-14 NFL Sack Leaders Among Defensive Tackles:
18.5
- McCoy's aforementioned hot streak over the last six weeks has made him one of the league's most dangerous pass-rushers in that span. In fact, only two players in the entire NFL have more sacks than McCoy since Week Eight of the season (Monday night's Miami-New York Jets game not included). Here is the star-studded list that makes up the top 10:
NFL Sack Leaders Since Week Eight
5.0
- Though he was considered a starter in last week's game at Chicago, linebacker Orie Lemon technically did not open the game as the Bucs' used a nickel package on the Bears' first snap. Thus, when Lemon was on the field at strongside linebacker to begin Sunday's game against the Bengals, it officially became his first career NFL start. Tampa Bay actually had three players making their first NFL starts in Week 13, as rookie TE Cameron Brate and second-year S Bradley McDougald got the call, as well. Amazingly, the Buccaneers have seen nine different players make their first career NFL starts this season: Brate, Lemon, McDougald, CB Crezdon Butler, WR Mike Evans, LB Danny Lansanah, G Patrick Omameh, TE Austin Seferian-Jenkins and DE Jacquies Smith. Of that group, only Butler and Seferian-Jenkins were not in the starting lineup on Sunday.
Lansanah has actually made his first career start at two different positions this year. He opened games 4-10 at strongside linebacker but has handled the weakside spot for the past two weeks while All-Pro LB Lavonte David has recovered from a hamstring injury. Before David got hurt, he had a seven-game run in which he tallied at least 12 tackles in six of those seven outings. In four of those six games he finished with 14 tackles, a season-high for any Buccaneer defender in 2014. David also had two games in which he racked up three tackles for loss, also a Buccaneer best this year. However, David has company at the top of the list now, because Lansanah set his own career highs in those two categories on Sunday with exactly 14 tackles and three tackles for loss.
A week after limiting the Chicago Bears to 204 total yards in Week 12, the Buccaneers held the Bengals to 288 total yards on Sunday. While sub-300-yard games were not terribly uncommon for Tampa Bay in the 1990s and early 2000s, the NFL game as a whole has taken a turn towards higher offensive numbers. The last time Tampa Bay's defense was able to hold two straight opponents below 300 yards was nearly two years ago, vs. St. Louis on Dec. 23, 2012 and at Atlanta a week later on Dec. 30.
Again, holding teams below 300 yards is far less common across the NFL than it was 10 or 20 years ago. In fact, of the 32 teams in the league, only 11 have even strung together two consecutive games this year in which they've held opponents below that mark. Only two teams have had a streak longer than two games: Arizona (4) and Seattle (two 3-game streaks). Here are all 12 occurrences in the NFL this year of a team holding two straight opponents below 300 yards:
PHI, KC
- Tampa Bay's special teams units had one of their best all-around games of the season, and the punt-coverage group was particularly strong. The Bengals came into the game with the league's sixth-best punt return average as a team, with a mark of 11.0, and number-one return man Adam Jones ranked fourth individually at 13.1 yards per runback. In Sunday's game, Jones and WR Brandon Tate combined to return three punts for a loss of one yard. The Buccaneers are the only team this season that has held an opponent to negative punt return yardage on at least three runbacks. The last team to pull off that feat was the Detroit Lions, who held Cleveland to -10 yards on three punt returns on Oct. 13, 2013. The Buccaneers have held an opponent to negative punt return yards in a game with at least three returns on seven occasions, but not in over a decade. The last such occurrence was against Buffalo on Nov. 26, 2000. The Bills lost three yards on four returns in that contest.