STORY HIGHLIGHTS
DT Gerald McCoy's hot streak has put him among the league's sack leaders at his position
WR Mike Evans pulled off a feat no Buc rookie had manage since Horace Copeland in 1993
Clinton McDonald joined a very short list of intercepting DTs in Buc history

The Tampa Bay Buccaneers lost to the Cleveland Browns, 22-17, Sunday at FirstEnergy Stadium in Cleveland, dropping to 1-7 on the season. Here are some of the more notable statistics and milestones from Sunday's game:
Bobby Rainey's 34-yard gain on a screen pass in the second quarter is the longest reception of his career and the longest by a Buccaneer running back since Doug Martin turned in a 42-yarder against San Diego on Nov. 11, 2013. That was Rainey's lone catch of the game, but he also ran for 87 yards for a total of 121 yards from scrimmage. Rainey has started three games this season and has topped 100 yards from scrimmage in all three. He also had two games with more than 100 yards from scrimmage last season, one of which came in a game he did not start. He has a total of five games with 100 or more yards from scrimmage in the 16 he has played as a Buccaneer and logged at least one carry.
DT Gerald McCoy recorded two of the Buccaneers' three sacks of Cleveland QB Bobby Hoyer on Sunday in Cleveland. That was McCoy's fifth career multi-sack game, tying him with Chidi Ahanotu for the sixth-highest total in franchise history. McCoy also moved past Santana Dotson into fourth place on the Buccaneers' all-time sack list among defensive tackles. The top five:
Warren Sapp…77.0
David Logan…39.0*
Brad Culpepper…33.0
4. Gerald McCoy…23.5
Santana Dotson…23.0
* Sacks were not an official stat until 1982. Logan is credited with 28.5 by Stats, Inc.
McCoy's two takedowns of Hoyer on Sunday give him three over the last two games, which has moved him rapidly up the list of the top sack artists among DTs in the NFL this season. Here are the top eight:
1t. Marcell Dareus (Buffalo)…7.0
2t. Tom Johnson (Minnesota)…5.5
3t. Gerald McCoy (Tampa Bay)…5.0
3t. Henry Melton (Dallas)…5.0
5t. Jurrell Casey (Tennessee)…4.0
5t. Dwan Edwards (Carolina)…4.0
5t. Sen'Derrick Marks (Jacksonville)…4.0
5t. Stephen Paea (Chicago)…4.0
WR Mike Evans led all players in Sunday's game with seven catches for 124 yards and two touchdowns. It was the first 100-yard game and first multi-TD game of his career, and together that constituted a very rare feat in Buccaneer history. The only other rookie who has ever recorded 100 or more receiving yards and two touchdowns in the same game is Horace Copeland. "Hi-C" Copeland pulled off the feat at Atlanta on October 31, 1993, catching TD passes of 60 and 44 yards (his only two receptions of the game) and also ending each play with a celebratory backflip in the end zone.
The last Buccaneer receiver of any type, not just rookies, to have 100+ yards and two TDs in the same contest was Tiquan Underwood at Detroit last Nov. 24.
Before exploding for career highs in every category on Sunday, Evans had already set a very consistent game-by-game pace in his rookie campaign. He had topped 50 yards in the previous four contests, as well, and extending his streak to five made him the first Buc to do that since teammate Vincent Jackson last year from Nov. 17 to Dec. 22. Mike Williams is the last Buc rookie to pull off the feat, doing so from Oct. 24 to Nov. 21 in 2010. Keenan Allen was the last rookie on any team to have five straight 50+-yard games, doing it last year.
With his seven catches, Evans extended another streak: He has caught at least four passes in all seven NFL games he has played. He is the first rookie in the NFL to do that since Saints RB Reggie Bush in the first seven games of New Orleans' 2010 season.
Evans' big day moved him to the top of the Buccaneer's receiving chart for the first half of the season, though only barely over Jackson. Tampa Bay's veteran receiver also caught six passes for 86 yards in Cleveland, leaving both players at 32 catches at the halfway point. Evans has a slight edge in yardage 460-433 and has four TD catches to Jackson's two. If one merely doubles each players totals at the halfway mark (ignoring that Evans missed one of the first eight games), then both receivers would finish with 64 catches and Evans would have 920 yards and eight scores to Jackson's 886 and four TDs. The Buccaneers have never had two wide receivers finish with at least 64 catches in the same season. That is admittedly a little misleading, if only because the 64-catch threshold is so arbitrary; Vincent Jackson and Mike Williams had 72 and 63 catches respectively in 2012. Williams also had 65 grabs in 2011 while Kellen Winslow led the team with 75, but Winslow was a tight end. Running backs Michael Pittman (2003), Warrick Dunn (2001) and James Wilder(1984) were parts of similar pairings with single wide receivers. Still, Jackson and Evans could technically be the first duo of 64-catch wideouts in franchise annals.
A number of Buccaneer players experienced personal milestones on Sunday. They included:
First-year DE Jacquies Smith recorded his first career NFL sack, a seven-yard takedown of Hoyer that ended a second-quarter Browns drive.
First-year DT Matthew Masifilo saw action in a regular-season game for the first time in his career. Masifilo first joined the Buccaneers in November of his 2012 rookie season and had previously been on the active roster for a total of nine weeks in 2012 and 2013, but he had been inactive for each of those contests. Masifilo played on special teams against the Browns.
Rookie T Kevin Pamphile, a fifth-round pick in last May's draft, also saw his first regular-season action. Pamphile had been inactive for each of the Bucs' first seven games, but with Anthony Collins sidelined by a foot injury, he was active against the Browns and saw a limited amount of action at left tackle.
Also due to Collins' injury, veteran Oniel Cousins made his first start as a Buccaneer, playing most of the game at left tackle. Cousins spent his first three seasons in the league with the Baltimore Ravens, who drafted him in the third round in 2008, then was with the Browns from 2011-13.
S Major Wright, who started in place of the recently-traded Mark Barron, finished the game with a career-best and team-high 13 tackles.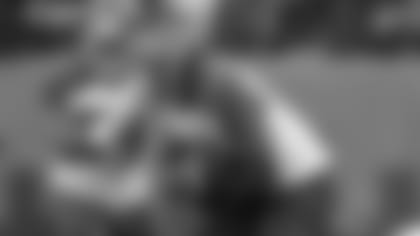 Clinton McDonald is the first Buccaneer defensive tackle to intercept a pass in 11 years
DT Clinton McDonald secured the second interception of his five-year NFL career in the fourth quarter on Sunday when he caught a pass that had been deflected by S Bradley McDougald. It was McDonald's first pick as a Buc but, more interestingly, the first interception by a Tampa Bay defensive lineman in six years, since DE Gaines Adams did it against Green Bay on Sept. 28, 2008. McDonald is the first Buccaneer defensive tackle to pick off a pass since Anthony "Booger" McFarland did the trick in Philadelphia on opening day of the 2003 season (Sept. 8, 2003). Simeon Rice recorded the most interceptions among Buccaneer defensive linemen, with four. Warren Sapp and Dewey Selmon share the lead among Tampa Bay defensive tackles, with three each, although Selmon was playing linebacker during the 1977-78 seasons, when he had all his picks. Here are all 13 defensive linemen who have had an interception in Buccaneer history:
0
* Selmon played defensive tackle as a rookie in 1976 and then inside linebacker for the remainder of his Buccaneer career. His three interceptions occurred during the 1977-78 seasons, when he was playing linebacker.
As I mentioned earlier on Monday in the "Heads AND Tails" article, the Buccaneers had some good and bad moments on third down in Cleveland, on both sides of the ball. Here are a couple additional notes on that topic:
Mike Evans' first 24-yard touchdown catch came on a third-and-11 play, which means it was a successful third-down conversion (really successful). That marked the first time this season that Tampa Bay's offense had converted a third down of longer than 10 yards; it had been 0-20 in that category through the first seven games.
The Buccaneers were a stellar four of seven on third down tries before halftime but were not able to convert any of their five tries after the half. Tampa Bay is 0-15 on third down attempts in the second halves of the last four games; in the game immediately before that, in Pittsburgh, the Bucs converted seven of nine third downs in the second half on the way to comeback victory.
In very close losses to New Orleans, Minnesota and Cleveland in the last month, the Buccaneers' defense held its opponents to four conversions on 17 third-down attempts before halftime (a 23.5% success rate) but then surrendered 13 conversions in 25 attempts (52.0%) after the half in those same contests.