The Tampa Bay Buccaneers fell to the Carolina Panthers, 20-14, at Raymond James Stadium on Sunday, a season-opening contest that included one of the longest runs ever by a Buc fullback and a shutdown afternoon from new Tampa Bay cornerback Alterraun Verner.  Here are some of the more notable statistics and milestones from Thursday's game:
In his first game as a Buccaneer, fullback Jorvorskie Lane turned in the day's longest play, a 54-yard run in the first quarter that got his team from its own four-yard line to the opposing 42. On the play, Jorvorskie lined up in front of Doug Martin in a two-back set and quarterback Josh McCown slipped him a quick underneath handoff before faking one to Martin.  The misdirection worked as Lane burst right through the line and found an open field in front of him.  Lane's 54-yard gain was the 25th-longest run in franchise history and the longest since Bobby Rainey set a team record with an 80-yard jaunt last December against Buffalo.  Depending upon one's definitions of the fullback and tailback positions, it might also be considered the longest run in team history by a true fullback.  It is the longest run by a Buccaneer who only played under the fullback positional tag; Earnest Graham, James Wilder and Jerry Eckwood all had longer runs and were at times considered fullbacks but were also listed as tailbacks during their careers.  Previously, the longest run in Buc history by a player who was only listed as a fullback was a 47-yard touchdown run by Mike Alstott against Atlanta on Nov. 9, 1997.  Lane's run on Sunday is not the longest run in team annals by a player who specifically lined up as the lead-blocker in a two-back set on the play in question.  On a play very similar in design and result to Lane's run, Graham broke off a 61-yarder at Cincinnati on Oct. 10, 2010.
The Buccaneers didn't get the win in Lovie Smith's first game at the helm, but they did get a very nice debut from another newcomer to pewter and red.  Alterraun Verner, the team's new starting left cornerback, almost completely dissuaded Panthers quarterback Derek Anderson from throwing his way.  Verner finished the game with six tackles, which for a cornerback is often the indication of a lot of completions in his vicinity.  Not so in this case.  Three of Verner's tackles came on running plays – and good run support from cornerbacks has always been a key in the Cover Two defense – and another two came on dump-off throws to running backs, which would not have been his immediate assignment.  The only completion thrown in Verner's area was a four-yarder to rookie wide receiver Kelvin Benjamin on third-and-16 in the third quarter.  Verner made the tackle on that play, too, after Benjamin ran a short in across the middle of the field.  According to the video grinders at Pro Football Focus, that throw to Benjamin was the only time Verner was thrown at in the entire game. He also graded out as the top cornerback on Sunday, thanks in part to his excellent run defense.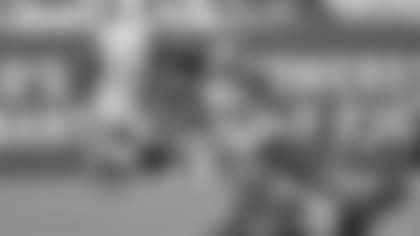 CB Alterraun Verner (21) was excellent in run support on Sunday and was rarely tested by Carolina QB Derek Anderson
All-Pro defensive tackle Gerald McCoy got his first sack of the season in Sunday's opener, dropping Anders for a nine-yard loss on a third-down play in the fourth quarter.  Last year, McCoy finished with 9.5 sacks, narrowly missing out on becoming the Bucs' first double-digit sacker since Simeon Rice in 2014.  Since the start of the 2012 season, McCoy trails only Cincinnati's Geno Atkins in total sacks among NFL defensive tackles.
2012-14 NFL Sack Leaders (Defensive Tackles)
3. Kyle Williams (Buffalo)
4t. Jurrell Casey (Tennessee)
4t. Ndamukong Suh (Detroit)
While McCoy got the Bucs' lone sack of the day, linebacker Lavonte David also did what he does best, tackling ballcarriers behind the line of scrimmage.  David started his season off with a 10-tackle effort that included two stops for loss.  He now has 43 TFLs in just 33 career NFL games, and that's the second-most in the league since the start of the 2012 campaign.
2012-14 Tackle For Loss Leaders
LB Lavonte David (Tampa Bay)
3. LB Von Miller (Denver)
4. DE Robert Quinn (St. Louis)
5. DE Jared Allen (Chicago)
5. DE Greg Hardy (Carolina)
New Bucs quarterback Josh McCown and Tampa Bay's offense struggled to mount sustained drives for the first three quarters of Sunday's opener.  The offense did finally get in gear in the fourth quarter, nearly rallying from a 17-0 deficit as McCown threw touchdown passes for 19 yards to wide receiver Chris Owusu and six yards to running back Bobby Rainey.  McCown was 13 for 19 in the final period, amassing 107 yards and those two scores, and that effort led to a fourth-quarter passer rating of 117.7.  That's the highest fourth-quarter mark by a Buc passer since Josh Freeman put up a 118.8 rating in the final period at Minnesota on October 25, 2012.  McCown is the first Buc to throw two TD passes in the final quarter since Freeman did so against Green Bay on November 20, 2011.
Seven Buccaneers made their NFL regular-season debuts on Sunday: LS Andrew DePaola, CB Brandon Dixon, WR Mike Evans, K Patrick Murray, G Patrick Omameh, WR Solomon Patton and TE Austin Seferian-Jenkins.  Evans and Omameh both started the game.  Another 13 players who had previously appeared in a regular-season game for other teams made their Tampa Bay debuts: T Anthony Collins, C Evan Dietrich-Smith, LB Dane Fletcher, OL Garrett Gilkey, CB Mike Jenkins, DE Michael Johnson, FB Jorvorskie Lane, G Logan Mankins, QB Josh McCown, DT Clinton McDonald, TE Brandon Myers, DL Scott Solomon and CB Alterraun Verner.
Lovie Smith became the Buccaneers' 10th head coach in January and helmed his first regular-season game for Tampa Bay on Sunday.  Tampa Bay head coaches are now a combined 4-6 in their debuts, with Smith, John McKay (1976), Leeman Bennett (1985), Tony Dungy (1996), Jon Gruden (2002) and Raheem Morris taking losses.  Ray Perkins (1987), Richard Williamson (Week 13, 1990), Sam Wyche (1992) and Greg Schiano (2012) won their debuts.
The Buccaneers kicked off their 39th campaign on Sunday.  The franchise is now 15-24 all-time in season-opening games, having lost three of its last four.  Of those 39 seasons, 35 have had 16-game schedules (the NFL was playing a 14-game schedule before 1978 and the 1982 and 1987 seasons were shortened by strikes).  The Bucs have won an average of 4.8 games in the previous 23 16-game seasons that started with a loss. They have won an average of 7.4 games in 16-game seasons that started with a win.  However, two of the Bucs' three best regular-season win totals have come in seasons that started with a loss: 2012 (12-4) and 1999 (11-5).  The Bucs also won 11 games in 2005 after starting the season with a win.  The Bucs have made the playoffs four times after starting the season with a loss: 1982, 1999, 2002 and 2007.