The Tampa Bay Buccaneers fell to the St. Louis Rams, 19-17, at Raymond James Stadium on Sunday, a season-opening contest that included an impressive but not unprecedented performance by running back Bobby Rainey. Here are some of the more notable statistics and milestones from Thursday's game:
Running back Bobby Rainey was one of the Bucs' top performers in the loss to St. Louis, rushing for 144 yards on 22 carries and catching another three passes for 30 yards.  That's the second-highest single-game total by an NFL back through the first two weeks of this season, trailing only a 167-yard outing by Dallas' DeMarco Murray against Tennessee on Sunday.  Last season, Rainey took over as the Bucs' lead tailback in Week 11 against Atlanta (technically, Brian Leonard started the game but Rainey logged 30 of the team's 38 carries).  Since that time, he has posted three 100-yard games, which ties for the fourth-most in the NFL in that span among all players.
Most 100-Yard Rushing Games, Last Nine NFL Regular-Season Weeks:
- All three of Rainey's 100-yard games have also topped 125 yards, as he had 163 in that aforementioned Atlanta game (the ninth-highest single-game mark in Bucs history) and 127 vs. Buffalo on Dec. 8, 2013.  Rainey, Murray, McCoy and Matthews are the only backs with three 125-yard games in the last nine regular-season weeks.  Rainey's nine-week run already has him among the team's all-time leaders in 125-yard rushing games; for instance, Warrick Dunn and Mike Alstott both did it four times while Ricky Bell topped out at three, as did Michael Pittman.  Cadillac Williams had five and Rainey's teammate, Doug Martin, already has six such games in his brief career.  The Bucs' all-time leader in that category is James Wilder, who did it seven times.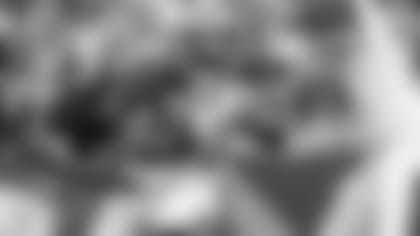 Bucs RB Bobby Rainey has as many 100-yard rushing games over the past nine regular-season weeks as Philadelphia's LeSean McCoy
One more note on Rainey: He got to those 144 yards on just 22 carries, which led to a per-carry average of 6.55 (carried to an extra digit for reasons that are clear on the list below).  That's the seventh-best mark in team history for players with at least 20 carries in a game.  Doug Martin memorably put his name at the top of that list with his incredible 25-251-4 line at Oakland on Nov. 4, 2012, but Rainey's mark is the second-best total by a Buc in the last 15 seasons.  The top 10 in team history are below; note that the 11th spot on the list also belongs to Rainey, for his 5.77-yard average against Buffalo last December.
Best Yards-Per-Carry, Minimum 20 Carries, Tampa Bay History:
- After starting his third NFL season with a 10-stop effort that included two tackles for loss against Carolina, linebacker Lavonte David followed up with seven tackles against the Rams on Sunday and once again dropped two ballcarriers behind the line of scrimmage.  Games with double-digit TFLs are certainly nothing new to David, who has been recording such outings ever since the Buccaneers drafted him in the second round in 2012.  The former Nebraska standout has now played in 34 NFL games and, remarkably, has multiple tackles for loss in 14 of them.  He has recorded
at least one
TFL in 27 of his 34 NFL games.  David ranks second among all NFL players in that category since the start of the 2012 season; he narrowed the gap on leader J.J. Watt just a bit this past weekend but still has a way to go to catch up to the top spot.
2012-14 NFL Tackle For Loss Leaders:
| | |
| --- | --- |
| | |
| | |
| LB Lavonte David (Tampa Bay) | |
| 3. LB Von Miller (Denver) | |
| 4. DE Robert Quinn (St. Louis) | |
| 5. DE Jared Allen (Chicago) | |
- Though the Buccaneers' new-look offense has not yet found a groove in 2014, it has shown some encouraging signs in areas such as completion percentage (67.9%), yards per carry (5.5) and third-down conversion rate (50.0%).  Good numbers in that third category are often indicators of an offense that has been sustaining drives and putting up solid yardage and scoring numbers.  That hasn't materialized yet for the Buccaneers, who are averaging 298 and 15.5 points per game, but if the team can keep its third-down rate up that should eventually give the offense a chance to work deeper into its playbook.  The Buccaneers have actually converted at exactly 50% in each of their first two games, and that's the first time since Nov. 7-14, 2010, against Carolina and San Francisco, that the team has hit at least 50% in consecutive games.
Through two games, rookie Mike Evans is the Bucs' leading pass-catcher with nine receptions, one more than fellow starting receiver Vincent Jackson.  Tampa Bay has had a rookie as its top receiver in four previous seasons, but only twice were those players actual wideouts.  Fullback Mike Alstott (65 in 1996) and running back Warrick Dunn (39 in 1997) did it in back-to-back seasons en route to becoming the Bucs' "Thunder & Lightning" duo in the backfield, but before that only wide receiver Lawrence Dawsey had led the team in receiving as a rookie.  Michael Clayton duplicated that feat in 2004 and also set the team's single-season record for rookies with 80 receptions. Though it is too early to put much stock into projections, Evans is on pace for 72 receptions, which would be the second-best rookie total in Buccaneer annals.  Given that Tampa Bay's offense has plenty of room to improve overall, it's possible that this projection will actually prove to be low.