STORY HIGHLIGHTS
WR Vincent Jackson and RB Doug Martin continue to climb up the Bucs' all-time charts
WR Louis Murphy is the first player to have at least 200 receiving yards and two TDs in his first three games as a Buc
LB Lavonte David is among NFL leaders in both tackles and run stuffs

The Tampa Bay Buccaneers lost to the Baltimore Ravens, 48-17, Sunday at Raymond James Stadium, dropping to 1-5 on the season. Here are some of the more notable statistics and milestones from Sunday's game:
At the end of the first half, Baltimore attempted a 64-yard field goal that, if successful, would have tied the NFL record set by Denver's Matt Prater last year. We'll never know if Justin Tucker had the leg for it, because the kick only went a few yards before it was blocked by Tampa Bay DE William Gholston. That marked the first field goal block for the Buccaneers in five years, as it was last accomplished by safety Corey Lynch in the 2009 season finale at Atlanta (actually January 3, 2010).
He hasn't been a Buccaneer for all that long, but Vincent Jackson is already one of the top 10 receivers in franchise history. On Sunday, Jackson caught four passes for 66 yards, which was enough for him to leap-frog over three big names in Buccaneer receiving history – Michael Clayton, Bruce Hill and Mike Williams. There's a very good chance that Jackson will move up two more spots before the 2014 season is over, as another 541 yards would boost him over Gerald Carter (3,443) and James Wilder (3,492). Jackson currently has 2,952 receiving yards since joining the Buccaneers. As we mentioned in last week's Stat Shots, Jackson is the Bucs' all-time leader in receiving yards per game; his average was at 78.0 before the Ravens game and it dropped just a tiny bit to 77.7 afterwards. To get 541 yards in the next 10 games, he would only need to average 54.1 per outing (obviously). Here are the top 10 players in Buccaneer history in terms of receiving yardage.
| | |
| --- | --- |
| | |
| | |
| | |
| | |
| WR Joey Galloway, 2004-08 | |
| WR Keyshawn Johnson, 2000-03 | |
| | |
| WR Gerald Carter, 1981-87 | |
| 8. WR Vincent Jackson, 2012-Present | |
| WR Mike Williams, 2010-13 | |
| | |
- Mike Evans' 17-yard touchdown catch in the third quarter completed a scoring drive that covered 92 yards in seven plays and two minutes and 47 seconds. It was the Buccaneers' longest scoring drive of the season in terms of yards. The last time the Buccaneers started inside their own 10 and ended up in the opposing end zone was against San Francisco last December 15; that one was also a 92-yard march. Touchdown drives of 90 or more yards don't come along too often; the Buccaneers have recorded 26 of them since the start of the 2000 season, or just a little under two per campaign.
Evans returned to action on Sunday after missing one game due to a groin injury he suffered in Pittsburgh in Week Four. Before leaving that game against the Steelers, Evans contributed to what would be a winning effort with a seven-yard touchdown catch. That means the rookie out of Texas A&M has caught touchdown passes in two consecutive games, the first Buc rookie to do since Mike Williams in the final two games of 2010 (Dec. 19 vs. Detroit and Jan. 2 at New Orleans).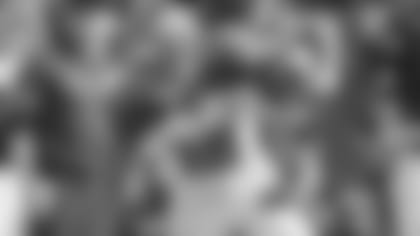 WR Louis Murphy has 206 receiving yards, the highest total for any player in his first three games as a Buccaneer since Bert Emanuel in 1998
WR Louis Murphy is not a rookie, but he also has a touchdown catch in two consecutive games (at New Orleans, vs. Baltimore). That's something the sixth-year veteran had never before accomplished in his NFL career. Since re-signing with the Buccaneers on September 23, Murphy has played in three games and produced 206 yards and two touchdowns on 16 catches.  That stands as his most productive three-game stretch since the first three outings of 2010, when he recorded 238 yards for the Oakland Raiders against Tennessee, St. Louis and Arizona. Murphy's receiving yardage total is the most by any player in his first three games as a Buccaneer since Bert Emanuel had 252 against Minnesota, Carolina and New Orleans in 1998 (Emanuel was inactive due to injury for four weeks between the Minnesota and Carolina games). Murphy is the first player in team history to have at least 200 receiving yards AND two touchdowns over his first three games with the Buccaneers.
QB Mike Glennon finished the game with 24 completions in 44 attempts for 314 yards and two touchdowns, with one interception. Glennon has now thrown at least two touchdowns in three straight starts, becoming the first Buccaneers quarterback to do so since Josh Freeman (six consecutive games, 10/14/12 vs. Kansas City-11/18/12 at Carolina). It also marks Glennon's second 300-yard passing game this season and the second of his career.  Despite making just 16 starts (and playing the second half of a 17th game), Glennon is already tied for ninth on Tampa Bay's all-time passing touchdowns list.
| | |
| --- | --- |
| | |
| | |
| Vinny Testaverde, 1987-92 | |
| | |
| | |
| | |
| | |
| | |
| | |
| 9t. Mike Glennon, 2013-Pres. | |
| 9t. Shaun King, 1999-2003 | |
- Meanwhile, RB
Doug Martin
also moved into ninth place on a Buccaneer career list, this one for rushing yards. He had 45 against the Ravens to give him 2,049 overall and move him past Earnest Graham. There's a sizeable margin before the next player on the list, Errict Rhett, who tallied 2,853 yards as a Buccaneer.
| | |
| --- | --- |
| | |
| 1.RB James Wilder, 1981-89 | |
| FB Mike Alstott, 1996-2006 | |
| RB Warrick Dunn, 1997-2001, 2008 | |
| RB Carnell Williams, 2005-10 | |
| RB Michael Pittman, 2002-07 | |
| | |
| | |
| | |
| 9. RB Doug Martin, 2012-Pres. | |
| RB/FB Earnest Graham, 2004-11 | |
- For the second consecutive game, LB Lavonte David led the Buccaneers' defense with 14 tackles, including 10 solo stops.  Prior to Monday night's game between San Francisco and St. Louis, David stood second in the NFL with 66 total tackles and first with 51 solo tackles (and there are no 49ers or Rams in the top 50). The only player in the NFL credited with more total tackles than David is Carolina's Luke Kuechly, who has 74, with 43 solos and 31 assists.
David added one more tackle for loss to his impressive season total, as well, giving him 11 on the season. He has had at least one TFL in every game this season, and in 31 of his 38 career NFL outings. Stats, Inc. tracks a related stat called "stuffs," which are tackles of a runner for negative yards (stops for zero yards do not count). In that specific category, David ranks second in the league with 6.5, just a half-tackle behind the leader, Detroit's DeAndre Levy.
The Buccaneers scored all 17 of their points on Sunday in the second half, and over the course of the season have scored nearly three-and-a-half times as much after halftime (27 in the first half, 93 in the second half). A factor in that has been a much better ability to sustain drives after the intermission. Through six games, the Buccaneers have converted 11 of their 37 third-down attempts in the first half (29.7%) and then 14 of 30 attempts in the second half (46.7%).