STORY HIGHLIGHTS
Among all Bucs with at least 1,000 receiving yards, Vincent Jackson has the highest average yards per game
Danny Lansanah put his name on a list that also includes Derrick Brooks, Hugh Green and Ronde Barber
Several penalties in the second half of Sunday's game severely impacted the Bucs' win probability

The Tampa Bay Buccaneers lost to the New Orleans Saints, 37-31, Sunday at the Mercedes-Benz Superdome, falling in overtime for the first time since last Nov. 3 in Seattle. Here are some of the more notable statistics and milestones from Sunday's game:
WR Vincent Jackson had eight catches for 144 yards on Sunday. In two seasons plus five games as a Buccaneer (37 total contests), Jackson has 10 100-yard receiving games, already the fifth-most in franchise history. He needs just one more to tie Keyshawn Johnson and Joey Galloway for third place. The record belongs to Mark Carrier, with 15, one more than Kevin House's total of 14.
Jackson also has 2,886 receiving yards with Tampa Bay, 11th-most in team history. He needs 51 more yards to surpass Michael Clayton (2,936) and break into the franchise's top 10. He would need only 11 more yards after that to leap-frog Bruce Hill and Mike Williams as well and move into eighth place on that list. Jackson is one of 35 players in franchise history with at least 1,000 receiving yards, and he has the highest yards-per-game figure (78.0) of anyone in that group, by a comfortable margin. Here are the top five players in team history in terms of receiving yards per game (minimum 1,000 yards):
59.3
- Rookie K Patrick Murray connected on a career-long 55-yard field goal in New Orleans, which is tied for the fourth-longest in franchise history and is the longest since Connor Barth hit from the same distance at Denver on Dec. 2, 2012).Murray's previous career long stood for one week; he nailed a 50-yarder in the Bucs' Week Four win at Pittsburgh. While five other Buccaneer kickers have had consecutive games with 50+-yard field goals (on a total of six occasions, as Martin Gramatica did it twice), none has ever done so in three straight outings. Murray may get a chance to do so on Sunday against Baltimore at Raymond James Stadium. Despite the fact that there have only been three field goals in team history longer than the one Murray hit on Sunday, his is not the longest one ever made by a Buccaneer rookie. That honor belongs to Michael Husted, who nailed a then-team-record 57-yarder in Los Angeles against the Raiders on Dec. 19, 1993. Here are all eight field goals in team history of 55 or more yards:
55
- In last Friday's edition of "Football Geekery," we discussed the analytical tool called "Win Probability." Win probability uses past game results to come up with a percentage of likelihood that a team is going to win a game based on a certain list of variables at any point in that game – time remaining, down-and-distance, score, etc. On Monday, we looked at reasons why the Buccaneers-Saints game went to overtime despite each team holding a double-digit advantage on the scoreboard at some point. One of those reasons, to the Buccaneers' detriment was the team's total of 15 penalties for 113 yards, as a few of those infractions were particularly costly. Combining those two thoughts, let's take a look at the win probability chart for Sunday's game at the Superdome, as provided by Advanced NFL Analytics. In the first half, the Saints' win probability spiked at 90% when they had a 13-0 lead, right before Murray's 55-yard field goal. The Bucs' later flipped it to a 90% win probability on their side when they had a 31-20 lead in the fourth quarter and the Saints were facing a third-and-10 at their own 33. Obviously, the line on the chart eventually went all the way down to the lower right corner to signal a Saints victory, the two biggest drops in the chart from that point on occurred after Buccaneer penalties. The holding call that put the Bucs in a first-and-20 at their own 10 (and the aborted snap that followed), cost the Bucs' 15% in their win probability. And the holding call that erased a completion to Louis Murphy on Tampa Bay's last drive (other than the end-of-regulation one-play clock run-out), cost the Bucs' 19%.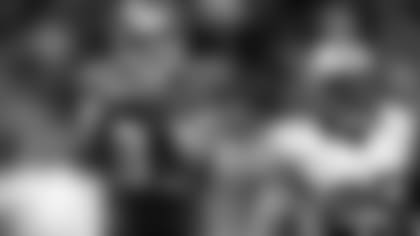 Another 62 receiving yards for Vincent Jackson would bump him all the way from 11th to eighth-place in team history in that category
CB Alterraun Verner recorded his first interception as a Buccaneer on Sunday, picking off a pass from Brees at the Tampa Bay 11-yard line and denying the Saints a final scoring opportunity in the last minute of regulation. Verner also had three passes defensed, which matched his career high, accomplished three times previously, most recently against Kansas City as a member of the Tennessee Titans on October 6, 2013.
LB Danny Lansanah and S Mark Barron pitched in with two passes defensed apiece, and as a team the Bucs got their hands on 11 of Brees's passes. That's the most a Buccaneer defense had recorded in a single game since the last time the Saints visited Tampa, on Sept. 15 of last year. Tampa Bay's defense had 11 passes defensed in that game, as well. The team record, according to Stats, Inc., is 15, which was set just two seasons ago against the New York Giants on Sept. 16, 2012. There are only nine games in team history in which the Bucs had more than 11 passes defensed.
One of Lansanah's pass defensed was of the best variety: an interception that he returned 33 yards for a touchdown in the third quarter. Though he has just two career starts, that was Lansanah's second pick-six of this season; he also had a 27-yarder late in the Bucs' Week Three Thursday night game in Atlanta. He is now one of four linebackers in team history to record multiple interception-return touchdowns in the same season and one of 10 players overall to accomplish the feat. Lansanah joins a pretty impressive list of names, in terms of franchise impact:
2
- The Buccaneers final score of Sunday's game was a nine-yard touchdown pass from Mike Glennon to Robert Herron, marking the rookie receiver's first career touchdown. The drive covered 81 yards in 6:29 on 10 plays, making it the Bucs' longest touchdown drive of the season by yards, second-longest by time and tied for second-longest by plays. Tampa Bay's longest scoring drive of any kind this year was an 83-yard field goal march at Pittsburgh on Sept. 28.
LB Lavonte David had a game-high and season-high 14 tackles on Sunday. That ties for his second-highest single-game total, and his best since Nov. 11, 2012, when he also had 14 against San Diego. His career high is 16, set at Oakland on Nov. 4, 2012. Two of those tackles were for losses, giving him an NFL-leading 10 TFLs through the first five weeks (Monday night's game not included). David has at least two TFLs in four of the Bucs' five games so far this year, and he has at least one TFL in 30 of his 37 career games. He has a total of 47 TFLs in those 37 games.
Mike Glennon threw touchdown passes to Herron and Louis Murphy in Sunday's game, marking the 10th time in his brief career that he has recorded multiple scoring passes in the same game. He has those 10 multi-TD performances in just 15 career starts, which means he has achieved that feat in two-thirds of his starts. Glennon is the 15th quarterback in team history to make at least 10 regular-season starts for the Buccaneers, and while it's still early in his career, he currently has the highest ratio of multi-TD games to starts on that list. Here are all 15, ranked by that ratio:
0.053
- Sunday's game was the 33rd in Tampa Bay's 39 seasons that has gone into overtime. The Buccaneers are now 15-17-1 all-time in overtime games. Khiry Robinson's touchdown gave the Saints a six-point win and marked the fourth time that the Buccaneers have lost in overtime on a touchdown, and the first time since the NFL modified its overtime rules. Without breaking down the different types of touchdowns that can be scored, there are seven potential outcomes for any team in overtime: Win by touchdown, win by field goal, win by safety, lose by touchdown, lose by field goal, lose by safety, finish in a tie. Here's the number of occurrences of each type of outcome among the Bucs' 33 overtime games:
Win by TD: 1
Win by FG: 14
Win by safety: 0
Lose by TD: 4
Lose by FG: 13
Lose by safety: 0
Tie: 1
Behind the scenes photos from the Buccaneers vs. Saints game at the Mercedes-Benz Superdome in New Orleans