STORY HIGHLIGHTS
Vincent Jackson has three 1,000-yard receiving seasons in as many years as a Buccaneer, and six in his career
Nobody posted more tackles per game in 2014 than Bucs LB Lavonte David
Rookie K Patrick Murray finished the season on a tear, with 13 straight successful field goals, the fourth-longest run in team history

The Tampa Bay Buccaneers lost to the Carolina Panthers, 19-17, Sunday at Bank of America Stadium in Charlotte, North Carolina, falling to 2-12 on the season. Here are some of the more notable statistics and milestones from Sunday's game:
Vincent Jackson signed a five-year contract with the Buccaneers as an unrestricted free agent in 2012, and three years into that deal he already has as many 1,000-yard seasons as any receiver in franchise history. On Sunday, Jackson caught an 11-yard pass on the second play from scrimmage against New Orleans, pushing his season total to 1,002 yards on 70 catches. (Jackson sustained a groin injury later on the same drive and did not return to the game.) Following campaigns of 1,384 yards in 2012 and 1,224 yards last year, Jackson now has three 1,000-yard seasons as a Buccaneer (and six in his 10-year NFL career). The only other player in team annals with three 1,000-yard receiving seasons is Joey Galloway (2005-07). Keyshawn Johnson, Kevin House and Keenan McCardell posted two apiece. Jackson is also just the second player in team history with three 70-reception seasons, joining Keyshawn Johnson (2000-02).
On the first play from scrimmage Sunday, rookie WR Mike Evans caught an eight-yard pass, which put him over 1,000 on the season as well. Evans did not play in the second half of the game but still finished with a team-high five catches for 54 yards, giving him 1,051 yards on 68 receptions. Evans joins Michael Clayton (1,193 yards in 2004) as the only rookies in franchise history to surpass 1,000 receiving yards.
As had seemed highly likely after Evans and Jackson exited Week 16 with 997 and 991 receiving yards on the season, respectively, the Buccaneers finished the season with a pair of 1,000-yard receivers for the first time in franchise history. Later in the same afternoon, the Carolina Panthers duo of WR Kelvin Benjamin and TE Greg Olsen each finished the season with 1,008 yards, which increased to five the number of NFL teams that had 1,000-yard duos in 2014. Prior to Week 17, the Denver Broncos (Demaryius Thomas and Emmanuel Sanders), Green Bay Packers (Jordy Nelson and Randall Cobb) and Detroit Lions (Golden Tate and Calvin Johnson) had already joined the list. With league rules gradually evolving to favor passing offenses, such occurrences have become more common in recent years. Still, 2014 ranks as just one of 11 seasons in league annals in which at least five teams have had 1,000-yard receiving duos. Here are those 11 seasons:
| | | |
| --- | --- | --- |
| | | |
| | | CAR, DEN, DET, GB, MIN, STL, WAS |
| | | AZ, DAL, GB, IND, NE, PIT, SD |
| | | AZ, DEN, DET, GB, JAX, MIN |
| | | DEN, GB, IND*, KC, STL, TEN |
| | | |
| | | |
| | | |
| | | |
| | | |
| | | |
| | | |
* Indianapolis actually had three 1,000-yard receivers in 2004
Evans and Jackson might be the first 1,000-yard duo in team annals, but they did not finish as the most prolific pair of Buccaneer pass-catchers in a single season. That mark still belongs to Jackson and his former running mate, Mike Williams, in 2012. Here are the top five Buccaneer tandems:
- One of Evans' five catches on Sunday was a six-yard touchdown grab in the second quarter that gave the Buccaneers a 10-0 lead. That was the 12th scoring reception of the rookie's incredible debut campaign, which set a new franchise single-season record for all players. Mike Williams had previously set the record for both rookies and all players at 11 in 2010. Evans and the New York Giants' Odell Beckham finished in a tie for the NFL lead among rookies in touchdown catches. Evans finished second to Beckham in receiving yards and fifth among all rookies with 68 receptions. Evans' 15.5 yards per catch in 2014 was second among qualifying rookies to the 17.3-yard average put up by Cleveland's Taylor Gabriel on 36 reception; Evans also ranked 13th among all players in that regard.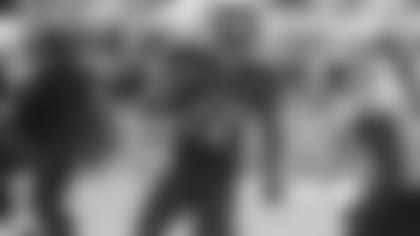 RB Doug Martin posted his seventh career 100-yard rushing game in Sunday's season finale
Evans and Beckham each joined a short list in terms of rookie receivers finding the end zone. While Randy Moss' 1998 record of 17 is still safe, the Buccaneer and Giant tied for the third-best TD-reception total since the 1970 AFL-NFL merge, just one behind the second-place mark. The Buccaneers have two players in the top five on the list.
- On Sunday, for the second time in the 2014 season, the Buccaneers' defense secured three interceptions off Saints QB Drew Brees. Together, those two outings accounted for six of the 17 interceptions that Brees suffered all season; no other team had more than two picks off him in a single contest this season. The Buccaneers had played against Brees 17 times prior to the 2014 season and recorded a total of 20 interceptions in those games, or just over one per contest. However, Tampa Bay did have two previous three-interception games against Brees, one in 2008 and one in 2011. Those games were both Buccaneer victories, unlike the two in 2014.
Brees finished the game with a passer rating of 61.4, his second-lowest mark ever in a single game against the Buccaneers. In a 23-20 Tampa Bay victory at Raymond James Stadium on Nov. 30, 2008, Brees threw three interceptions and completed just 53.2% of his passes en route to a 60.2 passer rating. In his 19 games combined against the Buccaneers, Brees has a composite passer rating of 95.9. Brees' rating in Sunday's season finale was his lowest in a game since 2012, when he put up a mark of 37.6, at Atlanta, 11/29/12).
The Buccaneers also sacked Brees twice, with defensive tackles Clinton McDonald and Akeem Spence each getting him down once. For McDonald, it was his fifth sack of the season, which allowed him to move past Michael Johnson and into third place on the Bucs' list in that category. DT Gerald McCoy finished with a team-leading 8.5 sacks while DE Jacquies Smith added 6.5. The injury that sent McCoy to injured reserve before Week 16 cost the three-time Pro Bowler a chance at his first double-digit sack campaign, which means the 14-sack season posted by Simeon Rice in 2005 remains the last one of 10 or more for the Buccaneers. However, McCoy, Smith and McDonald were the first trio of Buccaneer defensive linemen each to get at least five sacks since 2008. That group consisted of Gaines Adams (6.5), Stylez G. White (5.0) and Jimmy Wilkerson (5.0).
LB Lavonte David did not play extensively in the season finale as the Buccaneers took a look at a number of younger players, but he still led the team with five tackles. His time on the sideline may have cost him a shot at the NFL tackle total, as he ended up in third place with 146. That was seven behind leader Luke Kuechly of Arizona (153) and four behind DeAndre Levy (150) of Detroit. David missed two games earlier in the season with a hamstring injury, while Kuechly and David both played a full 16 contests. As such, David was the only player to average more than 10 tackles per game played in 2014. Here were the NFL's top 10 defenders in terms of tackles per game played:
- One of David's tackles early in Sunday's game also jarred the ball loose from Saints RB Mark Ingram, though it rolled out of bounds before either team could recover. That marked the fourth forced fumble of the season by David, which tied for the third-highest total in the NFL this season. David is the first Buccaneer to force at least four fumbles in one season since Stylez G. White had seven in 2007.
Rookie kicker Patrick Murray banged home field goals of 39 and 27 yards during Sunday's 23-20 loss. That extended his season-ending streak to 13 consecutive field goals made, making him 20 of 24 on the season overall. Murray presumably will have a chance to extend his run when the 2015 season begins, though he is just over halfway to the franchise record for consecutive field goals made. His streak is the fourth-longest one in team annals, however.
Most Consecutive Field Goals Made, Buc History
- The Buccaneers finished Sunday's game with 183 rushing yards, their highest total of the season and the most they've had in one game since running for 186 vs. Atlanta on Nov. 17 of last year.  Of those 183 yards, 148 were recorded in the first half. Since Stats, Inc. began tracking half-game records in 1991, that's the most rushing yards Tampa Bay has had before a game's intermission.
RB Doug Martin accounted for 108 of those rushing yards, giving him his first 100-yard game of the season and his most since he rang up 144 against New Orleans on Sept. 15 of last year. Though injuries have cost him significant time over the last two seasons, he had five 100-yard games as a rookie in 2012 and now has seven of them in his career. That's already tied for the seventh-highest total in team history in that category.
Most 100-Yard Rushing Games – Buc History
* 
Includes one playoff game
*
Includes Super Bowl XXXVII*