STORY HIGHLIGHTS
Scott Solomon, Russell Shepard and Mike Evans were among Buc players who notched career firsts on Sunday
Mike Glennon's TD-INT ratio in his first 500 passes is among the best in team history
Louis Murphy's 99 receiving yards in Pittsburgh were the most ever by a player making his Buccaneer debut

The Tampa Bay Buccaneers defeated the Pittsburgh Steelers, 27-24, at Raymond James Stadium on Sunday, notching their first victory in a game's final minute since 2011. Here are some of the more notable statistics and milestones from Sunday's game:
WR Louis Murphy's game-changing 41-yard catch in the final minute gave him a total of 99 receiving yards on the day. He is the sixth player in team history to miss out on a 100-yard game by a single yard. Despite that, Murphy's final total still stands as the most receiving yards in franchise history by a player making his Buccaneer debut.
It was a day of firsts for the Buccaneers in Pittsburgh, starting with Tampa Bay's first win in the Steel City in franchise history.  The Bucs were previously 0-3 in Pittsburgh, having lost there in 1976, 1983 and 2006. This marks the 27th city in which Tampa Bay has won a regular-season game (including Tampa) and the first new one marked off the list since the team won in Oakland in 2012.  Among current NFL cities, the only ones in which the Bucs have yet to win are Buffalo, Houston, Jacksonville and Nashville. A surprising number of individual Buccaneers experienced enjoyable firsts on Sunday, too, including:
Rookie WR Solomon Patton recorded his first career rush on a 19-yard end-around in the fourth quarter.
WR Russell Shepard notched the first reception of his NFL career, a 22-yarder in the fourth quarter that converted a third-and-five.
WR Mike Evans scored his first NFL touchdown on a seven-yard catch in the first quarter.
DE Scott Solomon notched his first career sack, dropping Pittsburgh quarterback Ben Roethlisberger for a loss of six in the second quarter
QB Mike Glennon's game-winning touchdown pass to Vincent Jackson also put him over 300 yards on the afternoon; he finished with 302.  That's the first 300-yard passing game of his career.
K Patrick Murray was good on a 50-yard field goal in the first quarter.  That's the first 50 -yard field goal of his professional career, and the first attempt from that distance.
DE Jacquies Smith recovered a Roethlisberger fumble on the third play of the game. That's the first fumble recovery of Smith's career.

DT Gerald McCoy sacked Roethlisberger on the second play of the game, giving McCoy 2.0 sacks on the season. He now has 20.5 sacks in his career, which is the fifth most by a defensive tackle in Buccaneer annals. Here's the top five:
Warren Sapp: 77.0
David Logan: 39.0
Brad Culpepper: 33.0
4. Santana Dotson: 23.0
5. Gerald McCoy: 20.5
McCoy has most of his sacks since the start of the 2012 season. In that span, he has 16.5 QB takedowns, which is tied for third in the entire NFL in that category among defensive tackles. The top five:
2012-14 Sack Leaders (Defensive Tackles)
Geno Atkins (Cincinnati): 18.5
Jurrell Casey (Tennessee): 17.5
3t. Gerald McCoy (Tampa Bay): 16.5
3t. Kyle Williams (Buffalo): 16.5
Ndamukong Suh (Detroit): 14.5
DE Michael Johnson recorded a sack on the very next play after McCoy's takedown of Roethlisberger, then added another one in the second quarter. That marked his third career two-sack game, and the first by a Buccaneer defensive end since Michael Bennett against St. Louis on Dec. 23, 2012. Johnson, the former Cincinnati Bengal, now has 6.5 sacks against the Steelers, his most against any opponent. Five of those sacks have occurred at Heinz Field, making that his best road venue for getting to the opposing passer.
The Bucs sacked Roethlisberger a total of five times, their single-game season high this year. All five of those sacks occurred before halftime. That is tied for the second-highest sack total by a Buccaneer team in the first half since 1991, and it's a high-water mark since 2009. Here are the top four games on that list:
Mike Glennon's first pass of the season was the seven-yarder that Evans caught for his first NFL score. Glennon's last pass of the game was the five-yarder that Vincent Jackson caught in the end for the game's winning points. That pair of results made Glennon the first NFL quarterback to throw a touchdown on both his first and last passes of a game since Matt Schaub did it against Tennessee on Sept. 15 of last year.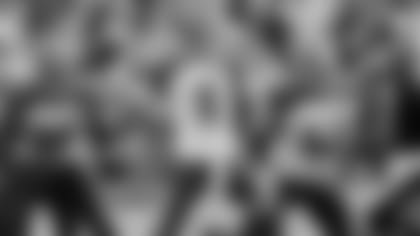 QB Mike Glennon is nearing his 500th career pass and he has an impressive 22-10 TD-INT ratio to this point
Glennon threw those two touchdown passes plus one interception Sunday. Combined with his numbers from his 2013 rookie campaign, Glennon has thrown a total of 482 passes and recorded 22 touchdowns versus 10 interceptions. His ratio of 2.2 touchdown passes to every interception is the second best in team history; Jeff Garcia (25 and 10) holds the record with a mark of 2.50. Glennon and Garcia are two of the three passers in team history to have a ratio of at least 2.0-to-1 (minimum 100 attempts); the third is Tim Rattay, who threw 100 passes as a Buccaneer and finished with four touchdowns and two interceptions.
Presumably, Glennon will reach 500 pass attempts as a Buccaneer; that could happen as quickly as next Sunday in New Orleans depending upon the status of Josh McCown's injured thumb.  When he does, he'll likely have one of the best TD-INT ratios for any Buccaneer quarterback in his first 500 passes with the team, and the best ratio for any QB who started his NFL career with the Buccaneers. There are 11 other players who have thrown at least 500 passes as Buccaneers; the chart below shows what their touchdown and interception totals were at the time of their 500th throw. Though he's not there yet, Glennon is displayed in the chart as well. Players who began their careers with the Buccaneers are marked with an asterisk.
LB Lavonte David had three more tackles for loss in Sunday's game, giving him a team-high eight on the season.  He has had at least one TFL in every Buccaneer contest this season.  He has had at least one tackle for loss in 29 of his 37 career NFL games.  Since the start of 2012, David's rookie season, he has a total of 45 TFLs in 36 games.  That's easily the most by a Buccaneer in that span; Gerald McCoy is second at 27.