STORY HIGHLIGHTS
LB Lavonte David is the first Buccaneer player to record four straight games of 12 or more tackles, using press box stats
Rookie K Patrick Murray is the only kicker in the NFL in 2014 with at least three 50+-yard field goals without a miss
WR Mike Evans, another impressive rookie, is on a very consistent streak of pass-catching

The Tampa Bay Buccaneers lost in overtime to the Minnesota Vikings, 19-13, Sunday at Raymond James Stadium, dropping to 1-6 on the season. Here are some of the more notable statistics and milestones from Sunday's game:
LB Lavonte David led the Buccaneers' defense on Sunday with 14 tackles and three tackles for loss and, amazingly, that's starting to sound like a typical Lavonte David performance. He did tie his single-game high in the TFL category, while matching his second-best overall tackle performance. While he might not always get three tackles for loss in a game, he almost always gets at least one; in fact, he has now played in 39 career NFL games and had at least one TFL in 32 of them. He's had at least one in every game this season and at least two in five of those seven games.
As for total tackles, Sunday's game marked the third straight time he had posted exactly 14 of them, also pulling off the feat against New Orleans (Oct. 5) and Baltimore (Oct. 12), with a bye week following the Ravens game. Prior to this current run, he had recorded three career games of 14 or more stops, so he has now doubled that total. In the game before the Saints contest, David also had 12 tackles against Pittsburgh, which means he's corralled at least a dozen stops in four straight games. And that is a first in Buccaneers franchise history. No other Tampa Bay defender – even including the great Derrick Brooks – had ever recorded four straight games with at least 12 stops. Below are the longest streaks of 12+-tackle games in Buccaneer history. (Note: In all cases, we are using stats from Statspass, which are currently pulled from official stats from the game boxscores. While that method of collecting tackle statistics is much more uniform in the NFL now, teams in the past often published their own defensive stats using numbers collected by coaches while watching game tape.)
11/4-11/11/2012
- David continues to rank second in the NFL in total tackles in 2014, behind only Carolina LB Luke Kuechly, the reigning NFL Defensive Player of the Year. David has 80 total tackles to Kuechly's 89. However, David is #1 in the league in solo tackles, with 60, ahead of Detroit's DeAndre Levy (55) and Kuechly (54). David is also tied for the league lead in a category known as "stuffs," which are stops on ballcarriers on running plays for a loss of yardage. He has 8.5 stuffs, equaling the total for Khalil Mack, the Oakland Raiders' rookie linebacker. Since David entered the league in 2012 he has racked up 27.5 stuffs, second in that time span only to Houston DE J.J. Watt (42), the 2012 NFL Defensive Player of the Year.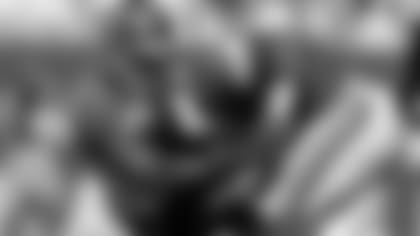 LB Lavonte David is on pace for 183 tackles in 2014
Still using stats from Statspass, we see that David is on pace for one of the 10 best single-season tackle performances since the 1970 AFL-NFL merger. With 80 stops through seven games, David is on pace of 183 in a 16-game season. If he hits that mark, he would have the ninth-highest total in that span, and it would only take a few more to move him farther up the list. Number one on the chart happens to be the man currently coaching David and the rest of the Bucs' linebackers. Here are the top 10 single-season tackle totals since 1970, as compiled by Statspass:
Rookie kicker Patrick Murray was another bright spot for the Buccaneers in Sunday's narrow loss. He helped the team get to overtime by connecting on field goal tries of 54 and 46 yards, without a miss. Murray has now made seven of nine field goal tries in his young career, and three of those seven have been from 50 yards or further. He has yet to miss from 50 and beyond, making him the only remaining kicker in the league this year who has made at least three from that distance without missing any. Minnesota's Blair Walsh was also in that category before he hooked a 56-yard try wide on Sunday.
There are only 15 successful field goal tries of 54 or more yards in Buccaneer history, and two of them belong to Murray. Connor Barth has the most, with four, and Michael Husted is next with three, but Murray is already tied with Martin Gramatica for third on that list. Murray has already matched Barth (2012), Gramatica (2000) and Husted (1993) with two field goals of 54 or more yards in the same season. And, finally, Murray and Husted are now the only two rookies in Buccaneer annals with at least two successful field goals of 54 or more yards in the same year.
The Bucs converted on just one of 12 third-down tries on Sunday against Minnesota. Statspass has third-down conversion numbers by game going back to the 1991 season, and in that span, the Buccaneers have only fared worse on third downs in five other games. In each of those five games, the team failed to convert a single third down, most recently against the New York Jets on Dec. 13, 2009 (0-14). The Buccaneers were also 1-12 (an 8.3% success rate) against Washington on Nov. 25, 2007. Coincidentally, that game also finished in a 19-13 score, just as Sunday's contest did, though it wasn't in overtime and it was actually a Buccaneer win. Though the Bucs did not get the win this Sunday, they bucked the trend simply by getting to overtime. In the other eight games in the top 10 for the Bucs' worst third-down rate, the team was 0-8 with a combined overall scoring deficit of 233-39.
With the Vikings facing third-and-four on the Buccaneers 44-yard line in the second quarter, DTs Gerald McCoy and Clinton McDonald combined to drop Minnesota QB Teddy Bridgewater for a six-yard loss. McCoy now has 21.0 career sacks and 2.5 this season. McDonald has 1.5 this year and 7.0 in his career.
WR Mike Evans is likely destined for bigger numbers in his Buccaneer career, but the rookie receiver has already proved to be a very consistent performer. In Sunday's game against Minnesota, he led the team with 78 yards on four catches, with another 26-yard reception in the second half erased by a penalty. Those 78 yards are his career best to this point, but he's had over 50 yards in each of his last four games, and 49 in the one before that. Evans has also had at least four receptions in all six games he has played so far this season (he missed the Week Five contest at New Orleans with a groin injury). That's another franchise first; before Evans, no Buccaneer rookie had ever notched at least four receptions in each of his first six games played. The last Tampa Bay player of any kind, not just rookies, to have at least four catches in six straight games played was Mike Williams in 2011 (Sept. 25-Nov. 6, 2011).
Mike Glennon threw a seven-yard touchdown pass to rookie TE Austin Seferian-Jenkins to give the Bucs a briefly-held 13-10 lead against the Vikings on Sunday. That was Seferian-Jenkins' first career TD catch, and it made him the 11th different player with whom Glennon has hooked up with for a touchdown in the 18 games Glennon has played. Glennon has 27 touchdown passes in those 18 games, which is already the ninth-highest total in franchise history. The top 10 are below:
Vinny Testaverde, 1987-92