STORY HIGHLIGHTS
Open practices during training camp mean that on-site sources can share far more information than usual
CB Leonard Johnson got the opening snaps at nickel back on Saturday and is fighting to win that job
DE Da'Quan Bowers was used on the interior defensive line extensively during the second practice of camp

Every NFL team is necessarily secretive about its game preparations for 90% of the year. The other 10%: Training camp.
The Tampa Bay Buccaneers opened training camp on Friday afternoon, and they did it in front of thousands of the team's fans. Almost every practice for the next three weeks is similarly open to the public, so there is absolutely nothing secretive about the work taking place at Buc headquarters right now. The casual rooter can simply enjoy joining in the cheers when Vincent Jackson catches a long pass in a one-on-one drill. The more dialed-in fan might notice that Leonard Johnson is getting the first snaps at nickel back or Demar Dotson is stonewalling all his competitors in OL/DL drills.
In the same vein, the rules for covering these practices are different for the media than at any other time during the year. If everybody's watching, there's no point in asking for discretion. One way this shows up most significantly: on Twitter.
If Jackson does thrill the crowd with a big play down the sideline, you're going to read about it almost instantly from a variety of sources, including the Buccaneers themselves.  And including me.  Below you'll find a sampling of tweets from my Twitter handle, @ScottSBucs, from Saturday's practice, with some additional information to flesh out the topics beyond 140 characters.
Expect more of the same throughout the three weeks of camp.  You should absolutely follow the Tampa Tribune's Roy Cummings, the Tampa Bay Times' Rick Stroud and as many other sources of Buccaneer information that you can get your Twitter hands on.  From inside team headquarters, we also hope to provide you with as much information as possible through my handle and the official team feed, @tbbuccaneers.
Here's what happened at practice on Saturday:
With D.J. Moore gone, three guys now working specifically at nickel back w/Larry Marmie: Danny Gorrer, Leonard Johnson and Quinton Pointer. — Scott Smith (@ScottSBucs) July 26, 2014
During the offseason, Head Coach Lovie Smith indicated that veteran D.J. Moore, a player he was familiar with from his Chicago Bears days, was in the lead for the nickel back job. Shortly before camp started, however, Moore was released.
That took a job that was already wide open and made it even harder to predict. It's possible, however, that the answer is a familiar one; with all the moves the Bucs made to reshape the roster since Smith's arrival, it could be holdover Leonard Johnson who wins that important nickel spot.
The Bucs have designated Senior Defensive Assistant Larry Marmie as their nickel back coach, which is not a typical position on an NFL staff. It's a very real distinction for the Buccaneers' however; as soon as Saturday's practice went from stretches to individual drills, Marmie took Johnson, Gorrer and Pointer off to a separate part of the field from the rest of the cornerbacks. His job is to instruct those players on some very specific techniques to the position, as opposed to what the outside cornerbacks are learning.
"They treat it as if it's its own position," said Johnson. "That's one thing about Coach Lovie, he says it's going to be a key part of this defense. We have a nickel coach, Coach Marmie, who's doing a great job with everyone in the room. It's up to us to come out and compete and make the most of the opportunity.
"I wouldn't come out here and want to be the backup nickel. So all offseason I came out and just attacked it as if I was going to be the starter."
Taking turns on punt returns: Solomon Patton, Eric Page and Skye Dawson. — Scott Smith (@ScottSBucs) July 26, 2014
Lovie Smith says his staff plans on working its way through a big portion of the roster in search of the best punt and kickoff return options. He was surprised to learn on Saturday, for instance, that new Bucs cornerback Alterraun Verner was a backup return option in Tennessee.
"The return game in general, we need to see," said Smith. "That's why those preseason games are important. Chris [Owusu], being one. Each day, we see a few more guys. We're trying to go through our roster to see who can catch the ball."
One thing I've learned both online & here in person: Buc fans LOVE Jeff Demps. He just caught a deep TD in 1-on-1s & the stands went wild. — Scott Smith (@ScottSBucs) July 26, 2014
Lovie Smith on Jeff Demps: I notice when linebackers are across from him in one-on-ones they line up farther back than usual. — Scott Smith (@ScottSBucs) July 26, 2014
Jonathan Casillas is one of those linebackers who had the unenviable task of trying to cover Demps during one-on-ones, a drill that naturally favors the offense. Casillas had a good sense of humor about the situation and was smart enough to understand that any difficulties he and his fellow 'backers had covering Demps could soon become a problem for the Panthers, Falcons and Saints.
"He's a world-class speed athlete, and this is a trait that transfers to any sport," said Casillas, who is an excellent coverage linebacker. "Demps ran in the Olympics, so he's a rare breed and I like the challenge of going up against him. Usually it doesn't look too good on my behalf, but it's definitely a challenge and I'm just glad he's wearing a Buc uniform."
Austin Seferian-Jenkins is putting on a show in 1-on-1s. It's incredible how big he looks against normal LBs. — Scott Smith (@ScottSBucs) July 26, 2014
Due to the University of Washington's class schedule and his own recovery from a foot injury, Seferian-Jenkins saw almost no practice time after the Bucs drafted him in the second round in May. But he reported to camp fully ready to go and may not be as far behind as some expect. The rookie suggested as much on Thursday while checking in to camp, and Smith had similar thoughts after practice on Saturday.
As suggested in the tweet above, Jenkins was a matchup nightmare during one-on-ones. He made two catches in particular, one in the end zone and one on a short buttonhook route, that appeared almost impossible due to tight coverage from the defender. Seferian-Jenkins would rather not have to work that hard for most of his receptions, however.
"I'd like to be a lot more open," he said with a laugh. "Let's not make it more difficult than we have to. I know it looks cool, but I need to do a better job of getting more open, right? But, yeah, it's just catching the ball. It's not really that hard. Whether there's a person there or not, my job is to catch the ball. My job is not to pay attention to the person that's trying to stop me."
Da'Quan Bowers has seen a lot of action on the interior line today, both in 1-on-1s and now in full-team. — Scott Smith (@ScottSBucs) July 26, 2014
The future of Da'Quan Bowers is one of the most interesting and potentially meaningful storylines of this year's training camp. The fourth-year player, who was one of the nation's best pass-rushers at Clemson, is determined to prove that he can be an impact player at the pro level after three years of uninspiring returns.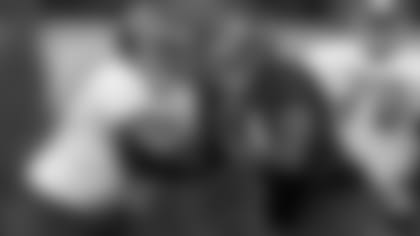 DE Da'Quan Bowers has the size, strength and versatility to play inside if needed on the Bucs' offensive line
It's not particularly surprising to see the Bucs use some of their bigger defensive ends on the inside in passing downs; that sort of versatility will help with the defensive line rotation on game day, when only so many players can be active. Also, Smith's defense puts a premium on putting as many pass-rushers on the field as possible in clear passing downs. Players such as Bowers and William Gholston could greatly increase their value to the team by proving they can invade the backfield from both the edges and the interior line.
The fact that Bowers saw these inside reps during one-on-ones and as part of a second-string defensive line, not just on third down, could be significant. Then it again, it was only Day Two of training camp. Stay tuned for updates on this topic – including some, via Twitter, while practice is actually taking place.