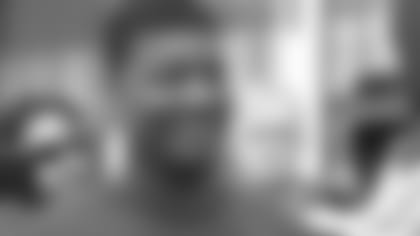 ](http://www.buccaneers.com/news/index.html)
1. He doesn't expect to be handed the starting job.
Winston may have been the No. 1 pick in this year's draft, but he doesn't expect to be catapulted into the starting lineup without earning it. "I've never been given anything in my life," he said. "The way I was brought up, I always had to earn everything and the main thing is earning the respect of all these players out here."
2. He loves Dirk Koetter's system.
Winston, along with the rest of the Bucs, is working on mastering the team's new offense brought to Tampa by Offensive Coordinator Dirk Koetter. "Preparing for this game is easier than preparing for a Harvard business degree but one thing about it is that I love it. So I'm going to do anything that I can to try to perfect this offense. This offense is amazing. The concepts are similar to the ones at Florida State but definitely the terminology – it's crazy."3. It's starting to feel like football.
Players don't wear pads during OTAs and they're not allowed to hit but Winston said that, as training camp approaches, the intensity of practices has been increasing. "It's been great – just being out here on the field with my teammates," Winston said. "And now it's getting a little bit more … not physical but it's amping up a little bit."
4. He's benefitted from working with the second-team offense.
Winston took most of his snaps with the Bucs' second-team offense on Thursday. After practice, he said he found it beneficial to watch Mike Glennon work and to have an opportunity to play with all of the Bucs' offensive players instead of just the starters. "Being able to build a relationship with all the guys is important," Winston said. "Just watching Mike (Glennon) and seeing the things he does – I'm trying to pick everything that he has because he's been doing great and I look up to him. Everything he does is magnificent so I try to always compete. It's always great to have a guy in front of you. It just helps you push yourself."