Jacquizz Rodgers got the game ball after posting the first 30-carry game by a Tampa Bay Buccaneers back since 2013. Jameis Winston directed the game-winning drive and shepherded the offense through a zero-turnover evening. Mike Evans scored the Bucs' only touchdown, Russell Shepard turned a muffed punt into a turnover and Akeem Spence made a huge third-down tackle late in the fourth quarter.
But, with apologies to Roberto Aguayo's game-winning kick as time expired, the single biggest play of the night for the visiting team was Brent Grimes' first interception in a Buccaneers uniform.
Grimes, one of the team's key free agent acquisitions this past spring, seemed to spring out of nowhere to pick off a pass intended for superstar tight end Greg Olsen in the Buccaneers' end zone with just under nine minutes to play. Derek Anderson's pass came immediately after a Fozzy Whittaker run had made it first-and-goal at the one-yard line, so a simple pass breakup would have still left Carolina with three more cracks at the end zone. Grimes kept the game tied and set the stage for that clutch game-winning drive.
The Buccaneers, who had just two interceptions by cornerbacks during the entire 2015 season, thought that the former Dolphin and Falcon could be a playmaker in their secondary. Grimes had secured at least four interceptions in each of his three seasons in Miami, making the Pro Bowl each year. In fact, Grimes is just off the NFL lead in interceptions since the start of the 2013 season, and he's tied for second among cornerbacks in that span.
Most Interceptions, NFL, 2013-16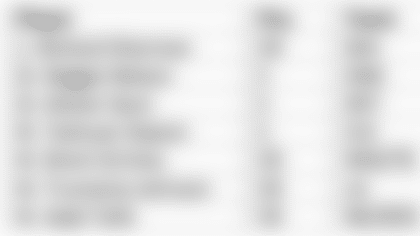 In addition to Grimes' game-saver and Shepard's fumble return, the Buccaneers also forced two more turnovers: an interception from linebacker Daryl Smith off a pass tipped by cornerback Vernon Hargreaves; and a fumble recovery by defensive end Will Gholston after defensive end DaVonte Lambert had stripped quarterback Derek Anderson.
; in fact, Tampa Bay had totaled two takeaways through the first four weeks of the campaign, including three games in which they were shut out in that category. The last time the Buccaneers forced as many as four turnovers was last season in Philadelphia on Nov. 22. That game was a Buccaneer victory – a blowout, actually, at 45-17 – as was the team's other four-takeaway game in 2015, a 23-20 OT win in Atlanta on Nov. 1. Tampa Bay also was victorious in the one game last year in which it forced three turnovers, a Week Two 26-19 decision in New Orleans.
Overall, during the last five-plus seasons, the Buccaneers have won six of the last eight games in which they've forced at least four turnovers. Throughout the team's entire four-decade history, it has usually found success when taking the ball away that many times. The Buccaneers have forced four or more turnovers in 102 games and won 73 of them.
Now, keep in mind that, above, we are only talking about the total number of turnovers forced by the Buccaneers, not the game's turnover ratio. In the case of Monday night's game, that was a very attractive plus-four because, as mentioned, Winston and company got through the entire evening without coughing it up.
Now, a plus-four turnover ratio (or better)? That's nearly guaranteed victory for the Buccaneers. The team has produced that result 37 times and won 33 of those games. The last time Tampa Bay had a turnover ratio of plus-four or better in a game and lost was during the 2000 season. Despite winning that category by a margin of four in the 2000 finale at Green Bay, the Buccaneers lost 17-14 in overtime after Martin Gramatica missed the potential game-winning kick at the end of regulation.
In fact, the manner in which the Buccaneers' winning percentage goes up as they prevail by greater margins in turnover ratio paints a stark picture.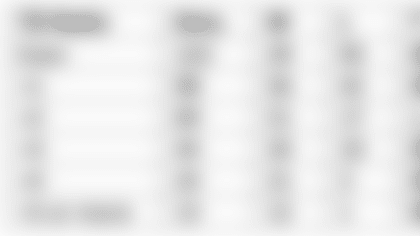 By the way, if you're surprised to see a loss among the games with a turnover ratio of plus-5 or better, you should be. That was actually a plus-seven game, as the Bucs forced Pittsburgh to turn it over seven times on Oct. 30, 1983, without committing any giveaways of their own, and still lost, 17-12. That's the only game in the NFL since the 1970 merger in which a team had a plus-seven or better turnover ratio and lost.
On the season, the Buccaneers still have a negative-five turnover ratio, which ranks 28th in the league. Where Tampa Bay's defense has been consistently good all season has been on third down, and that was particularly true on Monday night in Charlotte.
Tampa Bay's defense only allowed the Panthers to convert on one of their eight third-down tries. That's 12.5% success rate is the lowest the Buccaneers have allowed this year but it's the third time in five games they've held an opponent to 23.1% or lower. Only the Buccaneers and the Baltimore Ravens have done that in three different games so far this season. Carolina's 12.5% third-down rate is the third-worst by any team in the league this year. Monday's game was one of only three so far this year where a team has been held to a single third-down conversion; Buffalo also did it to New England in Week four and Minnesota did it to Houston this past Sunday.
Overall, the Buccaneers have held opponents to a 31.1% third-down success rate, the third-best mark in the league. The franchise single-season record third-down defense is 31.7%, set in 1998.
Accumulated data on third down conversions is available via Statspass through the 1991 season. That 12.5% third-down rate the Buccaneers allowed Monday is tied for the team's 17th-best mark since then, and it's the Bucs best outing since holding Buffalo to a 1-of-11 rate (.091) on Dec. 8, 2013. That marked just the 17th time since '91 that Tampa Bay's defense has allowed one or fewer third-down conversions.
What makes that performance even more impressive is that none of Carolina's third-down attempts needed more than six yards to be converted. Five of the eight tries were from either one or two yards away from the line to gain, and overall they averaged just under three yards needed per attempt. In contrast, on five of the 11 third downs the Bills faced in that aforementioned 2013 game, they needed 11 or more yards to convert.
The Bucs have been impressively stingy on short third downs this year. On 19 attempts by opponents of three or fewer yards, they have allowed only eight conversions, a success rate of 42.1% that is tied for third in the NFL. They've been even better on midrange attempts; on third-down tries of four to six yards, opponents have converted only 23.5% of their tries, the second-best mark in the league.
The Buccaneers are now 2-0 in games against NFC South foes, marking the first time they started a season 2-0 in division play since 2011. The last time they won their first two division road games was 2007, which is also the team's most recent playoff season. The Buccaneers have never before won two division road games through the first five weeks of the season.
Punter Bryan Anger continued to put up outstanding numbers on Monday, as he has in all five of his outings since signing with the Buccaneers as a free agent in the spring. Anger posted a 45.0-yard gross average and a 43.8-yard net on Monday, marking the fifth straight time he has recorded a net of 42.0 or better. No Buccaneer punter had ever done that before. Anger ranks seventh in the NFL with a net average of 43.4 yards per punt. Tampa Bay's single-season record in that category is 40.3, set by Michael Koenen in 2011. He added two more punts downed inside the 20 against Carolina, giving him 11 on the season, which is tied for fourth-most in the NFL.
With a long list of injured veterans missing the game, there were quite a few NFL firsts for Buccaneer players on Monday night. Such as: 
Rookie TE Alan Cross secured his first NFL reception, a five-yard catch
Rookie RB Russell Hansbrough, only promoted to the active roster earlier that day, played in his first NFL game
Rookie DL Channing Ward made his first NFL start, opening up at defensive tackle
RB Jacquizz Rodgers made his first start as a Buccaneer
LB Cameron Lynch played in his first game as a Buccaneer
QB Ryan Griffin and rookie T Leonard Wester were active for a game for the first time in their respective NFL careers, though neither saw any action