TEAM INTRODUCTIONS: HONORARY FLAG RUNNER ERIC WARD, TAMPA CHIEF OF POLICE
For team introductions, the Buccaneers will be led out of the tunnel by Eric Ward, Tampa's Chief of Police. Over his nearly 30 years of service, Ward has served as the department's Specialty Teams Commander overseeing K-9, Mounted Patrol, Traffic, Air Service, Marine Patrol, Dive Team, SWAT, Hostage Negotiation Team, Bomb Team, Honor Guard and the Special Incident Management Unit. Ward also served as the Florida Department of Law Enforcement's Region 4 SWAT Commander. Ward's well-rounded career includes assignments in Patrol, the Criminal Intelligence Bureau, K-9, Gang Suppression Unit, Firehouse Program, Street Anti-Crime Squad and Selective Enforcement Bureau. Before becoming part of the department's command staff, Ward was a member of TPD's Tactical Response Team, Honor Guard and Hostage Negotiation Team. He is also a two-time recipient of the department's Officer of the Month Award.
HONORARY GUESTS OF THE GAME
The Buccaneers will welcome three individuals representing Law Enforcement, Fire Fighters, and the Military to honor all of those who have paid the ultimate sacrifice while in the line of duty as the Honorary Guests of the Game. Before kickoff, Lieutenant Jason Marques of the Pasco Sheriff's Office, Driver Engineer Jerry Brown of Pasco Fire Rescue, and Specialist Rafael Salazar from the United States Army 159th Aviation Regiment will join the Buccaneers Team Captains at midfield for the coin toss.
HERO OF THE GAME
Before kickoff, the Buccaneers will continue a tradition with the team's military Hero of the Game. At every Buccaneers home game, a selected military member will be stationed on the Pirate Ship in Buccaneer Cove for the ringing of the ship bell and to ready the team for action. On Sunday, the Buccaneers will honor U.S. Navy Seaman First Class James T. Lair,* *a veteran of World War II. Seaman First Class Lair enlisted in the Navy following the attack on Pearl Harbor, and during the war was involved in five invasions – including assignments to North Africa, Italy, Normandy and Southern France.  At the war's conclusion, Lair worked as a locomotive engineer in the U.S. He moved to Florida in 1975 and continued his service for 17 years in the U.S. Coast Guard Auxiliary.
SALUTE TO SERVICE SUITE
At every Buccaneers home game, the team honors a distinguished group of military members with an exclusive gameday experience in the Salute to Service Suite. During a break in play, fans are encouraged to direct their attention to the pirate ship and join players and coaches in thanking local servicemen and servicewomen for their sacrifices, including:
From the Air Force, Captain Adam McAuley;
From the Army, Major Mike Larmore and Major Christopher Treuting;
From the Coast Guard, Petty Officer Second Class James Huffman and Aviation Maintenance Technician Petty Officer Second Class Garrett F. Peck
From the Marines, Major Franklin Sablin;
From the Navy, Lieutenant Commander Matthew Willer
BUCS SQUAD EXPERIENCE & BUCS SQUAD TWO-MINUTE DRILL AT RAYMOND JAMES STADIUM
The Tampa Bay Buccaneers Bucs Squad is an exciting new program designed to get the next generation of Bucs fans behind the bench and inside the huddle with their favorite NFL team. By becoming a Bucs Squad member, fans 14-and-under get access to amazing gameday experiences. For more information and to sign up for the Bucs Squad, visit the Bucs Squad Two-Minute Drill locations in sections 112 and 137.The Bucs Squad Experience,a 21,000-square foot, interactive area, will be open 12:30 – 3:30 p.m. in Lot 6D (Tampa Bay Blvd. between Gates C & D) for all children and families attending the game. The Bucs Squad Experience will include inflatable football activities, interactive PLAY 60 football clinics, as well as visits from Captain Fear (1:30 – 2:30 p.m.) and the Tampa Bay Buccaneers Cheerleaders (2:30 – 3:00 p.m.) for children to enjoy free of charge.
BUCCANEERS ACADEMY 50/50 RAFFLE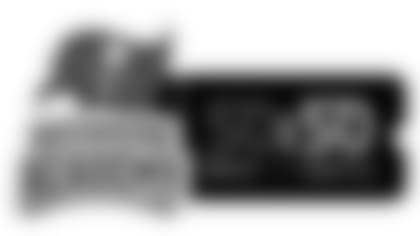 At each Buccaneers home game, fans have the opportunity to participate in the Buccaneers Academy 50/50 Raffle, while supporting a worthwhile cause. Each raffle ticket purchased will go towards a huge cash prize, in which fifty percent of the net proceeds help support the team's 24 Buccaneers Academies around the Tampa Bay area and other Bucs Care Foundation initiatives. The other fifty percent will go to one lucky winner. Tickets are available at kiosks located in section 106, 115, 131, 140 and each club level as well as mobile sellers throughout the stadium. For a complete list of rules and regulations, locate a kiosk or mobile seller on game day.
BUCCANEERS ACADEMY GAMEDAY FOR KIDS GUESTS
For each Buccaneers home game, the Bucs Care Foundation hosts 100 "Gameday for Kids" from the Buccaneers Academy program to promote academic achievement and positive behavior in children. Selected groups receive game tickets, t-shirts, food vouchers and Buccaneers flags by achieving goals set by their teachers. More than 16,000 youths and community members representing over 100 organizations from Tampa Bay have been rewarded through the annual program. This week's program attendees will represent Booker T. Washington Elementary, Lockhart Elementary,and Sheehy Elementary.LEARN MORE: Buccaneers AcademyBUCS FOR A BETTER BAY
Bucs for a Better Bay is the team's far-reaching commitment to making Tampa Bay better today and for generations to come. A key component is the Buccaneers Academy programming, through which the Buccaneers provide resources, enhanced curriculum, and hands-on participation from Buccaneers players and cheerleaders to over 14,000 underserved students at 24 elementary schools the team has adopted throughout Hillsborough County. Each of the schools in the Buccaneers Academy program, most of which are Title I schools, has also received a court-sized shade cover that provides an improved environment for students to safely participate in physical health and wellness activities.
Tampa Bay Buccaneers players, coaches, cheerleaders, alumni, and staff have an active role in community improvement through a variety of youth health and education initiatives, family outreach, and military support. Innovative partnerships between the Bucs Care Foundation and local nonprofit organizations provide assistance to thousands of Central Florida residents each year. Glazer Family Foundation initiatives including the Glazer Children's Museum and the Glazer Family Foundation Vision Mobile continue to enhance the learning opportunities for Bay Area youths. To learn more, visit www.buccaneers.com/community.